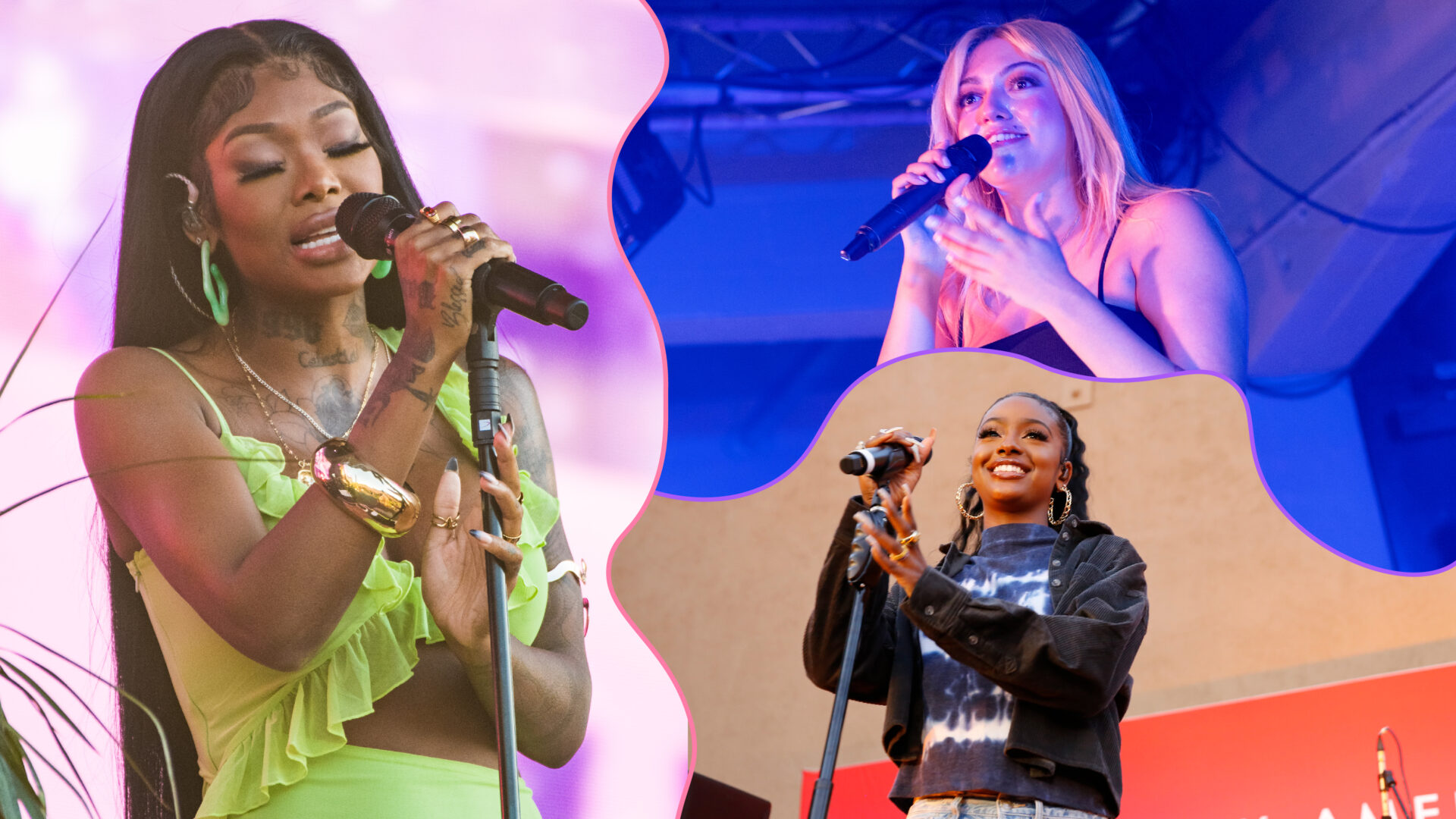 14 Black Girl Singers That Prove R&B Is Alive And Well
In 2022, R&B has been coming back in full force.
When Diddy asked his Twitter followers, "Who killed R&B?," a debate on the state of the genre ensued. "R&B is muthaf–ckin' dead as of right now," he said in an Instagram live, as shared by HotNewHipHop. Artists such as Timbaland, Mary J. Blige, and Kehlani joined the conversation to express their disagreements with Diddy's take.
"You can't kill something that's in our DNA," said Mary J. Blige. "It's gonna keep transitioning from generation to generation to generation to generation. Following his initial inflammatory statements about R&B, Diddy opened up the conversation by asking his fans about how they define the genre. According to Diddy, R&B is all about vulnerability and soul – two elements he criticized the music industry for lacking.

In 2022, R&B is alive and thriving. Artists have been bringing the soulfulness and vulnerability of 90s R&B to the mainstream. Here are 12 artists giving the genre its flowers today.
Justine Skye
Justine Skye gained a following on Tumblr as a purple-haired influencer before getting signed to Atlantic at just 19-years-old. A proud Brooklyn native, she has released four albums and became an independent artist in 2019. Her latest album, Space and Time, was executive produced by Timbaland and she is currently starring in grown-ish alongside Yara Shahidi, Marcus Scribner, Slick Woods, and fellow R&B crooner Trevor Jackson.
Mahalia
Mahalia has been performing since the age of 14. From Leicester in England, she was nominated for a Grammy for Best R&B Performance. The Jamaican-British songstress rose to mainstream fame following her "What You Did" collaboration with Ella Mai in 2019, which has since received over 55 million views on YouTube.
She wants to push the boundaries of what it means to be an R&B artist. "When I first started, I saw myself as being in the alternative, folk world and I wanted to sing like Lily Allen. Then I remember my first trip to America and everybody was calling me R&B," she told Stylist. "The pigeonholing thing has always been an issue for me and that's why I think it's so important to get behind the artists who are pushing those boundaries."
Victoria Monét
First introduced in the music industry thanks to her impeccable songwriting pen, the Jaguar singer has continued to create her own lane as an underrated songstress. From her disco-esque "Experience" collaboration with SG Lewis and Khalid to the feel good summer smash "Coastin'," Monét is making her mark on the music industry by bringing that nostalgic feel back to the charts while making it all her own.
H.E.R.
H.E.R. – whose real name is Gabriella Wilson – is an accomplished musician, singer, and songwriter. She was nominated for 5 Grammy Awards and has contributed to the original score for Judas and the Black Messiah. The 25-year-old California native has collaborated with some of the industry's top artists such as Saweetie and Bryson Tiller, and has released 3 albums including her most recent Back of My Mind.
Muni Long
The Florida native released her debut album, Jukebox, in 2009. She then spent a decade co-writing songs for artists such as Rihanna, Mariah Carey, and H.E.R. under her real name, Priscilla Renea. In 2021, Muni Long debuted the stage name Muni Long and released the hit single "Hrs & Hrs." She just released an EP, Public Displays Of Affection Too. She recently collaborated with fellow R&B artist TINK on "Mine," which samples the iconic R&B song "The Boy Is Mine" by Brandy and Monica.
Ari Lennox
In 2015, Ari Lennox became the first female artist to be signed to J. Cole's record label, Dreamville Records. Since the release of her first album, Shea Butter Baby, the Washington D.C. native has dropped hit singles such as "Pressure" in 2021, and has teased her fans about an upcoming album.
Kiana Ledé
Kiana Ledé started off as a child performer, as she won the Kidz Star USA talent competition in 2011. Now 25, Ledé is signed to Republic Records and has released a first EP and an album inspired by 90s R&B, KIKI, in 2020. She is also a pianist and an actor for TV shows such as Scream and All About the Washingtons. She also collaborated with fellow R&B artist Kehlani on "Ur Best Friend," which has received over 7.2 million views on YouTube.
Jazmine Sullivan
Born and raised in Philadelphia, Jazmine Sullivan has been in the music industry for over a decade. Her first album, Fearless, released in 2008 was certified platinum. The "Pick Up Your Feelings" singer also released Heaux Tales in 2021, which won a Grammy Award and marked her first (and long overdue) win at the Grammys. As recently announced, Sullivan will be a battle advisor on the 22nd season of The Voice.
Teyana Taylor
Teyana Taylor is not only a singer and songwriter, she's also an actor, a model, and a choreographer. The "How U Want It" singer appeared in Kanye West's music video for "Fade" and has contributed vocals to the rapper's My Beautiful Dark Twisted Fantasy. Her album K.T.S.E. (Keep The Same Energy) received critical acclaim when it came out in 2018. Taylor is currently on tour in celebration of her alleged retirement from the music industry.
Ella Mai
The British singer and songwriter is a mainstay when it comes to R&B. Ella Mai won a Grammy Award for Best R&B album and recently dropped a song, "How," in collaboration with Roddy Rich. In May 2022, the famed "Boo'd Up" released her second studio album, Heart on My Sleeve.
Kehlani
The "Can I" singer has been having the girls in a chokehold since their Cloud 19 debut in 2014, and we completely understand why. From their sultry smooth vocals to their dance skills displayed in their music videos, including the recent collaboration with Justin Beiber for "Up At Night," Kehlani is undeniably a force in the R&B conversation.
Summer Walker
Summer Walker is often mentioned as one of the most popular R&B artists today – and for good reason. Her albums Over It and Still Over It, include collaborations with artists such as Cardi B, Jhené Aiko, Usher, and Drake.
SZA
From her songs inspiring TikTok trends to performing at the Grammy Awards, SZA's dreamy vocals and ethereal performances are synonymous with modern R&B. "The Weekend" singer won a Grammy alongside Doja Cat for their collaboration on "Kiss Me More" and has contributed to the now iconic soundtrack of Black Panther with "All The Stars," with Kendrick Lamar.
Alex Isley
The daughter of songwriter and musician Ernie Isley from the Isley Brothers, Alex Isley is an accomplished singer and producer. She blends both old and new school R&B in her music and has performed on NPR's Tiny Desk. Her latest album, Marigold, was released this year.
About Kyra: Kyra Alessandrini is a news writer at Girls United and a freelance journalist. Her work has appeared in publications such as Time, The Hollywood Reporter, InStyle, and Elle. Born in New York and raised in Paris, France, she is passionate about culture, street photography, and travel.