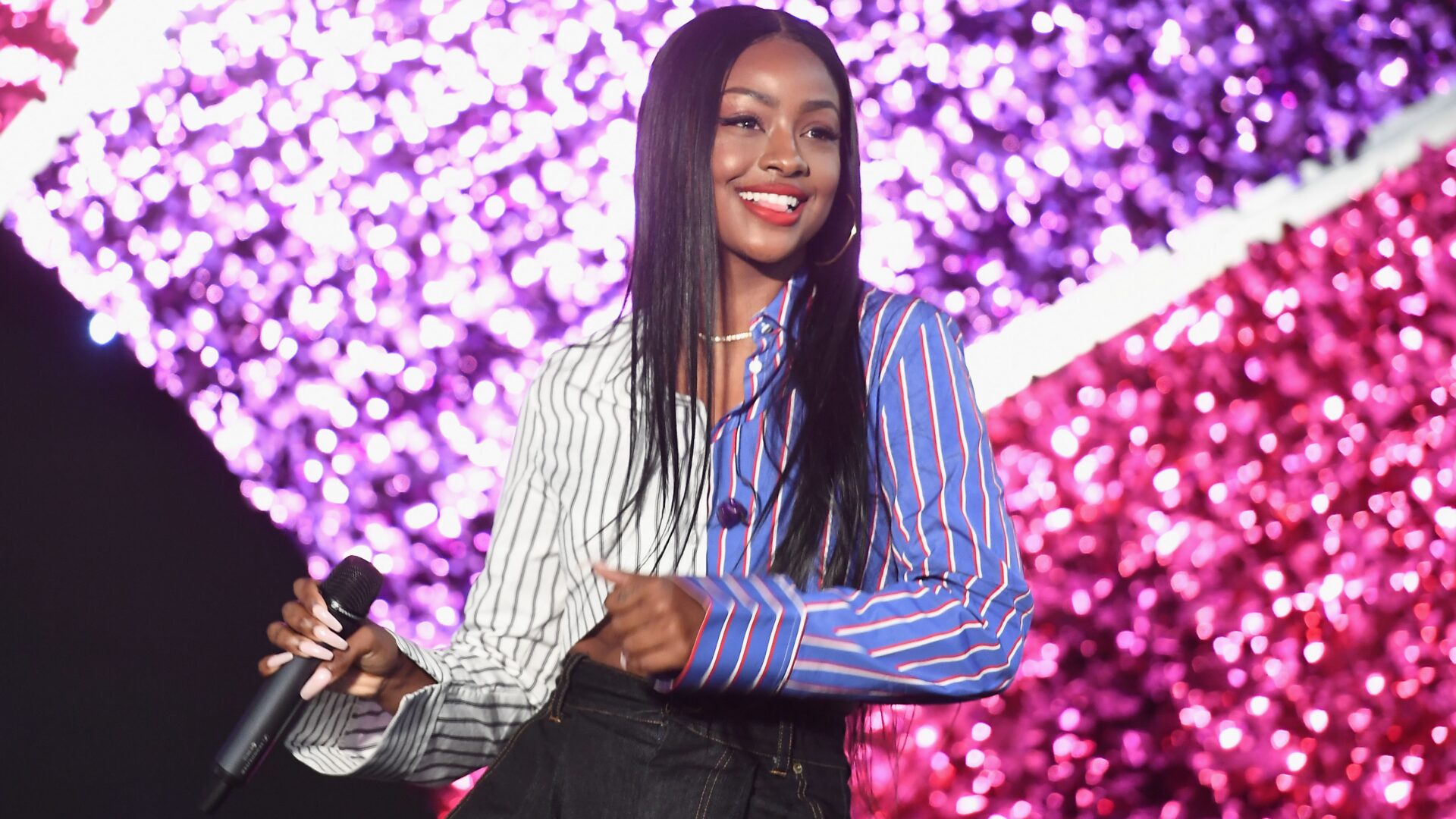 The Ultimate Justine Skye Playlist In Honor Of Her Birthday 💕
The 'grown-ish' guest star turns 27 today.
Justine Skye's career has absolutely blossomed since she received critical acclaim for her viral cover of Drake's "Headlines," which received over 2 million views after being posted. In 2012, Skye was not only a top Tumblr influencer known for her dope style and signature violet tresses, but she gained attention for her skills in the music world following the debut of her very first mixtape Skye High. The mixtape's "Trippin" song skyrocketed her exposure and she hasn't slowed up since.
Now on her third studio album Space & Time, which was produced by the one and only Timbaland, the 2020 ESSENCE digital cover star has proven herself to be one of the most underrated, multi-hyphenated singers and performers in the music industry. As an independent artist, the original self-proclaimed Purple Unicorn is a trailblazer in her own right and fans are always satisfied with every release.
Check out our exclusive interview with Justine Skye on "Magic Unfiltered"!
Whether she's on our TV screens as Anika in Freeform's grown-ish alongside Marcus Scribner and Slick Woods or she's having a candid on-stage conversation with Chlöe and Ryan Destiny at ESSENCE Festival, we will forever be in support of the original purple unicorn. As we celebrated Justine Skye's 27th birthday, Girls United has created a timeline of the Brooklyn native's most notable music videos throughout her career from her debut EP to her latest album. Take a look below!
"Everyday Living" (2013)
Sharing the same title as her then-forthcoming EP, a then-17-year-old Justine Skye released "Everyday Living" at the top of 2013 and received over half a million views. "This is my first body of work coming out from the label so I want people to understand who I am, what I've been doing, what I'm going through every day, and to connect to it," Skye told VIBE Magazine back in 2013 when she was signed to Atlantic Records.
"Whether you're in a relationship or not, or if you have a crush on someone, everyone has that feeling of love at some point in their life. It's nothing too out there in which people will be like 'Ok I don't know what she's talking about, I've never done this, I never done that, I don't wear this or that.' The EP is very universal."
"Hard Work" (2013)
After signing with Atlantic Records in 2013 following the release of her debut EP Everyday Living, Skye released "Hard Work" and landed on 106 & Park's top ten.
"Collide" featuring Tyga (2015)
In 2015, Skye released her Emotionally Unavailable album and her "Collide" collaboration, which was produced by DJ Mustard. At just 19 years old, Skye began to tap into her confidence during this era of her career. "I'm confident in who I am and I'm not doing anything wrong. I'm just being myself. Being comfortable with my body, comfortable with my sound and I'm figuring out who I am. I'm growing up," she said during an interview with The Boombox.
"I'm Yours" featuring Vic Mensa (2016)
Released at the top of 2016, Skye released a fun-loving video for her Vic Mensa-featured hit, who spit his verse in the video via FaceTime. The fun karaoke-themed lyric video featured appearances from bestie Jordyn Woods and ex-boyfriend Travis Scott. A year prior, she released her music video for "Bandit," which has received over 1.5 million views on YouTube featuring her close friends at the time.
""I like to always have my girls with me, my real friends. I don't like to have people I'm not so familiar with portraying best friends on camera, I want my girls to be a part of this with me," Skye said in an interview with Untitled Magazine about her "Bandit" video. "The inspiration for the video was just showing how badass we can be, while also having fun, and having a good heart. You gotta play these dudes a little."
"U Don't Know" featuring WizKid (2016)
Featured on her debut album Ultraviolet, Skye released the music video for "U Don't Know" back in 2016 though the album itself wasn't released until 2018. The song features WizKid, who recently rose to fame for his Tems collaboration titled "Essence." In an interview with Wonderland Magazine, Skye said of the song, "The song is basically what happens when Reggae meets Afrobeats, it makes everyone want to dance!"
"Build" featuring Arin Ray (2018)
After sharing on Instagram her own experiences with emotional and physical abuse, Skye released the video for "Build." In an interview with Billboard, Skye shared her thoughts on her own music video and how it was "triggering" for those who she initially shared the video with. "For the most part, I hope that people get the message I am trying to spread, which is awareness of the situation. Standing up to [domestic violence] is extremely important. It can happen to anyone," she said.
"Intruded" (2021)
Produced by Timbaland, Justine Skye's Space & Time album started as an Instagram live series between the Brooklyn-bred songstress and the super producer. Since its release in February 2021, the music video has received over 1.1 million views on Skye's YouTube channel.
"I saw the live session she did with her friend, and it sounded really fresh. It felt new to hear her just singing over her friend playing the guitar, and I wanted to see how it would feel over my production," Timbaland praised of Skye during an interview with HighSnobiety as he shared the story of how the collaboration came about.
"Because I was inspired by watching her cover, I didn't want to do a song that had been done before. I wanted it to be something completely new; that's part of the experience, creating something that people didn't have any memory of. Something new for their ears."
"In My Bag" (2021)
Nearly a year ago, Skye released her official music video for standout single "In My Bag" from her Space & Time album produced by Timbaland. The song encourages listeners to shake that ass, blow this cash, and make it right back.
In the same interview with HighSnobiety, Skye shared how the "In My Bag" single came about. "[Writing 'In My Bag;], I was in such an emotional state that I was like, 'Damn, I've never really written a pop-leaning song. What do I do?' And so Tim gave me some melody ideas; he was just like, 'You need to attack this like a rapper. What would a rapper do? What would Roddy Ricch do on this?' I don't know what came on to me, but I was like, 'Alright, I'm from Brooklyn. I'm from New York. Tap into that, you got this.' And then I just started going off and I wrote the first verse," she said.
Skye also revealed that she collaborated with fellow pop-R&B fusion artist Victoria Monet for some of her strong songwriting skills. "Then the hook — we had the melody for it, but it was really stumping me, because I didn't want to just half-ass the hook. I really wanted it to be something great. I tried so many different things; I'm like, 'I don't want to just settle for this. Pop hook, pop hook, pop hook… where do I go? Oh my god. Victoria Monet!' And I'm like, 'Victoria, help me. I need to do this!' I sent her what I had, like the melody idea, and she sent me back that hook, and I'm like, 'You are a pop genius.'"
"What A Lie" (2022)
This year, Skye released "What a lie," which fans speculate was written in response to her breakup with fellow R&B crooner Giveon. Skye also performed this song on The Tonight Show with Jimmy Fallon. The video shows Skye confronting her partner for his consistent infidelities throughout their relationship, which Skye addressed on Twitter as being an issue in her and the "Lie Again" singer's relationship. This song is Justine's first release since her 2021 Timbaland-produced album Space & Time.
Photo Credit: NEW YORK, NEW YORK – APRIL 28: Justine Skye performs on stage during the 2019 ESSENCE Beauty Carnival Day 2 on April 28, 2019 in New York City. (Photo by Paras Griffin/Getty Images for ESSENCE)
About D'Shonda: Born and raised in Brooklyn, NY, D'Shonda Brown is the Associate Editor at Girls United. When she's not interviewing or writing, she enjoys running, dancing, buying sneakers, and binge-watching Lifetime movies.