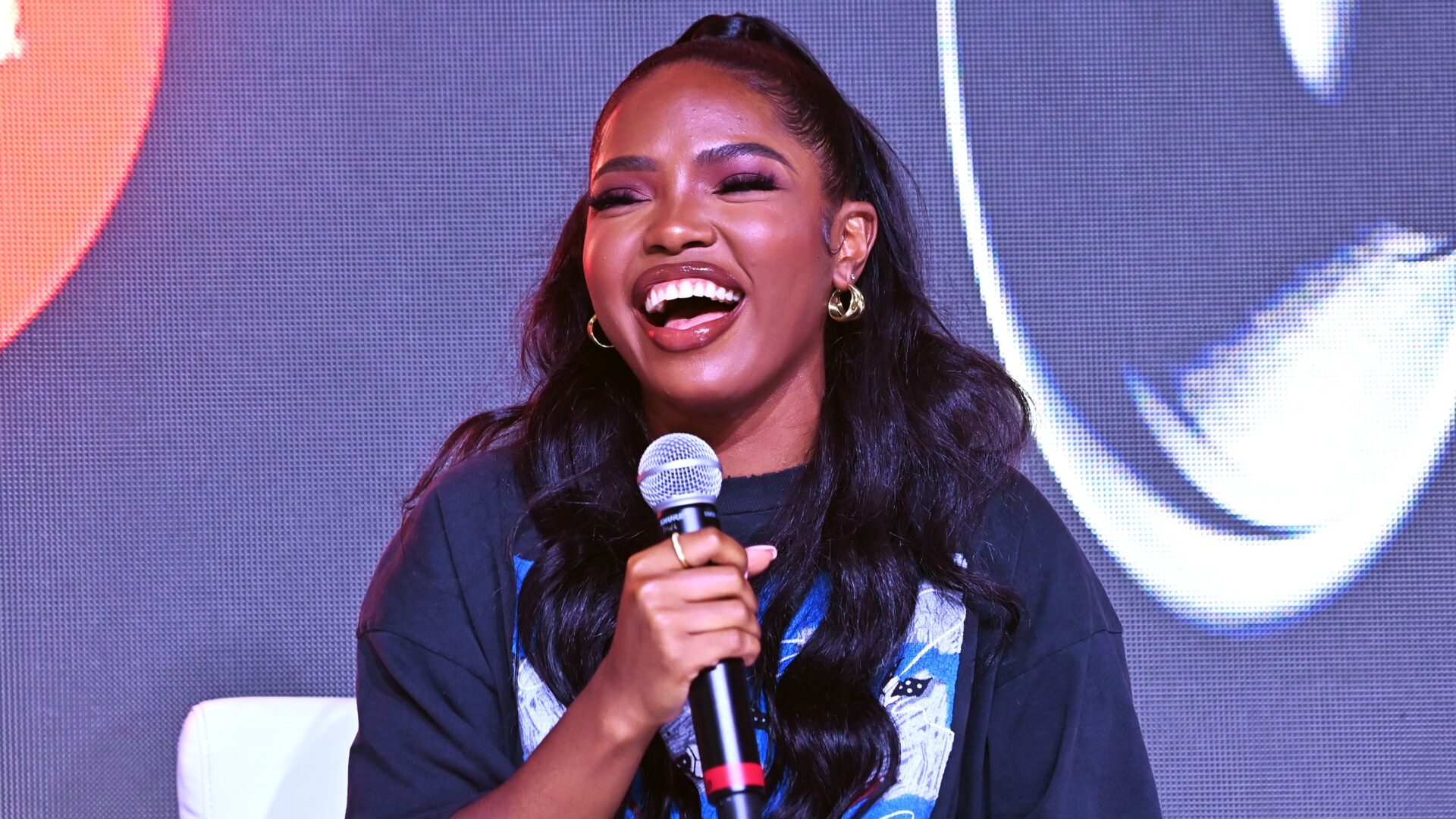 Ryan Destiny Used To Swear By This $12 Foundation Stick – So I Gave It A Try!
She once loved it so much that she had "five different shades" of the brand's staple product.
If Ryan Destiny is going to do one thing, it's glow. Her flawless face has fans focusing on her poreless canvas and wondering if she's mastered the art of "your skin, but better" makeup routines, or if her skin is just that bomb. Either way, whatever the case may be, we want answers – and we want them now!
Whether it be on Coca-Cola's If Not For My Girls stage at this year's ESSENCE Festival of Culture or simply taking a flick for the gram, the STAR actress' face card never declines. Quite honestly, it's been that way since she first stepped on the scene in the acting world. With undeniable beauty and grace like hers, it's no wonder why she was once the face of an entire beauty brand.
Back in January 2021, the "Do You" singer was appointed as the first celebrity brand ambassador for Black Opal, a Black woman-owned beauty products and cosmetics brand designed specifically for Black women and men, as well as folks of color. "I started using Black Opal when I was 16 — they were the only makeup brand out there that had all the shades that I needed for my face," said Destiny in an interview with Allure amidst the announcement. We love a brand with shade range and great prices!
Though Destiny no longer serves as an official ambassador, several celebrity makeup artists have collaborated with Black Opal to use their products, including Cardi B's go-to Erika La' Pearl. Moreover, the brand did the makeup backstage at this year's BET Awards for some of their executive team.
I wanted to replicate the grown-ish guest star's everyday glam look to try and perfect my on-camera glow, and thanks to a few of our friends at Black Opal, I got my hands on a few of the most notable beauty products from the brand. Check out my thoughts on a few of the products below!
BLK/OPL TRUE COLOR® Skin Perfecting Stick Foundation SPF 15, $11.95 USD
Admittedly, stick foundations aren't really my jam but for the promise of a velvety smooth finish, I'm willing to give it a shot. I've only been exposed to two stick foundations that I've ever liked – thread beauty and FENTY. Other than that, everything else either had an ashy finish or didn't provide as much coverage as I'd want without wasting the product. Needless to say, I didn't go in with much expectation.
For a quick beat right before an Instagram live with Mia Isaac, I wanted to have a natural finish to my face without looking too made up. Not to mention it's way too hot in New York City to have layers of makeup. I used the TRUE COLOR® stick foundation in Yes Honey for my base and Truly Topaz as a highlight and concealer. Going in with a damp beauty blender, I found myself struggling to make the product spread and had to use about two rounds just to get some light-medium coverage. I will say though, the finish did what it said it would and left my face feeling pretty glowy.
I set my face with Black Radiance hydrating setting spray and a thin layer of FENTY Beauty setting powder, but throughout the day, not a touch up was needed. I have naturally oily skin so a bit of shine was expected, but the foundation kept its promise of leaving my skin glowing from my Instagram live interview at home to a concert in the city I went to later that night. Lightweight, radiant, skin-like finish – I guess this will be my new 15-minute GRWM go-to for the summer!
COLORSPLURGE™ High Shine Lip Gloss, $9.95 USD
Sad to say, but I was a bit underwhelmed. The color wasn't pigmented and I had to continue to apply it throughout the day just to make it look like there was gloss on my lips. I will say, however, that it did make my lips feel moisturized and didn't leave a dry, flaky feeling after it was gone. I would have to pair this product with a liner and lipstick for sure to get the most out of it, but as a standalone, it didn't impress me all too much.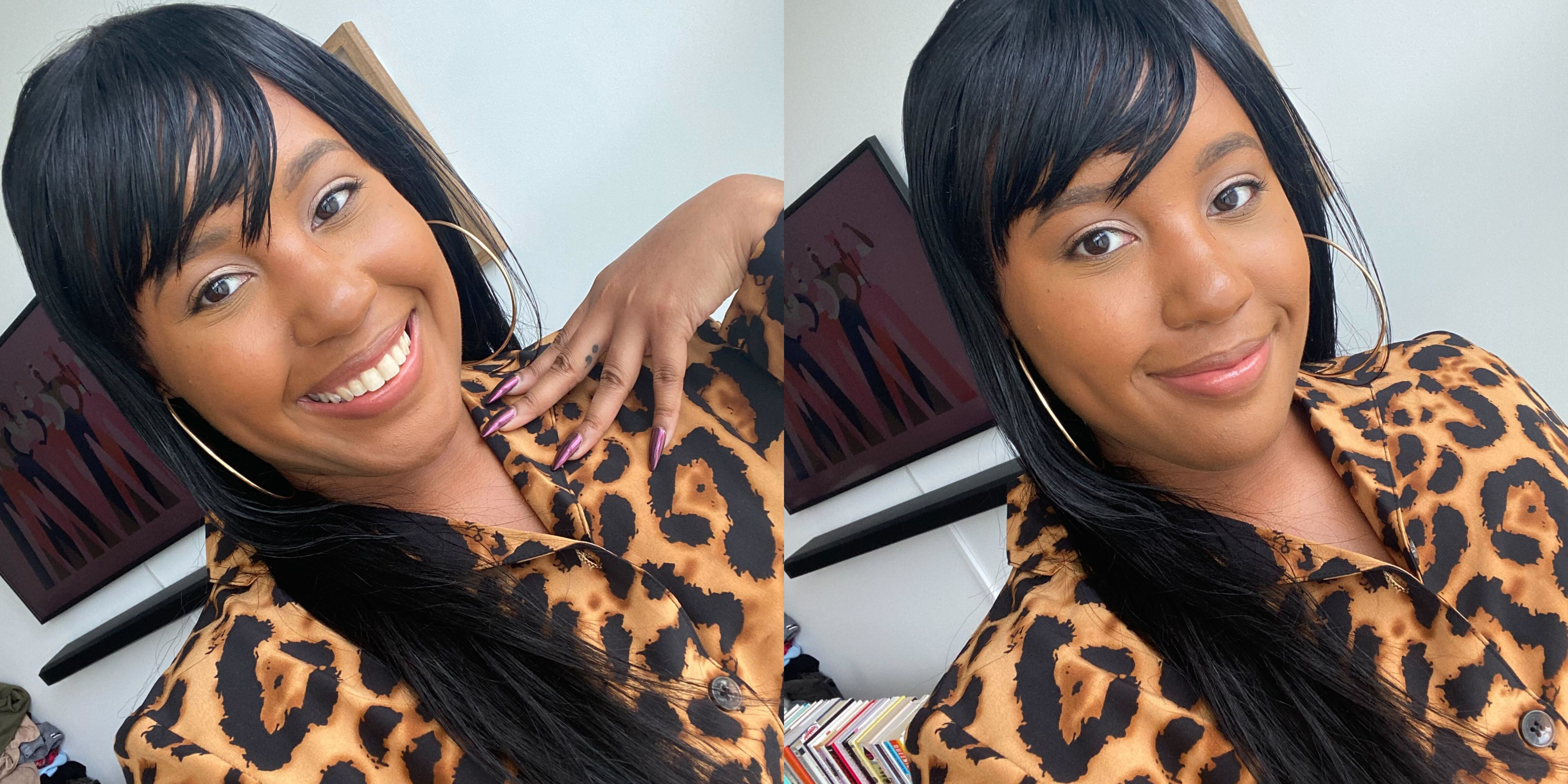 Pictured Above: Perfecting Foundation Stick + High Shine Lip Gloss
TRUE COLOR® Pore Perfecting Liquid Foundation, $12.95 USD
For my next night out, I was invited to dinner and wanted to give the liquid foundation a try. I was given the shade Truly Topaz, which was the third lightest shade out of the collection. I primed my face with e.l.f. Acne Fighting Putty Primer and sprayed my brush with Black Radiance's Hydrating Setting Spray before stippling the foundation into my skin. I'm not going to lie, once I pumped out the foundation onto the back of my hand, I was scared…
The foundation initially went onto my face as a honey mustard color, which is sad because this was the closest thing to my complexion according to the shade matching URL and it wasn't even my undertone. My undertones are typically golden and warm, but in the summer I'm more red. This foundation had an olive-like undertone that I couldn't get with so the only thing I was thinking was, "Dear God, help me manipulate the f*ck out of this foundation."
After letting it oxidize and doing the rest of my face, it didn't look so bad. I bronzed, I set, and kept it pushing. It felt lightweight and even in pictures with no flash, it looked pretty passable – at least to an untrained eye. By the time I went to my boyfriend's house later that night, I was shiny, even though I used two layers of setting powder and two layers of setting spray. Even he noticed that the foundation I used wasn't my regular NARS or Rare Beauty. He called it "more yellow" and "shiny." While I wasn't pleased that even my boyfriend could tell the difference, I was impressed that he knew his undertones.
Final Review
First thing's first, I wish the liquid foundation had more range. Not just shades, but as far as undertones and hues as well. The Truly Topaz shade would've had a beautiful finish on its own if it had a sister or close cousin with some red mixed into it. Overall, the products didn't turn out terrible. I'll probably be taking the foundation sticks with me on my next day trip out with my girls, but I don't think that the rest is for me. Try the products out and let us know what you think!
All BLK OPL products are available on their official website, in select Target stores + online, CVS stores + online, Rite Aid stores + online, Walmart stores + online, and Ulta stores + online. Consumers can use the store locator on the website to find the nearest location.
Photo Credit: Photo by Paras Griffin/Getty Images for Essence