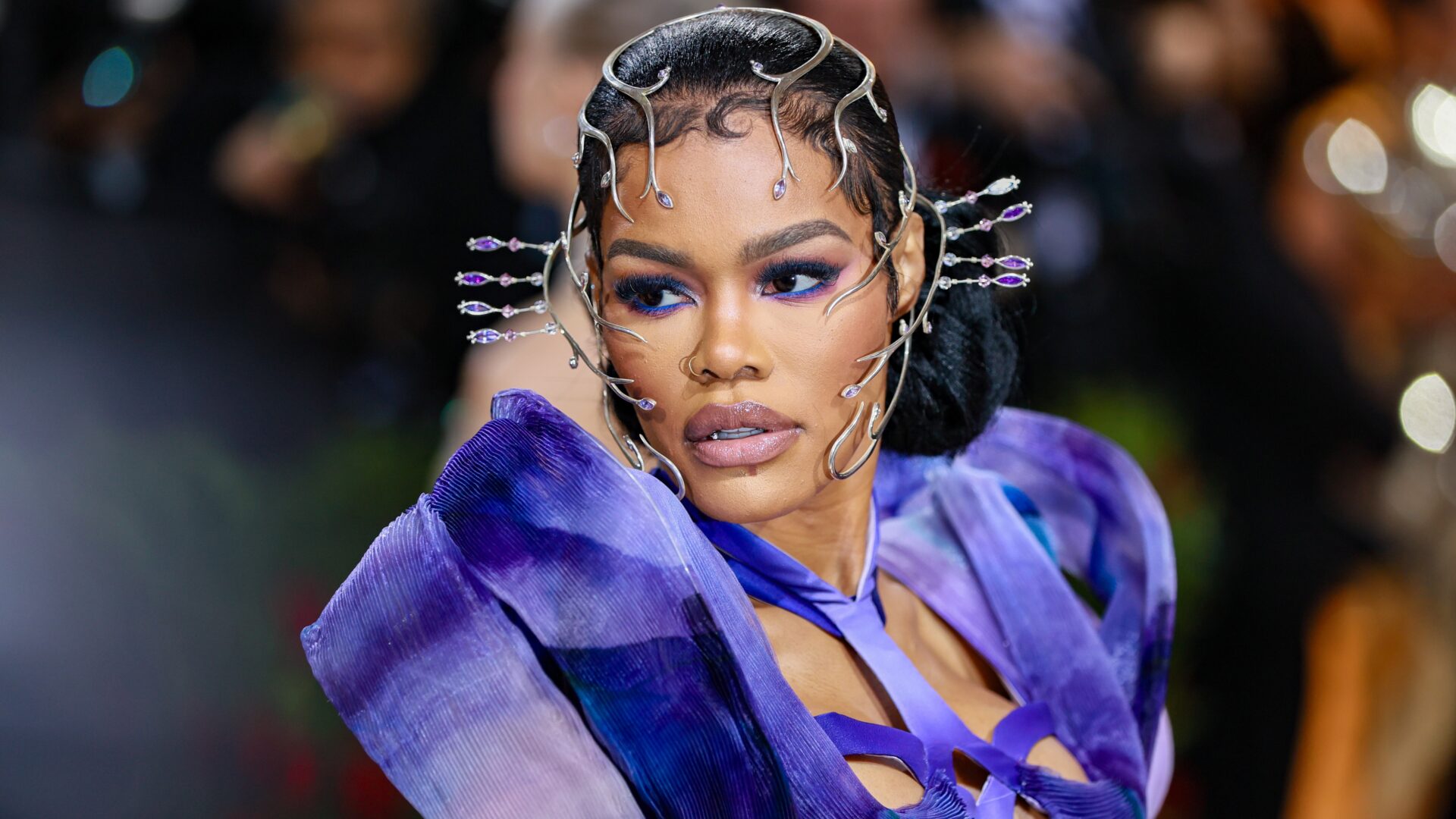 Teyana Taylor Was Out Of This World With Her 'Gilded Galaxy' MET Gala Gown
We spoke exclusively to Tey's beauty and style team about the look.
Bridgerton.
This was the first thing that came to mind when Teyana Taylor's team heard about the 'Gilded Glamour' theme of this year's MET Gala. The night before MET Monday, Taylor assembled her dream team to put together a look to remember in light of the "In America: An Anthology of Fashion" invitation from Anna Wintour herself. While some of our favorite celebrities, influencers, and public figures graced the MET steps that evening, there were a select few that stood out from the rest. Among those few was our favorite rose in Harlem – Teyana Taylor.
Since her 80's old school skateboard-themed Super Sweet Sixteen, Taylor has been praised for her eclectic style and creative direction. From her music videos and concerts to red carpet walks, fans never know what rabbit Tey Tey will pull out of her hat – and that's what we love the most. While many MET goers opted for a more on-the-nose approach to this year's theme, Taylor wanted a more "out of this world" look. Hence, the "Gilded Galaxy" look was born.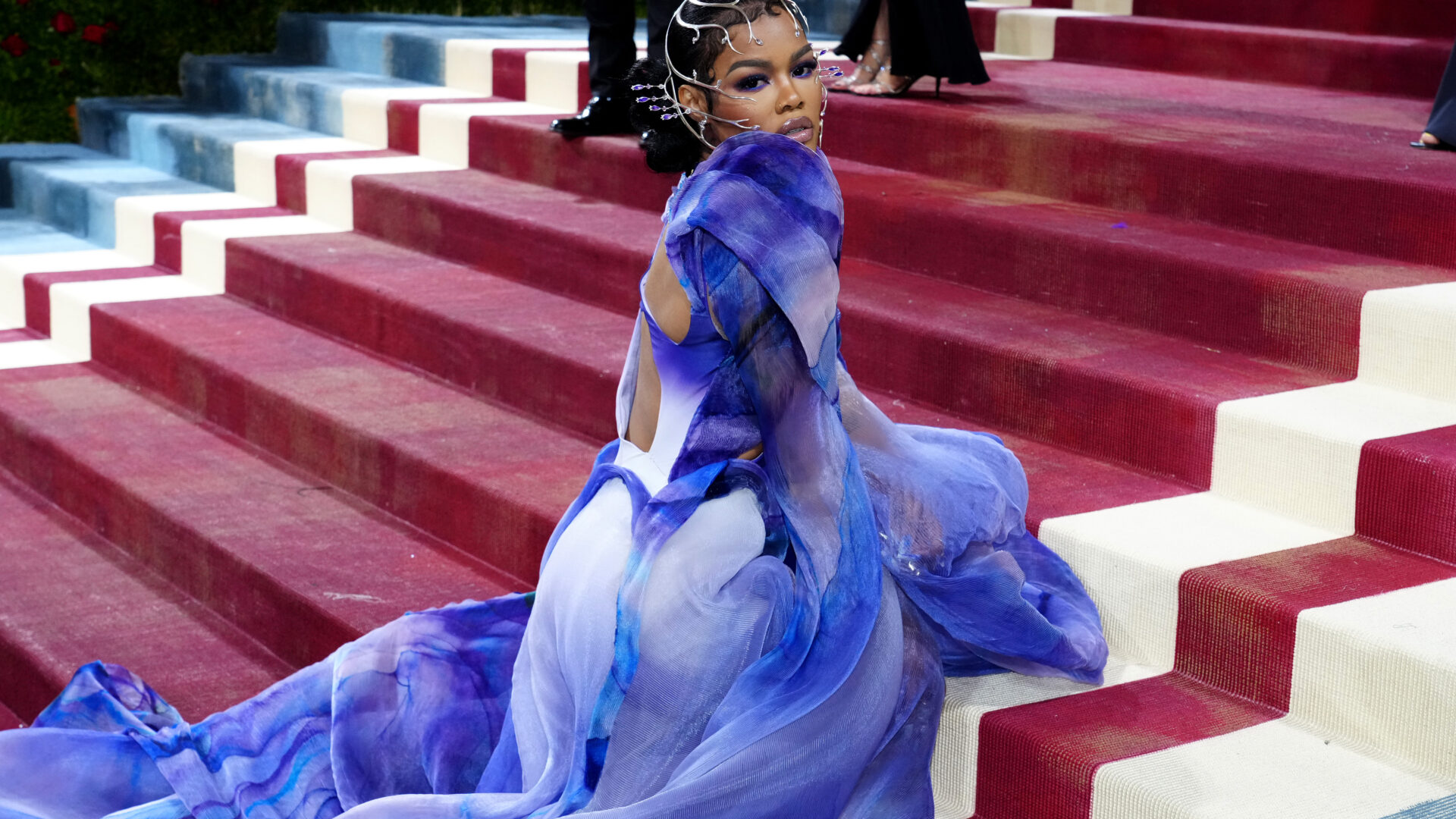 Photo Credit: NEW YORK, NEW YORK – MAY 02: Teyana Taylor attends The 2022 Met Gala Celebrating "In America: An Anthology of Fashion" at The Metropolitan Museum of Art on May 02, 2022 in New York City. (Photo by Jeff Kravitz/FilmMagic)
"Teyana is such a creative and she has so much of her hand in this look," said celebrity nail artist Tiffany Everett. During our Zoom interview, Everett reminisced in awe as she was reminded that the fate of Teyana's nail art was in her hands. The proof was in the pudding, or the photo proofs, when the official images showed how flawlessly the look was executed from head to toe. "[With] her additions, our additions, [and] the team's additions, it was like we decorated a princess."
The Atlanta-based nail technician felt "confident and proud" after seeing the results of Team Teyana's work in Getty Images. Everett even refers to Teyana as her "life-sized Barbie" for her flawless looks and unmatched willingness to take fashion risks. To say that she was proud would be an understatement. "It's like I got married." What Everett described as an "acid color bleed" design went hand-in-hand with the details and designs of Teyana's dress, which she was happy to execute. "When Teyana lets me go creative, I go crazy."
Curt, who served as Teyana's hairstylist for MET Gala Monday, told Girls United that he couldn't decide what to do with Teyana's hair until he saw the full look – long and dramatic or slicked back and out of the way. Once he was flown out to New York City, he got the perfect visual of how he wanted the hair, the glam, and the custom headpiece to work together. "As soon as I seen it, I wanted every implement of every piece to have its own moment," he said. "I didn't want the hair to overpower the dress or vice versa. I just wanted everything to be cohesive. Once she tried on the dress and the headpiece, I was automatically sold on the fact of it being pulled up into a nice bun."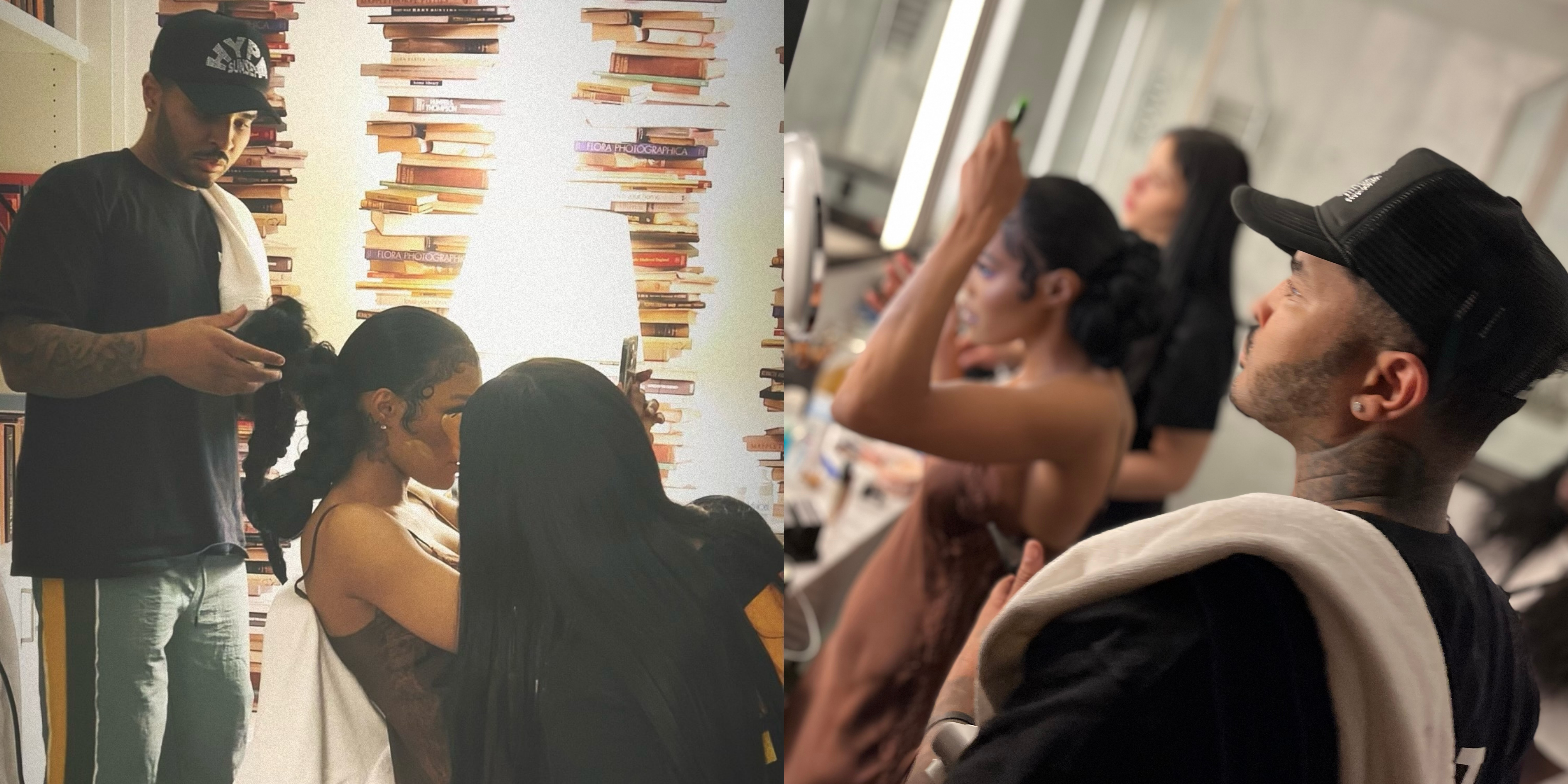 The visionary behind Teyana's "Gilded Galaxy" glam was New York-based makeup artist Yeika Glow, who revealed to Girls United that her MET Gala muse cannot resist a good smokey eye. Similar to Curt, once Yeika saw the dress, a lightbulb went off in her head for the perfect face. Specifically for the eyes, she was inspired to create an ombre effect with the colors of the Iris Van Herpen dress on the sides as the deep violet receded into the blue. "I also went to Pinterest again and showed her looks because Teyana's a visual. She likes to see it and I'm also the same," Yeika described about being in sync with Teyana. "I like to see it, I create it and just go from there. It turned out exactly how we imagined."
In collaboration with Teyana herself, the "Bare Wit Me" singer teamed up with wardrobe stylist and creative director Seannita Parmer and celebrity fashion stylist and Thick House judge EJ King for the "Gilded Galaxy" dress that was astonishingly out of this orbit. When the Iris Van Herpen team presented the gown to Teyana, the two forces and their teams came together to bring her unexpected look to life. The pigments and gradient dyes of indigo violet were created with the captivity of television and film in mind, which Parmer said was an "aweness" that made the colors pop even more.
"We expressed to team Iris, like don't be afraid to step out of the box. We can go there," Parmer said about the risk factors of design and execution when designing for Teyana. "We love art and we love fashion. Do not be afraid to step out of the box. We don't want to play it safe."
King expressed his excitement to work with Teyana again for yet another MET Gala, especially because this year, they planned to going a little left field from what the world would expect from her. He described last year's MET Gala as "hectic," and even disclosed that the "Wake Up Love" singer said "the experience wasn't as fulfilling as it was this year," in comparison to the year before.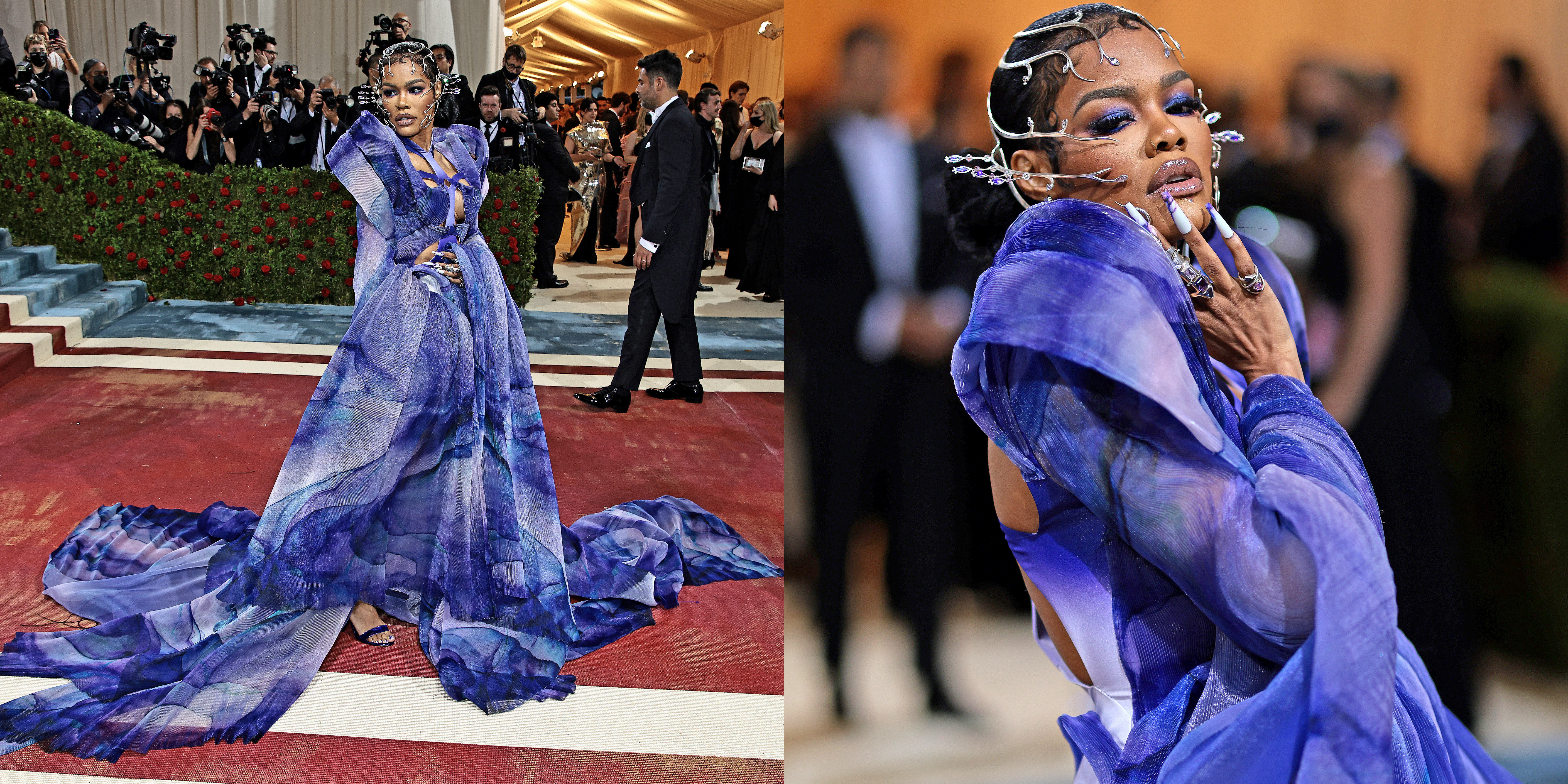 Photo Credit: NEW YORK, NEW YORK – MAY 02: Teyana Taylor attends The 2022 Met Gala Celebrating "In America: An Anthology of Fashion" at The Metropolitan Museum of Art on May 02, 2022 in New York City. (Photo by Dimitrios Kambouris/Getty Images for The Met Museum/Vogue)
"I know last year she really wanted to do something out the box and really do something that pushed her fashion-wise. With Teyana and her body, everybody always likes to show it off and be bodycon and show her abs – and she knows," King said during the Zoom call. "The dress was so breathtaking. When Teyana insisted, she was like, 'yo, I really want to wear a headpiece,' she really wanted to take it there. I really loved Teyana for that because she never shies away from the extravagant, doing something out the box, or doing the most. "
King, who has known Teyana for over 15 years, had the ultimate "proud brother moment" when he saw not only the crowd's reaction to the dress, but the exuberant confidence she embodied when she hit the steps. "To see her get on that carpet and really get to shine in something that wasn't so typical for her body and what people would put her in was so dope. I'm happy that everybody loved it and received it and it was the moment that it become," he said. Parmer herself knew the dress was a winner from the fitting, which she said was when Teyana "got into character," a tell-tale sign that she was feeling herself and ready to serve it to the girls.
"When she started doing what she wanted to do on the carpet and moving the dress around and posing and becoming that gilded galaxy beast that she became. That's when I knew that this was a winner," Parmer said. "We had a winner and we knew it." Unbeknownst to the rest of the world because of her effortless execution on any runway or sidewalk, Parmer disclosed that Teyana is "a heels girl, but she's not a heels girl," which made finding the perfect shoe a task in itself. "Teyana's not a stiletto girl so we had to find the perfect shoe that worked with the dress [and] that worked with Teyana's ability to be comfortable all night," she added.
Lucky for the team, Teyana found the perfect pair the day before. After rejecting shoe after shoe because they were "too high," according to King, she stumbled upon a pair of purple Louboutins. While King had a bit of hesitancy because of the height of the heel, Teyana insisted that they were the right fit for the look she wanted to accomplish. "Teyana be first one like, 'too high, too skinny, there's no support,' but she was so committed," he added.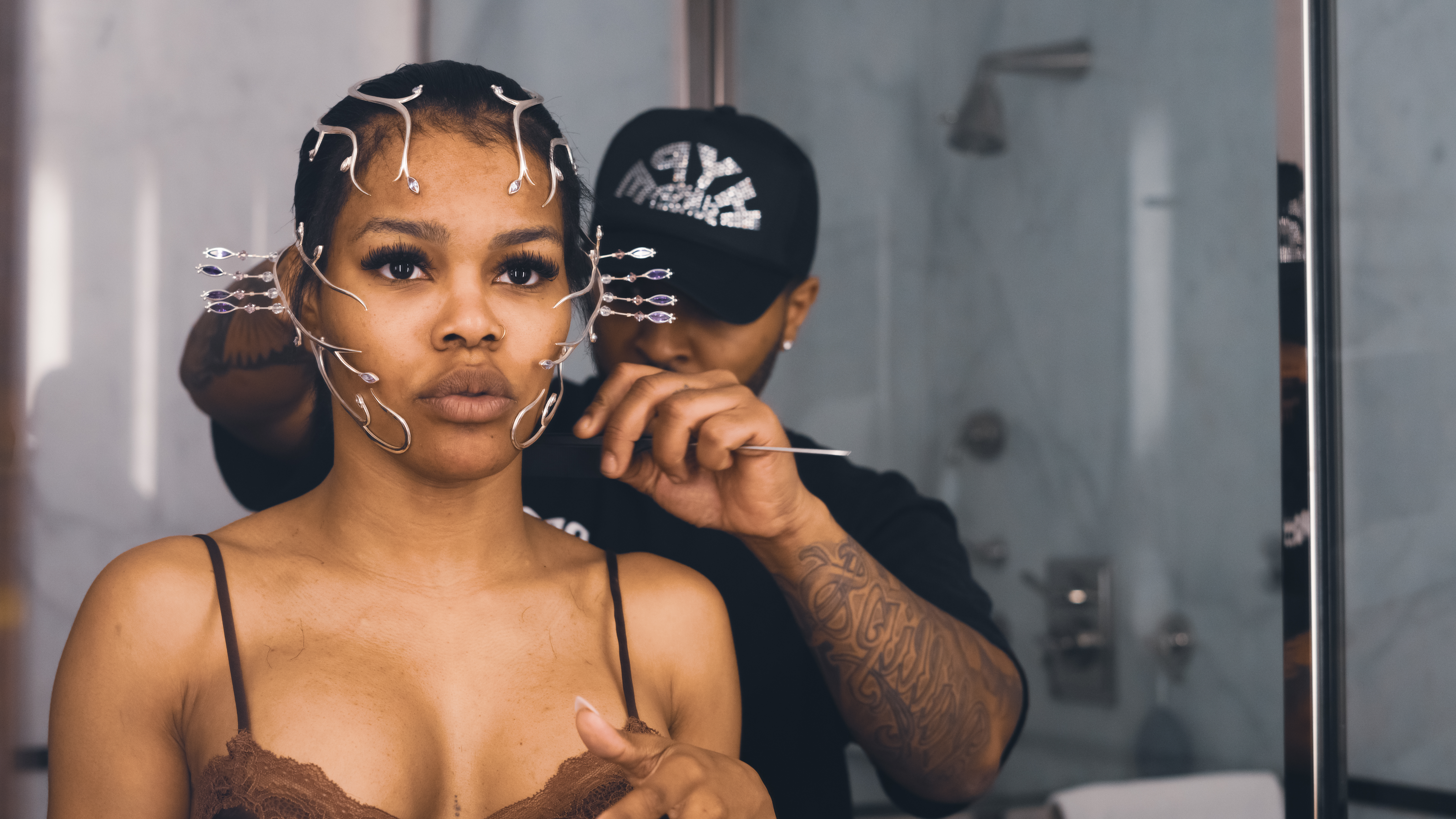 Malakai (they/them), CCO of House of Malakai, was the visionary behind Teyana's one-of-a-kind headpiece inspired by her Iris Van Herpen gown. "From [the] design process to execution, I would say approximately 200 hours," Malakai told Girls United via email. "The piece is laser-cut sterling silver that is hand shaped and finished with faceted amethyst gems." They continued to share that prior to creating the headpiece, Iris herself shared her mood boards of visual and conceptual inspiration for the dress, which made it easier for the headpiece to be creatively constructed. Referring to Iris as "an absolute genius" for which they have great admiration, Malakai noted the reference to roots systems, bioluminescence, and mycorrhizal networks within the design that made their creativity go off the charts. 
While Malakai didn't get a chance to work with Teyana personally this go-round, they were able to feel Teyana's innovation through their work with Iris. "I did get the impression that Teyana had a very clear vision and was very involved. Teyana is boundary-pushing and authentic. She is known for being deeply involved in all aspects of her creativity," they praised.
Two fittings and a night-before slumber party later, Teyana's team assembled to get her ready for the highly-anticipated MET Gala Monday. With an 8:00 AM call time, all hands were on deck since the night before. Tiffany had created the nails overnight, Curt was on wash and deep conditioning duties until 3:00 AM, and Yeika tackled Teyana's shadow glam while she took a nap.
Everything was running smoothly and each member of the team was tagging one another in, but nothing hit like the moment right before. "It actually didn't get a little crazy or chaotic and actually scary until it was time to actually walk. That's when everybody's panic mode start to set in like, oh my God, we're really about to walk down," Curt remembered excitedly. "The last 30 minutes leading out the door is when everybody's nerves started to really start shaking."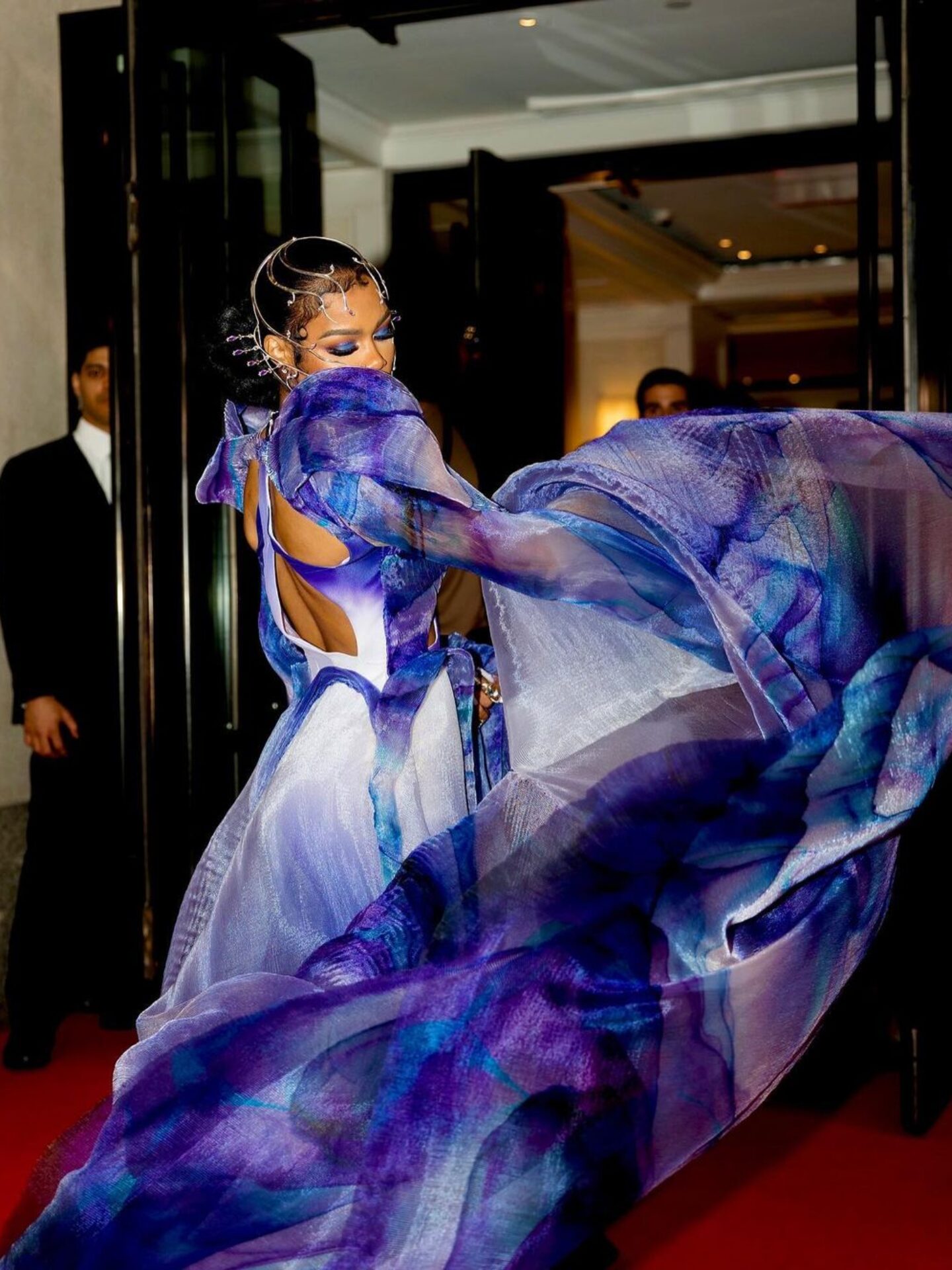 When asked what it was like to see their work come to life, Parmer got emotional as she thought back to the moment. "I got chills in my body and I cried. I did, I shed a tear. I'm very emotional and I'm a Pisces," she said jokingly. "I actually cried because she looked so beautiful and I was just so happy for her for this moment. It's like she made that mark. She made it and to see someone that you've been knowing since they were 16 years old when they were a little tomboy wearing their little jeans backward and slouchy, and to see her evolve into this beautiful, phenomenal woman, it just brought tears to my eye. I was just so happy for her."
Yeika added, "The fact that every single angle looked exactly like perfection. I was just like, damn, we did it again. We did it again."
"I love that," Everett chimed in. "We did it again."
King also harped on Teyana's continuous praise of her team and her ability to always make sure that they receive their flowers and proper spotlight for their contribution to her final looks. "Everybody was so hands-on and Teyana was so passionate about making sure that this moment was a moment," he said. From Yeika's glam prep on Teyana's face down to the final shoe decision, there's no doubt that Teyana, Iris, and the entire squad made this a moment for Teyana that'll forever be in the books. "It literally was like, this is what we've been waiting for. This is what we've been wanting her to debut."
Photo Credit: Photo by Theo Wargo/WireImage