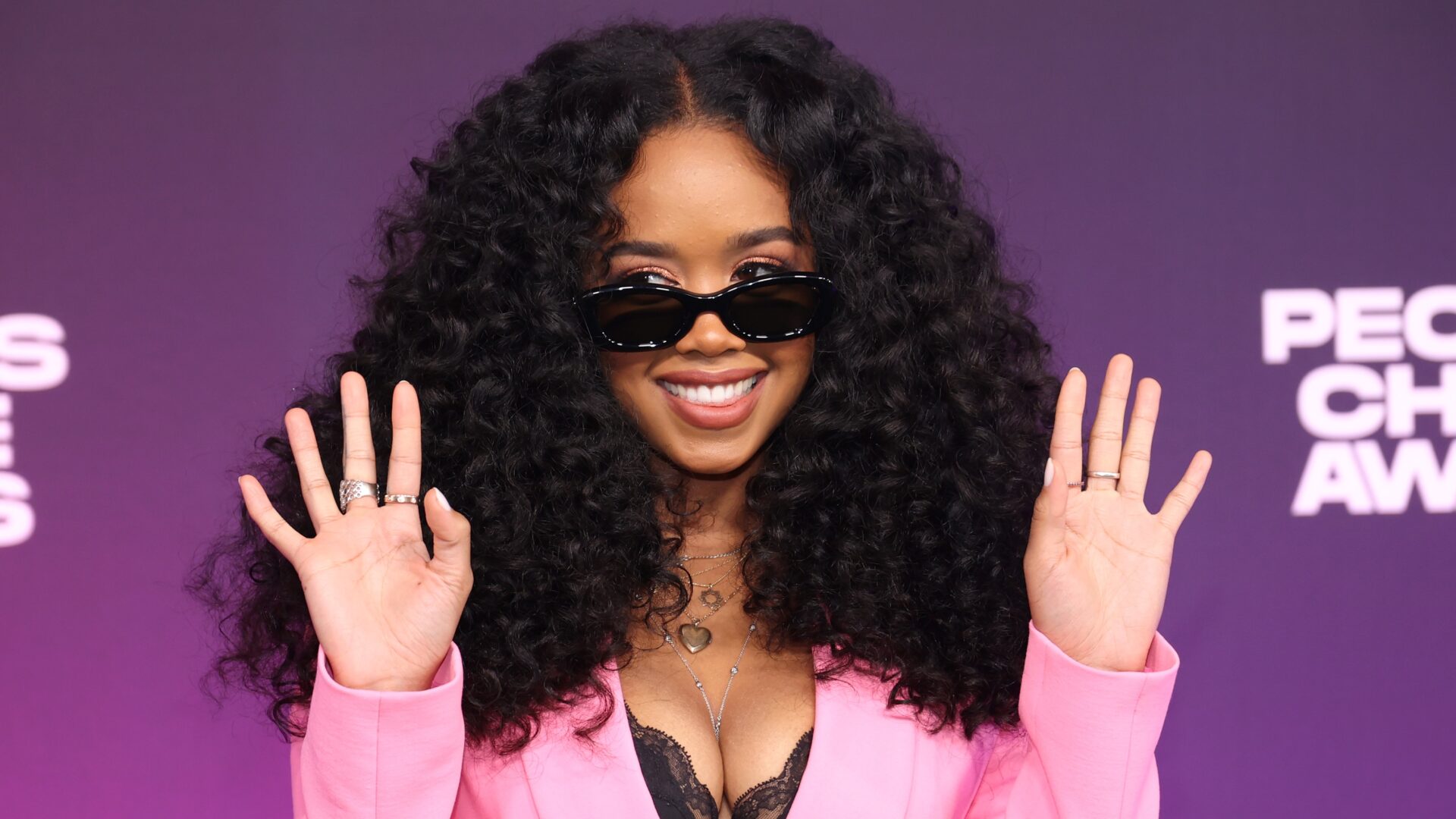 H.E.R. Announces 'Back Of My Mind' U.S. Tour
The tour will make its way across 19 U.S. cities.
On February 22, Grammy Award-winning performer H.E.R. took to Instagram to announce her "Back Of My Mind" tour of the United States. Named after her debut studio album Back Of My Mind, which was released in June 2021, H.E.R. will be performing in 19 cities across the nation. The tour will start on April 8 in Honolulu, Hawaii and conclude on June 19 in Charlotte, North Carolina. The tour will make additional stops in Los Angeles, New Orleans, Minneapolis, Kansas City, and more.
"I've been so eager to connect with my fans this year, so it's great to get back on the road," H.E.R. said in a statement. "Being on stage fuels me as a musician and I can't wait to feel that energy again!" The "Back Of My Mind" tour will follow H.E.R.'s participation in Coldplay's "Music of the Spheres" World Tour, which marks the musician's first-time playing in stadiums.
The 24-year-old "Best Part" singer will be joined by R&B singer-songwriter Marzz, who serves as the opening act for all tour dates with the exception of the first stop in Hawaii. "IM SCREEEAMING!!!!" Marzz wrote on Instagram. "I hope to meet all of you in every city just to tell you how much i appreciate u!! thank you @hermusicofficial for this amazing opportunity! Let's rock out." Recently, Marzz was listed as Billboard's Top 15 Hip-Hop & R&B Artists to Watch in 2022. Marzz performed at BET's Soul Train Awards and opened for Jack Harlow at a performance in Louisville, Kentucky.
As for H.E.R., the "Comfortable" songstress has been keeping busy since the release of her album back in June, which featured notable names such as Ty Dolla $ign, DJ Khaled, Bryson Tiller, and Lil Baby. Recently, H.E.R. was featured on her "Blasian Bay sister" Saweetie's "Closer," which according to the Icy Girl's Instagram post has charted as the number one added song on US Rhythmic Radio.
Moreover, H.E.R. was cast as Squeak in Oprah Winfrey's musical film reboot of "The Last Color Purple," in which she will star alongside Halle Bailey, who will play Nettie, and Taraji P. Henson, who has been cast as Shug Avery. In a 2021 interview with Variety, H.E.R. expressed her desire to venture into the world of television and film acting. "There is so much I want to do. People don't really get to see my comedic and fun side, except for when I'm impersonating my aunt, but I definitely want to do a lot more voice-overs, and comedy, but also some serious roles," she said. "I'm trying to do it all, I know. Whatever it is, one thing at a time. I'm gonna get there."
Tickets for the "Back Of My Mind" tour go on sale at 10 a.m. on Friday, February 25 via Ticketmaster.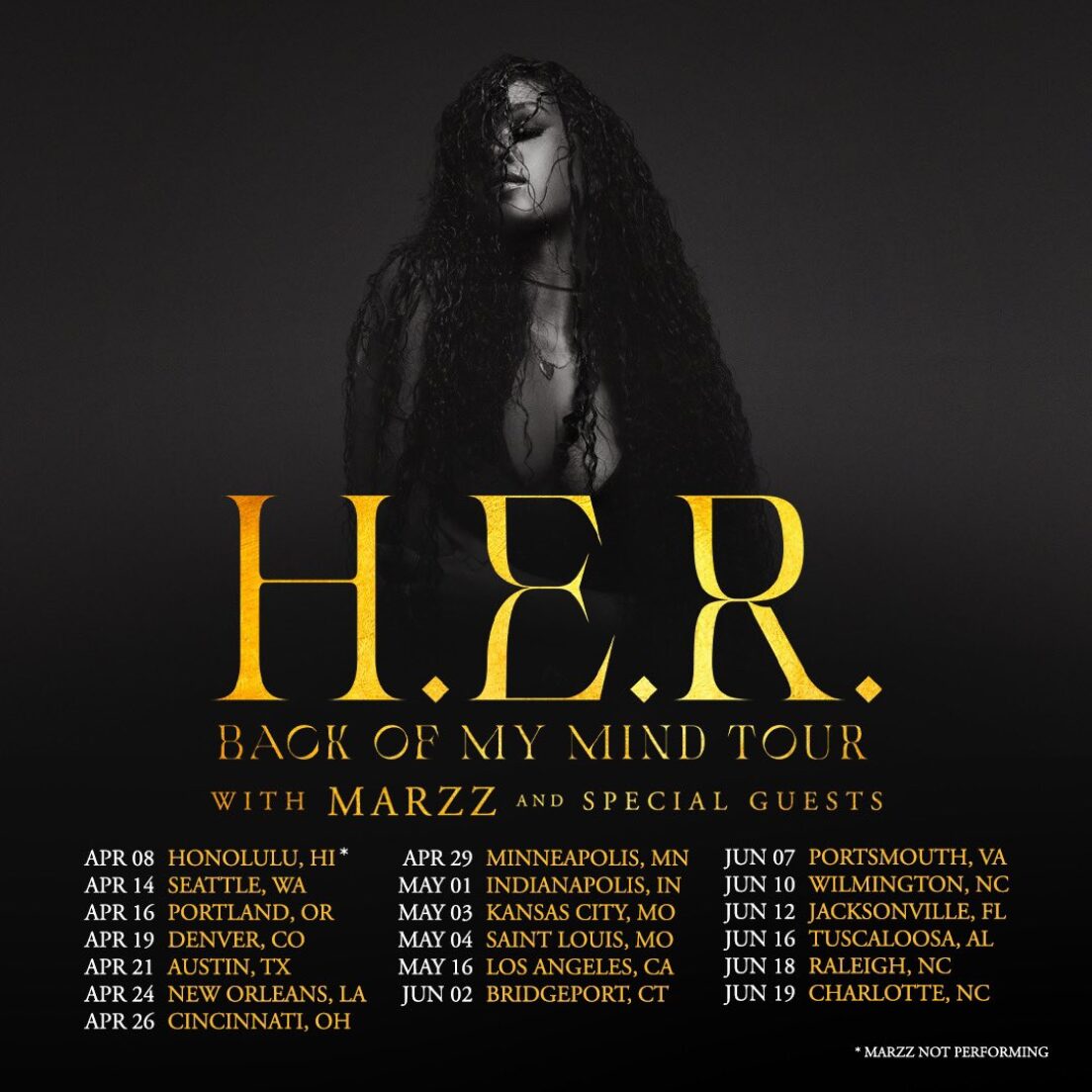 Photo Credit: Photo by Rich Polk/E! Entertainment/NBCUniversal/NBCU Photo Bank via Getty Images