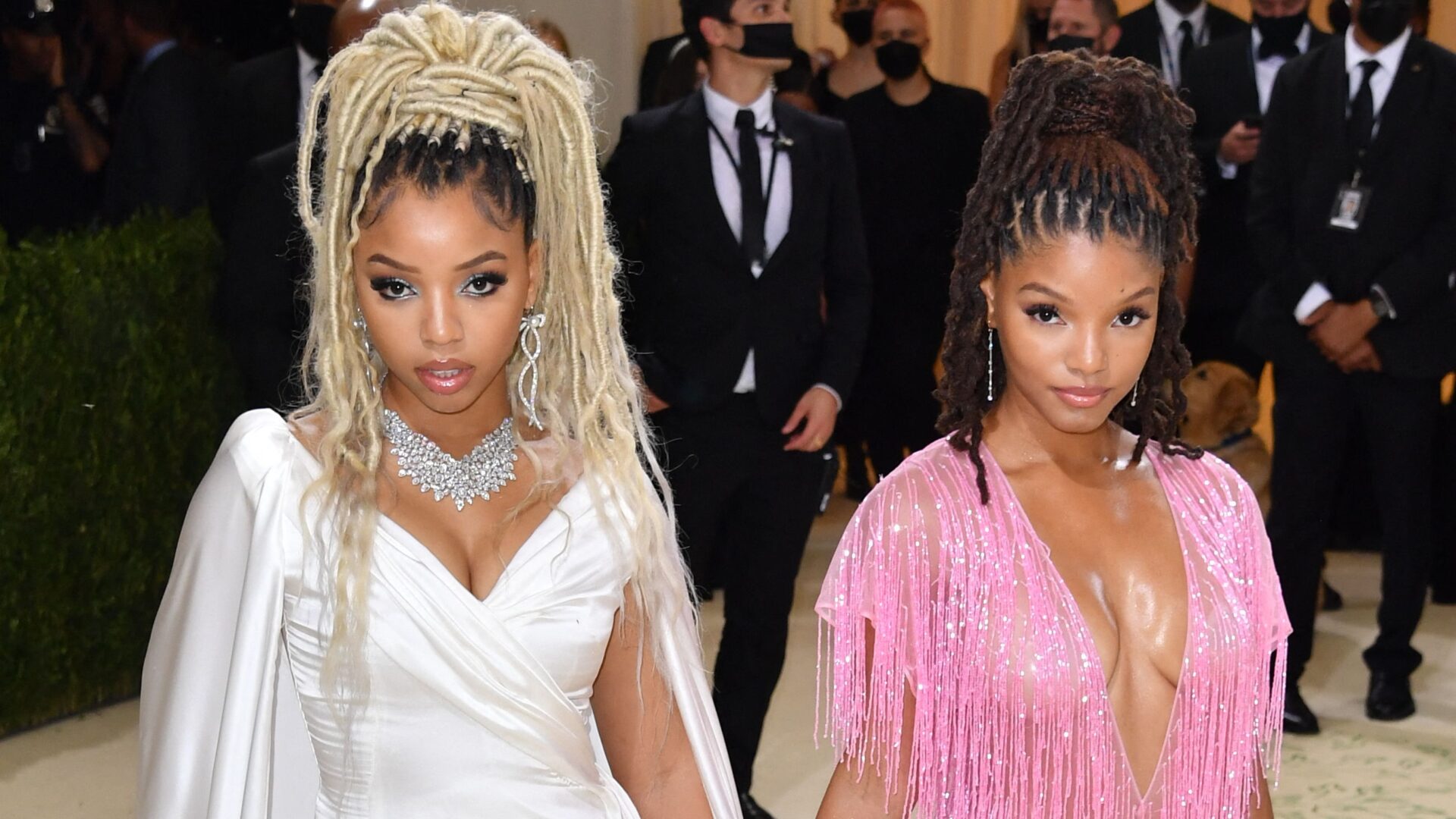 Chloe x Halle Brought Sisterly Love To The MET Gala Red Carpet
The Bailey sisters shared a sweet moment while posing for the camera.
Chloe x Halle are as tight as sisters can be. At this year's MET Gala, following Chloe's jaw-dropping VMA performance, the Bailey's graced the red carpet with stunning ensembles that nearly broke the internet. Chloe wore an angelic white gown with a train for days while Halle bared all in her sparkly pink leotard—with the latter taking inspiration from Tina Turner.
While at the bottom of the steps, Chlöe and Halle were serving to the cameras on their own accords. However, when Halle noticed that her big sister's train was being a bit more difficult than anticipated, she stepped up to the plate to adjust her sister's crown – or shall we said gown. Halle adjusted her sister's dress to make sure that all angles were accounted for and wanted her sister to look as flawless as possible. Once she arose from the floor, Chloe x Halle were reunited hand-in-hand to serve fashion, face and body for the MET.
Read our interview with Chloe x Halle here.
In an interview with Emma Chamberlin for Vogue, Chloe x Halle revealed that they were wearing Rodarte for their custom MET Gala ensembles. "Sisters for sisters," Halle exclaimed while smiling. As she held her younger sister's hand, Chloe shared the inspiration behind their outfits with the influencer interviewer.
Rodarte was established in 2005 by sisters Kate and Laura Mulleavy. Chloe x Halle appeared in a photo book for the brand's Fall's 2018 Ready-To-Wear looks. They also wore Rodarte for a 2018 story for Garage Magazine.
"It's our very first MET and we're very excited to come here. We really think it was so important and it was a full-circle moment because the very first fashion designer we wore was really Rodarte," Chlöe said. "It's fun that we get to do this with two incredible sisters and see how they work together. It's kind of correlates with how we work together."
During their red carpet interview with MET Gala host Keke Palmer on the VOGUE Livestream, Chlöe thought back to her previous night for her debut performance as a solo artist. "I was so happy to have Halle on stage presenting," she said, smiling beside her sister who gave the ultimate intro of Chloe's "Have Mercy" performance. Following the performance, the two were caught on camera hugging it out immediately following Chloe's set.
Watch Chlöe's first-ever performance of "Have Mercy" here.
The sisters made their reunion debut during New York Fashion Week dripped in Bvlgari following Halle's return from Europe after filming the live-action remake of Disney's The Little Mermaid. The two performed together for the first time since Halle's departure, with a set that included "Cool People" from their The Kids Are Alright project and "Do It" and "Forgive Me" from Ungodly Hour.
Photo Credit: Photo by ANGELA WEISS/AFP via Getty Images