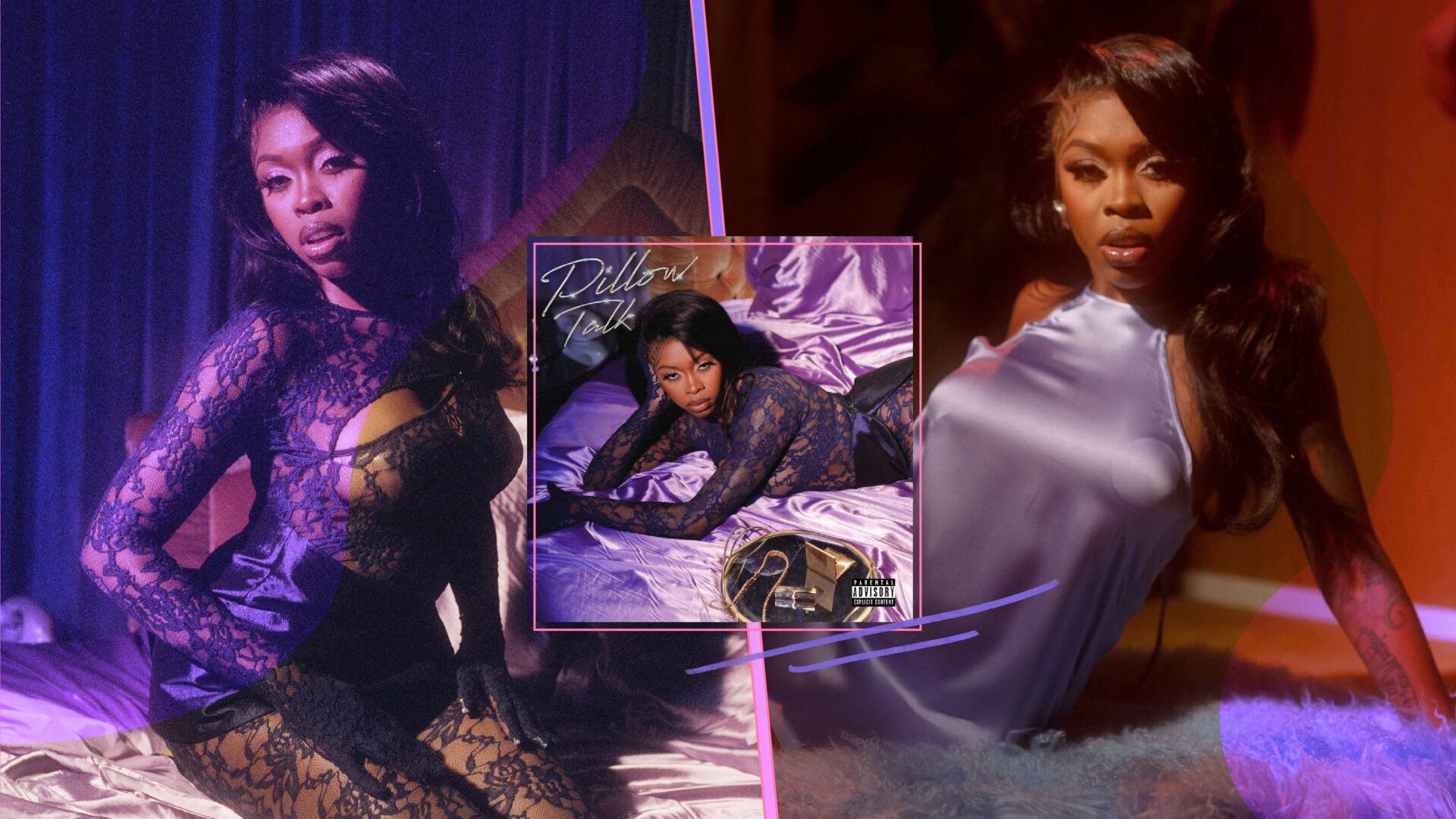 GU Jams: TINK Reveals Which R&B Legend Gave Her Special Permission To Sample Her Song
The R&B artist's 16-track "PILLOW TALK" album is officially out now.
For the people in the back saying that R&B is dead, we know you can't be referring to TINK. While fans have been patiently waiting for another project since 2021's Heat Of The Moment, our prayers have finally been answered as she releases her PILLOW TALK album. Complete with 16 tracks including singles "Goofy" and "Cater" featuring rapper 2 Chainz, PILLOW TALK offers conversations about love, lust, and even liquid courage through its thought-provoking lyrics delivered by the R&B prodigy herself.
Starting back in December, TINK, Hitmaka and the team took approximately four months to complete what we know as the finished album today. Between cities, while traveling on the road for tour season, TINK would take whatever opportunity she could to get herself in the studio whether it be pushing her pen in her Chicago hometown or heading down to Miami to collaborate with Hitmaka and his team of producers and writers. While Hitmaka, who has been cranking out hits such as Megan Thee Stallion's "Plan B" and "Clap" by Trina and Latto, has a creative process of knocking 'em out all at once, TINK appreciates taking her time with each of her songs.
By March 2022, TINK, Hitmaka, and the team had all of the records completed and collectively decided that "Cater" would be the single, which has already amassed over 2.7 million views on YouTube. Then came wrangling the features including R&B artists Layton Greene and Muni Long, with whom TINK already established strong social media relationships with. "I brought Muni Long in. I was DMing her for a while, just telling her like, 'I love you [and] your record,'" TINK recalled of the "Hrs and Hrs" single. "O had been supporting her for a long time so that was really an easy connection."
From plugging in features to creating the perfect rollout strategy, TINK and her crew knew that they had something special on their hands with this album. "It isn't something we're rushing and even after it was done, we had to take time to shoot videos and shoot the album cover. We really took our time and we wanted to make this really a big project," TINK said.
For this week's GU Jams, TINK exclusively caught up with Girls United to break down a few of her PILLOW TALK tracks one by one and even revealed which R&B legend gave her special clearance to sample her iconic single. Take a peek below:
"Goofy"
"Yes. To be honest, when I said goofy, I really meant when you're crazy in love or when you're silly in love. I feel like all women have been there before. At least one time in your life, you'll meet somebody that'll take you through it and make you do things you normally don't. Of course, I'm not calling us goofy; I just mean sometimes we get crazy. I've been there before plenty of times, I'll be honest. It's nothing I'm ashamed to say.
"That's what this album is about. It's about telling truth and being honest and vulnerable. There are days when I make decisions and I go back, I look back like, 'Man, I regret that.' There are times when I know that I should not be sticking around or picking up the phone, speaking to a guy, but some days people have different pulls on us and we go through it as women, but I'm learning from everything. That's a strong word. I understand when people are triggered, but it's just when you're crazy and when you're not yourself."
"Drunk Text'n" (feat. Layton Greene)
"Girl, listen, I'm actually an aggressive drunk texter. When I have a little bit of drink, I can be really aggressive. I have unfortunately sent a few drunk texts, but I feel like that's just when I'm being honest and I'm not afraid to say what I mean. So what happens? I try to hold back, you wake up in the morning and you're like, 'Ugh, I did say too much,' but that's all. We all have been there, too."
"Mine" (feat. Muni Long)
"I'm really excited about that one. Not only because this features one of my favorite artists right now, Muni Long, but it's also like we're giving praises, I'm showing love to Brandy and Monica, keeping that vibe going. It's really showing how women can unite. Working with Muni was really effort effortless. She's such a sweet and genuine soul. I asked her to jump on the record and she didn't hesitate. I just really want to show that women in R&B, we are sticking together and it's a movement.
"Honestly, ["The Boy Is Mine"] is what a lot of people are going through. Maybe not for me right now, but I know there's been situations I've had in the past, and I've had to speak to another woman about a guy or someone coming to me through DM, trying to figure out going on with a guy. I know it's going to relate to a lot of women. When we were trying to clear the record, I really wanted to let Brandy and Monica both know that the record was in great hands. Monica cleared it; Brandy cleared it as well. We had a few conversations though, and I understand it. It's a hit to Brandy and it's a very big song so she just wanted to make sure we were doing it right, and everything was copacetic.
"I really appreciated her for giving us the opportunity. I'm like, 'Man, that was very big' because nobody has to let you use their music and it's such a strong song. I understood when Brandy was not so quick about it, but we had a few conversations and she really came through at the very end. I was very relieved that she gave us that chance and let us use it."
"Throwback"
"I feel like all the artists from the nineties are being sampled and flipped now. Honestly, you can't turn on a radio without hearing a sample. We've heard a lot of Beyoncé samples this year. I like how Latto did the ["Big Energy"] record with Mariah Carey. It's just soulful and the music still hits. Timeless classics, they'll never get old, you can really almost reinvent these songs over and over and over again, and people will fall in love every time.
"Cater" featuring 2 Chainz
"I have to say I think one of my favorite samples is 'Cater,' and not just because it's a single of mine, but I grew up listening to Destiny's Child; I was Beyoncé crazy. With 'Cater 2 U' I remember watching the video and looking at them dancing through the stand, and it was a big moment. Being able to really touch that song was huge for me because I'm such a fan, and they inspire me. I was running to get their albums when I was younger. I remember reading the lyrics [and] follow along through the booklet.
"I feel like I like to cater but I'm not just so quick to do it because sometimes I'm scared and sometimes I'm nervous that it's going to blow up in my face. When I get to a point where I can trust someone and we have a great bond, I love to cater. I love to be like a man's shoulder, helping him feel good and making him feel like a king, but it just takes a nice amount of time. I'm not quick about it, but if I get there, I will cater, of course."
"Oooh Triflin" (feat. Fabolous)
"Trifling to me is just doing things that go against all your morals and values. I see a lot of guys these days in [2022]; I see a lot of trifling things. In relationships, it's being dishonest or doing things that make you look bad as a man and as an adult. You get to a certain point where you're like, 'I want a grown man,' and I think trifling is when you're being immature about things. It's lying, it's not being honest, it's going against values. Working with Fab, he brought an energy to the song, and his verse is more so the upside of it. I'm speaking on how guys are trifling and Fab just comes in and lays a verse, telling me this is how a man should be acting. If a guy's being trifling, he's tweaking, and I loved his perspective on a song because it shows the brighter side."
"I Choose Me"
"'I Choose Me' is my favorite record on that album. It honestly means putting yourself first no matter what. For a long time, it took me a while to get to that place, Even with my story of being signed, not having the best team around, and not really putting my needs first, it took a toll on me. This song is special. It's not all about love, and putting yourself first in your daily life, in your business life, with your partner. It's like a testament of everything I've been through. I'm telling myself, 'I'm choosing me.' You know what I want to do? I'm standing on what I love to do. Every day I wake up and that's my goal – to really cater to myself. Not put anyone else before me. No one."
TINK's PILLOW TALK album featuring 2 Chainz, TOOSI, Fabolous, G Herbo, Muni Long, Layton Greene, and executive produced by Hitmaka, is available now!
About D'Shonda: Born and raised in Brooklyn, NY, D'Shonda Brown is the Associate Editor at Girls United. When she's not interviewing or writing, she enjoys running, dancing, buying sneakers, and binge-watching Lifetime movies.