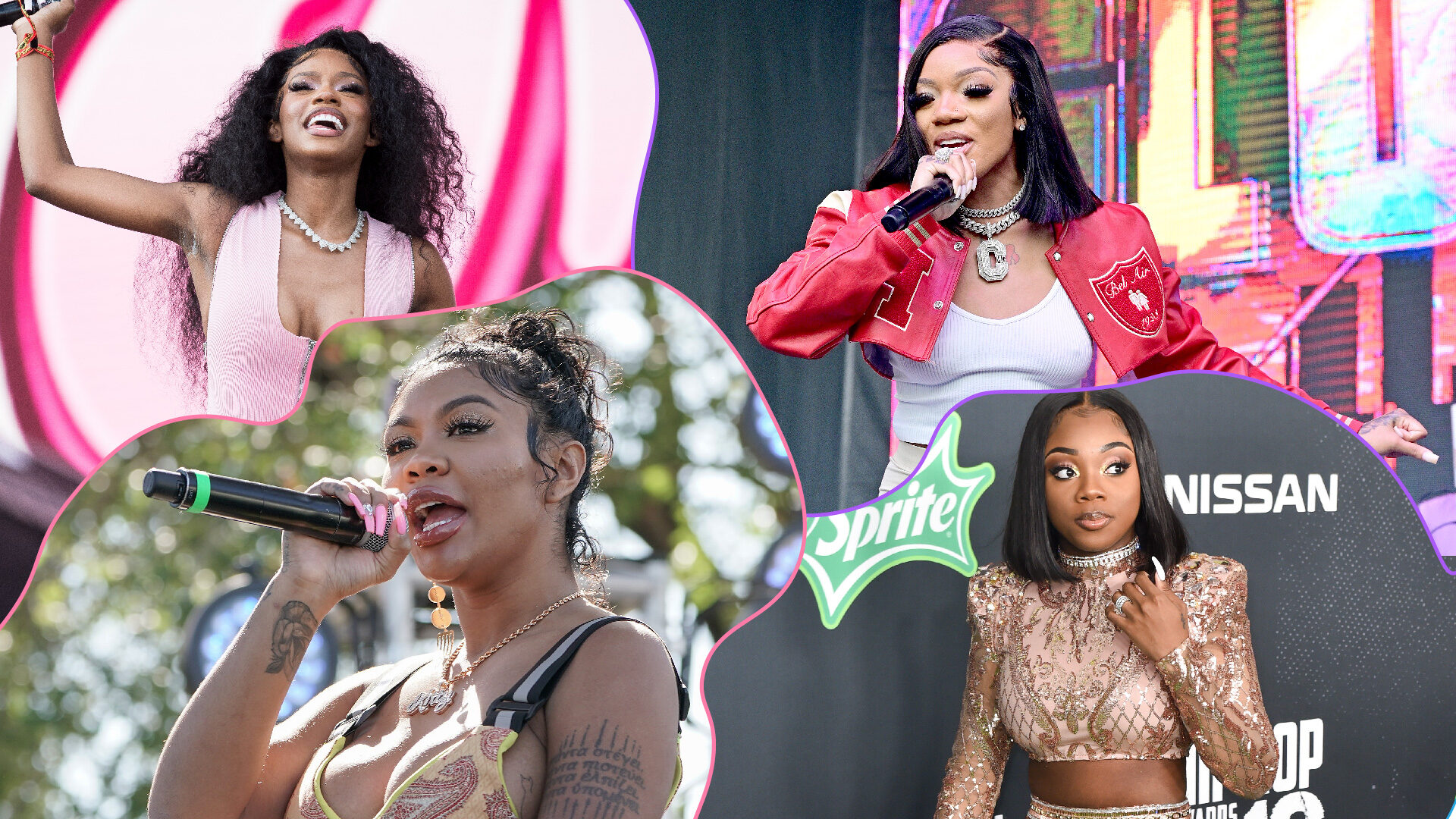 Monaleo, Chinese Kitty, And Other Black Girl Talent To Watch At Rolling Loud NY
GloRilla, Chinese Kitty, and all the gworls in between.
Rolling Loud has always been one of the most highly-anticipated music festivals and they're coming back full force to Queens, New York with an undeniable lineup. With Nicki Minaj, A$AP Rocky, and Future as the headliners, this year's festival from Friday, September 23 to Sunday, September 25 is guaranteed to get any festival goer on their feet and reciting every lyric to their favorite artist. The best part about it – there are Black girls and women taking over every stage.
From Lebra Jolie and Lola Brooke to Monaleo and Dreamdoll, this festival is for you if you're looking for Gen-Z femcees to add to your playlist. If you're just as excited as we are for this year's Rolling Loud: New York lineup, check out the official list below for all the Black girl talent to put on your watch list when you're walking around Citi Field.
Friday, September 23rd
BIA (FashionNova Stage – 5:00 PM)
From the success of "Best On Earth," a personal favorite of Rihanna's, BIA is continuing to become a fan favorite amongst the masses. From her "London" collaboration with J. Cole to her "Whole Lotta Money" viral hit, we're positive that BIA is going to have a set to remember.
Kali (FashionNova Stage – 3:10 PM)
The "Standards" rapper recently ended her Monster Energy Outbreak Tour Presents: Latto 777 Tour run alongside "MMM-MMM" collaborator and fellow Georgia peach Latto. The rap sensation has also shared her highly anticipated new EP, Toxic Chocolate, with the world including features from Yung Bleu, BIA, and GRAMMY® Award-nominated songwriter Muni Long.
BKTHARULA (D'USSÉ Stage – 3:30 PM)
The 20-year-old artist has been making waves with her music since 2019 and hasn't shown any signs of slowing up since. In 2020, she made her independent debut with Love Santana and has since linked up with notable artists including Lil Tecca, Ski Mask the Slump God, and Rico Nasty. Since signing to Warner Records, BKTHERULA has blessed fans with her Nirvana mixtape and debut album Love Black.
Young Devyn (FashionNova Stage – 2:50 PM)
Ahead of the release of her sophomore studio EP Baby Goat 2 via 4TH B'WAY/Def Jam Recordings, Young Devyn has been making waves as a rapper to watch. Her recent single "Outside" featuring fellow Brooklyn rapper Fivio Foreign samples the nostalgic "Moves Like Jagger" track by Maroon 5. With this being her second year at Rolling Loud, Young Devyn is returning to the stage with cosigns from Nicki Minaj, Waka Flocka, Jermaine Dupri, and more industry heavyweights under her belt.
Monaleo (SNIPES Stage – 4:35 PM)
Before heading on tour with Flo Milli, the 21-year-old Houston rapper is stopping by New York City to take over the Rolling Loud stage for a set. Recently, Monaleo released a new video for the "We Not Humping" remix featuring Flo Milli and was even cast in the Summer 2021 Ivy Park campaign after catching the eyes of the one and only Beyoncé.
ABRA (SNIPES Stage – 5:30 PM)
Signed to Polo Grounds Music and RCA Records, the Atlanta-bred singer and rapper is best known for her lo-fi bedroom R&B singles and collaborations with artists across pop, R&B, and hip-hop. The self-proclaimed "Darkwave Duchess" born in Queens, New York will be returning to her birthplace to deliver her hits on the Rolling Loud stage including "Roses," "Fruit," and "Pull Up."
Lola Brooke (D'USSÉ Stage – 2:45 PM)
Don't play with newcomer Lola Brooke! With the viral success of her "Don't Play With It" music video after its premiere on WorldStarHipHop, she kept the heat going with the blazing track "Gator Season" and received her first acclaim from XXL after being named as one of ten 'Top Drill Rappers To Listen To.'
Saturday, September 24th
Shenseea (FashionNova Stage – 4:25 PM)
Shenseea's debut album ALPHA received much critical acclaim and solidified her place in the industry as one of music's most in-demand rising stars. As a singer, rapper, and songwriter, Shenseea always proves to her Shenyeng gang that she can hang with the best of them in dancehall, pop, rap, and pretty much every genre that the "Lick" artist touches. It's safe to say that she's "Blessed," for sure.
Erica Banks (SNIPES Stage – 6:15 PM)
Remember the viral #BussItChallenge taking over TikTok during the beginning of the COVID-19 pandemic? Well, you can thank Miss Erica Banks for that. Following the viral smash hit, the Dallas, TX rapper hit the Top 50 on Billboard Hot 100 and signed with both 1501 Certified and Warner Records.
Lakeyah (FashionNova Stage – 3:00 PM)
While Lakeyah encourages the girls to "Mind Yo Business," the 21-year-old rapper is someone to keep your eyes on. The Milwaukee-born rapper and recently released "Real B*tch" featuring Quality Control Records labelmate Gloss Up and her recent No Pressure Pt. 1 EP.
Glorilla (D'USSÉ Stage – 3:20 PM)
From Latto and LL COOL J to Shenseea, everyone agrees that "F.N.F (Let's Go)" was this summer's anthem. Thankfully for fans, GloRilla isn't done with us yet and she's bringing her talents and her latest hits including "Tomorrow" and "F.N.F." (Remix) to the Rolling Loud stage.
Chinese Kitty (FashionNova Stage – 2:35 PM)
The former Love and Hip-Hop: Miami star has taken her talents from the silver screen to the big stage as she prepares for Rolling Loud: New York. From her full-length debut studio album SMD all the way back to her 2019 mixtape Kitty Bandz, Chinese Kitty has a discography filled with hits including "Opps" feat. Cuban Doll and "Top Bitch" featuring LightSkinKeisha.
Sunday, September 25th
Dej Loaf (FashionNova Stage – 4:45 PM)
Let somebody try Dej Loaf's talents – we dare you. From "Back Up" to "Just Do It," Dej Loaf always has a way of making an entrance on any stage she touches. Now it's time for the Rolling Loud: New York stage to see what she's made of.
Pap Chanel (FashionNova Stage – 2:30 PM)
Hot off the heels of her latest "Show Me What You Got" single release, Pap Chanel is ready to take the stage at Rolling Loud: New York. Pap Chanel has emerged as one of Atlanta's most celebrated female lyricists and rappers, joining the likes of Latto, Kali, Baby Tate, and Rubi Rose, and cites fellow Rolling Loud performer Nicki Minaj and Foxy Brown as her greatest inspirations.
TiaCorine (D'USSÉ Stage – 3:10 PM)
The high-pitched melodic rapper hailing from Winston-Salem, North Carolina is best known for making waves following her viral SoundCloud hit 'Lotto,' which broke TikTok upon its drop. The once self-managed rapper is now signed to South Coast Music Group and has been played and co-signed by all her favorite artists including Rico Nasty and SZA.
Dreamdoll (FashionNova Stage – 3:45 PM)
This "Ah, Ah, Ah" rapper wears BX proudly on her sleeve no matter what stage she's taking on. The former Bad Girls Club and Love and Hip-Hop: New York star has had a rapidly growing rap career like no other and her Rolling Loud: New York performance comes just one day following the release of her Life In Plastic 3: The Finale EP. The project will include "Ice Cream Dream," "Fantasy," and "You Know My Body" featuring Capella Grey.
Lebra Jolie (D'USSÉ Stage – 2:10 PM)
This rapper is stepping on the scene and proving that she's hotter than the "Spring, Summer" seasons. Just last year was a major turning point in Lebra Jolie's career, thanks to her hit songs "Now What," "Choppa," and "Jolie (Freestyle)." After being signed by Interscope Records, the rest has been history and Lebra Jolie is well on her way.
Want the full lineup of what's to come at Citi Field? Check out the schedule below and Girls United hopes to see you on the field!
About D'Shonda: Born and raised in Brooklyn, NY, D'Shonda Brown is the Associate Editor at Girls United. When she's not interviewing or writing, she enjoys running, dancing, buying sneakers, and binge-watching Lifetime movies.