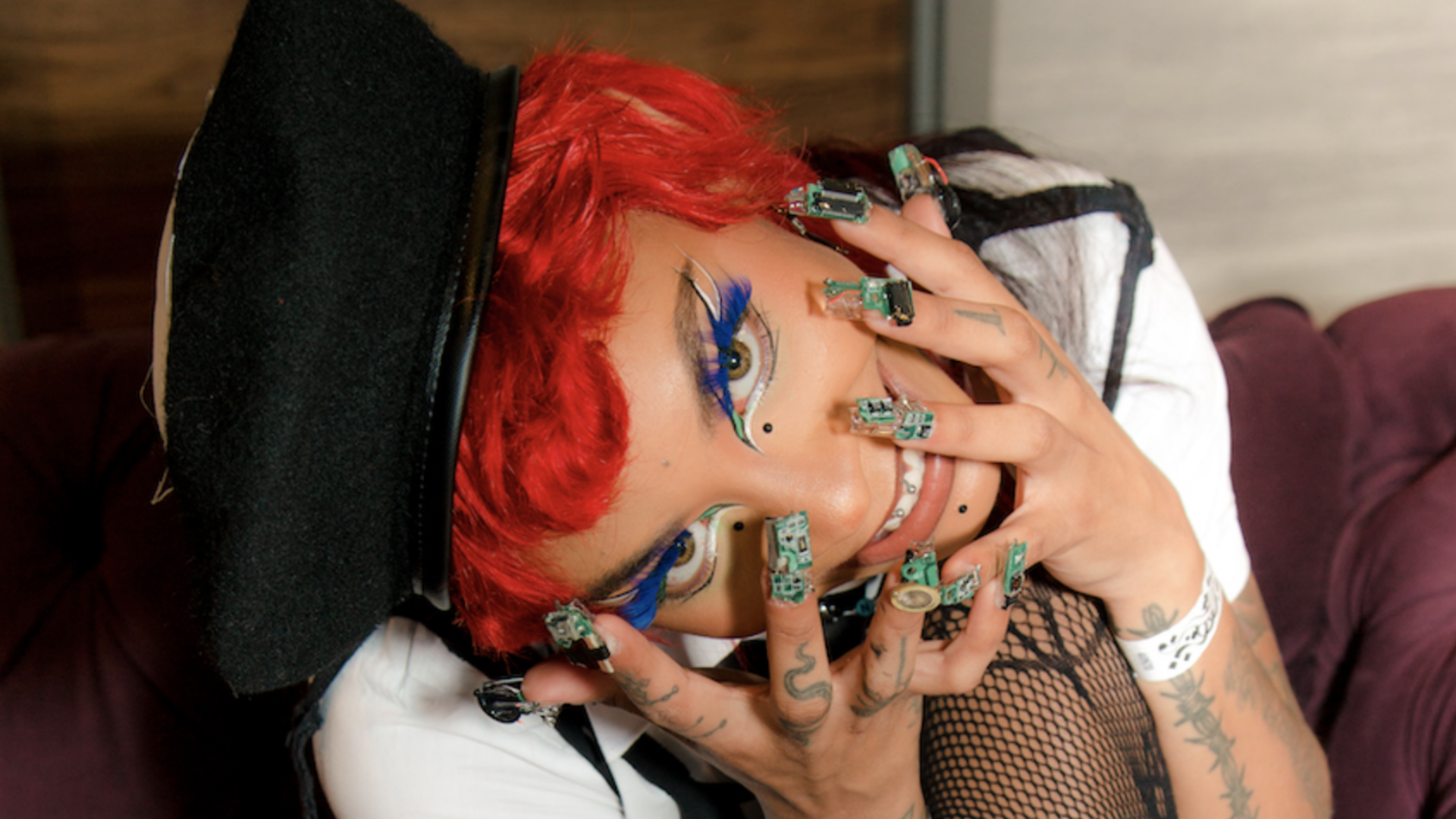 Rico Nasty Talks About Her New Music And Fresh Style
Her Flo Milli-assisted single, "Money," is out now.
Rico Nasty is busy. I caught the rap-rock star in a moment of quiet—she was the opening act for a few dates on Playboi Carti's King Vamp tour and it was just days before her young son's birthday. She's also pushing her latest song, "Money," and juggling brand opportunities, as hip-hop's hottest figures do.
Seven years ago, Nasty sprang from the head of a movement that across industries, allowed a new generation of stars to fully take the reins of their careers. Using social media at a peak, she began to build out a dedicated fan base that continues to root for her. She released one mixtape, "Summer's Eve" while still in school and two others, "The Rico Story" and "Sugar Trap" shortly after she graduated from high school. In between projects, she gave birth to her son, Cameron. His father died of an athsma attack before he knew Rico was pregnant.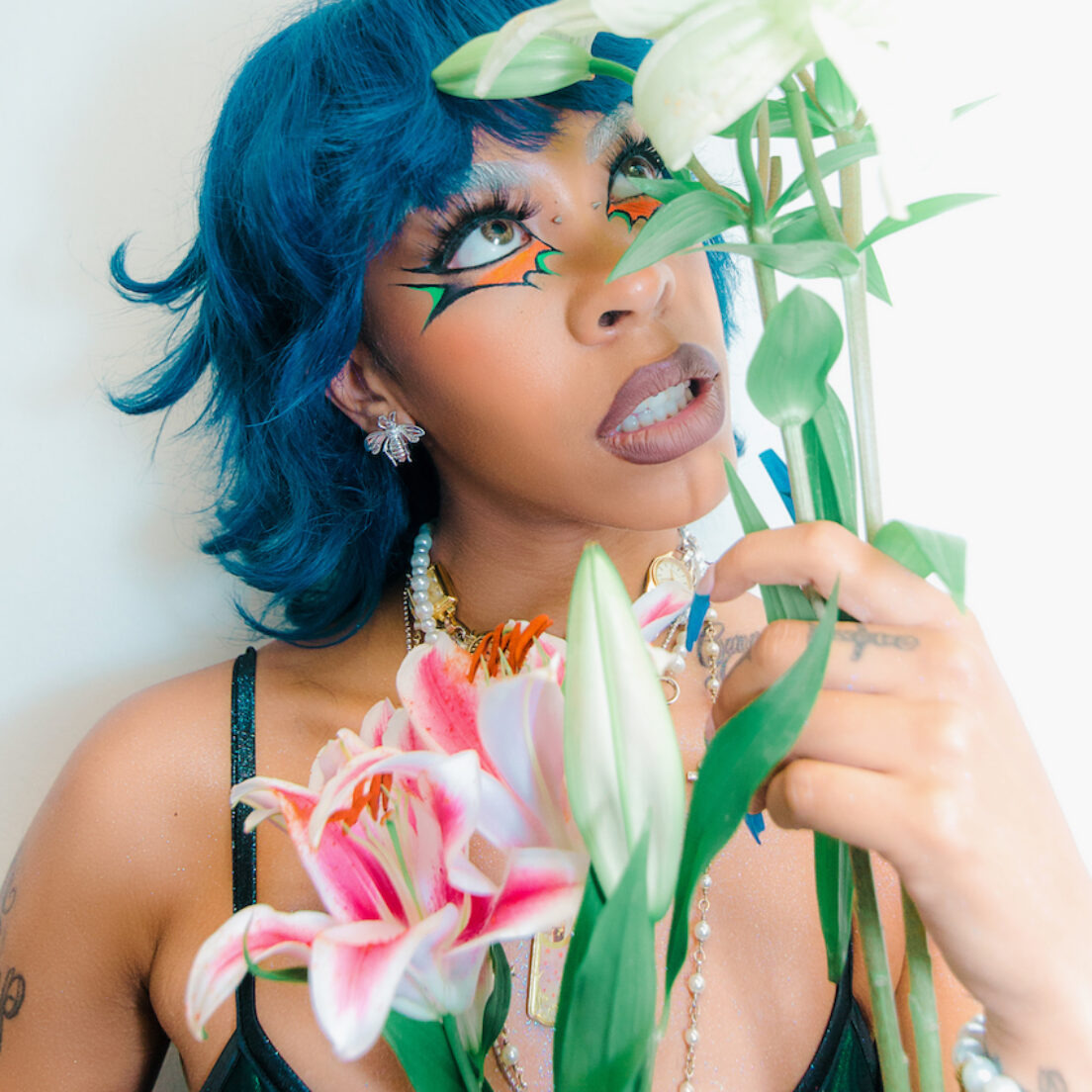 Teenagers have typically had a strong presence in hip-hop's various exploratory phases. From the earliest moments, like 14-year-old Roxane Shante's culture-altering "Roxane's Revenge," to Lil Nas X's "Old Town Road (generated when he was 19), hip-hop has welcomed youth and given emerging talent a platform. So it comes as no surprise that a Maryland high school student became one of the sound's trendsetters. Nasty's earliest work consisted of "don't play with me"-type warnings glazed with a bubbly-tone and peppered with nostalgic references. She found a friend in Lil Yachty, who was experiencing his own success, over the now-defunct social platform Vine and had an epiphany during a show he invited her to. Seeing the roaring crowd and warm response to her peer inspired her to put her all into her music.
Fully preoccupied with new lyrics and beats, she was let go from a hospital desk job and focused on fully embracing her colorful, in-your-face sound. Lil Yachty's 2016 appearance on the remix of her song "Hey Arnold," helped boost both her confidence and recognition. Several viral cuts ("Poppin'", "Smack A B—-,") and a more self-released projects later, Rico signed with Atlantic Records, where she continues to be beloved for her gritty sound. She's also good for punchy one-liners like, "You work a nine to five, I make nine bands five times." She says it how she sees it.
She released her debut album, "Nightmare Vacation" through Atlantic in 2020, sitting down with The New York Times and bringing her punk-inspired fashion sense to the covers of Wonderland and SPIN. A new act no more, Rico has dug her heels into the mainstream and has no intention of letting up.
In the midst of the busyness though, she lives.
ESSENCE GU: So "Money," your new single. It definitely has a throwback feel. It samples Tone Loc and 2 Live Crew and has that classic call and response moment for the hook. So walk me through the process of bringing it together and writing it.
Rico Nasty: Well, when I first started getting obsessed with 2 Live Crew, I was on a cruise ship with the producer who actually made this song. His name was Boys Noize. But we were on a cruise ship together and we were just studying 90s music, Freaknik, and just that culture, that era of music. And we weren't able to record on the cruise. So it was a month after we finally got a session and I leaked it.
This has to be two years ago.
ESSENCE GU: Oh wow.
Rico Nasty: So I just did the song and it's just one of those ones that I just made to satisfy myself. I don't know if other artists do that, but if I really like a song, then I'll just cover it just to challenge myself or see if I could even do it.
And I was just really obsessed with the beat pattern, the way that music made you feel and how nostalgic it would be if it came on at that time. But nobody was really saying it was fire when I was playing it. I would play it in the studio or just play it for my friends and they'd be like, 'all right, it's cool.'
And now you see so many female rappers sampling this era of music. Even my other song, "Pu— Poppin," it just really gets people moving. So I was going through my old music and I was like, "Bro, this song is f—— fire. I don't care what anyone says. We need to go back in on production a little bit. And we need to put a female rapper on this. Period point blank."
And then the little light bulb in my head went off, I was like, 'Flo Milli.' She's going to ride this beat just the way we need her to, to give it that rap element and it's going to be amazing. And then I reached out to Flo Milli and then she f—— got on the song in two days. Before I even played it, I got goosebumps. Because when you get songs back that fast, the chemistry was there.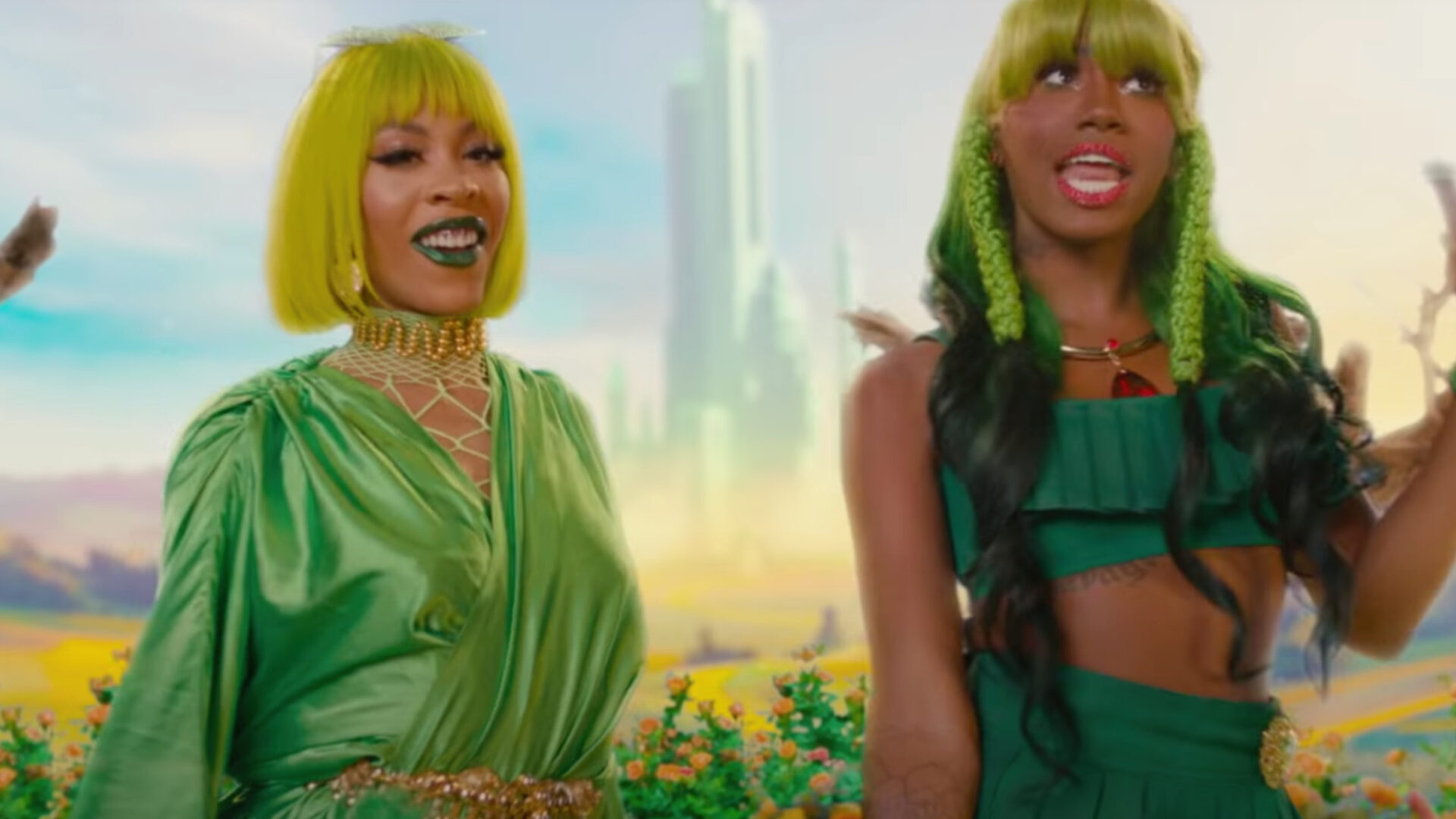 Rico Nasty (left) and Flo Milli (right).
ESSENCE GU: You mentioned being with Boys Noize on a cruise ship. Was that when you two met, or was there a pre-existing relationship there?
So it's even crazier how much of a full circle this is. I met Boys Noize through Kenny, Kenny Beats. We had a session before and then we got booked for this cruise ship and we were like, "oh, f— yeah. We get to hang out and get to know each other." Because I think we did a session, but we didn't really get to know each other and talk. That was the session where we really got to be like, "oh, I like you as a person. We should really make art together."
ESSENCE GU: I know that Boys Noize worked with ABRA recently as well. So it's cool watching that Miami bass feel circulate,
Actually, shout out to Boys Noize because, because of him, I got to meet ABRA. We were in the studio together and she's f—— awesome as hell. She's amazing.
ESSENCE GU: So, in the video, of course I noticed the "The Wizard of Oz" theme. I wanted to know if you were at all involved in the creative process?
Rico Nasty: I definitely was involved in the creative process. And you know what's really crazy? I just want to throw out this little fun fact about me, because people probably don't know. In high school, I had a drama teacher and her name was Ms. Ingram and I was in "The Wizard of Oz" for my school. I wasn't a main character or nothing. I was just in it, like a little background extra. But I just remember the training that we had to go through, because it was a whole musical. I think that made me like show business. It's just the art of getting dressed, and you have your glam team, and you have your people who you rehearse with. It just felt like it was a really good time in my life. So when I got the treatment and they put "Wizard of Oz" in it, I was like, 'f— yeah.'
ESSENCE GU: Roxana directed this video and she also did 'Tia Tamera.' How was working with her again?
Rico Nasty: She was such an amazing director the first time that she set the bar for a lot of people.
But working with her was just very fluid. If I wanted to change something on set, I could. She's very helpful as far as, I don't know if you guys could tell, but I'm dancing and I don't dance like that. So she's just really good at getting you hyped up, and making you feel good, and making you feel sexy behind the scenes so that it looks really good on camera. I just really also appreciate her for that.
ESSENCE GU: I don't know if you've previously directed your own videos, but would you ever tap into that bag?
Rico Nasty: Hmm. People do ask me this question, because I did get to direct a lot of my videos early on, like "Poppin" and "Key Lime OG." Even "Smack a B—-," I directed that. But I would say ignorance is bliss because back then, I'm just shooting and I don't know all that goes into an actual music video.
It was just a different time. I was just more…sh– just had to happen. And I feel like now I've learned patience and I've learned what it really means to hire people to do what they're good at. And not try to do everyone else's job because that sh– used to be stressful. I would wake up at the crack of dawn, do my own hair, do my own makeup, get all those shots, sit there and edit. And it was fun, but it took away from making actual music because I was so focused on everything else.
ESSENCE GU: I also wanted to talk about your style, because of course you rock the green in 'Money.' You've been working with Dee, an Oregon-based makeup artist. So what direction do you feel like your sense of style is going into this these days?
Rico Nasty: Oh my gosh. I just feel like it's just going into the future.
I don't have any eyebrows, which is so weird because when I did it, people didn't even think twice about it. They're just like, "oh she has no eyebrows. Cool." It's weird that that's where life is going. Women are bleaching their eyebrows.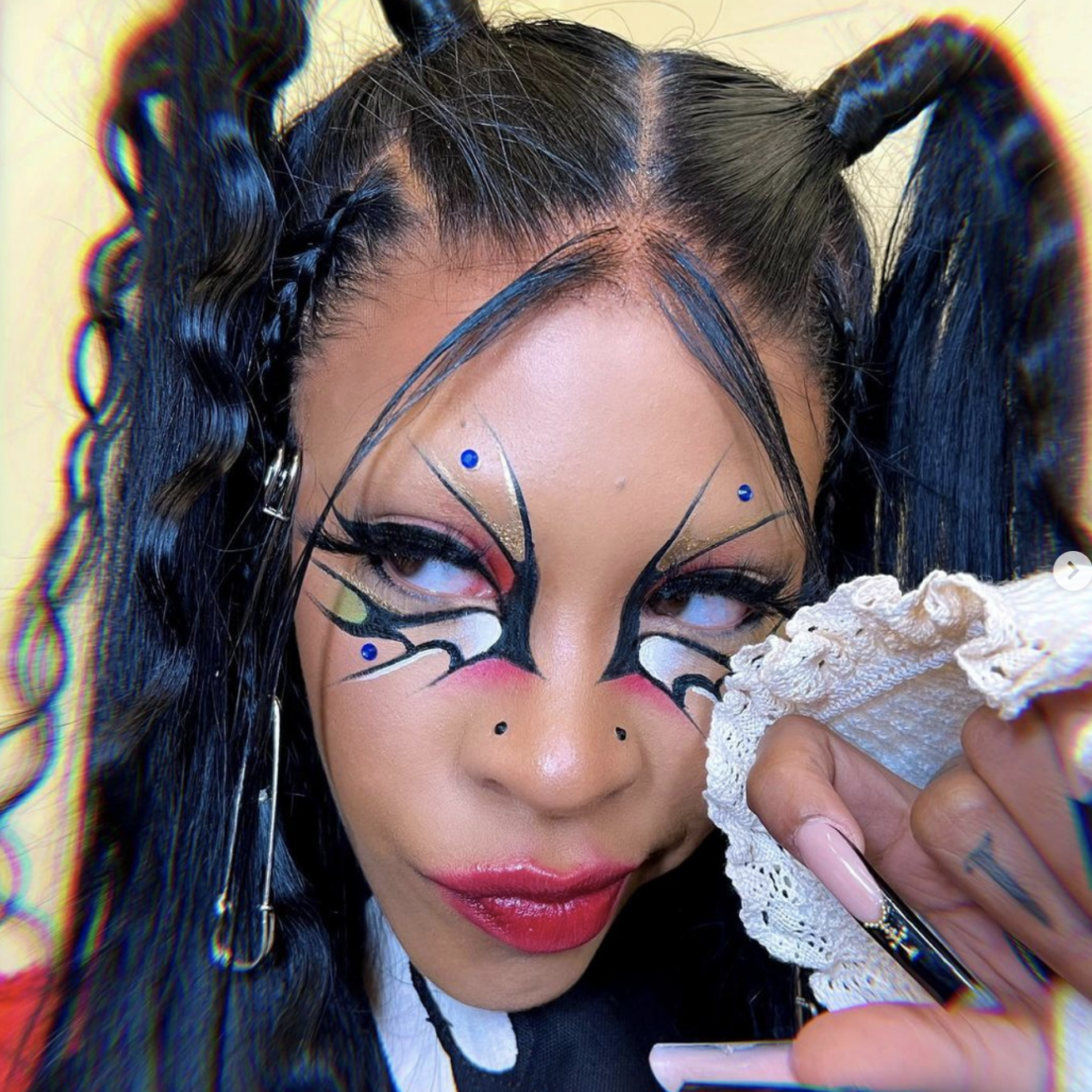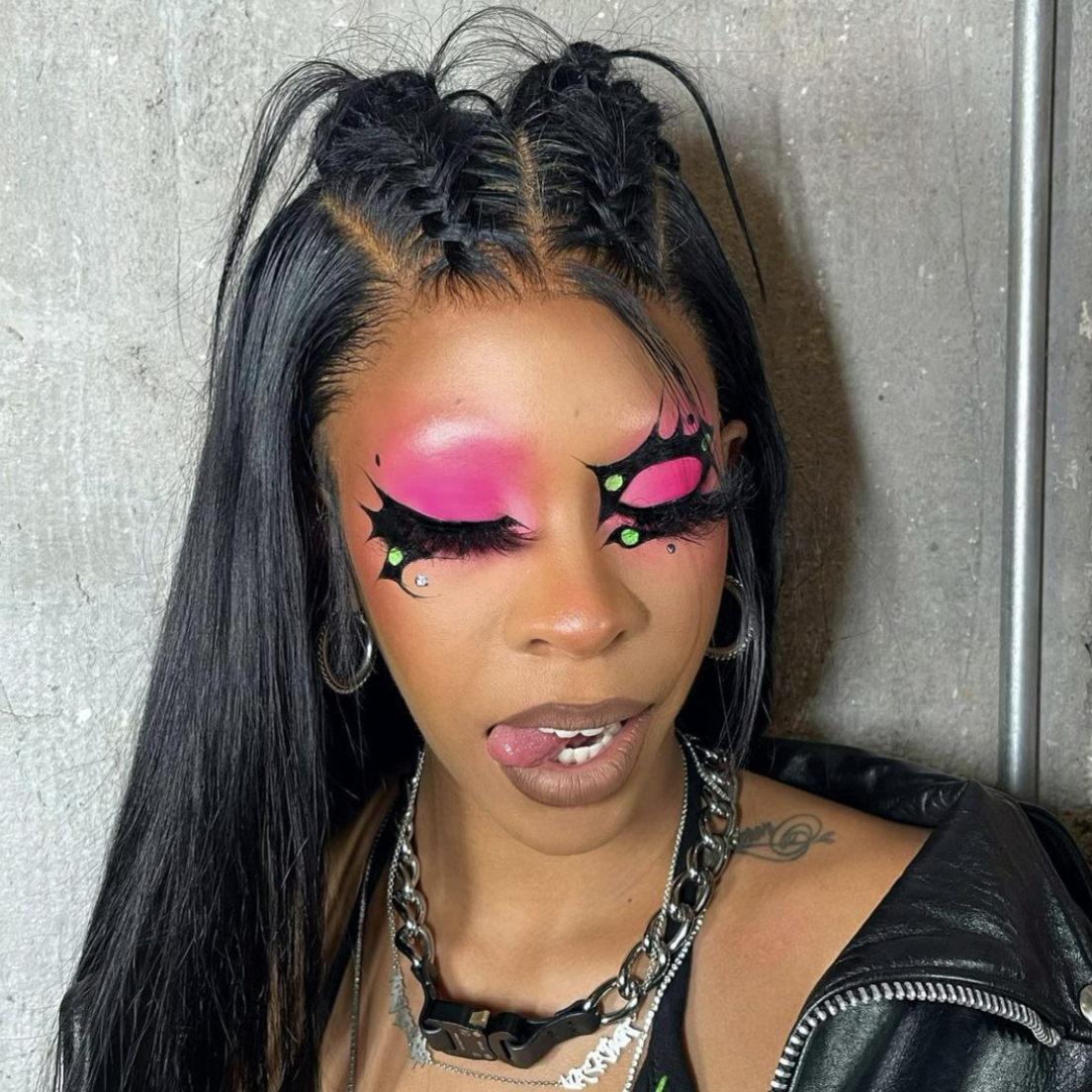 And I just heard this really awesome song. I don't know who it's by, but it's like, "I'm just going to bleach my eyebrows" or something like that. And it just shows, hair used to be something that we would embrace and change when we went through monumental things in our lives. And now I just think we use makeup.
Working with Dee has just been awesome because she's one of those people who has a lot of direction. I don't have a stylist or anything this tour, so that's how we plan out the looks. We get makeup in here first and then we plan the fit. So her line-work really just makes me, I don't know… I think that people should use their whole face, not just their lids.
ESSENCE GU: The elaborate eye looks that she's been doing are so intricate and detailed and have an almost mathematic approach.
Rico Nasty: Yeah. It's very symmetrical and intricate. And I just feel like that's… I think it's weird how I use makeup, but I think that's to represent the way that God made us. It's just to accentuate what we already have.
I think she does a really good job at just making humans look extra terrestrial.
ESSENCE GU: You shared a couple of loose tracks on SoundCloud a couple of months ago. Are you prepping to release something new soon?
Rico Nasty: I think I'm just experiencing life right now.
I really do. Always, in my mind, I'm always prepping for something new, but right now I'm just taking in different experiences. Because it's been a while since I had a different perspective to write from, with COVID, just being in the house, not really doing much. And now I'm back on tour and life is a little bit different, so I just want to make sure when I drop, it's given that perspective.
Watch "Money" below.
Photo credit: Atlantic Records, Instagram