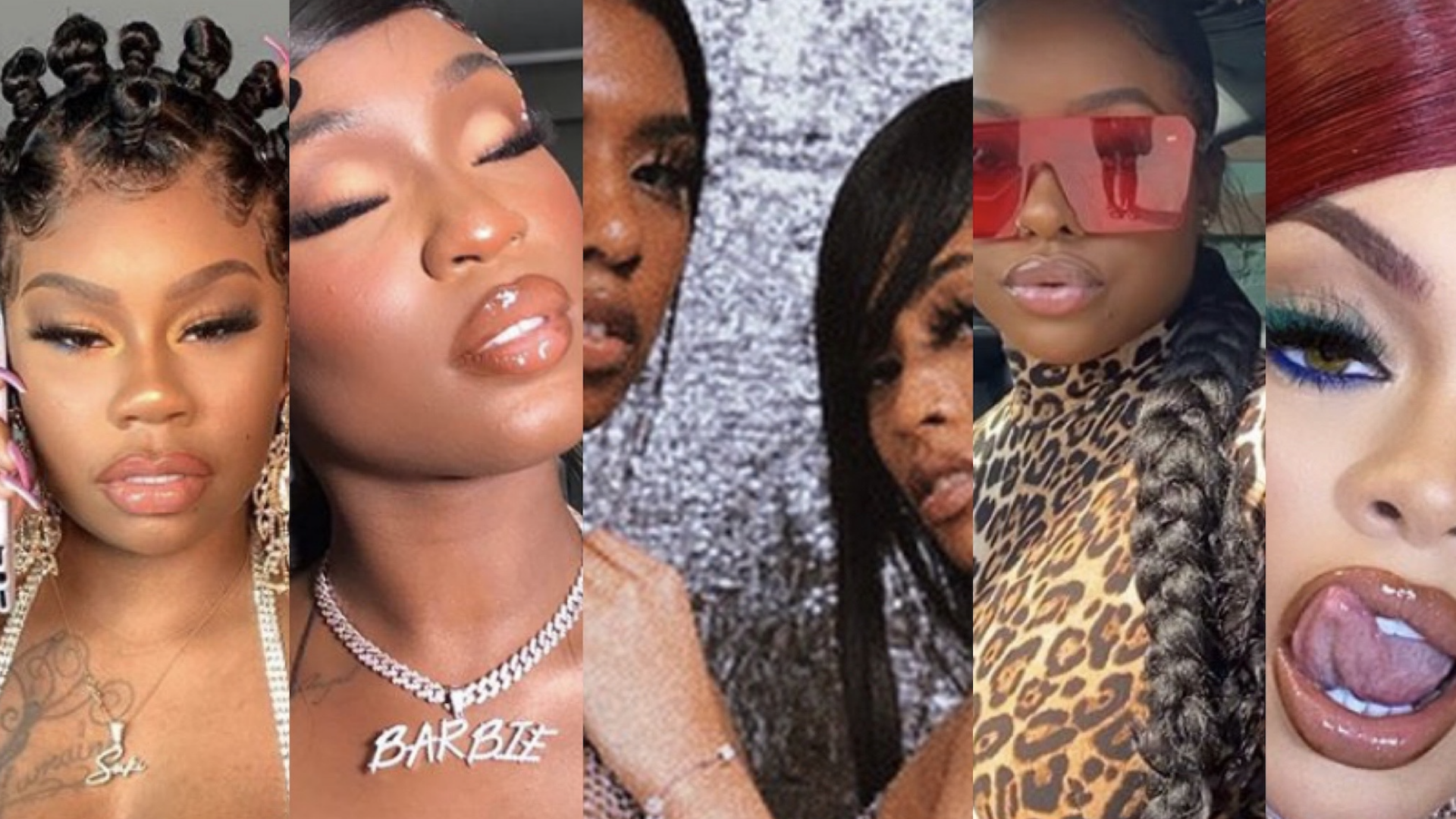 15 Rappers You Should Be Listening To
Women are running things. Period.
It's no secret that women are dominating rap music.
Cardi B and Megan Thee Stallion's pleasure-heavy song "WAP" is resting at the number one spot on the Billboard Hot 100, there's growing buzz around Mobile, Alabama rapper Flo Milli, and Chika is viral once more after being named an XXL Mag Freshman and landing a role in Netflix's 'Project Power'—and that's not even representative of a sliver of hip-hop's new power players.
After decades of limiting mindsets that made women, and consumers, feel that there could only be one celebrated artists, and also overplaying the necessity of co-signs from popular men, multiple women are now finally able to enjoy successful careers on their own terms. We haven't experienced this type of unity and diversity in subject matter since the late 1990s, when Missy Elliott, Lauryn Hill, Foxy Brown and a number of other women were at the forefront.
In honor of all of the women who have come up in recent times, we put together a list of rappers who are also on the rise. Get into it below.
Su'Lan
Rapping besties Su'Lan (made up of Emahalani and Saunsu) are raw, Bay Area-based and unafraid to tell it like it is. From men, to haters, to iced out chains, they talk about it all with supreme confidence.
Jourden Cox
Cox currently resides in New Orleans (by way of New York,) and it seems that she's perfectly suited for the south's laidback demeanor. Her 6-track EP, It Only Took The End of The World dropped a few weeks ago and it's a must-listen. We can't wait to see what she does next.
KenTheMan
KenTheMan first caught my attention with a freestyle over "Big Ole Freak," but she was a firecracker long before then. A native of Houston, she embodies the sexy, slowed and screwed music that this city is famous for. Her project "4 da 304's" is due out August 28.
Mulatto
Mulatto was also listed on XXL's coveted round up of burgeoning talent this year. After winning Lifetime's reality series "The Rap Game," receiving a major co-sign from Gucci Mane, and appearing in the "WAP" video, it's not hard to see why.
Cookie Kawaii
Cookie Kawaii is making a name for herself by repping the sounds of her city and is blowing up in the process. Her biggest single to date is "Vibe," an all-to-brief ode to Jersey Club music that made serious rounds on TikTok and Twitter.
DonMonique
DonMonique took a multi-year hiatus from her blossoming rap career to focus on her health and we're grateful that she did. She opened up about her experiences with Noisey last year and came back swinging with her Black Kate Moss EP. She shared a snippet of a then-forthcoming single, "Giving Body," which surpassed over one million views on Twitter alone and introduced her to a slew of new fans.
Ms. Boogie
Earlier this month, Ms. Boogie shared "Fem Queen," which is currently the sole video on her YouTube channel. But when you're spitting like her, it's always quality over quantity. Period.
Rubi Rose
Last week we sat down with Rubi Rose, the bilingual Georgia State University graduate who famously started an OnlyFans for her non-explicit selfies. Oh yeah, did I mention she's a superstar in the making who's working on her debut album?
Fee Tha M.C.
Fee Tha M.C. received love from Flo Milli just yesterday for her freestyle over "In The Party." "Girlll go to the studio," she wrote on Twitter. "You ain't got no business being this hard." She didn't lie.
Queen Key
Queen Key first caught national attention with a rework of the late FBG Duck's "Slide." The mother of triplets most recently dropped off a remix of "WAP," which caught the attention of Cardi herself.
Sukihana
Sukihana has been an underground favorite for a while and now it seems like she's all set to enjoy mainstream popularity, too. She's multifaceted, as is her fanbase. Her candid statements, raunchy, quotable monologues and saucy songs will all play equal parts in her rise to fame.
Asian Doll
Independent Texan Asian Doll has been on the scene for several years. She's worked with A$AP Ferg, Yung Baby Tate and Gucci Mane and has worked her way up to become one of the most interesting artists to come out of Dallas. She's also an astute businesswoman—her cosmetics line launched yesterday.
Ivorian Doll
After only a few months of jumpstarting her music career, Ivorian Doll is already the undisputed queen of UK Drill. She's cited Nicki Minaj, Lil' Kim and Foxy Brown as direct inspirations, but her tunes all have her own distinct flair.
Hook
I really adore Hook's youthful energy and D.I.Y. approach to music. She's been gaining a following for her work with producer Nebarb Nogrom and just completed a joint mixtape with him and fellow rapper Bootychaaain.
Photo credit: Instagram