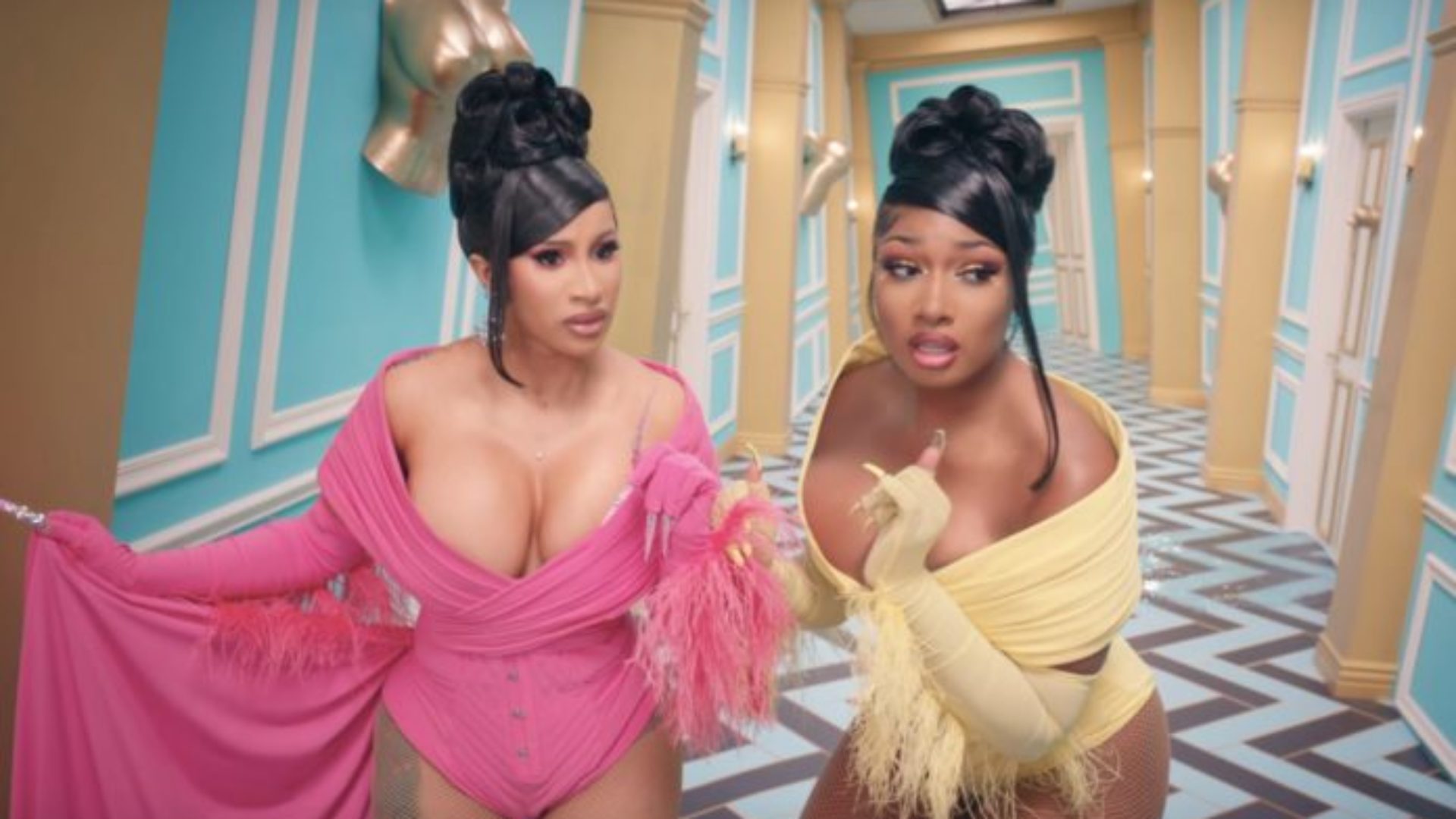 GU Jams: Breaking Down All Of The References From The "WAP" Video
GU Jams is Girls United's weekly column dedicated to sharing and discussing new music and music news.
At promptly midnight, Cardi B and Megan Thee Stallion made good on their promise to release "WAP," a raunchy single all about well, you know. But not only did they drop the single, plus a slew of merch to boost, they also shared a fun house-style music video complete with cameos from Normani, Sukihana, Rubi Rose, Kylie Jenner, Mulatto and Rosalia.
If you're into Black pop culture references like me, it's likely that you noticed a few nods to unforgettable throwback moments. From Lil' Kim to Missy Elliott, the ladies paid homage to a number of the greats—and served looks in the process.
Get into all of the pop culture references in the "WAP" music video below.
1. Lil' Kim's Iconic Squat Pose
For the 1997 release of her debut project, Hardcore, Lil' Kim wore a Misa Hylton-styled Patricia Field bikini and duster. One of the most memorable moments from the shoot is the rapper squatting and staring directly into the camera. In "WAP," Megan and Cardi don't hit this pose themselves, but the back-to-back fountain statues get the job done.
2. Missy Elliott and Busta Rhymes' 90's Music Videos
Throughout their careers, both Missy Elliott and Busta Rhymes have had a knack for imaginative, colorful music videos. They both frequently worked with mastermind Hype Williams, who directed Busta's video for "Gimme Some More." But in the case of "Beep Me 911," one of Missy's debut videos as a solo artist, Earle Sebastian handled the behind the camera magic. Both clips make use of a whimsical fun house element that's the very theme of the "WAP" video.
3. A Little Aaliyah
Anytime I see snakes in a music video, my mind automatically goes back to Aaliyah's Afrofuturistic visual for "We Need A Resolution." In the 2001 video, the late singer seductively danced amongst snakes in a natural-looking setting. This was also directly referenced last year in Doja Cat's video for "Rules."
Also, for the deluxe release of B'Day, Beyoncé hopped on a sexy track with Columbian icon Shakira called "Beautiful Liar." The duo completed a video to accompany the track, a scene in which features them with cropped shirts and touching hair. That same aspect is included in this scene of "WAP."
4. Left Eye's Chain Ponytail
Rapper Left Eye Lopes pulled up to the 2001 Soul Train Music Awards with a daring new look. Her hairstylist, Marie Brown, was always experimental and for the award show, she opted to give the artist a thick bang, twists pouring out of bantu knots and circular space donuts that broke up each ponytail.
For "WAP," Cardi B's hairstylist Tokyo Styles gave her a single long ponytail made up exclusively of those circular links, giving the style a chain look. We stan a good reference.
5. B.A.P.S
Of course, the song title itself is a reference to 'B.A.P.S,' Robert Townsend's 1997 film about two Black burgeoning entrepreneurs from Decatur, Georgia. The style from the movie, namely the sky high updos, served as inspiration behind the "WAP's" single art, as well as the matching updos Megan and Cardi sport in the video.
Photo credit: 1501/Atlantic Records