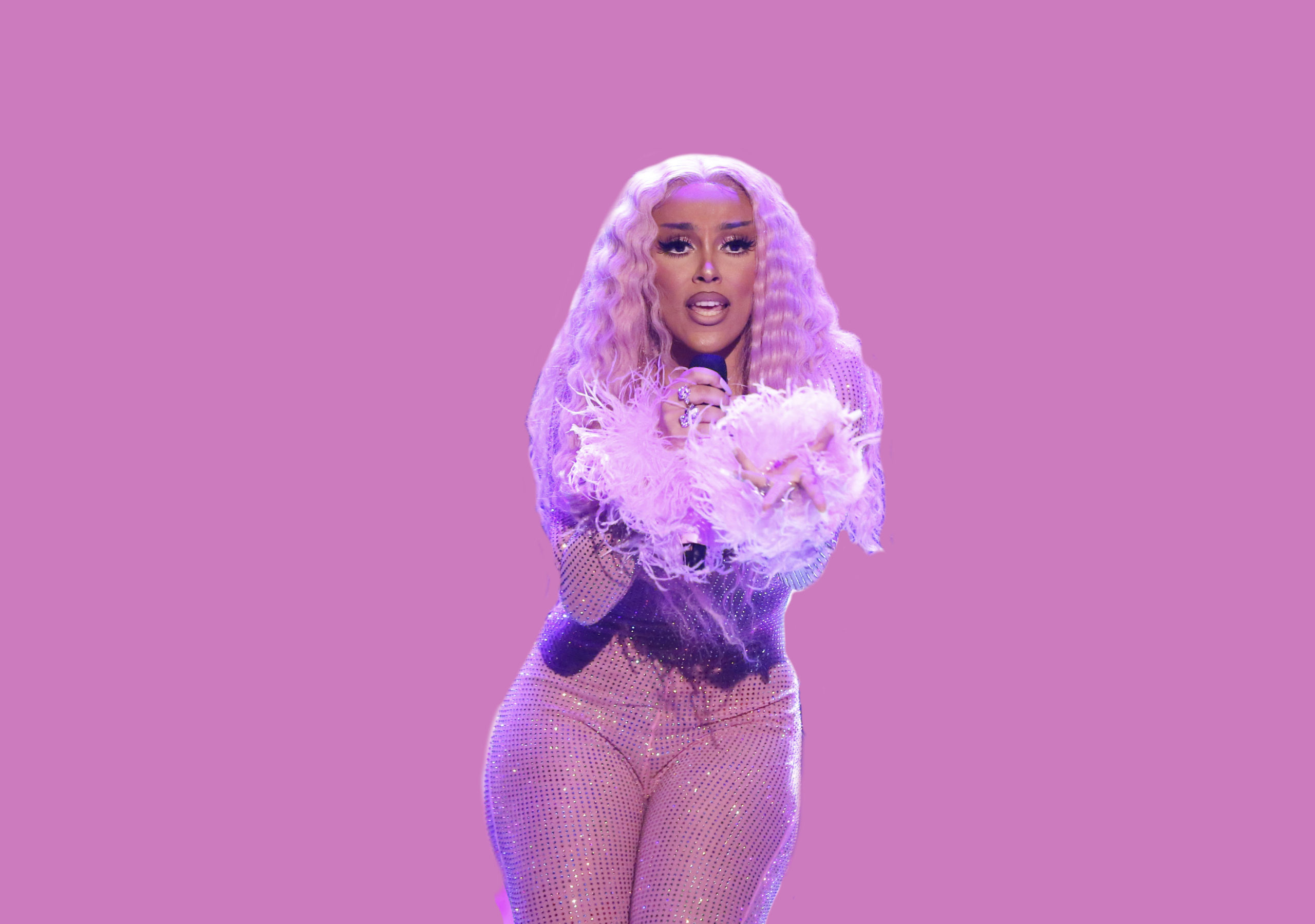 Doja Cat Isn't On The Rise — She's Here To Stay
Doja Cat isn't the next big thing. She's already spent at least a few of her nine lives serving up sass over pop-tinged production.
Doja caught the world's attention with the 2018 release of "Mooo!," her playful song that jokingly compared farm life and young adulthood. But dedicated fans knew that this was far from her first rodeo — her debut song, "So High," dropped via SoundCloud in 2012. Since then, Doja, born Amalaratna Zandile Dlamini, has been working tirelessly to solidify herself as a hip-hop/R&B mainstay.
"We need people who are open to doing something with theme, something with a cartoonish twist," Doja said to Elle in 2019. "[Rap] is very one dimensional right now." Thanks in part to her work, hip-hop is experiencing a moment wherein women are asserting their dominance and having fun at the same time. She, and women like her, are proving to consumers, and labels, that they not only can create fun music, but that they have what it takes to become stars without a major male co-sign.
This idea was explored in the late 1990s with the smash success of multiple women who rapped, such as Foxy Brown, Lil' Kim, and Eve. But, each artist listed was still helmed by a man and a posse. Such was the culture at that time, but, performers such as Doja Cat and Rico Nasty are shifting perceptions, one colorful video at a time.
After Doja released "So High," independently, the track was picked up and reworked as a single by recording labels RCA/Kemosabe, which she signed to in 2014. The song was then included on her Purrr! EP. In the aftermath of her success, Doja released a slew of loose singles, including "Lie Down" and "Crush," which racked up 450,000 and 589,000 plays on SoundCloud, respectively. She was brought on tour alongside fellow popular acts Theophilus London and Father in early 2015.
Doja shared her debut album, Amala, in 2018. It was included on "NPR's 40 Favorite Albums of [Summer] 2018″ list, with KQED music editor Nastia Voynovskaya writing, "[t]hroughout Amala, Doja Cat is sharp-witted, poking fun at the petty woes of millennial hetero dating,"
The album's bonus tracks included "Moo!," Juicy" and "Tia Tamera" with Rico Nasty. "Mooo!" unexpectedly took off, and Doja was launched into superstardom, although she had been hustling for years prior.
"As a whole my music represents joy and freedom. My message is of triumph and pain and embracing yourself as a creature and creating the best journey for you not just other people." – Doja Cat to Paper Magazine, 2018
After her viral success, some wondered how Doja would be able to maintain the momentum. Claps come and go, especially when you factor in the 24-hour news cycle and just how quickly we run through artists. But, what critics didn't factor in was that by the time she achieved mainstream recognition, she had already been signed to RCA for four years.
With the late 2019 drop of Hot Pink, an expansive project that was inspired by disco, Nicki Minaj, and old school R&B, Doja built upon the distinctive vision she had been cultivating since her late teens. She has figured out how to mix cuts with mainstream appeal with her own interests and personality, and her single "Say So" hit #1 on the Billboard Hot 100.
Too often, people assume that young musicians have come into their fame quickly and without enough hard work. But in the case of Doja Cat, this could not be further from the truth. She has spent the past several years honing her craft, and her success shows us that she's not an up and comer anymore — she's an established artist with even more favor in her future.
Photo Credit: Getty Images/Brooklyn White