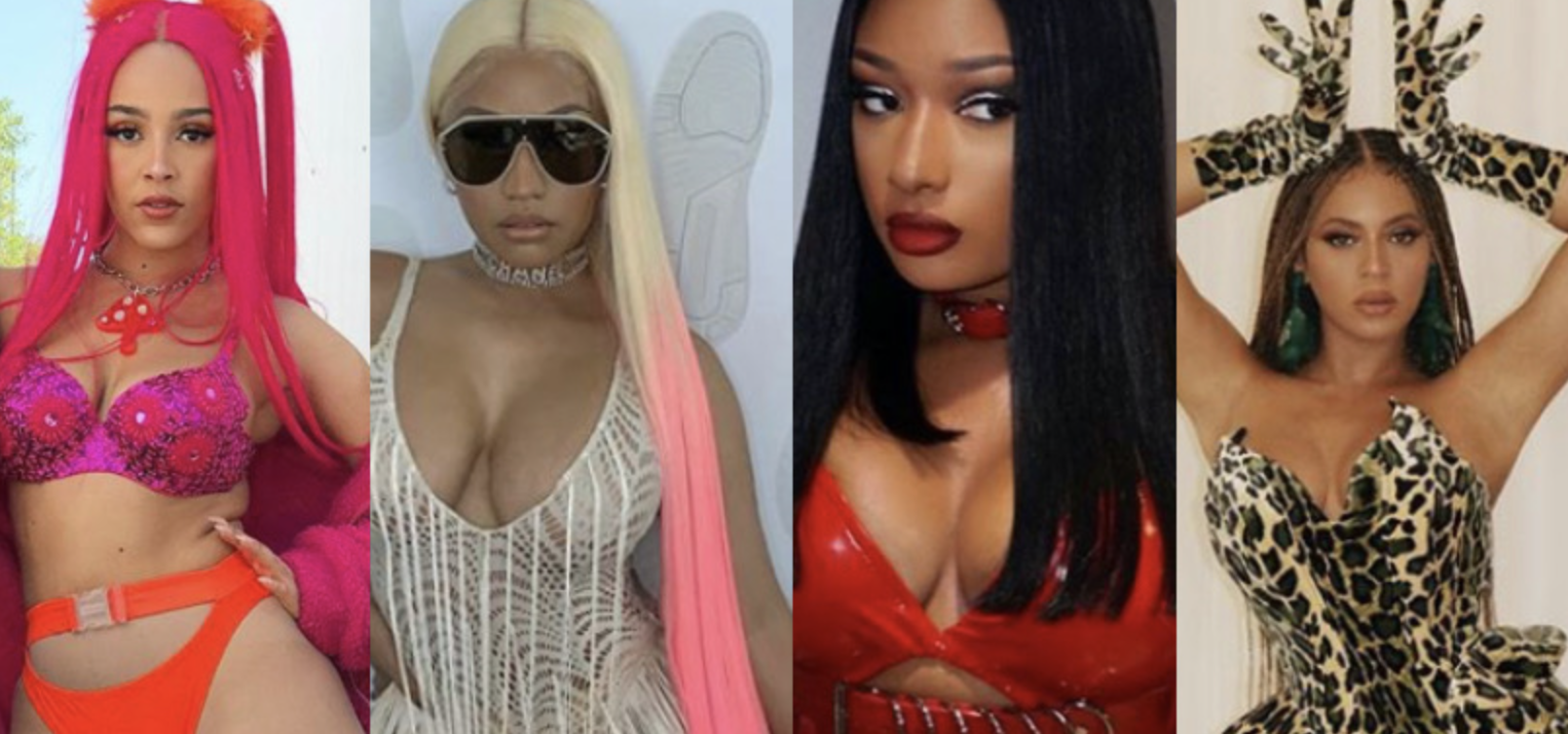 Four Black Women Are Dominating The Top 2 Hot 100 Spots
Thanks to the "Say So" and "Savage" remixes, the top two spots on Billboard's Hot 100 are dominated by four Black women for the first time in history.
Doja Cat and Nicki Minaj's remix for "Say So" has beat out some fierce competition to sit at the number 1 spot on the Billboard Hot 100. The Weeknd (number 3, "Blinding Lights,") Roddy Rich (number 5, "The Box") and DaBaby featuring Roddy Rich (number 9, "Rockstar") are a few of the other Black artists who have slots in the top 10 of the celebrated list. Megan Thee Stallion's "Savage" remix with Beyoncé is right behind the "Say So" remix at number 2. This means that the top two spaces are dominated by four Black women for what fans believe is the first time in history.
How did this happen? We think it was partially because of the strength of these artists' individual fanbases.
Doja Cat has been a popular artist for nearly a decade and has a combined social media following (Twitter and Instagram) of 7.5 million. What helped her breakout was her viral 2018 song "Mooo!," and the impressive press run that came along with it. From then on, it was clear that she knew how to navigate the internet as an artist, and create bodies of work that were not only true to her, but that were also capable of resonating with fickle music listeners on the web. Doja Cat and her team know how to craft moments that grab our attention, which is an increasingly difficult task given how that's now a common strategy.
Nicki Minaj has built a cult following over the years and has established a strong relationship with her fanbase, the ever-loyal Barbz. Minaj has also released four studio albums since her formal debut in 2010 (all of which are platinum,) and she has over 134 million followers across platforms. Some Barbz have doxxed Minaj's detractors, harassed people, and picked fights. But most importantly in this case, they were committed to helping Minaj get a number 1, and this was the first time she's done so.
Additionally, before the remix, "Say So," had already hit number 5 on the Billboard Hot 100, so it already had a momentum of its own.
As far as the "Savage" remix goes, Megan Thee Stallion has picked up serious steam in the past year. The success of her breakout single, "Big Ole Freak," as well as various features, charting singles from her Fever mixtape, the virality of "Hot Girl Summer" is (and the track the movement spawned) certainly contributed to the success of the remix. Plus, it was already a popular solo track, due to Keara Wilson's "Savage" challenge.
The remix also came with even more original choreography from the Nae Nae Twins.
It's not an exaggeration to say that Beyoncé has the Midas touch. She is experienced in the art of crafting solo hits ("Crazy in Love, "Single Ladies") and was topping the charts, even as a teenager, alongside Destiny's Child. She's a master in the art of surprise releases and has the most followers of everyone listed — 161.5 million. The singer is a Grammy-winning, record-breaking icon with a knack for "getting yo' songs played on the radio station."
Also, the proceeds from the "Savage" remix went towards helping those who have been hit especially hard by the COVID-19 outbreak. This tidbit alone was enough to push the track into viral news territory.
Streaming parties also contributed to each song's hot streaks. Fans would carefully organize virtual parties, during which they would listen to the "Say So" and "Savage" remixes on constant repeat. Due to Billboard's inclusion of streaming numbers when determining the Hot 100, this is proven to be an effective method.
Congratulations to Doja Cat, Nicki Minaj, Megan Thee Stallion and Beyoncé for making magic, and history.
Editor's note: ESSENCE reached out to Billboard for confirmation. No comment has been offered thus far.
Photo credit: Instagram