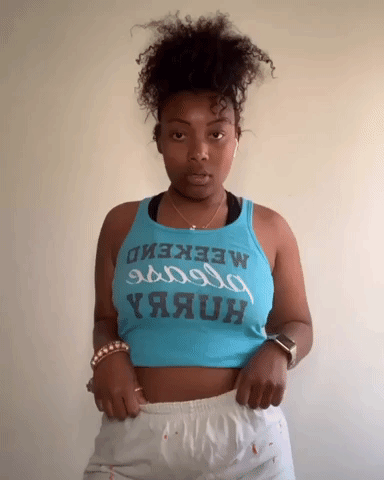 Meet Keara Wilson, The Teen Choreographer Behind The "Savage" Challenge
The 19-year-old's dance craze caught the attention of Megan Thee Stallion herself.
If you've been on the internet at all in the past two weeks (which is mandatory thanks to the quarantine) there's a chance you've seen celebrities and everyday folks alike dancing to Megan Thee Stallion's song, "Savage." The series of claps, twerks, and hand gestures was created by 19-year-old choreographer and TikToker, Keara Wilson.
The "Savage" challenge is not just any dance — it's a well-thought-out sequence that recalls the era during which seemingly every popular rap song had a dance craze that helped propel its success.
Soulja Boy's "Crank That," Huey's "Pop, Lock And Drop It," and Crime Mob's "Rock Yo' Hips" are a few memorable examples of this phenomenon. These simple, fun dances allowed each song to enjoy success on the Billboard Hot 100 chart, and are forever ingrained in the minds of 106 & Park fans and attendees of public school dances.
Like the dance crazes before it, "Savage" is also experiencing a serious boom on the charts. It currently rests at #20 on the Hot 100, after jumping up 78 spots in a single week. Fans believe that this outcome is due in part to Wilson's innovation, which is a sentiment shared by Billboard.
Girls United caught up with Wilson to discuss her background as a dancer, how she came up with the dance, and more.
G.U.: Can you tell us why you created the "Savage" challenge?
Wilson: One day, I was just on my TikTok, and I noticed that there was a lot of the same dances. So I thought, I'm gonna try something new, like, cause everyone does the same stuff, and I just wanted to be different.
So, I found [the] song. I actually had a couple songs in mind. I went with the "Savage" one because it's really catchy song, it gets you in the feel of it. The beat, it just attracts you and you start to dance to it. So, that's how I got that started.
G.U.: How does it feel to see all of these celebrities doing a dance that you made?
Wilson: It has me speechless, honestly. And excited!
It's breathtaking because that's something I've always wanted, and worked for. [I wanted] others to notice my dancing. When Megan did it, that made me cry so hard. It's amazing, who's ever gotten to say that a famous person has done one of [their] choreographed dances? My dance?! It's just exciting.
G.U.: How long have you been dancing?
Wilson: For 10 years.
G.U.: Oh wow. Did you start out taking classes?
Wilson: I grew up with my mom, my brother [and my sister.] My mom was always working, she was a full-time nurse. It was always me, my brother, and my sister. So actually, my brother is the one who [got me inspired]. He would teach me the Soulja Boy dances back then, and that's kinda how it began.
They started to see that I was really good. So then, I moved back to my hometown that's in Ohio, and I got signed up for classes. At first, I did tumbling classes, but them [my mom] signed me up for actual competitive dance classes.
G.U.: How have your friends and family responded to the success of the "Savage" challenge?
Wilson: A lot of them back home have supported me through this. They've actually done my challenge, I've posted them. I'll have other articles on my Facebook, they'll share it.
As far as my family, my mom was like, "[T]his is the craziest thing ever!" They're all helping me out. It just makes me feel so good cause I have that support. You never really realize who you have, you know? So, it was awesome.
G.U.: Why do you think young people have connected with TikTok so easily?
Wilson: When you get on TikTok, you get obsessed. When I first got on there, I was really obsessed.
There's funny content and there's dance content. So that makes you wanna join in. I think that's why it gets so big, because other people wanna try it, then you tell somebody else to try it.
G.U.: How do you plan on continuing your career as a choreographer?
Wilson: I've been accepting multiple promotions, so doing those definitely. Helping artists get their name out there by my dancing.
Also, I want to help out with the young kids in the future…the little children who wanna dance. I would love to teach them, go around the world, travel, and do sessions to where I could teach them.
Of course, I want to learn stuff for myself to improve my choreography.