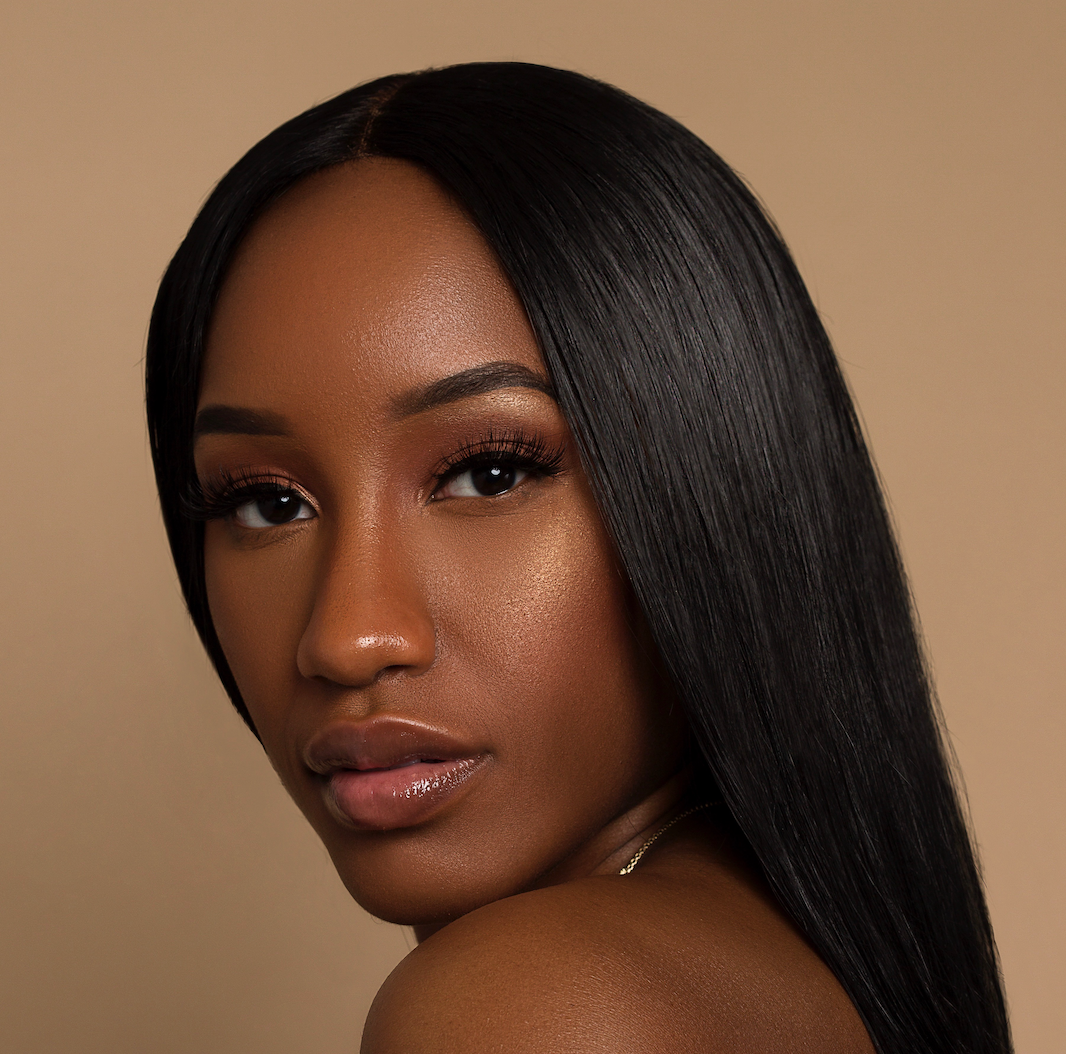 Christina Beliard Opens Up About Her Rise To Stardom
For her debut interview, Girls United spoke with the budding creator about how she became a content creator to watch.
Christina Beliard started off 2020 with zero followers on TikTok. But that all changed with an off-the-cuff video about her work bae.
"We had to work on Martin Luther King Jr. Day, and I was like 'Dang, we gotta go to work,'" the 25-year-old told ESSENCE GU.
When she arrived in the office, she noticed that it was to be a relatively relaxed day, which fueled her decision to record the now-famous clip and post it to Triller. Beliard said that she's always been fond of featuring her co-workers in her social content, and that her work bae, Mitch, specifically has starred in a couple of her videos.
"If you followed me before any of this, you know I always featured my coworker on my Instagram story," she explained. "He was work bae. So like, whenever I was at work, I would record him."
Their "Get the Gat" video became a sensation, and now has millions of views.
TikTok is not just a fleeting trend. Built on the back of other social media platforms that feature short video clips, such as Vine, TikTok is quickly becoming a premiere platform for creatives to share their work. Lil Nas X's "Old Town Road" initially began going viral because of its inclusion in a TikTok meme. Most recently, Fenty Beauty announced that they had established a fully-stocked Fenty Beauty TikTok house for content creators to test their products and film it. It's evident that people believe in the future of TikTok, and are invested in this generation of innovators.
It's important to note that Beliard isn't just interested in her own endeavors. Like Rihanna, she wants to inspire other young people to get their creative juices flowing, and follow their hearts to make their own dreams come true.
During our chat, she divulged that she had been creating online content for a few months before the "Get the Gat" video hit the internet. Though she wasn't getting as much of a response as she is now, she's stuck with it. And thankfully, people are now checking out her pre-existing archive.
"I wouldn't get that many views or whatever, but it was rewarding because I liked doing it. It was therapeutic," Beliard said. "Ever since this thing happened, my subscribers it shot up. I'm at a good 15,000 in less than two or three months."
After her viral success, Beliard hopes that other young creatives are inspired to chart their own path online.
"Do it and do not give up, because you'd be surprised how many people might be interested," Beliard advised. "People are like, 'Should I start videos, should I do this, should I start that?' People should just go for it. Go with your gut and don't feel like anyone will judge you because you will be rewarded in the end."
Here's the other advise Beliard had for other creatives and influencers online.
So, what inspired the "Get the Gat" TikTok?
The [LSU] football team did a video at the White House, and they [were] doing the "Get the Gat" challenge. But it wasn't a challenge then, that's why it just worked. They were just doing a dance and the song was so catchy, it was in my head a lot, and I loved the video so much. So, I came to work; we were all just clowning around. I sat at my coworker Mitch's desk and I was like 'just sit here,' and I was just gonna do what I would normally do, be annoying.
I posted the video to Triller and then posted it on my [Instagram] story. I posted it on TikTok, and then from there, tweeted it. I kid you not, hours later it was blowing up and I was like 'What is going on!?' It was a hit, and then the next day The Shade Room reached out to me and they asked me if they could post the video, and I was like 'Yeah, OK.' They posted it and that grew even more.
Then I did a follow up video where I kind of was talking to Mitch like 'How does it feel to be famous?' Just joking around. That video did numbers too. I think people just fell in love with my relationship with my coworker. It's friendly. Everyone has a work husband or girlfriend, so I guess that brought humor to the idea of that. I feel like no one ever posts their actual work husband.
How does Mitch feel about the outcome of the video?
He just doesn't care for social media. Me, I like to take pictures, but I do a lot on social media! He's never on Twitter like that, so he jumped from like 50 followers to so many in a day. He was just so shocked. His phone kept buzzing. He thought it was hilarious. Actually, it inspired him. He told me I inspired him to actually start vlogging on YouTube.
Oh wow!
Yeah! [H]e told me that he likes that I can be myself and have fun with it, [and] he wants to do the same thing. He's sending me funny videos on TikTok; he's really into it now.
Do you think majoring in human development and family studies played a role in like your success at all?
I think it does play a part in me because I'm a people person. I enjoy having conversations with people and I can tell a lot about them when I'm having a conversation with them. So, it definitely taught me how to react and how to move.
How are you navigating your detractors, because I'm sure you didn't have to deal with them nearly as much before all of this?
I feel like there's always gonna be people who are haters. I just try not to respond because you literally cannot fight everybody. You know what I mean? Like imagine if I was really on Twitter replying to everybody, just fighting back, fighting back, fighting back. It just makes no sense. I think of it as like a business—every hate is another click, another subscriber, another like, another retweet, another follow, so I was like you're doing me a favor by hating on me. Honestly.
Right.
I think it's kind of corny that Twitter can work for you and then [people] turn on you because some people are haters. But I do it for the smiles. I don't do it for anybody's acceptance, I do it just cause it's fun. I'm being myself.
I get positive DMs [more than] the negative stuff. I love the positive stuff. It really outweighs the negative. People are DMing me and encouraging me to be myself. It makes me feel good. I'd rather focus on the positives, like endorsement deals and influencing people.
"I feel like the people complaining never know what it's like to work at a place where you're not being micromanaged."
Speaking of endorsement deals, I saw that you had a swimsuit deal! Can you talk a little bit about the process of securing that?
So the swimsuit company, Icon Swim, reached out to me last year and sent me one bikini. They were just like, 'Take a picture and then tag us.' I did it. Their PR rep reached out to me again after the "Get the Gat" video and asked for a YouTube collaboration and that was new to me [after starting my channel last November]. So, she sent me five bikinis and I did my thing. They loved it so much that they sent me another bikini, and requested another video. They recently sent me five more bikinis and this time, it was a paid opportunity. That was so new to me, and I was like 'Wow, I've never experienced this before.'
How do your coworkers and superiors feel about your videos, since you make a lot of your content at work? I've seen different people on Twitter leave little comments like, 'You're at work, but you're playing around!'
I feel like the people complaining never know what it's like to work at a place where you're not being micromanaged. At my job, we get our work done and we work on our own time. My coworkers' direct boss thought it was funny. He laughed a little bit. He saw me recording one of the videos one day and was giggling.
I feel like it's fine as long as I'm not harming the company's name. I don't post our company's name. Everyone is 'Where do you work, where do you work?!' and I'm not gonna tell you guys. [It's] friendly content. I'm not doing anything that's inappropriate. I think it's okay so I'm still working.
This interview has been edited for clarity.
Follow Christina on Twitter. Photo Credit: Source.