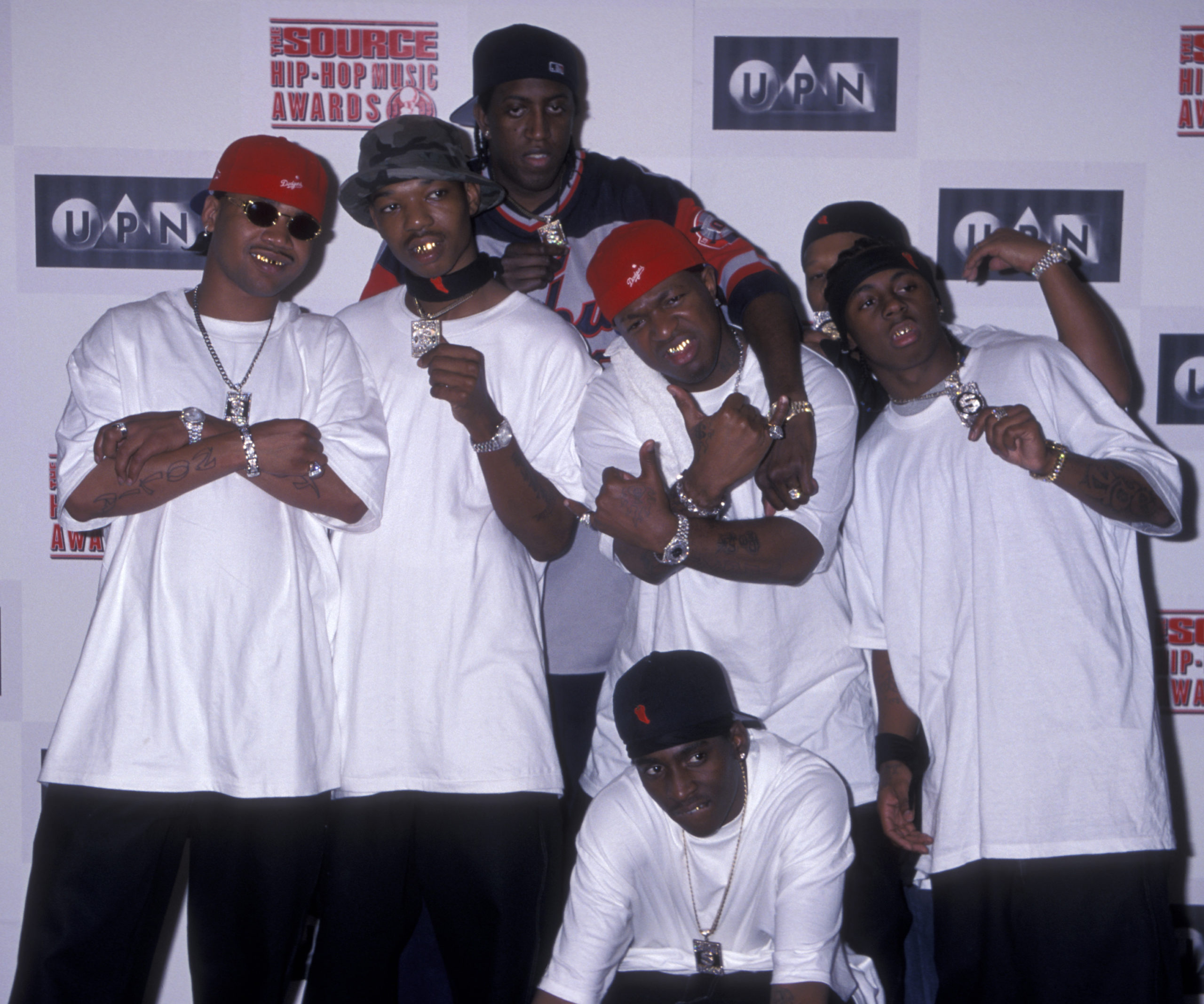 The South Got Something To Say: A Meditation On Southern Rappers
Hip-hop artists from the south have established themselves as the soul of hip-hop.
Twenty-five years ago at the 1995 Source Awards, a young OutKast accepted the award for Best New Rap Group. Though the iconic duo is now heralded as music legends for their raw, melodic glimpses into southern life, things weren't always that way. OutKast was booed at the award show, which prompted André 3000 to have a candid moment that would define the future of hip-hop.
"I'm tired of folks…close minded folks, you know what I'm saying," the then 20-year-old rapper said. "It's like we got a demo tape and don't nobody wanna hear it, but the south got something to say. That's all I wanna say." OutKast went on to win 6 Grammys.
When discussing the watershed event at the Source Awards with Vinyl Me Please in 2019, Big Boi said, "…we was glad that it happened because it made us go that much harder than what we were already doin'. At that point, we had somethin' to prove, and that shit just made us go in straight Jedi mode, man."
The sound that OutKast, and other southern innovators, helped create — woozy head-boppers accented by drawl-heavy, confident voices telling stories about sex, politics, and Black life, has been stretched by today's artists.
The music of Rapsody, DaBaby, and Megan Thee Stallion pulls on this rich cultural history, but their art is still imbued with a sense of originality that makes them stand out. The south has always had something to say.
OutKast is directly connected to the rise of southern rap in more ways than one. Rico Wade of Atlanta's Organized Noize, the production squad responsible for OutKast's first four albums, has a younger cousin who is affiliated with the collective's hedonistic haze. The cousin originally went by Meathead, but today, he churns out platinum-selling records under the name Future.
Future's material is brash, materialistic, and drenched in misogyny, but it has a certain tenderness about it as well. You can't help but feel as if all of the glitz is nothing more than a cry for help, and that Future is a mirror that reflects southern Black, male life.
"[The] multidimensionality [of the Dirty South] encompassed ideas of a racist, oppressive, white South historically continuous with slavery; a 'down-home' black South marked by distinctive speech and cultural practices," wrote Southern Spaces in 2008. The piece broke down the pillars of southern experiences, which are connected to its expression: "a sexually libidinous South; a rural, bucolic South; a lawless, criminal South; and a sophisticated urban South." When you consider how crime, poverty, sex, and wealth play into the lives of those dwelling in southern states, the music from these spaces are much easier to understand.
At the time of André 3000's proclamation, southern rappers were seen as a bit of a novelty act, as hip-hop was still mainly an East Coast, and then West Coast, sport. Even though performers such as the Geto Boys and UGK slowly began to take over their respective cities' underground rap scenes, and eventually pop culture at large, there was still work to be done before hip-hop helmed below the Mason-Dixon line would be honored for its unique perspective.
If you dig in the digital crates, you likely remember the era of SoundCloud rap that was wholly influenced by Three 6 Mafia, a group of early horrorcore rappers and producers that first came together in 1991. Production prodigy Spaceghostpurrp was at the forefront of this movement, and his work with a budding A$AP Mob inspired the country's turn, to well, the country. It seemed as if you couldn't find a song in that corner of the internet that didn't feature sluggish samples and drum patterns associated with Three 6 Mafia's enduring sound.
The women of Three 6 Mafia, Gangsta Boo and La Chat, were ahead of their time as well. They were speaking on topics that have since increased in popularity, like witchcraft and street fights, decades ago. Gangsta Boo was pivotal to the scene of women in rap who weren't afraid to go toe-to-toe with men. When I spoke with her in 2019 for the 15th anniversary of Crime Mob's "Knuck If You Buck," she talked about how Three 6 Mafia helped pave the way for crunk music. Ciara's earliest work, and Usher's biggest hit is indebted to this sound.
"In Memphis, we been making fight music for years, so I was crunk right along with them. Crime Mob was like the younger version of Three Six Mafia," Gangsta Boo told me.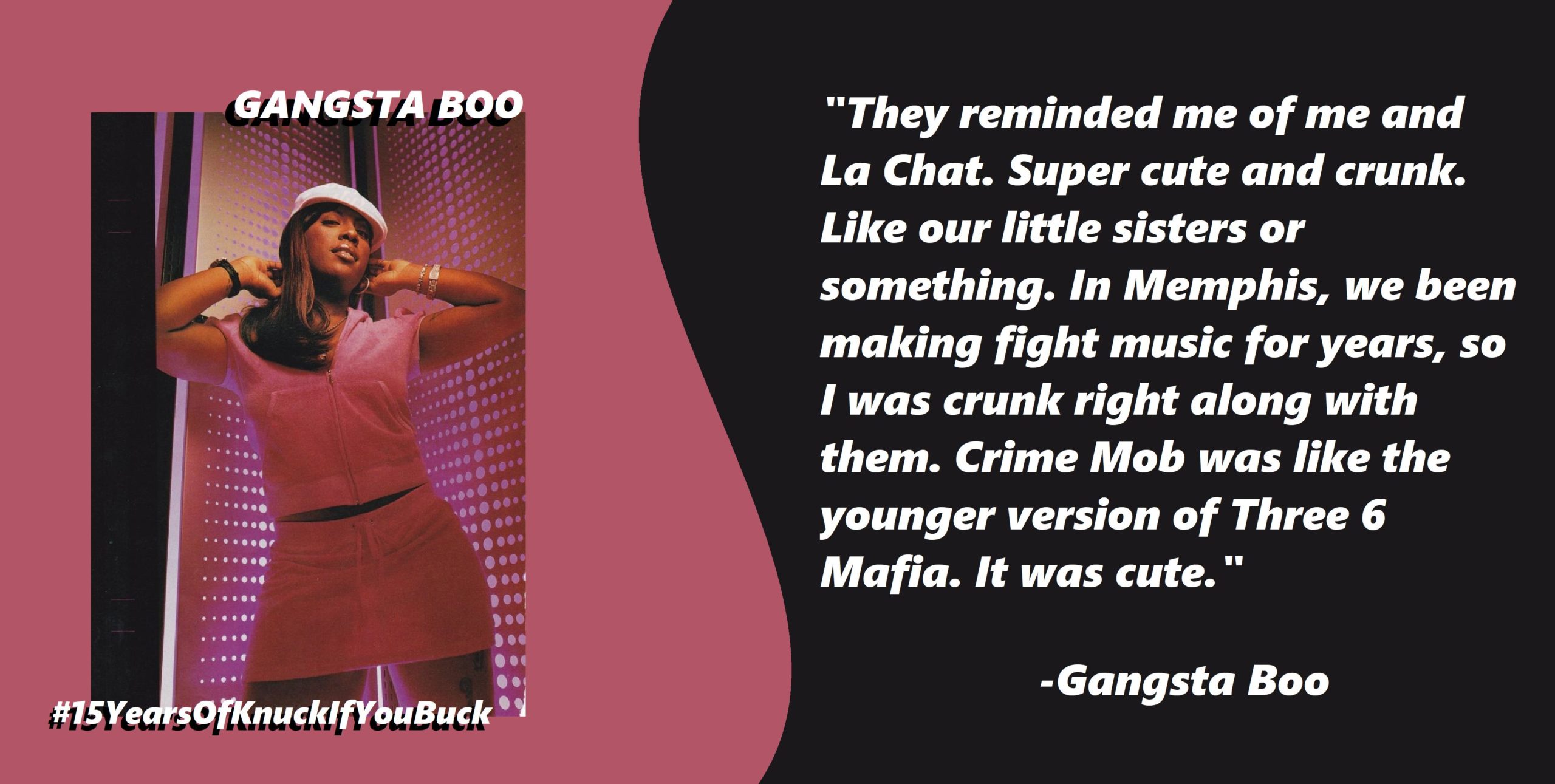 Gangsta Boo's readiness to scrap, mixed with the explicit, and matter-of-fact nature of Florida's Trina, reminds modern rap fans of Megan Thee Stallion and KenTheMan.
In 2012, when Crack Magazine asked Spaceghostpurrp about rapper/producer Juicy J, one of the biggest stars to emerge from Three 6 Mafia, he said, "He knows how it is, he knows what I've been trying to do for the South since I've been making music and he respects what I'm doing."
He then went on to discuss just how impactful the Oscar-winning rap group really was. "Why does [Juicy J] respect what I'm doing? Because I'm paying homage, that's what I always do, that's what I'm doing for Juicy J and everyone who inspired me. Paying homage to them, showing them my love and respect, know what I'm saying?"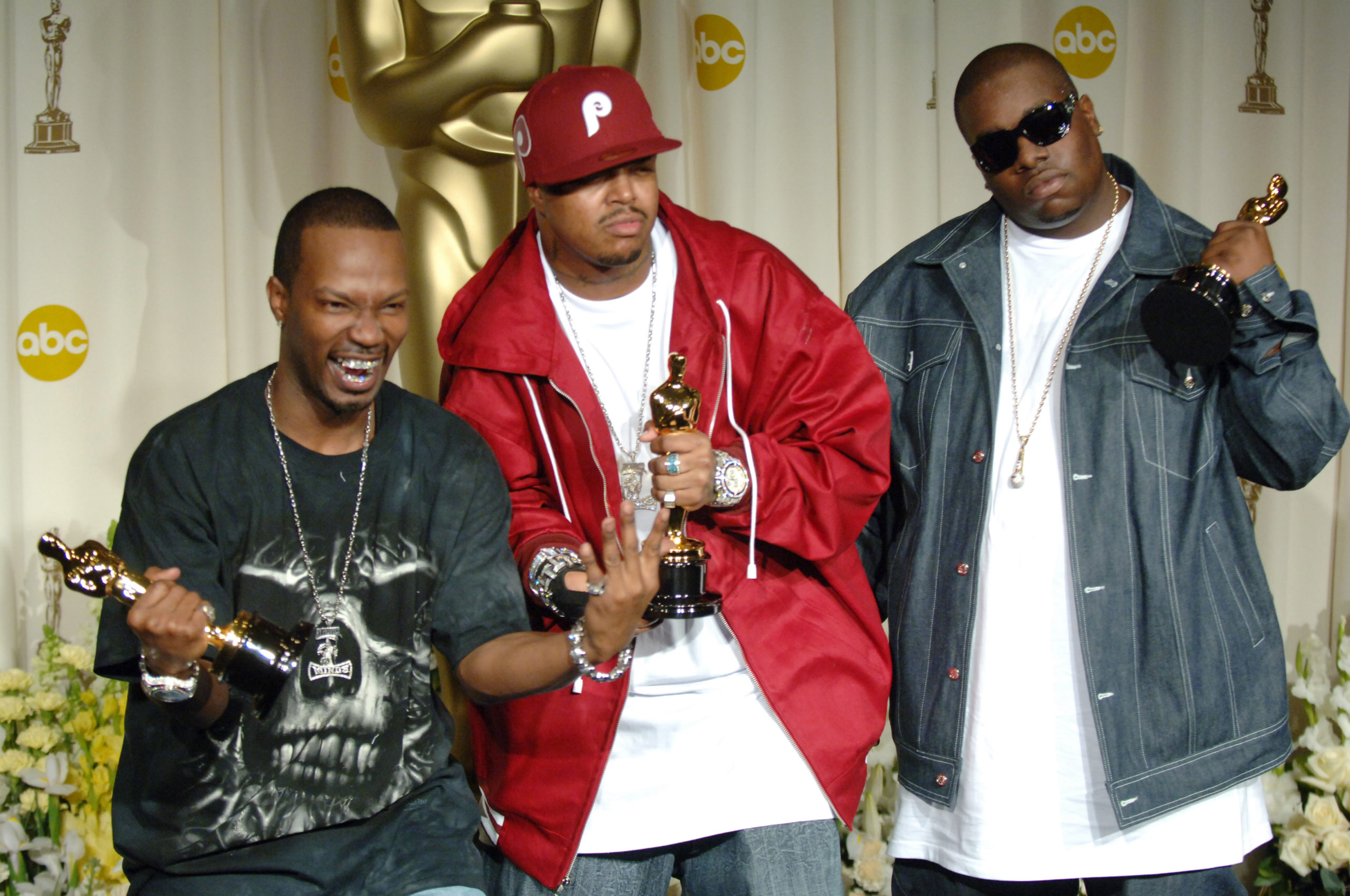 Three 6 Mafia after winning the Oscar for Best Original Song at the 2006 Academy Awards. That night, they became the first hip-hop act to perform at the ceremony in the event's then-78 year history.
Other groups/record labels, like the Hot Boyz of Cash Money Records (which launched the career of Lil' Wayne) and No Limit Records are highly important to the dissemination of southern lifestyle through music. The word "bling," a term now synonymous with excess and success, is credited to Lil' Wayne, who went on to sell over a million copies of his 7th album, Tha Carter III, in a week. This was a feat that hadn't been accomplished since 50 Cent's Get The Massacre, further solidifying TSK the south as a serious contender for hip-hop's birth place, New York.
Countless artists from across the country have cited Lil' Wayne as a catalyst for their own growth. No Limit has received its flowers as well in recent years — Master P served as a narrator on Solange's A Seat at the Table in 2016 and Mia X celebrated the 35th anniversary of her career in 2019.
Today, we've reached a point where southern rap is not only respected regionally, but is also dominating the charts and breaking records. Future's song featuring Drake, "Life Is Good," sits at #2 on the Billboard Hot 100. In 2019, Lil Nas X became the first openly gay rapper to be nominated for some of the Grammy's top honors, including Best New Artist and Album of the Year. He walked away with two awards that night.
The southern artists of the new era certainly still have something to prove. They must establish themselves as adept performers, social media mavericks, and in the case of DaBaby especially, charismatic personalities. Though they still have a lot to juggle, they no longer have to worry so intensely about sweeping generalizations based on their origins. Criticisms are still present, yet they matter less and less as it becomes clear that the south is a hotbed for innovation.
Check out our list of southern rappers that you should be listening to below.
J.I.D
Megan Thee Stallion
Fly Anakin
DaBaby
Lil Nas X
Rapsody
Lil Baby
Duke Deuce
City Girls
KenTheMan