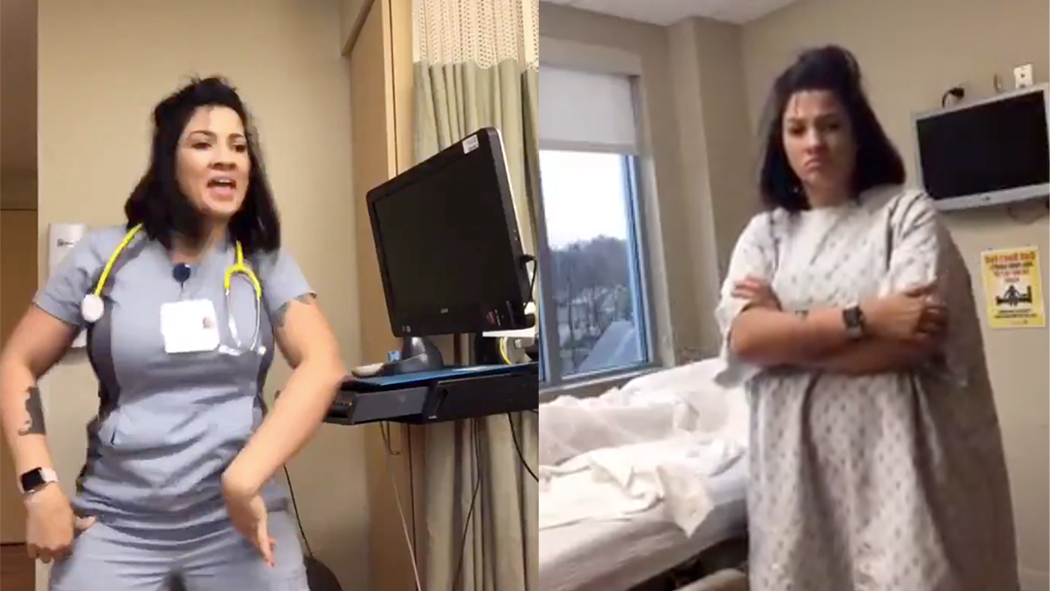 No, Those Healthcare TikToks Aren't Funny
Public health is no laughing matter.
Healthcare TikToks are now a thing. Sigh.
TikTok, the social media platform that takes cues from now-defunct video network, Vine, is all the rage. It is partially responsible for the success of "Old Town Road" and has become the hilarious, premiere way for teens to connect with one another. But the site has also made way for the rise of inappropriate media that includes medical professionals putting themselves in problematic positions for cheap laughs.
In November 2019, hospital technician Danyelle Rose uploaded a video of herself pretending to be a patient and hyperventilating in a hospital gown. The video also included clips of the former Vine star as a nurse who makes fun of the hyperventilating patient. The caption was, "We know when y'all are faking," with a few laughing emojis. Twitter users instantly began to flood Rose's mentions with reasons why her take was inconsiderate.
Twitter user RosieRiverDarling wrote the following, "I knew way too many young women who've suffered permanent damage or even death because nurse and doctors thought they were lying." This video is a painful reminder of the intense struggles that Black women endure when we're trying to receive medical care. We've told harrowing stories about the increased likelihood of Black women dying during childbirth. We know that just last week, a young Black woman died while waiting in the lobby of an emergency room. Black women are further harmed because our ability to tolerate pain is grossly exaggerated. So, it's a slap in the face to see that those in positions to help us are actually on TikTok laughing at our pain.
On January 10, a TikTok user named Nurse Holly shared a video of herself shaming people who engage in premarital sex. The clip reads, "Did you know…the best way to prevent STD's is waiting for sex until marriage[?]" "Just the truth," she added at the end.
This archaic belief system was debunked by the September 2017 issue of Journal of Adolescent Health. "We fail our young people when we don't provide them with complete and medically accurate information," said Laura Lindberg, a Guttmacher Institute research scientist who co-wrote the report. Teaching abstinence has proved to be ineffective, so why are medical professionals harboring demeaning feelings about sex towards patients?
We deserve to be treated with respect, literally.
Photo credit: Daily Dot