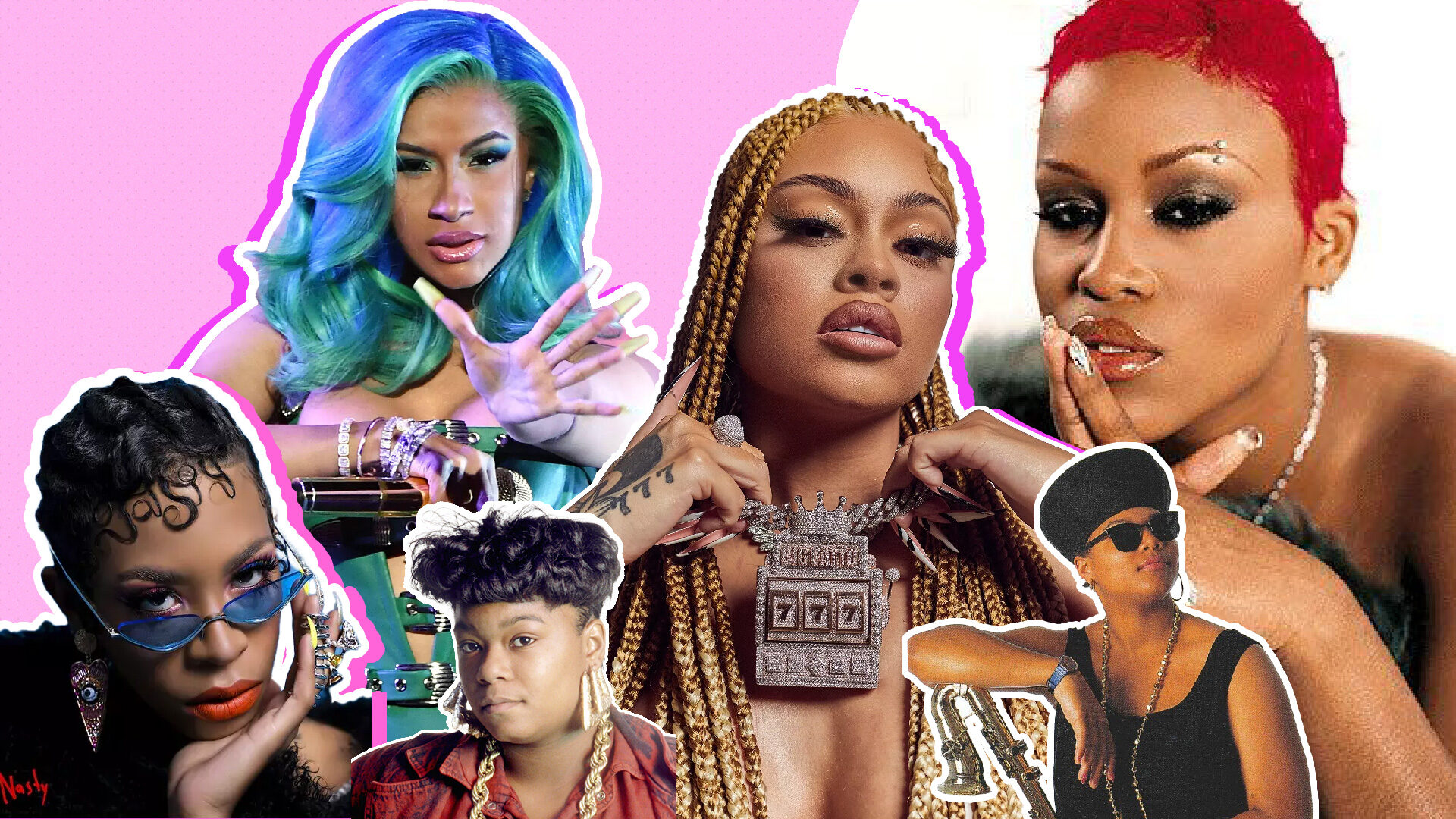 14 Femcees To Add To Your Ultimate Rap Playlist
In an industry where women are vilified without remorse, female rappers are readjusting the power dynamics and proving their stake in hip hop. The latest pool of lyricists are continuing the work of their predecessors: unabashedly disrupting all notions that they don't belong.
From fusing genres to innovating cadences, female artists are the burgeoning vanguard creating space for their art. At every turn, they are boasting autonomy, power, and even their sexual satisfaction — steadily erasing the deluge of narratives that assert femcees are hypersexual, engulfed in drama, and lack the fervor to survive in the game.
Ahead are the hottest artists, OGs and phenoms alike, that are must-haves on your rap playlists (in no particular order). Who made the cut on your ultimate rap and hip-hop playlist?
Megan Thee Stallion
Arriving on the cypher scene with Houston's braggadocious swagger in tow, Megan Thee Stallion's humble beginnings quickly etched her pen amongst the industry's rising femcees. Her anthemic hits and alter egos display inimitable ownership of her sexiness and an electrifying pulse on lyricism that hasn't left our playlists since. In her most recent offering to her Traumazine, the rapper explores her identity outside of the spotlight and the vulnerability that has woven her public image together. 

Nicki Minaj
The self-described "Queen Of Rap" has unequivocally mastered chameleonic artistry. She has demolished the construct of singular genres by dominating pop-rap; punctuated her fiery delivery with lyrical egos; and delivered incalculable double entendres that will forever be iconic. Her latest endeavor is a coveted co-sign to the future of the rap game in "Super Freaky Girl (Queen Mix)," featuring BIA, JT of The City Girls, Katie Got Bands, Akbar V, and Maliibu Miitch.
Queen Latifah
With community and womanism at the fore of her hip-hop stature, Queen Latifah's moxie to infuse her art with cultural critique carved a space for today's female-conscious rappers to exist. From her 1989 single "Ladies First" to her Grammy award-winning hit "U.N.I.T.Y.," the former Living Single star has delivered indelible lyrical musings on domestic violence and the objectification of Black women.
Eve
Eve's sobriquet, "a pitbull in a skirt," perfectly defines the dissonance of her masculine approach to candor and her ultra-feminine fashion appeal. Her assertive yet flirty demeanor is best known for hits like "Gangsta Lovin," "What Ya Want," and her Grammy-winning "Let Me Blow Ya Mind" collaboration with Gwen Stefani.
Lil' Kim
In an era where rap visualized women as mere sexual exploits, Lil Kim's blistering lyrics around liberating sex nudged the barriers that entrapped femcees. Her fearlessly provocative mannerisms balanced by her grisly tone drove classics like "Player's Anthem," "Crush On You," and "The Jump Off."

Roxanne Shanté
Harnessing her rap skills through local rap contests in Queens, NY, Roxanne Shanté's lyrical acumen solidified her as the first female battle rapper at the meek age of 14. The then-teen phenom was an overnight success as her response, "Roxanne's Revenge," to UTFO's 1984 single about street harassment "Roxanne, Roxanne" sold over 250,000 copies and catalyzed the radio's Roxanne Wars. While the battle-rap mania is culturally acclaimed as the entryway for women in the industry, it was also a deafening jab at the misogynoir of the 80s. 

Remy Ma
From South Bronx, Remy Ma's witticisms quickly proved that women could pen the same brazen rhymes as their male colleagues. With Terror Squad's car-cruising "Lean Back," Remy Ma became a part of the handful group of female rappers to ever have a number one single on the Billboard Hot 100 chart.

Latto
From Jermaine Dupri's competition reality show The Rap Game in 2016 to BET's 2022 Best New Artist award, Latto's public ascension to stardom from the souf' side of Atlanta is the sort of career we've all been rooting for. Her latest single "It's Givin" is arguably the women empowerment anthem of the year with its accompanying visual featuring Skai Jackson, Ella Mai, Tiffany "New York" Pollard, and more.
Kash Doll
Singles like "Run Me My Money" and "For Everybody" are testament to Kash Doll's pervasive confidence and her commitment to pioneering Detroit's female rap game. With high-profile collabs with Big Sean, Meek Mill and Wale, the rapper's proclivity for quotable lyricism makes her a mainstay on the aux.
Cardi B
Cardi B has proven that personality indeed builds careers. Her flippant commentary, raw hilarity, and disruptive discourse on sexual liberation can be heard everywhere from her "Bodak Yellow" debut to her controversial Megan Thee Stallion-collab "WAP." 
Missy Elliott
The merger of futurism and rap has never reached greater heights than with Missy Elliott's eclectic persona, streamlined production and unprecedented visuals. Critically acclaimed dance tracks like "Work It" and "Get Your Freak On" are the bedrock of gyration-inducing music that will always transcend time.
Rico Nasty
Sometimes we all just need to scream into the void while Rico Nasty's emo pop tunes blast in the background. Rising to fame with "Smack A B*tch" in 2018, Rico pushes the envelope of where hardcore gothic musicality blossoms in hip hop.

Trina
We owe the induction of "the baddest chick" into the AAVE lexicon to none other than Trina. The Miami native rocked the industry with her fiery verse on Trick Daddy's "Nann N****", subsequently signing to Slip N' Slide Records to early aughts jams that put a middle finger up to misogyny.

Lauryn Hill
Sitting at the nexus of neo-soul and hip hop, Lauryn Hill reached legendary status from her debut solo album The Miseducation of Lauryn Hill (it became the first rap record to clinch a Grammy for Album of the Year). Her daughter, Selah Marley, is even taking after her radicalness through music as an up-and-coming singer-songwriter.
About Mia: Mia Uzzell is a culture documentarian covering Black womanhood with bylines in Glamour, Teen Vogue, Grazia USA, and more. You can keep up with her discourse surrounding the intersection of race and gender on Instagram @originalmiadiamond