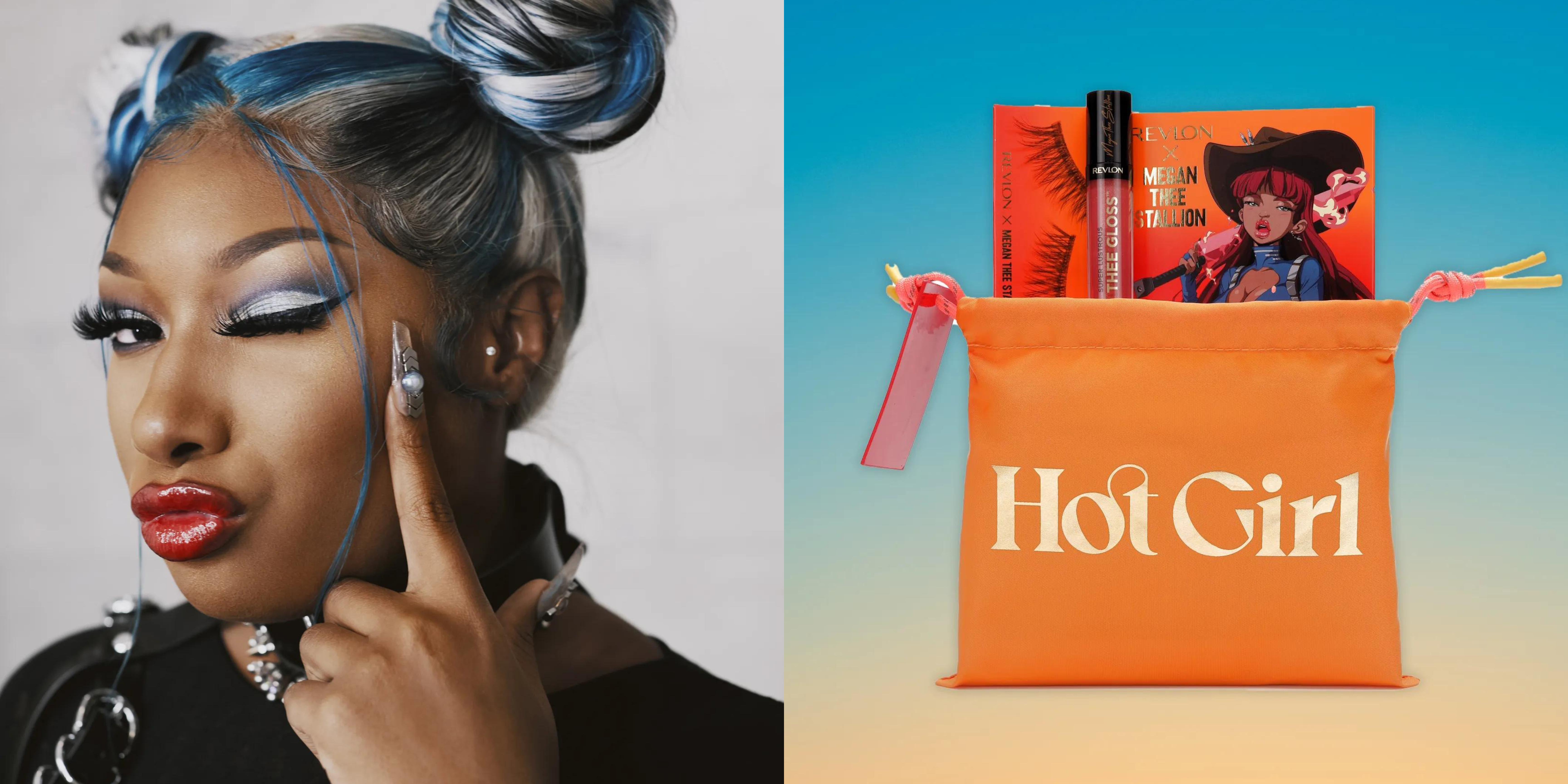 I Tried Some Of Megan Thee Stallion's Favorite Revlon Products – And Here Are My Thoughts
Including Meg's $15 foundation that she wore at the 2022 Grammy Awards.
Megan Thee Stallion not only spits bars and commands stages, but she is a true beauty who is always securing the bag and has quickly become one of our favorites when it comes to highly-anticipated beauty faces. From her sweet beat face in her latest "Sweetest Pie" video with Dua Lipa to her raved-about 2022 Grammy Awards glam, the rapper has consistently put her hotties onto one particular brand that never steers her wrong.
Back in 2020, Megan Thee Stallion was announced as the new face of Revlon, an iconic American beauty brand carried in most drugstores and retail shops including CVS, Walgreens, Ulta Beauty, and Walmart. According to the Revlon team, the partnership was nearly a year in the making before making the official press release announcement to the world.
"When we first approached her about a partnership nearly a year ago, we were drawn to her confidence and fierce ambition as much as her power to hold nothing back," said Silvia Galfo, Revlon Global Brand President. "She loves to express herself with makeup and is a constant inspiration to her fans on living boldly. It's that authenticity and unapologetic spirit that we admire, and we are thrilled to welcome her to the Revlon family."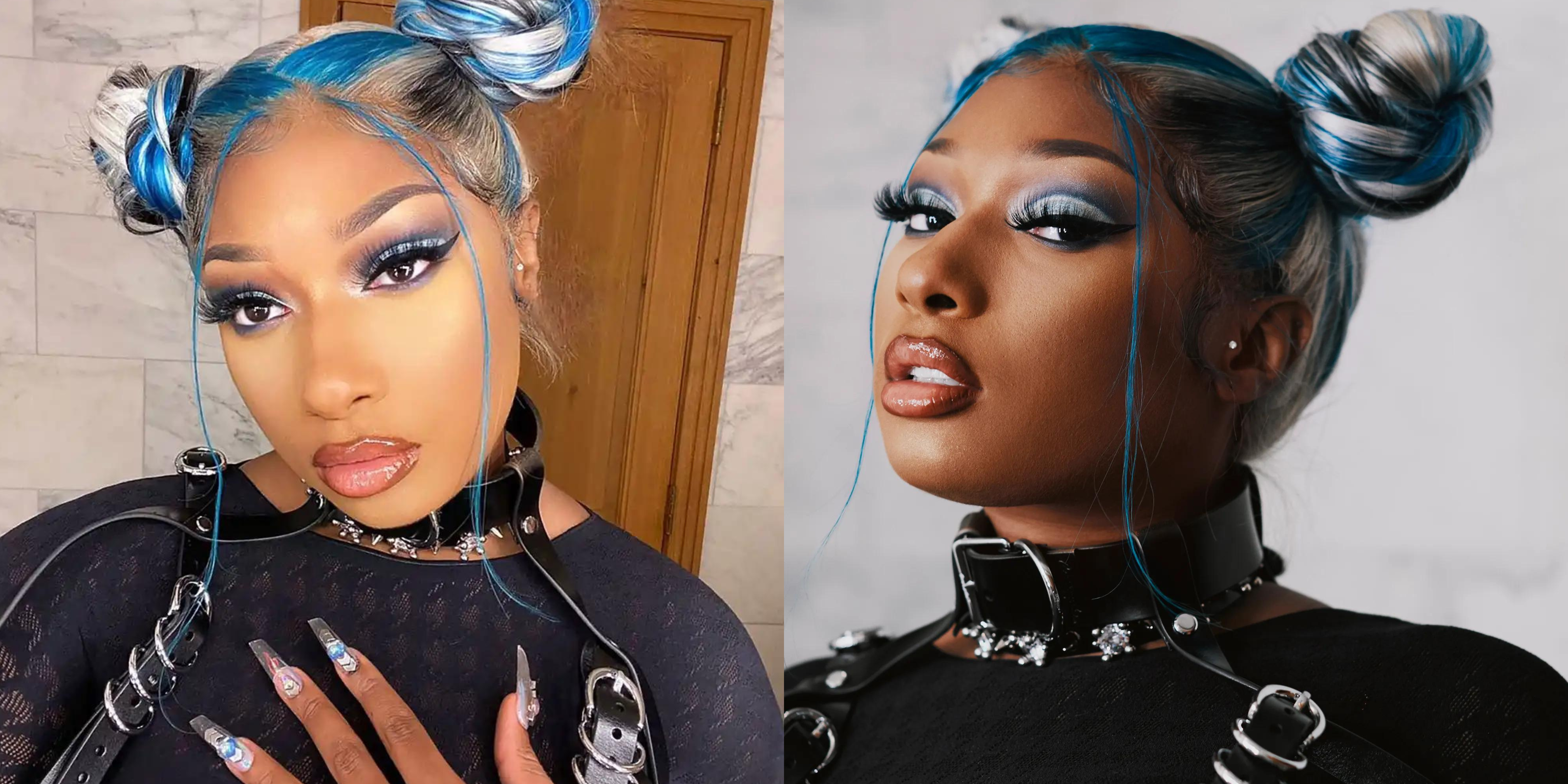 For anyone trying to figure out how to achieve the rapper's flawless finish just in time for Hot Girl Summer, luckily you can head to a drugstore retailer near you to get some of her favorite products – for just under $10! Some of her favorite makeup picks include Revlon's ColorStay Liquid Foundation, ColorStay Looks Book Eye Shadow Palette, ColorStay Matte Lite Crayon Lip, and ColorStay Line Creator Double-Ended Eyeliner. Megan also collaborated with the brand to create her very own Revlon x Megan Thee Stallion Big Bad Palette, with ten colors pricing at only $15.
"I have an orange in there, like a really warm tone," she said while flaunting her product on her face during an exclusive ESSENCE interview about the then-newly launched collaboration. "I'm wearing it right now and it really pops on my skin. Of course, I have a really pretty blue in there and I'm actually wearing it underneath my eyes right now. I feel like it makes my eyes look more sexy."
Just last year, according to AfroTech, Megan Thee Stallion's Revlon collection made history after her collaboration between Revlon and StockX sold out in less than 24 hours. The hyper-limited edition "Hot Girl Sunset Collection," which was exclusively sold on the digital retail marketplace, marked the first time a beauty brand has launched any product on StockX.
Today, I took a page from the Hot Girl Coach's book and tried out a few of her products myself for a night out on the town while eating, drinking, wearing a mask, and traveling through New York City. Keep reading for more details about my experience with the products!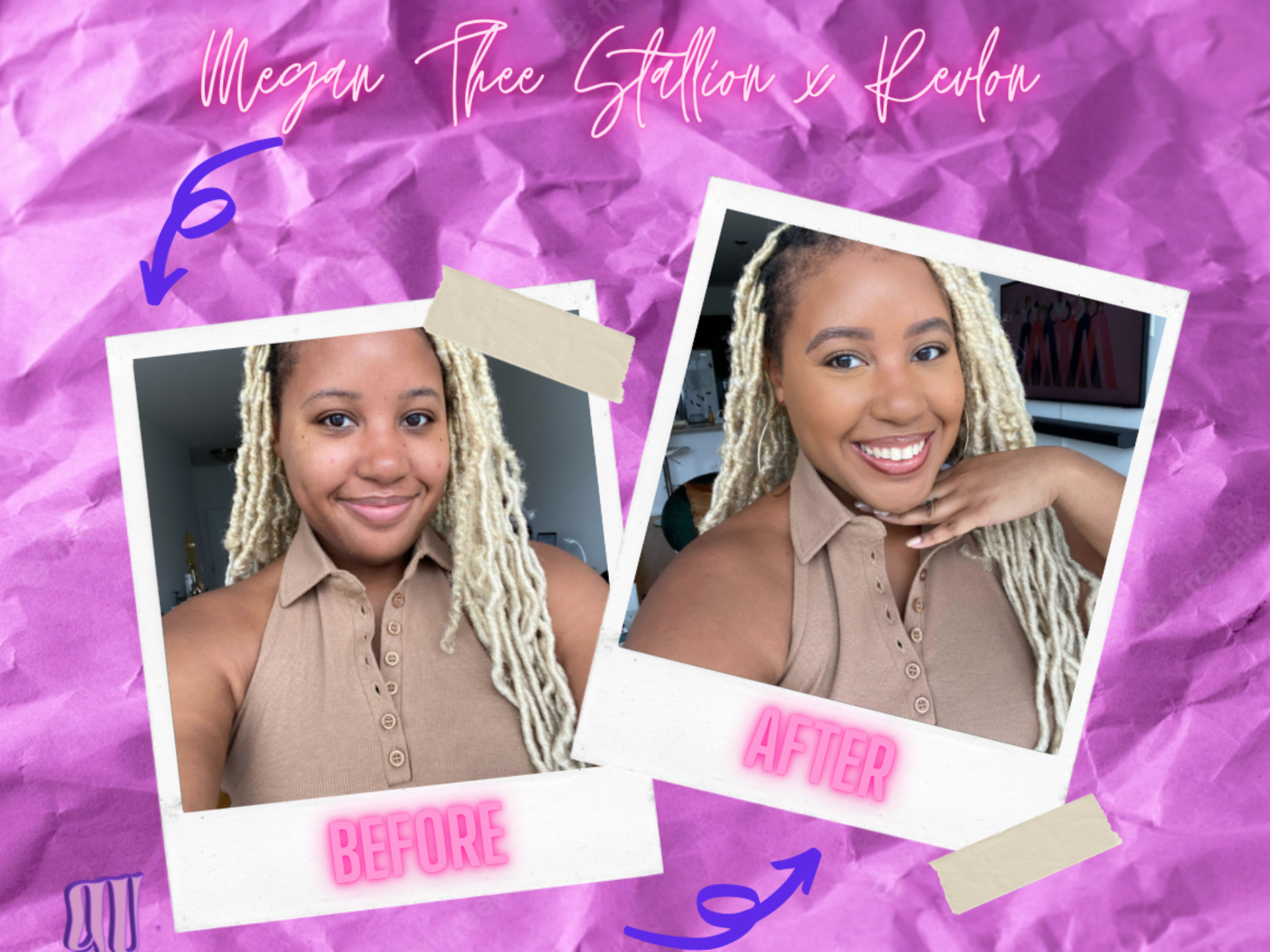 ColorStay™Makeup for Combination/Oily Skin SPF 15
While the product claims to be "life-tested matte makeup" perfect for oily-combination skin with "up to 24-hour wear," I was ready to put this to the test. Throughout the day, I had a few things to take care of including Zoom interviews, going out to a screening in the city, running some errands, and just being alive so this was the perfect day to see if this was "life-proof."
Please note the instructions read, "Shake Well," and they mean it. It's a bit watery when you use the pump so be mindful. After using my trusted Milk Hydrogrip Primer, I dabbed the foundation around my face in shade 370 "Toffee." The coverage was buildable, as promised but it oxidized a bit which made it a little lighter than my face once it dried down so I had to manipulate it a bit with some of my Fenty bronzer in "Bajan Gyal."
The finish was beautiful and definitely had me feeling confident right before my Zoom meetings for the day and I was excited to give it a wear test throughout the day. It was matte, poreless, non-messy application, and worked pretty well with the other non-Revlon products on my face. I set it with the help of my Urban Decay All Nighter Makeup Setting Spray and my FENTY BEAUTY By Rihanna PRO FILT'R Instant Retouch Setting Powder in Honey.
So Fierce!™ Big Bad Lash Mascara
Now, this one surprised me. I'm never one to spend over $13 on a good mascara, but knowing that this Revlon must-have is only nearly $11 completely sold me. With just a few swipes onto my lashes and boom – instant volume! There was no clumping, no drying of the eyes, and it only took about 2-3 swipes from the inner corners of my lashes to the outer part to give myself the look I wanted. Even when I briefly FaceTimed my cousin, she said that she loved the look of the lashes and was instantly impressed that it was by Revlon!
Revlon x Megan Thee Stallion Big Bad Face & Eyeshadow Palette 10 Blendable Shimmer
Admittedly, I'm a bit picky when it comes to eyeshadows only because I'm not one to be all experimental. I usually stick to nudes, bronzes, copper, and honey shades because they flatter my golden undertone best. I was a bit hesitant about the Big Bad Palette because there were a few shades in there that I wouldn't normally use on my eyes such as the purple, blue, and silver shades. However, after reading on the website that it could be used for both eye and cheek tints, I started thinking outside the box.
Before stepping out to the movies, I put the Heatwave shade all over my lid with my fingers and used an angled eyeshadow brush to put Bring The Heat into my inner tear duct. For blush, I played around with Toasty, which is a coral-red-orange blend, and applied it to my cheeks with my fingers. As far as pigment, it didn't take much for the color to show up.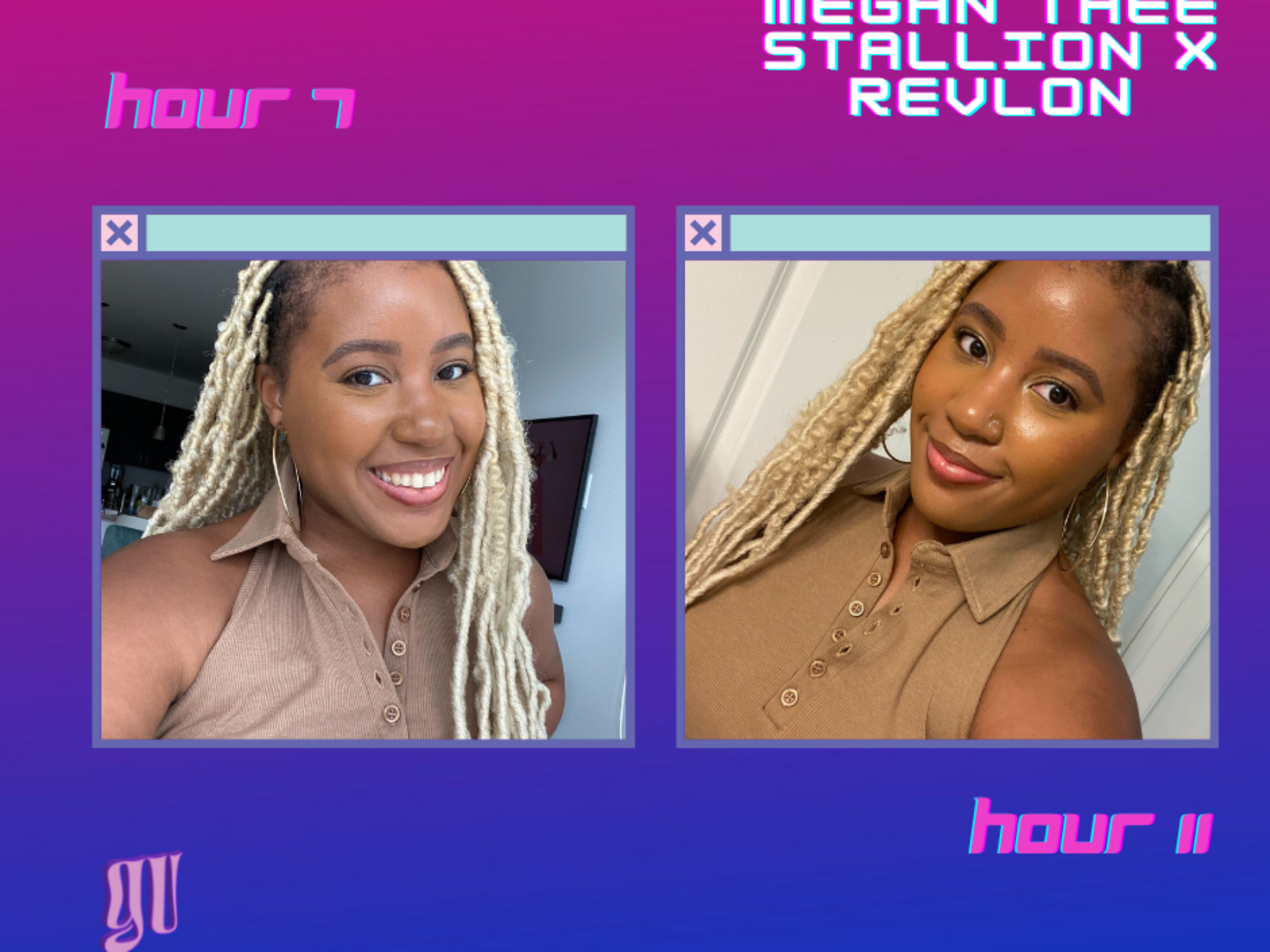 Final Thoughts
I started wearing the products between 10 AM and didn't wash it off of my face until nearly 11 PM, and I can honestly say that I'm obsessed. When Revlon said matte, they meant it wholeheartedly. Between Walgreens, Target, Wendy's the movies, and getting packages from my leasing office, this makeup did not budge a bit. I even got caught in the hair for a few minutes while I ran to my Uber and it did not move an inch.
Without having to retouch with setting powder, spray, or blotting pads, I can attest that this is a must-have drugstore find. Very minimal shine, stayed in place all day, and felt extremely lightweight on the face. Hurry to your nearest Walgreens or CVS if you can and get your hands on one – now!
Photo Credit: Courtesy of Revlon