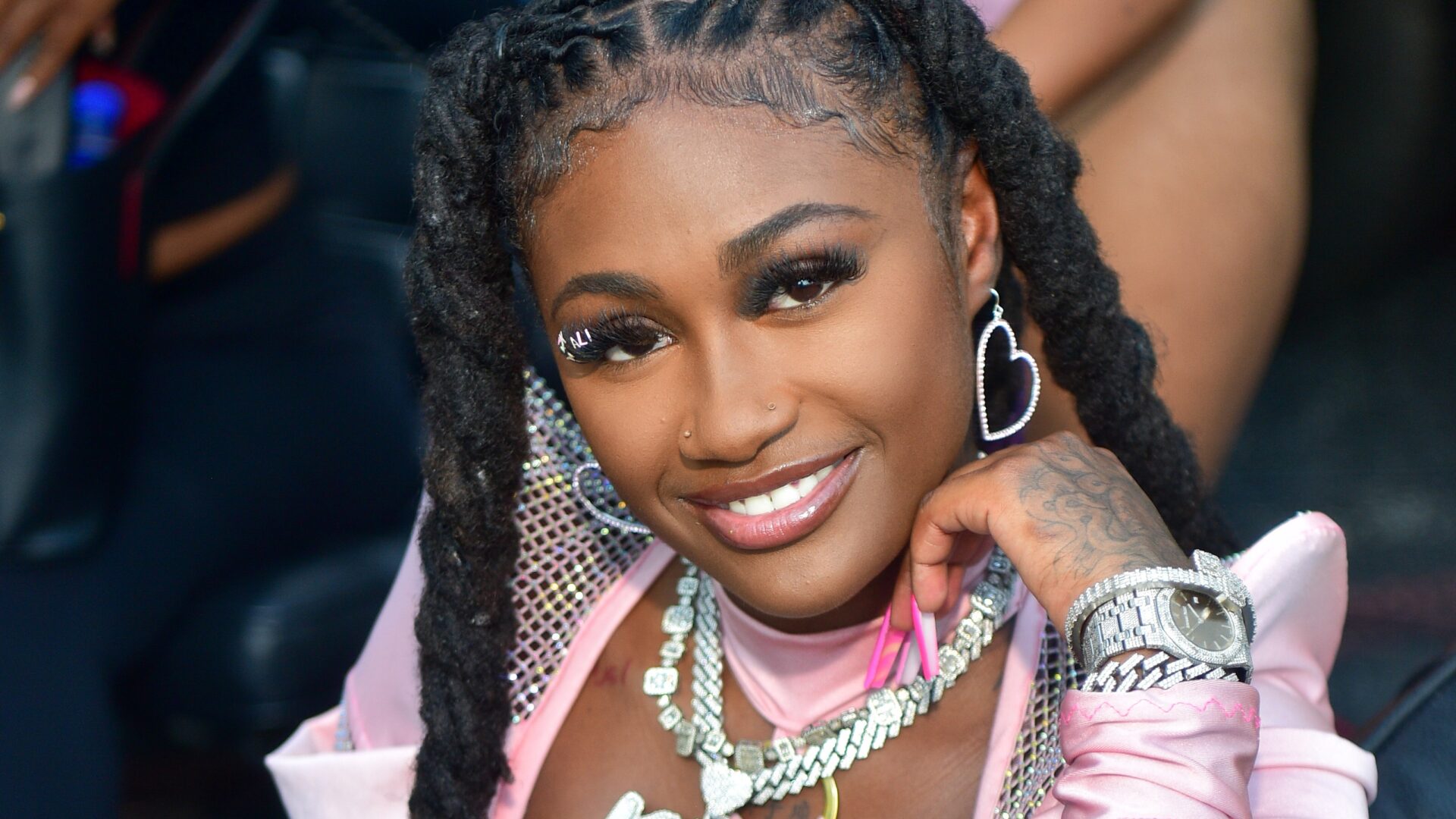 Kali Reveals The Biggest Lesson She Learned From Latto While Going On Tour
The 'Toxic Chocolate' rapper recalled her 'great' experience while on the Monster Energy Outbreak Tour.
Kali is on a roll and is quickly becoming a rising rapper in the game. Only a few months following the release of her mixtape Toxic Chocolate, which includes seven tracks featuring BIA, Yung Bleu, and Latto, Kali has continued to blossom into the young femcee force that we see today.
"I've definitely found my sound since 'Do A Bitch'," Kali recalled of her growth since the release of her viral single back in 2021 from her This Why They Mad Now album. "I think that I'm more of an artist, more of like…taking it super serious. I think 'Do A Bitch' was just the start."
Her Toxic Chocolate mixtape dropped back in March with fun chocolate-covered artwork to match the theme of the aforementioned title. "Toxic is not a bad thing to me, like how I look at it. Toxic is like, I'm not really playing," Kali explained of the title's inspiration. "If you want to play games with me, I'm going to play them games with you."
She continued, "I'm competitive. I like to win. So it's not necessarily a bad thing. It's like, I'm not finna let anybody play with me. And then you know what chocolate stands for, so I just put it all together."
In addition to the release of trending music, Kali has been nonstop on the road from the 2022 HBCU Gamerfest to R29 Unbothered's first annual The Glo Up event. Now, she's embarking on the journey of touring with other artists including fellow Georgia-bred rapper Latto. Kali opened up for the "Big Energy" rapper during her Monster Energy Outbreak Tour Presents: Latto 777 Tour alongside Saucy Santana and Asianae.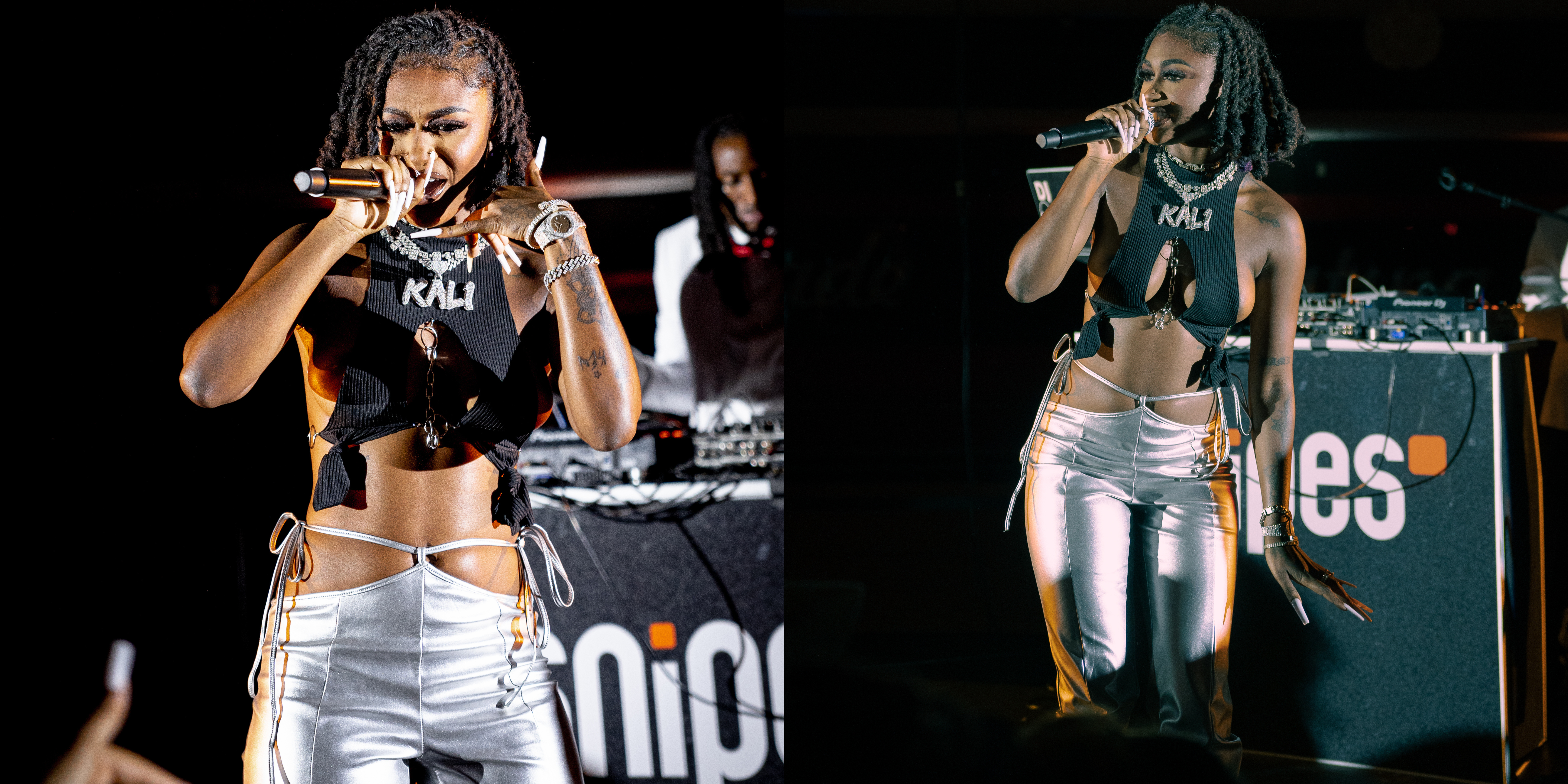 Photo Credit: LOS ANGELES, CALIFORNIA – MARCH 26: Rapper Kali performs onstage during the Monster Energy Outbreak Tour at The Novo on March 26, 2022 in Los Angeles, California. (Photo by Scott Dudelson/Getty Images)
"My experience on the Latto tour was great. Everybody was really friendly and came to work. It was my first tour so I was learning new things," she recalled of the experience with her "MMM MMM" collaborator. "I appreciate her for bringing me on tour. I learned from Latto just staying consistent on stage and keeping that same energy throughout every city."
As artists from tour mates Kali and Latto to singers Monica and Ciara continue to show the gworls what they're made of, the "Eat It Up" rapper acknowledges the talent and the power that their mutual city breeds. "I feel like Atlanta is the hub for artists and rappers right now. Everybody's working together to create a sound for us. I feel like people come to Atlanta just so they can be seen and blow up," she noted.
In celebration of her city, Kali recently teamed up with global sneaker retailer SNIPES to celebrate their Atlanta rebranding of Jimmy Jazz to SNIPES. Held at Atlanta's legendary skating rink Cascade (which you all may recall from the hit movie ATL starring T.I. and Lauren London), Kali joined T-Pain and Money Man as performers on-stage to introduce the brand to Atlanta for the first time while celebrating the bridge of Atlanta, hip-hop, and sneaker culture.
"I would say I love sneakers. That's really what I wear. I'm not into heels a lot," she admitted of her own relationship to sneakers. She revealed that her "go-to sneakers" are her durable and cult-favorite Rick Owens kicks. With her personal love for sneakers, she was automatically "down" to participate in the SNIPES event after the team reached out and gave her the rundown of how everything would pan out.
Between performing, releasing music, and coming off of a tour, Kali told Girls United just how she stays level-headed in times of stress and strife. "Mentally, I'm great. I be in my own world," she said. "I try my best to just see my friends as much as possible and try not to overwork myself every day."
When asked about her plans for the near future, she assured us that she'll be releasing more visuals, more singles, and even going on a tour of her own. "I have a single on the way called 'Wet.' It should be coming end of July, beginning of August. That's my next single," she disclosed. Kali previously teased the single on her social media last August in a Triller clip.
As excited as Kali is for the progression of her own career, she doesn't take lightly how important it is to show young Black women that they can take over the music industry while being unapologetically themselves. "It's not a lot of women in the industry, especially now, that look like me and want to do what I do. It's important to me because I want more females to step up and be like, 'It's okay. I can do this. Kali is doing this and she looks good doing it'," she expressed.
Listen to the official audio for Kali's "Toxic Chocolate" record below!
Photo Credit: ATLANTA GA – JULY 16: Rapper Kali attends Hot 07.9 Birthday Bash 2022 at Center Parc Credit Union Stadium at Georgia State University on July 16, 2022 in Atlanta, Georgia.(photo by Prince Williams/Wireimage)