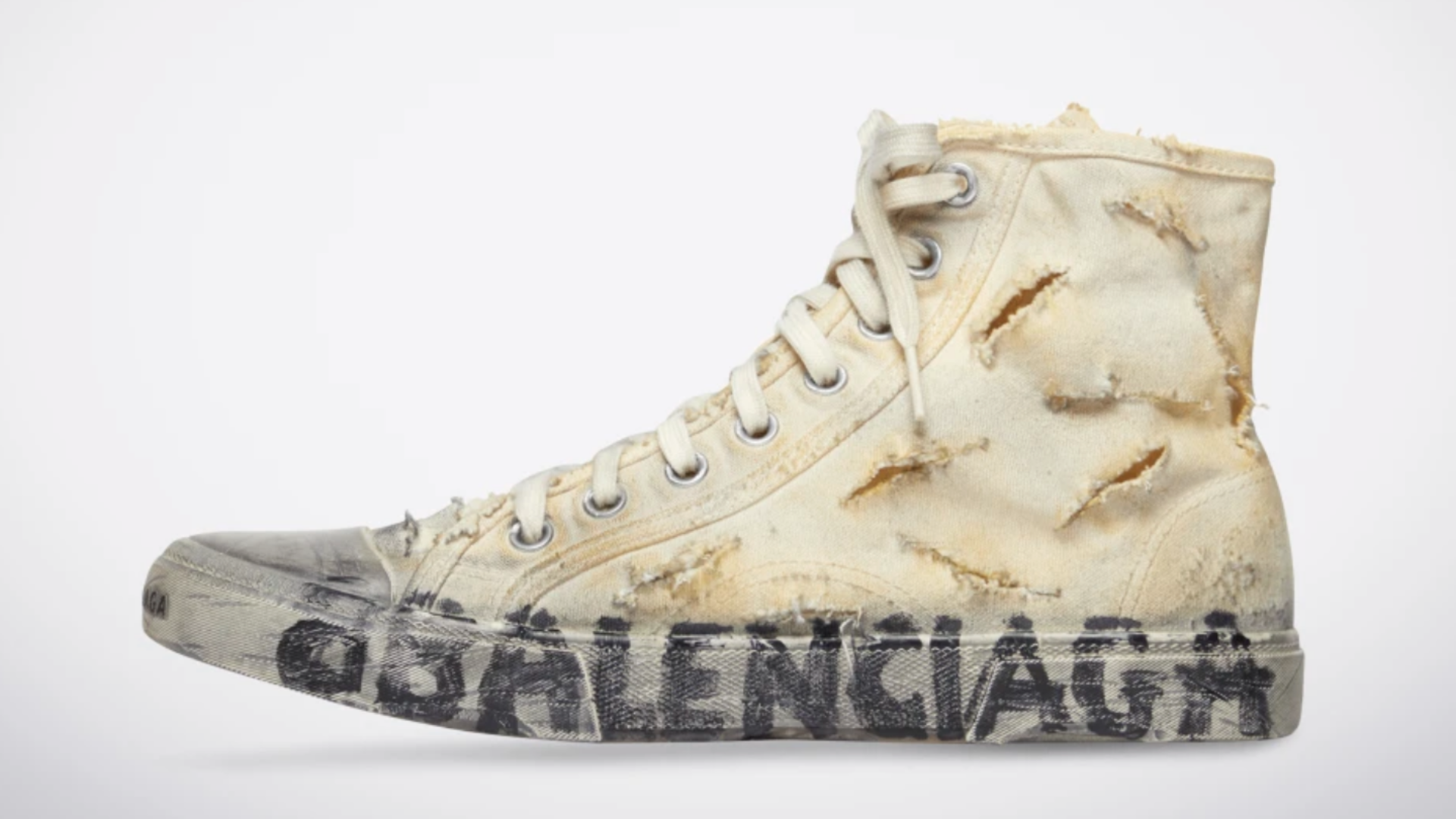 Balenciaga Is Selling Destroyed Sneakers For $1,850
The brand's new release is sparking controversy for its look and high price tag.
Balenciaga unveiled its new shoe campaign, which hasn't come without controversy. On May 9, the French designer brand introduced the Paris sneaker, a severely distressed and torn up design inspired by Converse's classic Chuck Taylor high tops.
The campaign, which was shot by photographer Leopold Duchemin, quickly went viral for the sneakers' appearance and price tag. The campaign photos show the shoes as "extremely worn, marked up, and dirtied," according to a Balenciaga press release. They are described as a "retooled classic design" finished with "distressed canvas and rough edges, affecting a pre-worn look."
According to the brand, only 100 pairs of the shoes seen in the campaign will be sold as "extra-destroyed." Those will be available to buy for $1,850. The non-limited edition, which is less distressed, are being sold for $495 and $625 depending on the style, according to CNN.
One of Balenciaga's goals with the campaign is to show that the Paris sneaker is "meant to be worn a lifetime" – a message that is relevant to today's conversation around overconsumption and the fast fashion industry.
Online, some social media users have criticized Balenciaga's new campaign for attaching such a high price tag to sneakers with a torn up look. "Balenciaga's new "distressed" range of shoes starting at $625 is basically the rich cosplaying as poor," commented a Twitter user.
Others have pointed out Balenciaga's effective marketing strategy as the new campaign is being widely talked about online. "The actual shoes that would be sold by the brand are not the ones in the campaign. Balenciaga used this as a marketing strategy to make people talk and create content to promote the product," tweeted another user.
Tora Northman, a news editor at Highsnobiety, seems to agree. The brand has "taken it to the next level," she told CNN. Balenciaga is "always creating controversial items that spark conversation."
In fact, it isn't the first time that the brand's design has sparked conversation and sometimes even outrage. In 2017, Balenciaga released a $2,145 bag bearing close resemblance to Ikea's "Frakta" bag, which was sold for 99 cents at the time, according to CNN.