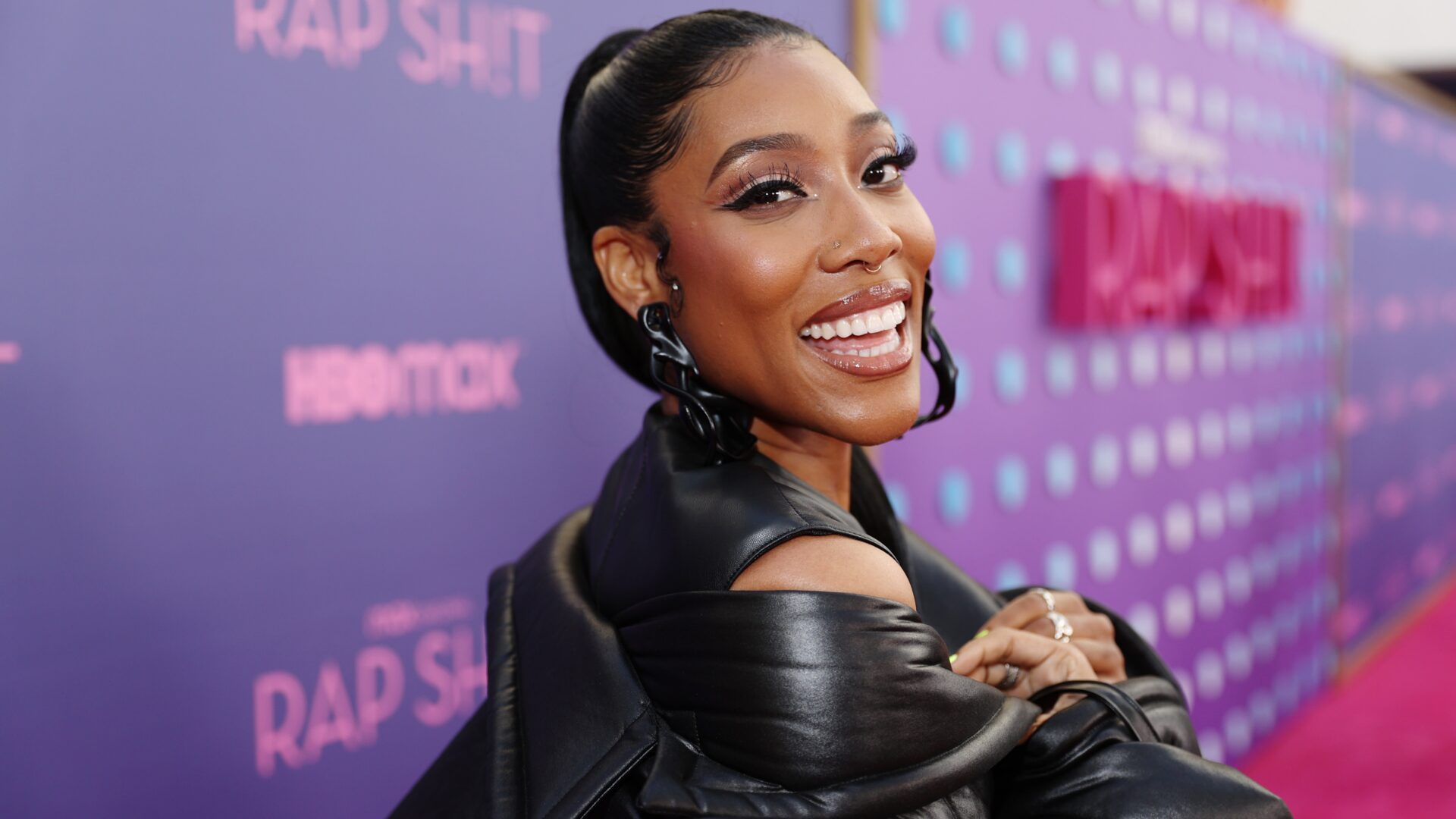 Jonica Booth Reveals Which Line Made It Into 'Rap Sh!t' By Accident
Spoiler alert: she was supposed to say "party favors"
Issa Rae has done it again and this time with another HBO Max show surrounding the come-up of two childhood besties trying to take over the rap industry together. Introducing Rap Sh!t, created by the Insecure star herself and executive produced by Miami-based City Girls rappers JT and Yung Miami. Shawna (Aida Osman) and Mia (KaMillion) reunite and rekindle their high school friendship to embark on a journey as upcoming femcees in the music industry filled with seducing, scheming, scamming, sexing, and surviving.
Along the way, they have the support of their friend Chastity, also known as the duke of Miami and a party promoter with an undercover life as sex work manager. Some of you may recognize Chastity's face from season 12 of Oxygen's favorite reality series Bad Girls Club when she went by the alias of "Blu." Now, she's front and center as one of the most loved-to-be-hated characters in Issa Rae's new series, and we can say that she's doing a hell of a job keeping fans tuned in with comedy, wit, and star power.
"When I had seen the character I was like, 'Oh, I can definitely do this because I'm a tomboy and I played basketball.' I thought that was it. Yeah, absolutely not. Much respect to my dominant lesbians," Booth told Girls United candidly as she reflected on her initial thoughts on the script. "I had to get creative and really study and hone in. Because I'm not that, I wanted to do it some justice. I was like, 'Oh, I can do this shit with some practice and some studying and I had to become a real actress.' It's not like I can just go be myself." Whatever she brought to the character, we hope she continues to bring it throughout the season as fans continue to tune into HBO Max every Thursday.
Ahead of the show's third episode, Girls United spoke with Booth about her first encounters with the cast of Rap Sh!t, her favorite femcees in rotation, and the line that she messed up during filming that made the final cut.
Girls United: When you first met Issa, Syreeta, Aida, and KaMillion, was there instant chemistry between the cast, crew, and writers?
Jonica Booth: We all went to dinner. When I walked in, it was me, Issa, and Syreeta [Singleton]. Now I'm nervous because I'm sitting next to the showrunner and Issa Rae, and I'm just trying to play it cool. Shortly after that Aida and KaMillion walked in and Sadé [Clacken Joseph], the episode one director. Aida and KaMillion, Issa, everyone's energy just felt good. It just felt right. It felt like star quality from people who wasn't it. Obviously, you got stars sitting there, but from me, KaMillion, and Aida, it felt like I was in a right place. Their star quality exuded, and I felt it. It was exciting for me before the world got to see them. It was beautiful to meet them ahead of time. I hope they feel the same about me.
GU: When did you first start building your own relationship, falling in love, and appreciating rap music?
Booth: I first started falling in love with rap music when I was playing sports in high school. You needed that to get up. Back in my day, we had Crime Mob and I love Diamond. I started to realize, "Oh, women are out here, women spitting bars." We had Eve, Queen Latifah, and Lil' Kim, and Lil' Kim was too nasty for me, but I still liked it. When I had seen that women were really doing this and then when Nicki [Minaj] came, it exploded and opened up a whole new world. I would have to say high school when I needed the music. It wasn't that I wanted it; I needed rap music and I needed to hear it from women to be exact.
GU: Similar to what Issa and Syreeta are doing with Rap Sh!t, why is it important to pay homage to Black women in rap through mainstream media?
Booth: It's important because we get Black people, period. Black women, we're always put against each other. It's like there's only room for one, but we're not in that era no more. From what I see, when it's a Black person on top, it's "Are they better than such and such?" Especially for black women in rap. I don't think it's like that for men. It's a lot of top spots for men, but for Black women, it's like, "Oh, is Cardi better than Nicki? Is Nicki better than Cardi?" They're both dope, and so is Latto and so is Dreezy and we can go on and on. Why do we have to say, "Is she better than her?" I appreciate what Issa and Syreeta doing with Rap Sh!t. I think it's beyond important and hopefully, the world catches on and say, "Hey, we here. Black women are here, Black women in this rap game are showing up."
The industry makes us battle. Nothing wrong with battling, but I feel like it can only be one number one spot. I think there's major room for that. First of all, allowing Black women to be who they are, allowing us to just be, simple as that. Allowing artists to create without the room, without the judgment. We deserve a break right now. Give us a break. That's all we want – give us a break. Allow us to create in a safe space because everybody's talented. Even Coi Leray when they try to make her in the beginning feel less than. Allow her to create whatever she feels she wants to put out and support it. Love it. If you don't, walk away, don't talk about it. It's simple.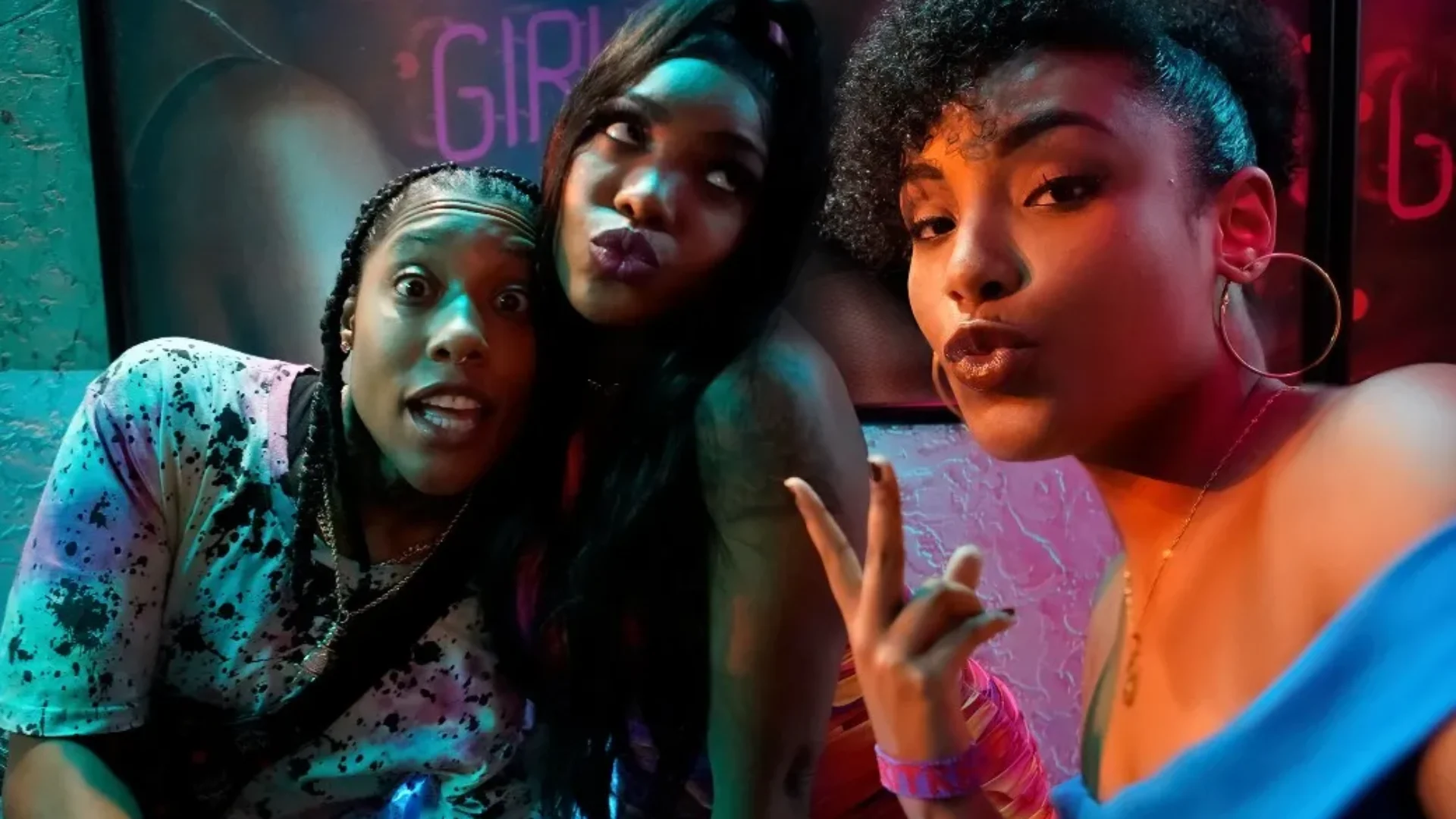 GU: If you could choose five of your favorite songs by female femcees, what would they be?
Booth: I am an R&B person, all right. No particular order. These are just songs that I like. Latto got a song, "He Say She Say," and it's my go-to. I love her and I love that song. KaMillion got a song called "Rich Bitch Walk." KaMillion don't know that I am a fan of her music. There's a girl named [Chinese] Kitty that I'm playing right now [called "Lil Bitch"] with French Montana. It's just so nasty and ratchet. We got BIA's "Whole Lotta Money" and that's my jam. I'm like, "I got a whole lot of money." I sing it. It's my life. I don't have a lot of money. We're manifesting. One day, I'm going to sing it and be like, "She right."
For my last but not least, Omerettà is on my mind right now. Omerettà has been in my playlist. She's creeping up on me. She's fire, she's cute, she looks adorable, but then she rapped with that tenacity like, "Who is this girl?" Omerettà, she's the truth. I got to put her there. We know we've got the greats, but they're my five. If I'm at the gym, I'm playing them right now.
GU: Before you were on Rap Sh!t, a lot of people who watch you closely know that you were also a content creator. How did being a content creator prepare you for this next step in your career as an actress?
Booth: Even though I may be shy and nervous. I don't show it too much. Apparently, people say, "Oh, you look so comfortable," and I'll be like, "Really? Shit, I was about to pee on myself. I was nervous." This has been my life. Even growing up as a child, the only thing different that I did was pick up a camera and start just letting everybody in my world. It helps with my comedic timing and my natural organic improv. Yes, I went into classes, but this is just naturally what I've been used to during content creation. Because I'm so raw, I'm not a person who does a million takes.
I think because [I'm] being so comfortable with social media, it helped me become comfortable with my comedic time. Issa really does require improving. She really does require that, I'll tell you that much. When I was looking at [an] episode, I saw something that I said wasn't right and that's the take that they kept. I was supposed to say, "We got party favors." and I yelled, "We got drugs." After they cut it, I forgot my line, but I knew it was something like that. I remember leaning down on looking at Issa and Syreeta. I said, "I'm sorry." They said, "No, we're keeping that one." I'm like, "Okay," and it was more natural. I don't say party favors, but I'm trying to read my line. I'm like, "What's the word again?" Next thing I just say, "We got drugs." I didn't even try; I just forgot party favors. The camera was rolling, everybody was waiting for my line that I couldn't get out so I said what came to mind.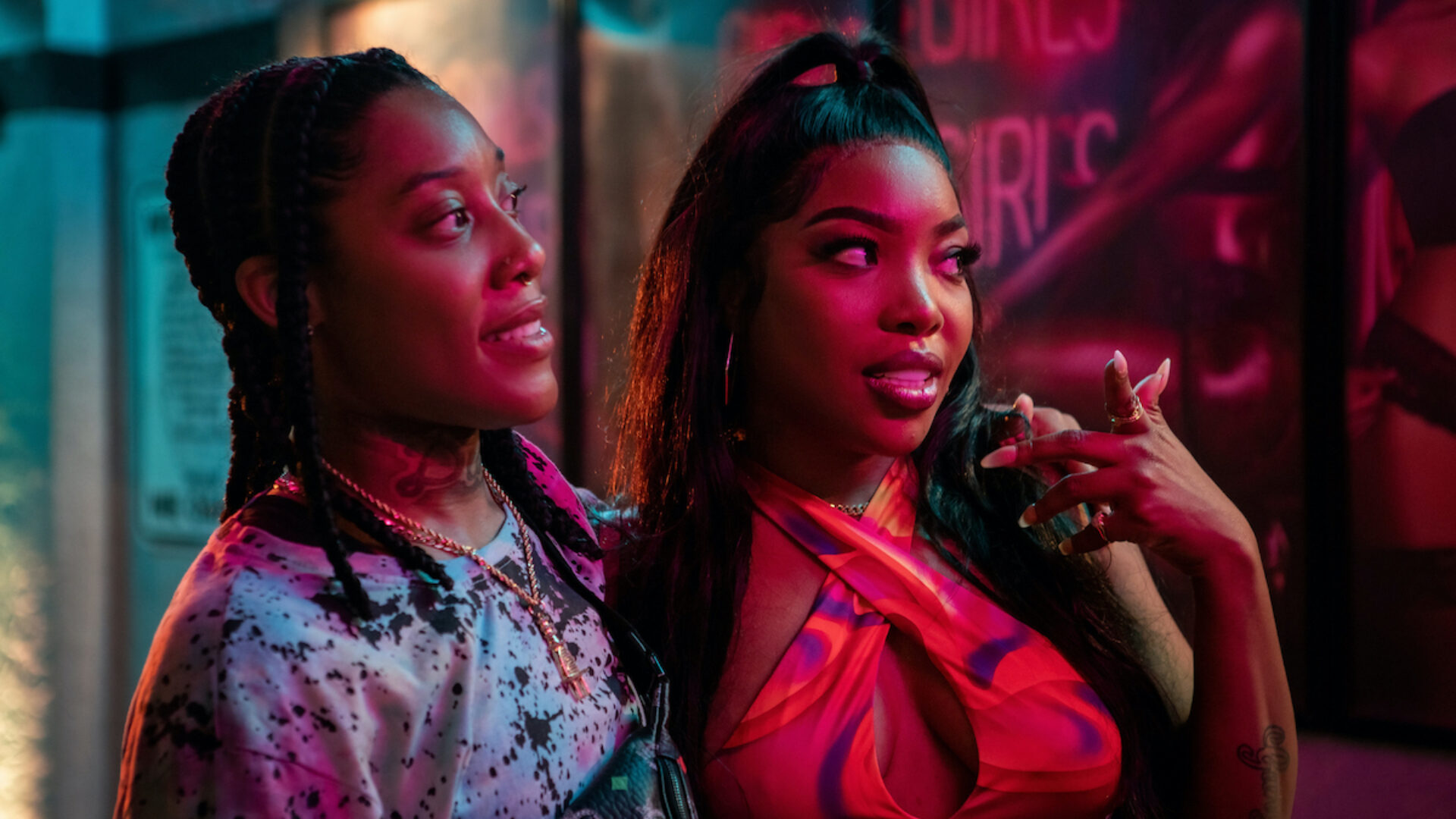 GU: People who are real fans of you know that you used to be on Bad Girls Club. How has being on reality television prepared you for acting?
Booth: Being on reality TV prepared me for this because of the cameras. I understood cameras, being in front of the camera, being on TV, and I understood social fame. I asked God as I was growing up, "God, make me famous." I thought fame came with money and it didn't so then I was more direct with my prayers. I'm glad it went that way because I understood fame. I understand just the industry a little more from being on reality now. Granted they're completely different, but I feel like I needed the route that I took. I will forever appreciate my fans that love me. My day one's from BGC and just God giving me that opportunity to understand the cameras. I knew what picked up sound. I know when to be quiet. If I'm mic-d up, let me shut up. I learned a lot, it helped me and I needed that route.
GU: What parts of the Rap Sh!t storyline did you resonate with the most, and how were you able to pull out personal experience?
Booth: I resonate the most with a little of Chasity and I don't know if I resonate with KaMillion's character and RJ's, but I love their dynamic. I don't resonate with them because I don't have kids and do music and a baby daddy and all that, but their dynamic is the one that I'm loving right now the most. People do have kids and I'm glad that Issa showed that people with kids are still trying to get that.
I resonate more with Chastity. I don't know if it's because I tapped into the role so heavy to where I thought it became me. When I do think about my past life growing up, especially being from St. Louis, Missouri, we do have that hustle mentality. If I can connect this person to this person, then I can charge him $20 just to get over here. We [are] always thinking, "How am I going to get up this step?" That's Chastity's mentality. How do I connect now? It wasn't that deep, but I feel her. I feel she just wants to make it out. She don't know how, but she's about to try her best and just keep throwing shit at the wall until something sticks. Y'all going to like her in a minute.
GU: What can fans expect from this season of Rap Sh!t from Chastity?
Booth: From Chastity, the fans should expect to see compassion. Yeah, she's a thug. Yeah, she's letting you know she don't take no shit. I keep being told that Chastity is little, but Chastity got heart. They're going to see her exhilarate that heart. It seemed like she's playing, she jokes and she's all that. We all got to go home. We all got to be alone. I put my money on Issa, Syreeta, and HBO and they did a good job with showing Chastity alone.
GU: Aside from Rap Sh!t, aside from your content, what can fans of Jonica expect from you in the near future?
Booth: I want them to tune into my podcast. It's called "Titties Out." What's crazy is my character's name is Titty Boy, but I came up with this podcast name in November before I ever auditioned for Rap Sh!t. I didn't audition for Rap Sh!t until December. I had my podcast in November. The alignment, I'm telling you. They can expect my podcast with my cohost, Seiko Huffman, and more stand-up, I'm going to get more active and stand-up. I was low keyed on standup, but I'm getting active with it. God willing, I'm going to be in a movie and another show and definitely expect to see more Chastity.
If you haven't already checked out HBO Max's Rap Sh!t, check out the official trailer below for the series now streaming every Thursday.
Featured Image: LOS ANGELES, CALIFORNIA – JULY 13: Jonica Booth attends the Los Angeles series premiere of HBO Max's RAP SH!T at Hammer Museum on July 13, 2022 in Los Angeles, California. (Photo by FilmMagic/FilmMagic for HBO Max)