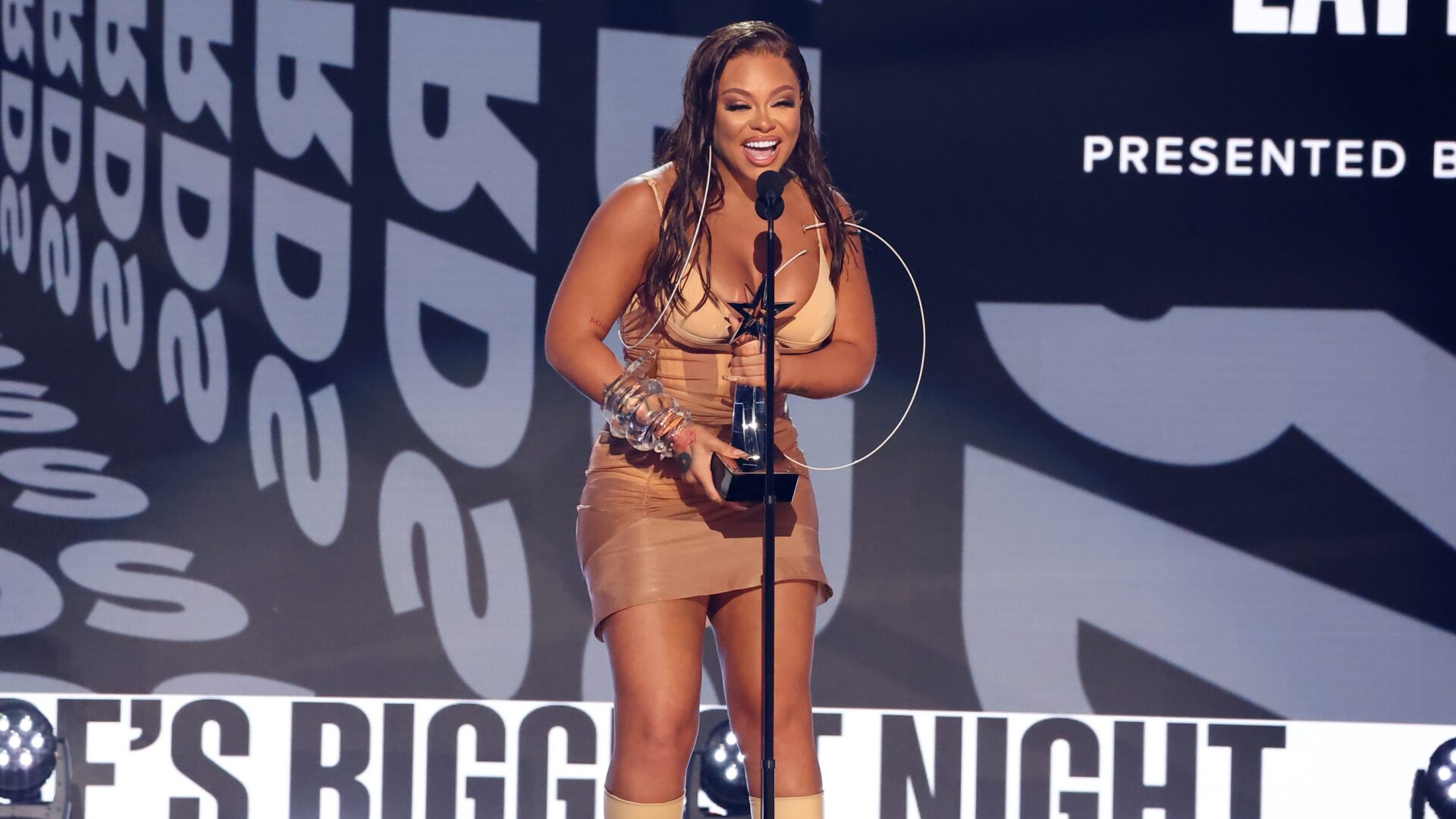 Latto Used These $8 Lashes For Her BET Awards 2022 Glam
Spoiler alert: you can buy them at your local drugstore!
This year's BET Awards was full of looks from the red carpet to the main stage. Between black-ish star Marsai Martin's custom Dolce & Gabbana silver stunner of a dress and Peacock's Bel-Air actress Coco Jones' flawless and timeless glam, the girls were giving face, fits, and award-winning energy all night long. Our favorite Clayton County-bred rapper was no exception to the slayage that was the 2022 BET Awards.
Latto, who took home the well-deserved Best New Artist award, was not only serving boss bitch, but baddie beauty vibes with a full face of glam curated by Melissa Ocasio. The Atlanta-based makeup artist and hairstylist, also known as @melibabyyy on social media, created Latto's look for the 2022 BET Awards using these affordable drugstore-branded lash extensions.
To achieve the "Big Energy" rapper's dramatic eye look, Ocasio used both the KISS Falscara Lengthening Wisps for length ($7.99 on Falscara.com) and the Falscara Bond & Seal for strength and hold ($9.99 on Falscara.com). In addition to using Falscara by KISS, Ocasio also used newly launched novaBEAUTY products including the Nude02 liner, Heaven lipstick, and THICC lip gloss, according to her Instagram post.
"The inspiration behind Latto's BET Awards 2022 glam was to give her a natural glow, yet sultry," Ocasio told Girls United exclusively. "Latto loves a soft smokey eye, so I went in focusing more on smoking out the outer corners of her eyes and added dimension using Falscara, which helped elongate her eye shape to create a subtle cat-eye effect."
When creating Latto's glam for her award-winning night, the MUA decided to go with a natural, yet extra look that gave the eyes a little drama. Hence why she decided to go with the KISS Falscara lash extensions. " They're easy to apply and I love how they're divided into sections so you can also customize the placement to fit the client's eye shape," Ocasio added.
The KISS Falscara Lengthening Wisps have a safe, natural formula that's gentle on the natural lashes, according to the product description, and are wearable for up to 10 days with the OVERNIGHTER Long-Wear Sealer from KISS. The wisps are both buildable and customizable and come with 24 wisps in a pack to go under your lashes for that little hint of razzle-dazzle for a night out on the town.
"The significance of eyelashes in a full beat is that they complete a look. I absolutely love making eyes the main focus," Ocasio continued. "Eyelashes to me are one of the most important pieces, they're a 'must have' and it's really like adding the cherry on top."
In an effort to make them last all night from her surprise performance with Mariah Carey for the on-stage debut of "Big Energy" remix to accepting her award as Best New Artist, Ocasio told GU that the right adhesive will get the job done.
"If the lash isn't hugging the eye naturally, it will more than likely give you a hard time later which is why I love Falscara," she championed the brand. "It's divided into sections so they stay on better and longer. It also helps to apply a bit more adhesive to the outer and inner corners of the eye. Those are usually the first places to lift."
Photo Credit: Photo by Leon Bennett/Getty Images for BET