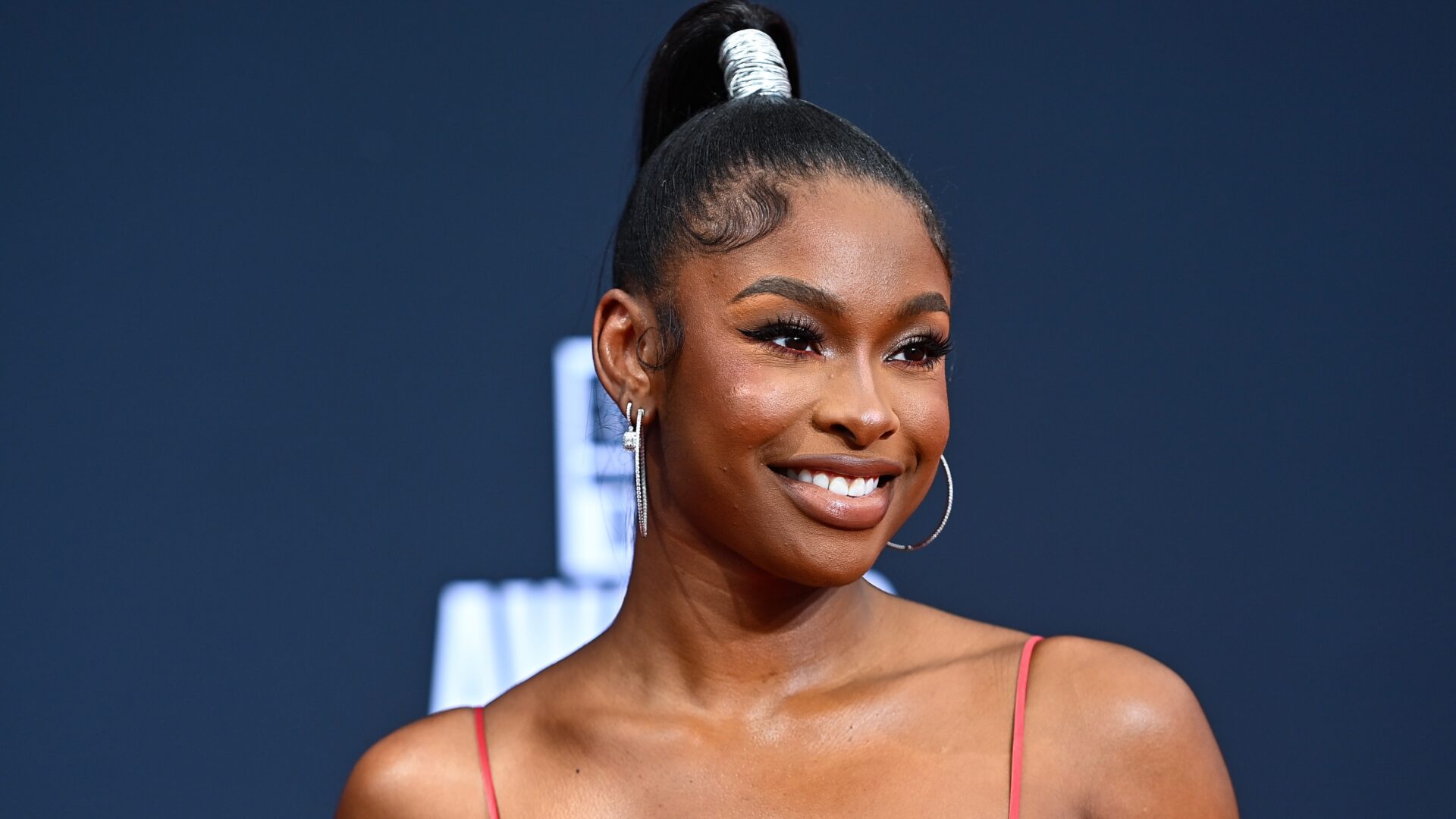 Coco Jones Slayed Her Brows With This $16 Eyebrow Pencil At The 2022 BET Awards
Hint hint: It's from a celebrity makeup brand by a fellow singer.
Coco Jones will always serve us face with a canvas full of melanin, matte, and all-around Black girl magic. For this year's BET Awards, the "Caliber" songstress tapped her MUA Scott Osbourne, Jr., also known as The Scott Edit on social media, to create a face filled with copper, bronze, and chocolate tones throughout the face.
"I've been working with Coco now for a little over a year," Osbourne, Jr. told Girls United. The two first collaborated in January 2021 and were connected through his aunt Hachoo. They were in need of a makeup artist for a creative shoot, Osburne, Jr. got the call, and the rest was history. Since then, Jones and Osbourne, Jr. have continued to serve looks together from the Black Future Brunch hosted by Beats by Dre and CultureCon to the 15th anniversary of ESSENCE's Black Women in Hollywood event in Los Angeles. 
When it came to the 2022 BET Awards, Osbourne, Jr. was not alone in creating the perfect look for the Bel-Air star. "For Coco's makeup look for the BET Awards, she had a whole team of creatives that sat down and came together to create the inspiration. The makeup incorporated red under eyeliner to tie into the color of her two-piece outfit. I left the lid sparkle brown tones for a more sudden shimmer that would catch the light," he explained to Girls United.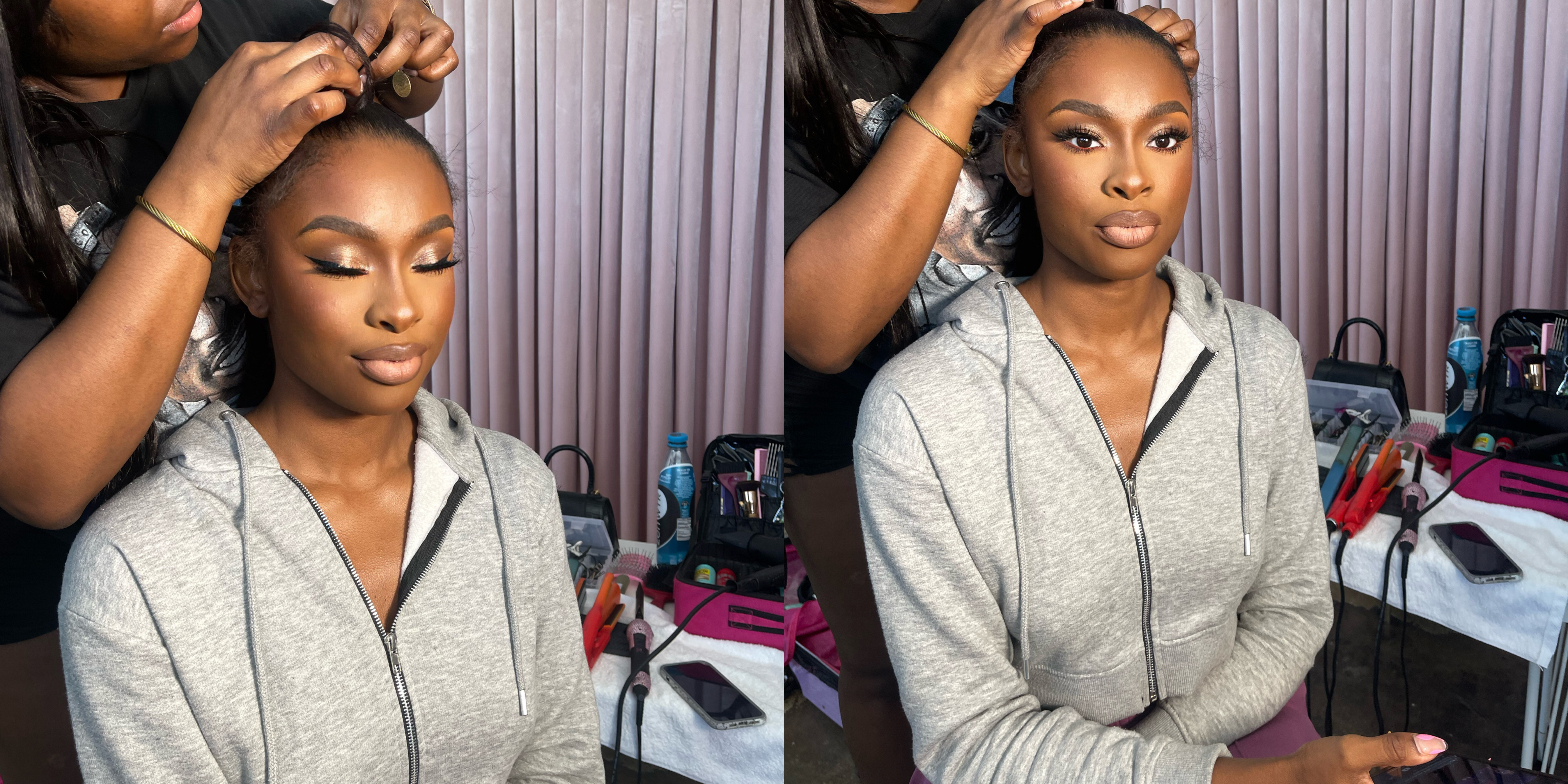 Before the full face of glam, Osbourne, Jr. prepped Jones' skin with cult-favorite beauty brand Charlotte Tilbury's Magic Cream moisturizer, Kevyn Aucoin Beauty's Sensual Skin Primer, and the newly launched Face Cream from SKKN by Kim Kardashian. Retailing at $85 USD, the face cream by the reality television star's new beauty brand is described as an "indulgent and comforting face cream enriched with a powerful postbiotic to help promote overall skin nourishment for a more youthful look." Sounds like the perfect base for skin prep, no?
"Skin prep is super important before a night out on the carpet," he told Girls United. "I tell Coco to drink surplus water along with doing her normal night routine. Before I start her makeup, I'll usually pop on some eye patches to puff her eyes and a mini facial with serums and moisturizing creams before we start makeup."
Complete with a ponytail courtesy of Kira Dior Hair, Coco was ready to slay the red carpet for the 2022 BET Awards as all eyes were on her perfectly beat face – with not a lash out of place. A few tips and tricks that Osbourne, Jr. uses to make sure there's always a flawless finish includes an old-fashioned makeup trick called baking.
"Before I set her undereye concealer with a baking powder, I go in with a colored foundation powder such as MAC's Studio Fix Powder and set the under-eye completely [so] it doesn't budge," he added. "Also, I always make sure I layer the makeup. Coco usually has on 2-3 layers of concealer when I do her makeup to really create that flawless undereye all night."
When asked about some of his favorite products to use on the Let It Shine actress, Osbourne, Jr. did not hesitate to round off a few personal faves from his collection that are tried and true every time he works with his client. "First starting with skin prep, I love to use MAC Cosmetics Natural Radiance mixed with Kevyn Aucoin Glow Face for the perfect dewy plump vase to create on," he disclosed.
Another Kevyn Aucoin favorite of his is the Sensual Skin Enhancer Concealer. "It's a high-coverage, waterproof, thick concealer that brightens up the skin without it looking heavy or cakey," Osburne, Jr. described. "I also always set Coco's under-eyes with MAC Cosmetics Studio Fix Powder [in shade] NC45. It creates a flawless peanut butter-toned under-eye that blends flawlessly with her skin tone," he continued.
It's no secret that the beauty industry has quite a way to go when it comes to true inclusivity for dark and deep shades of foundation, concealer, and powder. In addition, having highly pigmented blushes, bronzers, and eyeshadows is just as important to avoid flashbacks, an ashy finish on the face, or a grey base due to a primer that isn't chocolate girl-friendly for young women and girls who look like Coco Jones.
"A brown skin person isn't only one shade. With brands such as Thread Beauty, Huda Beauty, and KVD vegan beauty, they understand brown skin to the deepest dark brown skin tones comes in multiple shades and ranges with undertones from yellow to red to olive," Osbourne, Jr. explained passionately about shade inclusion and representation in the beauty world. "A lot of brands create only a couple of shades for brown skin. Then you have to go in and contour, highlight, and create that dimension on the face [to] really achieve that perfect skin tone. Or [even] their darkest foundation isn't the darkest shade tone there is whereas Huda and the other brands understand inclusivity in their foundations for brown skin."
Check out the full details on Coco Jones' BET Awards 2022 glam below, with the list of products and brand tags, including a $16 longwear eyebrow pencil from Halsey's beauty brand about-face!
Photo Credit: Photo by Paras Griffin/Getty Images for BET