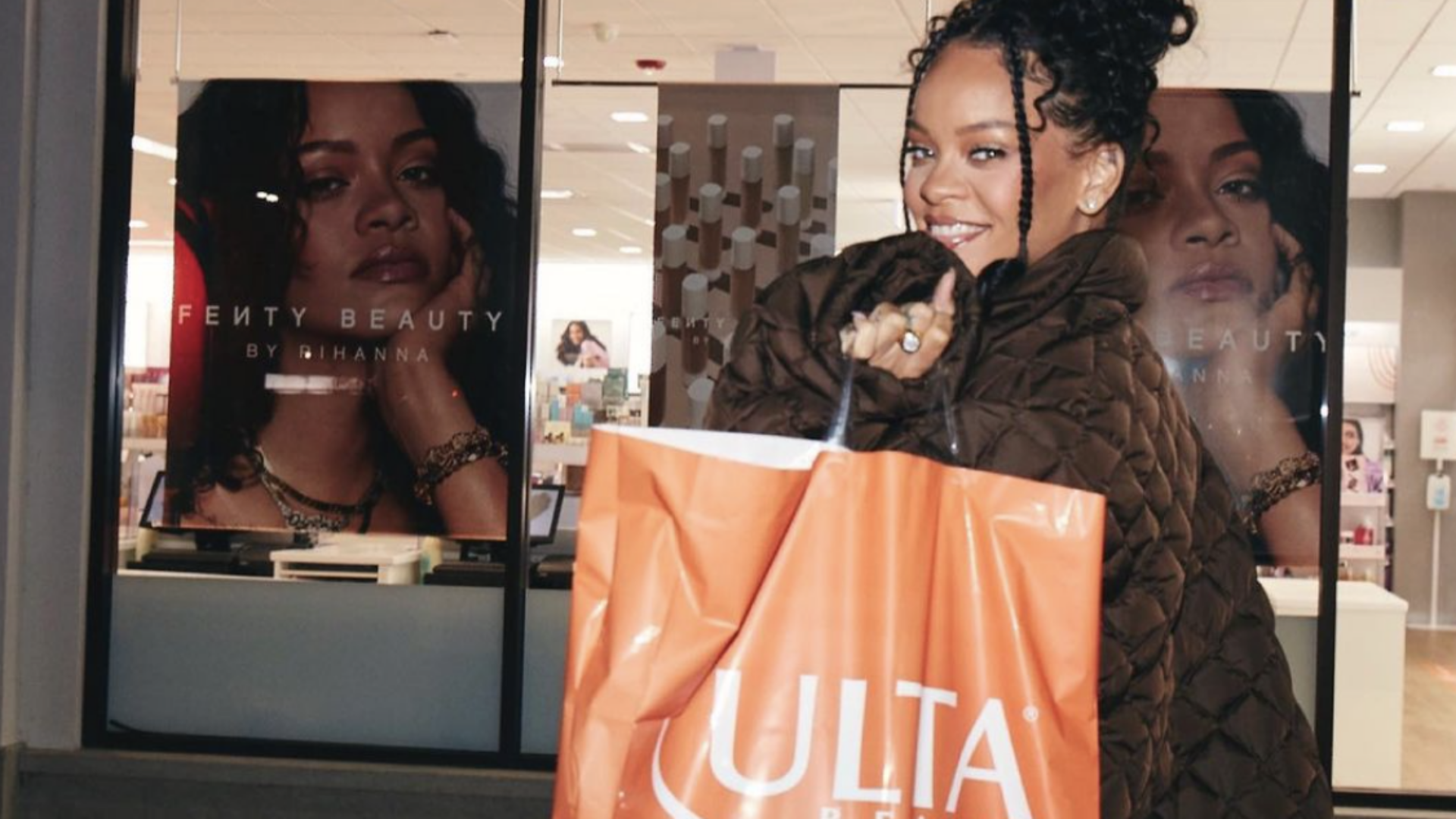 Securing The (Makeup) Bag: Fenty Beauty Is Coming To Ulta Beauty
Rihanna announced the news on February 17.
Rihanna loves to surprise us. The musician, entrepreneur, and mama-to-be took to social media to announce that her famed makeup line, Fenty Beauty, will now be sold at Ulta Beauty.
According to Ulta, the brand will be available online and in select stores on February 27 and will come to all stores on March 6. Previously, the line has only been available on Fenty Beauty's site and in Sephora.
When Rihanna hit billionaire status in August 2021, Forbes revealed that a large portion of her fortune came from Fenty Beauty, which was then worth $1.4 billion. As of then, she also owned 50% of the company.
Upon the release of Fenty Beauty in 2017, the brand caught mass attention for it's impressive foundation range, quirky social copy, and focus on Black creators in marketing campaigns. With 50 shades, the brand was lauded for allowing Black women and women of color to match their skin tones without having to mix their own.
Since 2017, they've steadily unveiled new products, including mascara, semi-matte refillable lipstick, and a fragrance, and more.
Rumors of the Fenty Beauty and Ulta Beauty crossover began in late January, when beauty platform TrendMood shared what they had heard through the grapevine. Although there was no immediate confirmation, the post racked up 67,000 likes and thousands of comments. The chatter trickled over to Reddit, wherein users conversed about what was inspiring the expansion and how lucrative they believed it would be for the business.
Ulta Beauty hosts an array of Black-led beauty brands: Tracee Ellis Ross' (who was named Ulta's Diversity and Inclusion Advisor in 2020) Pattern Beauty is sold through Ulta, as is BLK/OPL, Briogeo, Melanin Haircare and more.
The is one of Ulta's many large-scale collaborations—in 2021 they announced that they would set up shop in over 100 Target stores across the country before the end of the year. The mini-sections would include makeup, as wells as products for hair and skin. Additionally, Target began selling select products online.