The Lip Bar CEO Melissa Butler's Newest Brand Is Inspired By Gen Z
thread beauty is a first-of-its-kind 100% vegan and cruelty-free beauty brand.
While The Lip Bar has become one of the most well-known Black woman-owned beauty brands, Melissa Butler is taking her CEO lens to curate a brainchild described as "the unapologetically inclusive beauty brand." Inspired by the "authentic experiences" of Gen-Z Black, Indigenous, and People of Color, as stated in a press release sent to Girls United, thread beauty is a first-of-its-kind 100% vegan and cruelty-free beauty brand.
thread beauty adds simplicity to the day-to-day makeup routine by consolidating a drawn-out beauty routine into three easy products and skipping the unnecessary steps. Including the FACE IT Complexion Stick, BLEND IT Multistick, and COLOR IT Lip Color, thread beauty's debut items are all only $8 USD and are thoughtfully formulated, multifunctional products inclusive of three categories. Bye-bye, bulky and cluttered makeup bags!
"I actually think that Gen-Z is leading the conversation in beauty. Gen-Z is forcing everyone to understand that beauty doesn't look like one thing. While normally in traditional spaces like Target, for instance, you see people who are supermodels on the billboards and displays. thread is kind of like 'everyone is their own superstar'," Butler explained to Girls United. "That comes from the energy that we see in Gen-Z, where everyone is exuding this hyper-level of confidence and we love to see that. We love to see people who are able to look in the mirror and know that they are enough.
GU spoke with Butler following the release of thread beauty about the inspiration behind the beauty brand, how Generation Z is flipping beauty culture on its head, and what advice she'd give to her younger self about beauty standards.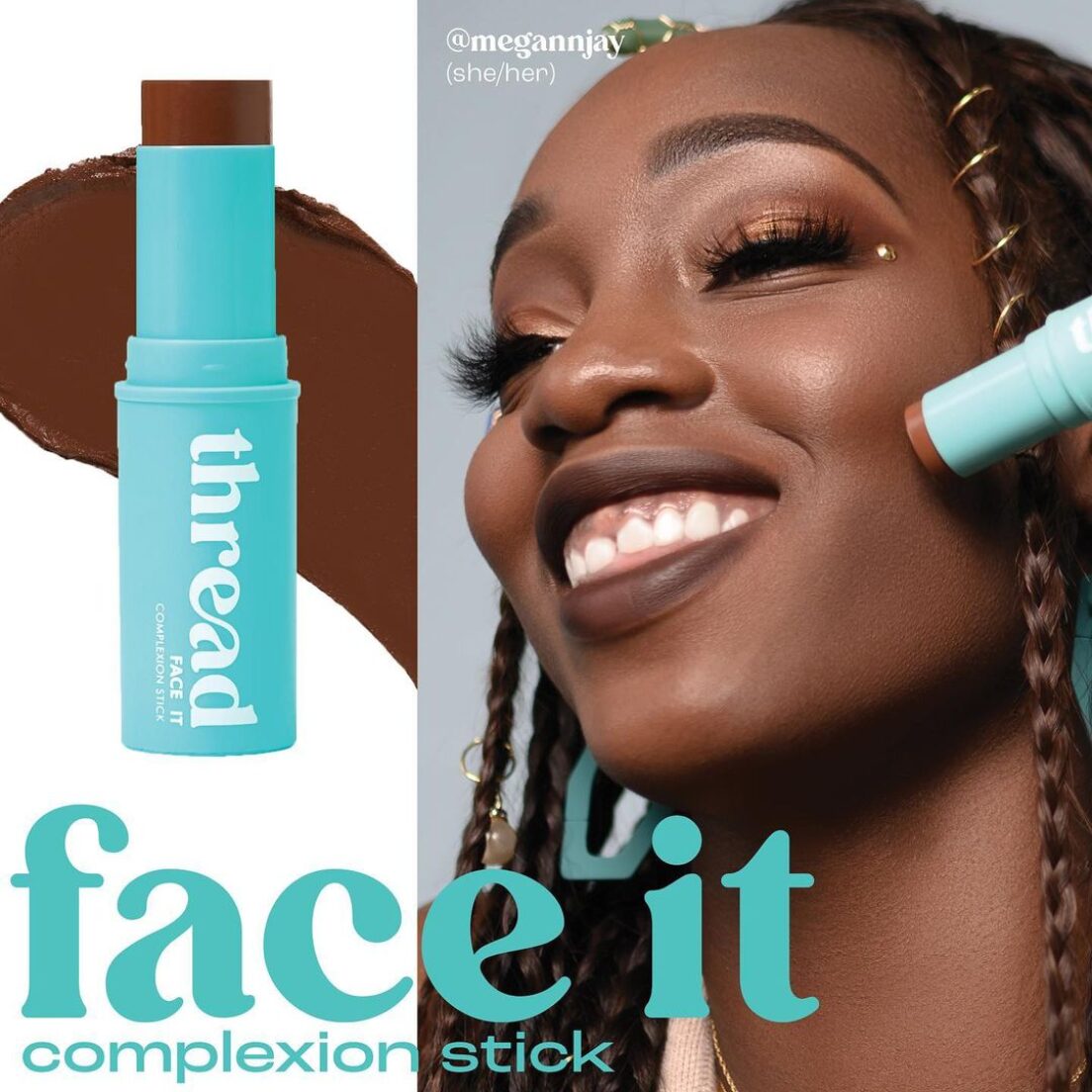 Girls United: What was the inspiration behind thread beauty?
Melissa Butler: The inspiration behind thread beauty was really to make sure that there was a brand out there speaking for Gen-Z, BIPOC people. When you think about beauty, and as much as the industry has been pushing for diversity, I think that diversity has only spoken to a certain type of people — it's still the palatable Black woman, or the person who is still commercially beautiful. When we thought about who we could serve with the launch of thread beauty it was for that person who might still feel like they are on the fringes, or that person who does not want to spend a ton of money on their makeup.
We look to serve people who are not only diverse within their complexion or the way they wear their hair or the confidence that they exude with their body. We also are thinking about diversity in terms of price points. Not everyone can go to Sephora and afford a $30 lipstick. All thread products are $8 because we know that the Gen-Z consumer is still growing, they're still figuring it out They either haven't started their careers or they're still early in their careers. We wanted to speak to that population of people and make sure that they know, that we know they deserve to be shown everywhere and not just in the corners or on the fringes.
GU: How does the thread beauty launch integrate into the current conversations taking place within Gen-Z?
Butler: What I love most about Gen-Z is that they're super authentic. Gen-Z is telling companies, "You need to be more than just someone who's out here for profit. You need to care about causes. You need to show up for your consumer." Gen-Z is forcing people to put their money where their mouths are. When we thought about serving them authentically and really making sure that our products serve them authentically, it gave us great joy to understand that not only at thread are we talking the talk, but we're walking the walk.
We're utilizing inclusive models and not just inclusive in the form of complexion, but inclusive in terms of people who are gender fluid, transitioning, or don't have traditional pronouns. We are really forcing the rest of the beauty industry to take note and to make sure are we not only looking at Gen-Z as a potential way to grow our business but we're also looking to stand hand in hand with them and say, "We see you, we serve you and we're here to uplift you."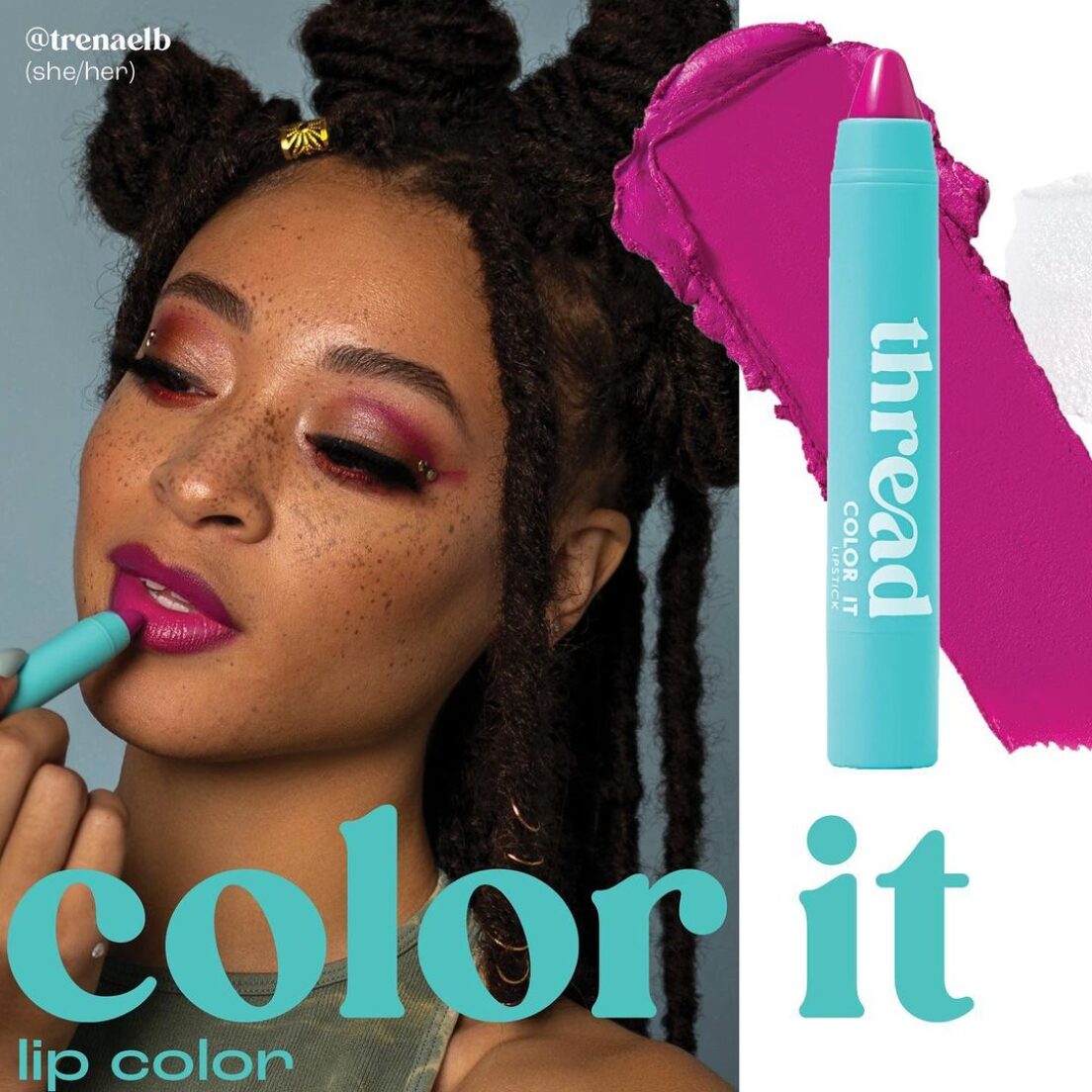 GU: What makes the formula of thread beauty different from that of The Lip Bar?
Butler: It's completely different products. thread beauty has multi-use products. The goal is for you to be able to use these products always, in all ways. With our Blend it sticks, for instance, you can put them on your eye, you can put them on your cheek. We have our Color it sticks which can be used as lipsticks and lip liners. We have our Face it Complexion Stick, which is becoming our holy grail product. It can be used as a foundation, as a contour, concealer, mini coverup — the coverage is crazy — you can even use it to cover up your tattoos. Everything is multi-use, multi-purpose, and designed for you to use them always, in all ways.
GU: How have you seen Gen-Z switch up what the beauty industry is? Is there any other way that you've seen them do that?
Butler: I think most famously, lots of people are crediting Gen-Z with cancel culture. Some people think of that as a bad thing and I actually think that it's just accountability that a lot of brands and the industry at large haven't had. Gen-Z really shows up by saying "Hey, I have expectations for you as a brand and if you want me to spend my disposable income with you, you're going to play by the rules that are really human." Which I love, because thread is all about humanity, it's all about connectivity, it's all about reminding us that even though we are all individuals we're connected by a thread. We're connected to each other.
We're connected to our planet. And that's where Gen-Z plays really well – in understanding that you have to be a good person, you have to care about other people, you have to care about the energy that you're putting out into the world. They're kind of like the group that doesn't take crap and I love it.
GU: If you could give your 18-year-old self a piece of beauty advice, what would you tell her?
Butler: I would tell my 18-year-old self to smile. I used to have a gap, so I got braces and for years I didn't smile. Even for pictures I did not smile and it was because I didn't see people who looked like me in mainstream beauty. I didn't see people with gaps on TV or in magazine ads. So, I would tell 18-year-old self that it's okay for me to be exactly who I am. That's a lot of the work that I aim to do with thread, to show those people who don't normally see themselves in beauty that they are good enough exactly as they are. We work really hard to use a wide range of models across the BIPOC community and also across the LGBTQ+ community to make sure that that representation is there and that it's real.
The entire thread beauty line is available for purchase at Target locations nationwide, on Target.com and on threadbeauty.co for under $10.
Photo Credit: thread beauty