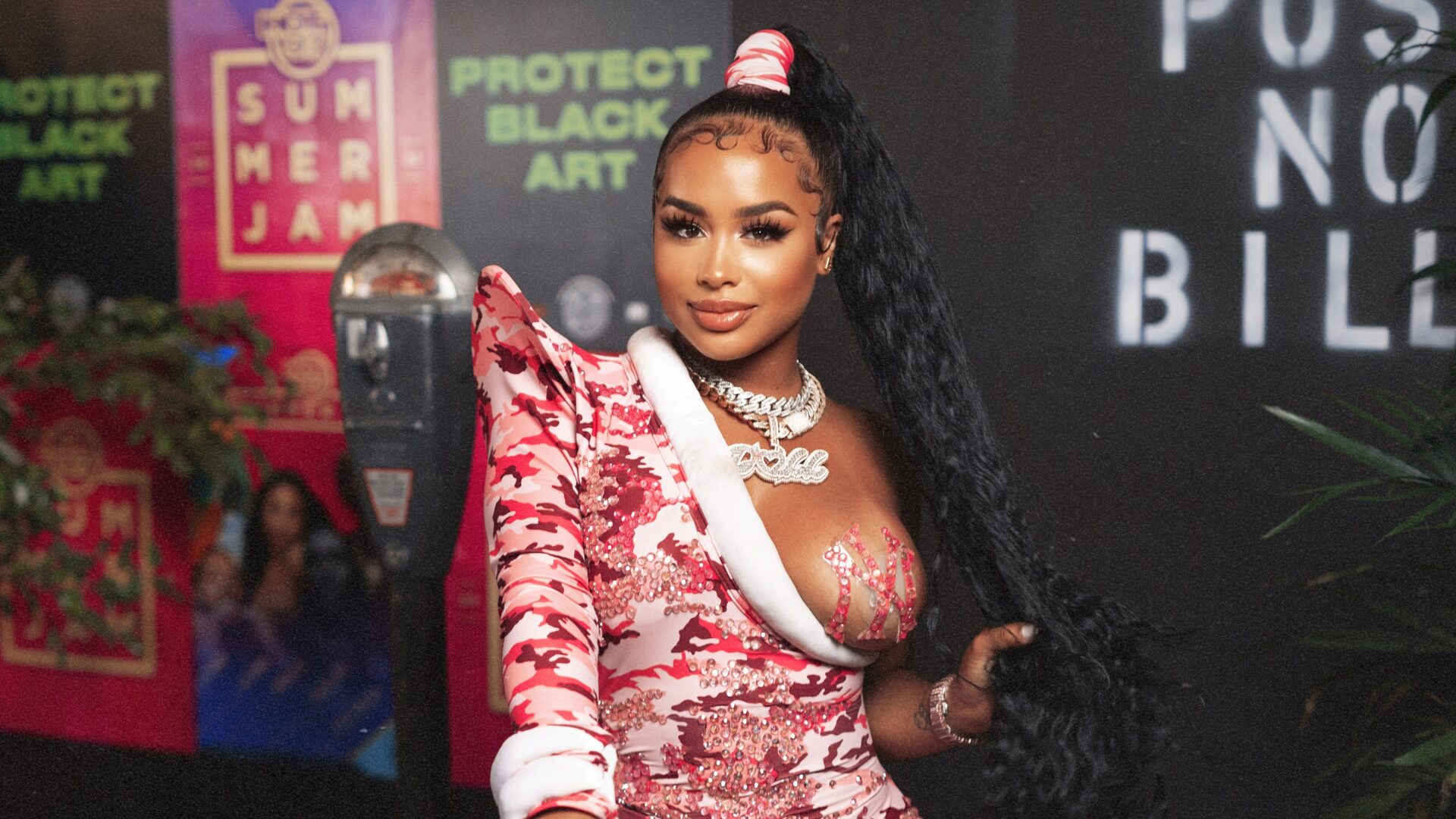 Dreamdoll Paid Homage To Lil' Kim's Iconic VMA's Jumpsuit At Hot 97 Summer Jam
The rapper was the opener for the concert at MetLife Stadium in East Rutherford, NJ.
Dreamdoll is always going to put on for New York City, and that's on bodegas and chopped cheese! The Bronx native opened up this year's Hot 97 Summer Jam at MetLife Stadium in East Rutherford, NJ and it's no shock to say that she shut it down. The "Ah Ah Ah" rapper came to slay as she performed hits including "You Know My Body" and "Lil Freak," and even brought out collaborators CJ and Capella Grey. There was something particularly special about Dream's look this year onstage and for any fans of the rapper and another legendary New York-bred femcee, it was easy to spot this style standout moment.
Decked out in pink camouflage print and jewels all-around, Dreamdoll gave a nod to Lil' Kim's iconic iridescent purple jumpsuit from the 1999 MTV Video Music Awards. Complete with a pink bedazzled pasty in the shape of the official New York Yankees logo, Dreamdoll had her hair slicked back into a long ponytail in a pink scrunch with laid baby hairs by The Surface Beauty's Donte and a beat face by celebrity makeup artist Mariposa.
"Kim is one of the pioneers for female rap from fashion, tone, and lyrics to energy and vibe. When u think about female rap, especially from New York, she's one of the first, if not the first, that pops in your head," stylist Demi Dorsey told Girls United when asked about the decision to pay homage to Queen Bee at Summer Jam.
The look was inspired by a culmination of areas including Dreamdoll's admiration for Lil Kim's music, the personal relationship between the two rappers, and Dreamdoll's journey within the Summer Jam spectrum since the early days of her career. "[With] Dream's journey from attending Summer Jam to having her own set on the main stage, it was only right that we celebrate we kill it but also pay homage to one of the best to ever do it," Dorsey continued.
The self-proclaimed "sauce architect" said that Dreamdoll's main stage look was not only inspired by Lil' Kim's look styled by Misa Hylton, but also a pretty popular Disney Channel Original Movie. "We had a random conversation while we were prepping for a tour and we both had this idea of doing pink camo like the Cadet Kelly movie from Disney," Dorsey said. While there wasn't any exact silhouette or shape in mind, both Dreamdoll and Dorsey fell in love with the print. He sifted through his iPad while they were on tour for further inspiration with drawings and fabrics, and randomly stumbled upon an image of another well-known music star.
"I came across this image of Rihanna for her Rated R tour and I was like, 'How can I make this more hip-hop and sexier?'," Dorsey reminisced. While the photo of Rihanna featured a bralette and a catsuit, Dorsey wanted to take the look up a notch by channeling the "Crush On You" icon. "I always like to represent New York with Dream because in my eyes she's the epitome of a New York girl. With that, one of the most iconic signs of New York I thought about [was] Jay-Z with the Yankee fitted. I was like, 'Let's use the Yankee symbol as a pasty,' and it worked!"
Not only is the "Everything Nice" rapper Dorsey's muse, but he praises her as a very hands-on collaborator. There is a high amount of established trust between Dorsey and Dreamdoll, and oftentimes Dreamdoll trusts her stylist to put together the perfect look all on his own. "I always love her input because at the end of the day I can just put her in anything but it's her duty to sell the look [and] vibe," he explained. "If she's not feeling it, then it would show so I appreciate when she gives input or when she makes suggestions because then it makes it more her."
When asked by Girls United about how Dreamdoll and Dorsey's long-time style collaboration continues to push his creativity and style career, he couldn't just name one thing. He praised her vibe as well as her willingness to be daring and different with every style she tries. "Dream has always been a fly girl. I just come in and add an art [and] fashion element to the fitness that's already there. She truly lets me express myself when it comes to my eye for how I see her visually [and] creatively. I always have to keep on my toes and draw inspiration from many places," Dorsey continued.
Recently, Dreamdoll released the visuals for "Ice Cream Dream" featuring French Montana, who also performed during Lil Durk's Summer Jam set. She also premiered her collaboration with "Gas You Up" featuring King Combs while on tour with Fivio Foreign across the nation which ended on June 9 in Salt Lake City, Utah.
Photo Credit: Emerald Knox