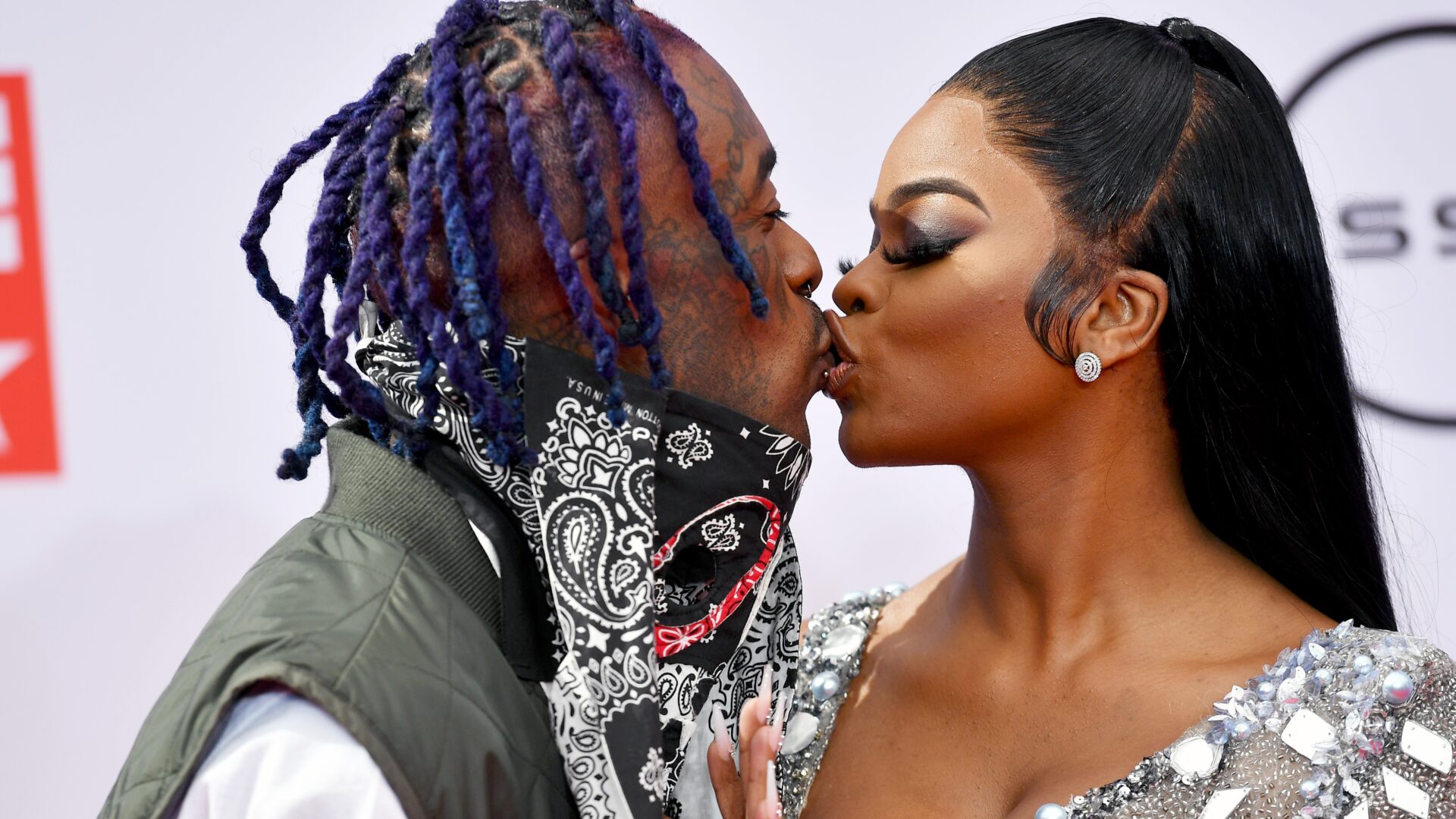 Rapper JT Pens 'Twin Flame' Lil Uzi Vert Romantic Instagram Post For Their Birthday
"I'm crying making this post because you are literally a dream come true," the rapper wrote about her boo.
A wise rap duo once spit, "Act up, you can get snatched up," but it looks like one of the two is snatched up in the name of love. JT, one-half of Miami-bred rap duo City Girls alongside Yung Miami, publicly displayed her love and admiration for her rapper boo Lil Uzi Vert. With a few hours to spare on their birthday, JT took to Instagram to pen a long love note to her "best friend" and "twin flame" to show just how proud of and in love with Lil Uzi Vert she is.
"I'm crying making this post because you are literally a dream come true! I feel like with everything I been through in life you are one of my greatest rewards! I wake up everyday to either your frown or smile …either works for me, as long as you're right there," the "Twerkulator" rapper wrote about her "Sauce It Up" bae. "I love everything about you… from your main character energy to still being able to make me feel like I'm the only person in the room! I saw you go through so much & in those times you still held me down, Mc Donald's better not never get your order wrong, everybody know I don't play bout my baby!"
Of course the internet streets swooned including fellow rappers, singers, and rising influencers in entertainment. "Awwwww ❤️❤️❤️❤️," commented femcee Dreezy while "Mind Yo Business" rapper Lakeyah said, "Love this 4 u❤️😫😍." The Instagram reel consisted of sweet videos of the couple kissing, laying in bed together, dancing, chilling on FaceTime, and everything in between that demonstrates their cute relationship with one another.
JT and Lil Uzi Vert have reportedly been in a relationship since late 2019, but did not go public with their status until 2021. The "Neon Guts" rapper, whose real name is Symere Bysil Woods, officially confessed their love to their girlfriend during a concert set, according to HotNewHipHop. "I'm like… fully in a relationship," they declared in front of a large crowd. "It still seems that every day I'm in the house, I've got to give out a rack after a rack after a rack – and, I love you JT."
The "The Way Life Goes" rapper even respectfully declined the flirtatious advances of a fan. According to a video posted on TheShadeRoom, after saying the two looked "cute or whatever," the fan asked Lil Uzi Vert, "Why are you so shy?," to which they responded, "Because I have a girlfriend." While it seemed to be all fun and games, it's clear that Lil Uzi Vert doesn't play about theirs.
As their relationship grows strong, the two rising rap stars continue to support each other in their music careers as well. During the Wireless Festival in the United Kingdom, Uzi stood in the photographer's pit as close to the stage as possible so they can watch their girl rip the stage. They even brought up the "Flewed Out" femcee during their set at a Memphis concert on behalf of Yo Gotti & Friends.
"Where my baby at?" Uzi asked while on stage. "Bring my wifey out! Come here, baby."
Photo Credit: LOS ANGELES, CALIFORNIA – JUNE 27: (L-R) Lil Uzi Vert and JT of City Girls attend the BET Awards 2021 at Microsoft Theater on June 27, 2021 in Los Angeles, California. (Photo by Paras Griffin/Getty Images for BET)