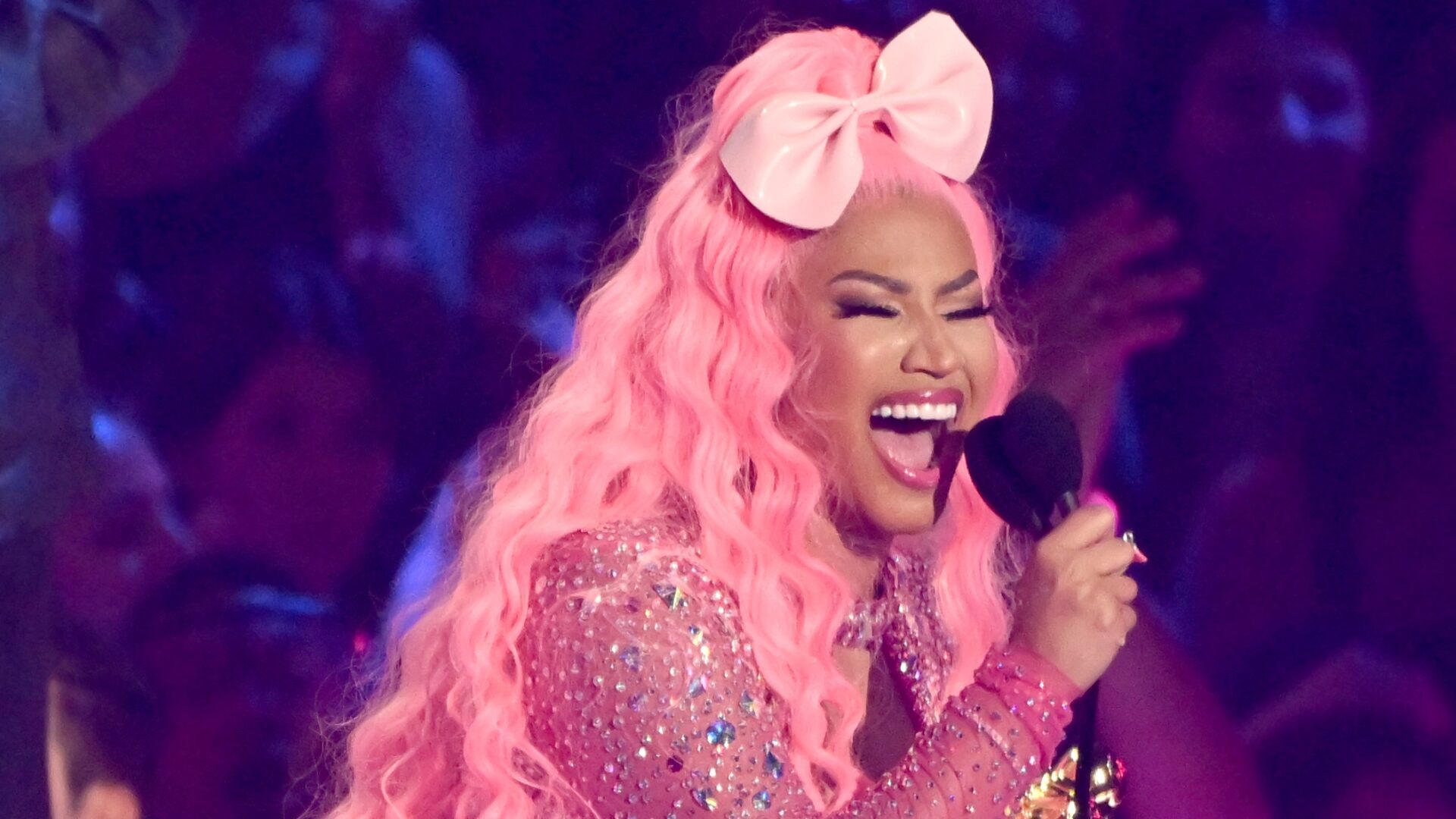 Could Nicki Minaj Possibly Be Getting Her Very Own Bratz Doll?
The company shared a recreation of the "Super Freaky Girl" rapper's head-to-toe VMAs look.
Nicki Minaj may be getting her very own Bratz doll. Last month, the nostalgic doll company teased a doll inspired by the rapper's performance at the 2022 MTV Video Music Awards at New Jersey's Prudential Center.
"So we heard you guys like Nicki Minaj," the company shared on social media alongside a rendition of the doll. The company recreated Minaj's look from head to toe. It shows the hot pink satin Dolce & Gabbana dress she wore at the award show, complete with a holographic bodice, asymmetrical draping, and thigh-high slit. The rapper was styled by DiAndre Tristan, a celebrity and three-times Emmy Award-winning stylist.
Bratz also recreated Minaj's high ponytail and pink wig, as well as her make-up and light blue contact lenses. The "Anaconda" artists' silver jewelry was also included in the Bratz rendition of her award show look.
It isn't the first time Bratz recreated Minaj's looks. In 2021, the company shared a rendition of the rapper on the cover of her 2009 mixtape, Beam Me Up Scotty.
In the past, Minaj has collaborated with Mattel, the company behind Barbie, for charity. "It's just a one-of-a-kind, limited edition for charity, and so I never thought Mattel would even pay attention to me," she told Billboard in 2011. "For me, this is a very major moment because it just shows that you can come from nothing and still be a force in the main world, a businesswoman, and hopefully a mogul one day."
Channeling a doll-like aesthetic has been Nicki Minaj's signature look since day one. The "Itty Bitty Piggy" rapper hit the scene wearing hot pink wigs and eventually started referring to her fans as Barbz. She also channeled Barbiecore in her latest music video for "Super Freaky Girl," as well as during her VMAs performance. Check out Minaj's full performance at this year's VMAs below.
About Kyra: Kyra Alessandrini is a news writer at Girls United and a freelance journalist. Her work has appeared in publications such as Time, The Hollywood Reporter, InStyle, and Elle. Born in New York and raised in Paris, France, she is passionate about culture, street photography, and travel.
Photo Credit: NEWARK, NEW JERSEY – AUGUST 28: Nicki Minaj speaks onstage at the 2022 MTV VMAs at Prudential Center on August 28, 2022 in Newark, New Jersey. (Photo by Arturo Holmes/Getty Images)