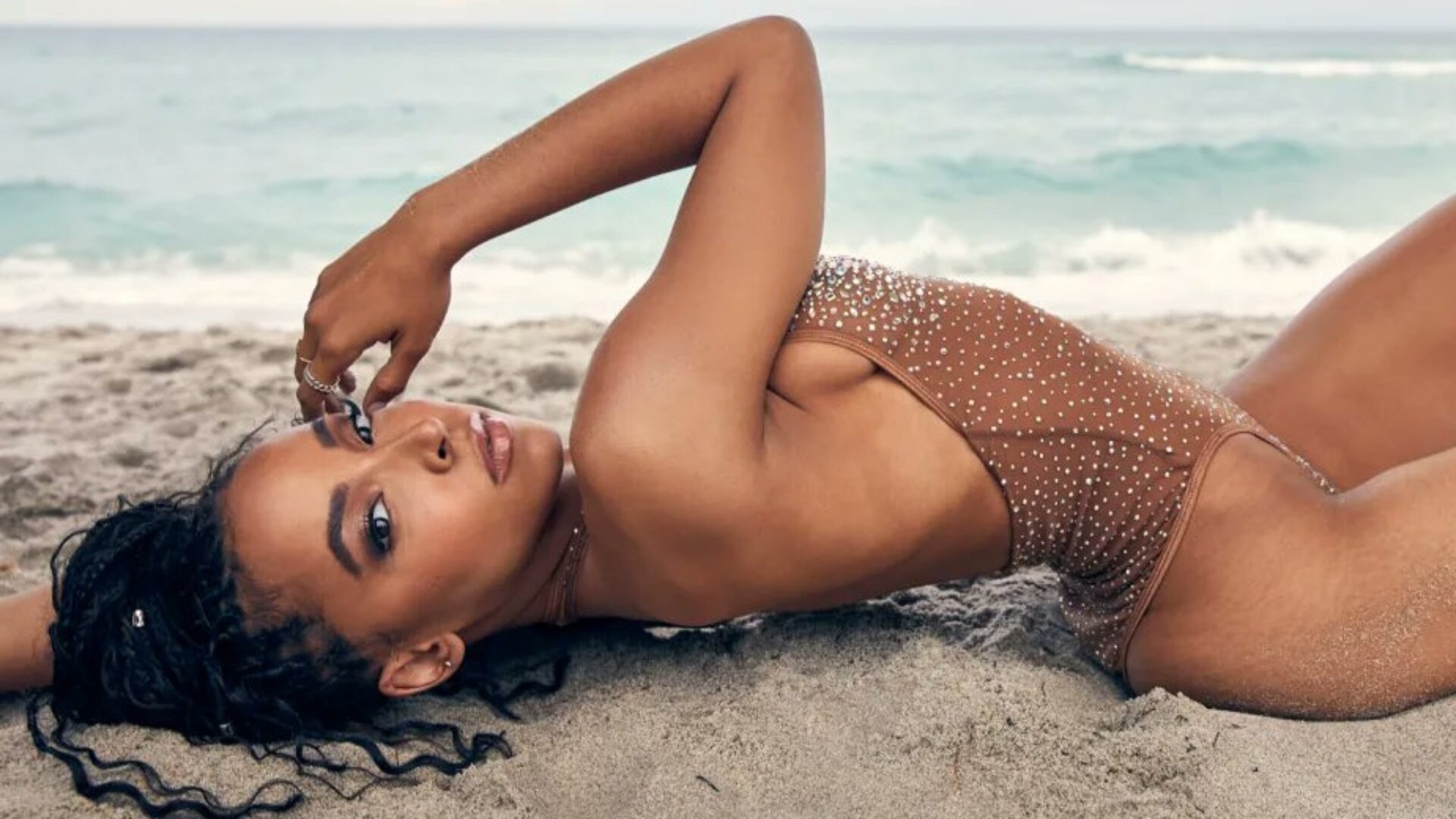 Meet The Swimwear Designer Behind Tinashe's 'Sports Illustrated' Swimsuit
"It's always amazing to see a beautiful, talented Black woman whose art you enjoy wearing your work!," Destiney Bleu said.
The world stopped when the covers of Megan Thee Stallion, Naomi Osaka, and Leyna Bloom dropped for Sports Illustrated's highly anticipated swimsuit edition. Singer Tinashe had a spread in the print issue and it was no surprise that she slayed the shoot and served body, skin, and face for days.
For Tinashe's Sports Illustrated spread (which she described as "pretty cool" on Instagram since she was the first indie artist to be featured in the publication), she wore a few numbers from various designers. The "Pasadena" singer was seen in Black women-owned brands including Tanaya Henry's Lace by Tanaya and Cejae Jones' Asherah Swimwear, but there was one nude bedazzled stunner that stood out.
Check out our exclusive interview with Tinashe about taking the creative reins of her music career!
Destiney Bleu, the owner of D Bleu Dazzled, has styled a number of pop stars over the years, but to be on a platform as large as a Sports Illustrated spread was a new avenue of possibilities. "It's always amazing to see a beautiful, talented Black woman whose art you enjoy wearing your work," Bleu told Girls United. She said the opportunity came about when a few stylists at the publication, as well as some stylists with whom they've previously built relationships, requested pieces from their showroom. "We've been dazzling Tinashe since early in her career. We actually made her some custom dazzle for some of her first shows."
Check out Storm Reid's PacSun swimwear collection launch for her 18th birthday.
Though this was the swimsuit issue, followers will be shocked to know Tinashe wasn't technically wearing a bathing suit. "Ironically enough, all of our pieces that are featured in Sports Illustrated are lingerie[or] performance wear!," Bleu shared. The designer told Girls United that she was a professional dancer for years, which sparked the inspiration for her line.
"Dancers are notorious for repurposing swim and lingerie for costumes, so I've always felt they're somewhat interchangeable since the fabrications are the same. Growing up, my mom was a swimsuit designer, so it's in my DNA, but her influence combined with dancing my whole life has definitely contributed to my aesthetic as a designer. "
Since being founded in 2010, Bleu's "as seen on" list of celebrities ranges from Normani on Ariana Grande's Sweetener Tour, to Beyoncé on both her Formation Tour and On The Run 2 Tour with Jay-Z. Other notable dazzled clients include Rihanna, Lady Gaga, J.Lo, Megan Thee Stallion, Lizzo, and more. Most recently, Bleu's brand has been featured in Queen Bey's "Black Is King" and collaborated with Gucci x Dapper Dan for the Met Gala.
Tap in for Lizzo's top bikini looks this summer.
"My focus right now is finding ways to scale my line. I hope to expand d.bleu.dazzled on a more retail level so we're in stores worldwide and are more accessible size-wise and price-wise," Bleu said of her plans of expansion and growth. "With Instagram's new algorithms and social media being oversaturated with fashion brands, it's easy to get lost in the sauce. I think having my products in people's faces in real-time would help so much with sales, as photos don't do the dazzle justice."
Photo Credit: James Macari in Hollywood, Fla./Sports Illustrated