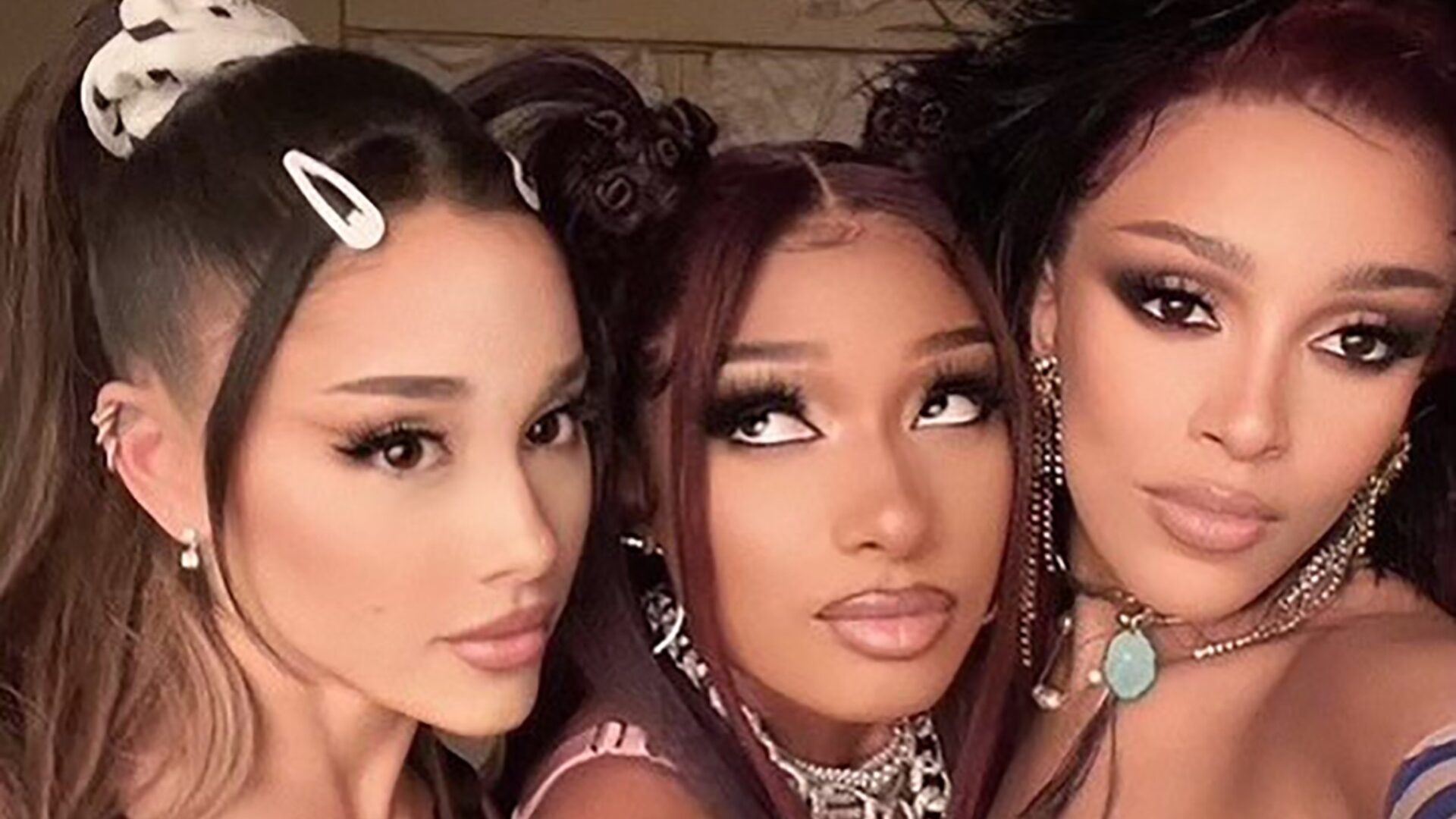 GU Jams: Ariana Grande's "34+35" Video With Doja Cat And Megan Thee Stallion Is Here
GU Jams is Girls United's weekly column dedicated to sharing and discussing new music and music news.
When pop stars link with rap stars, there's a big chance that it may be heat and Ariana Grande's raunchy "34+35" remix with Doja Cat and Megan Thee Stallion certainly did not disappoint. Just think 2021 "Moulin Rouge" vibes.
Watch Megan Thee Stallion's "Cry Baby" video here.
After teasing the upcoming collaboration for a week, the trio shared the video that features them at a hotel and chatting about all of the ways they'd like to be pleased.
Grande begins with her verse from the original track, singing, "You might think I'm crazy/The way I've been cravin'/If I put it quite plainly/Just gimme them babies." In late 2020, the singer announced that she was engaged to Dalton Gomez, a real estate agent. The next two verses of the song were handled by Doja and Megan respectively, during which they shared some of their classic bars about what they expect from their lover. This marks the rappers' first times working together on a single song, although they did make history together last year as 1/2 of the 4 Black women who dominated the top 2 spots on the Billboard Hot 100.
For her part, Doja raps, "Six o'clock and I'm crushin'/Then it get to seven o'clock, now he want it (Uh)/When it hit eight o'clock, we said, "F— it."
Read all about Doja Cat's rise to fame here.
Megan closed out with a message to all of those who owe her a thank you card and an explainer on why she's the best. "Left him on read, girlfriend need to thank me/Make his toes point, ballerina, no tutu/Baby, I'm the best, I don't know what the rest do," she says.
Our favorite moment of the clip is when Grande orders some snacks for the crew and insists that they have flambé. Real talk though, who needs flames when you have some of the hottest artists in the music industry all on the same track?
Watch the "34+35" Remix video below.