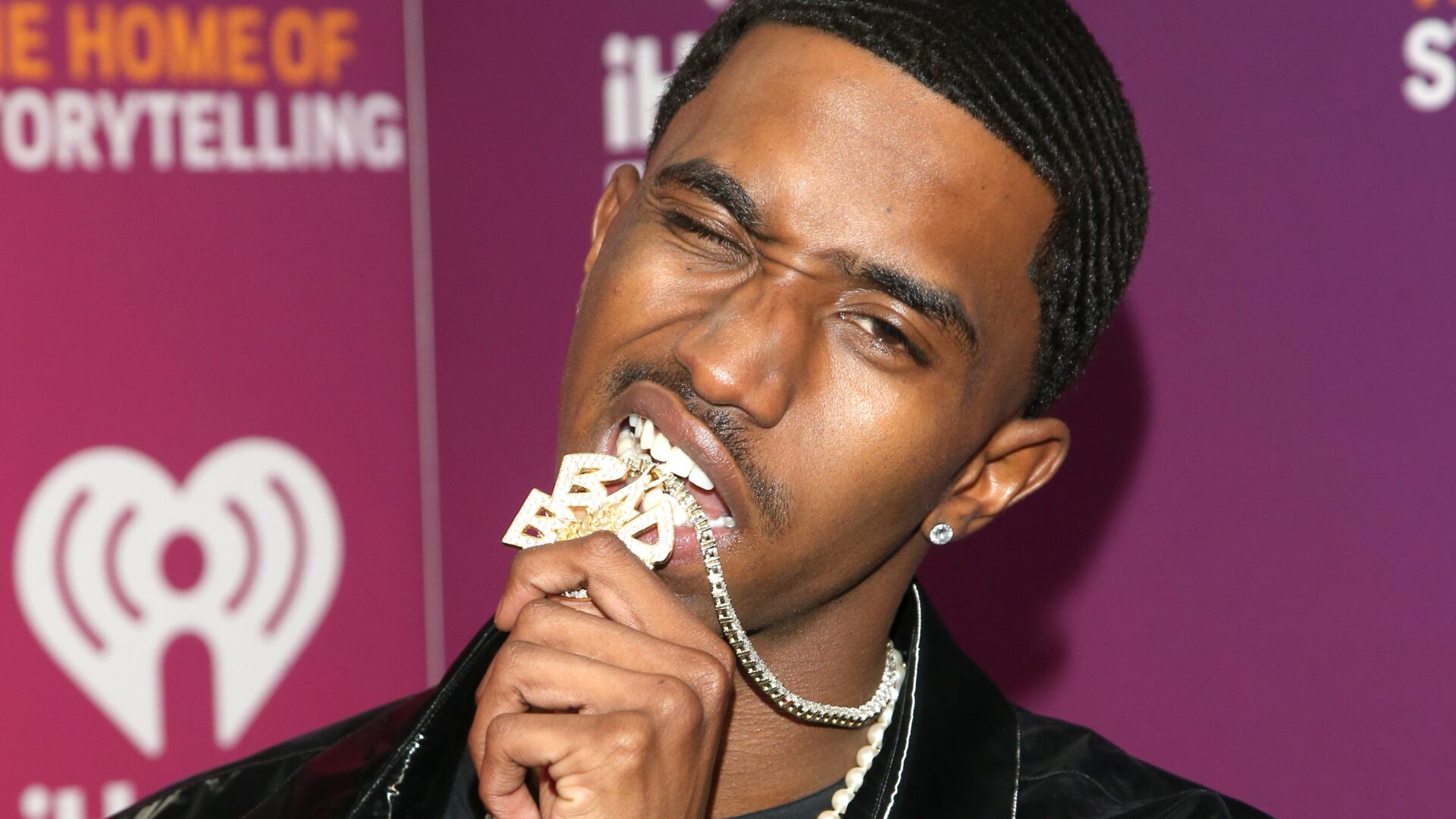 King Combs Can't Stop, Won't Ever Stop Making New York City Proud
His Rolling Loud performance follows his appearance in Vegas for iHeartRadio Music Festival.
Long before "Can't Stop, Won't Stop" became the unofficial song of the summer (and now moving into the fall), Christian Combs was bred into the entertainment industry with music running through his veins. With his father being Sean "Diddy" Combs, who is responsible for the foundation of notable industry heavy-hitters from Biggie Smalls and Faith Evans to Mary J. Blige, and his brother Quincy Brown being the successful actor featured in featured projects from Brotherly Love to FOX's Star, it's no surprise that the young man we see today known as King Combs is taking over the charts – and we can agree it's long overdue.
From collaborations ranging from Teyana Taylor and Ty Dolla $ign, and the late rapper Pop Smoke, the 24-year-old New York native is showing that he'll never stop letting off the gas of his career. The "Type Different" artist was fresh off the plane and settled preparing for his performance on Saturday night when he hopped on the phone, and he couldn't wait to get back to Queens to give the New York City borough a show to remember. "I'm super hyped to see them out there, be back home. It's been a minute, so I can't wait," King Combs said.
"I'm super excited. We're about to shut it down tomorrow," King Combs told Girls United excitedly the day before his Rolling Loud: New York set. The day before heading to Citi Field, he traveled to Las Vegas for the iHeartMedia Music Festival, where names such as Halsey, Latto, and Chlöe also took the stage. Right before having back-to-back performances across the country, King Combs also had a full run in his hometown for New York Fashion Week at shows for Tommy Hilfiger and VOGUE World. The "Love You Better" rapper was even a featured model in PUMA's Retrograde presentation of their SS23 collection, led by Creative Director June Ambrose.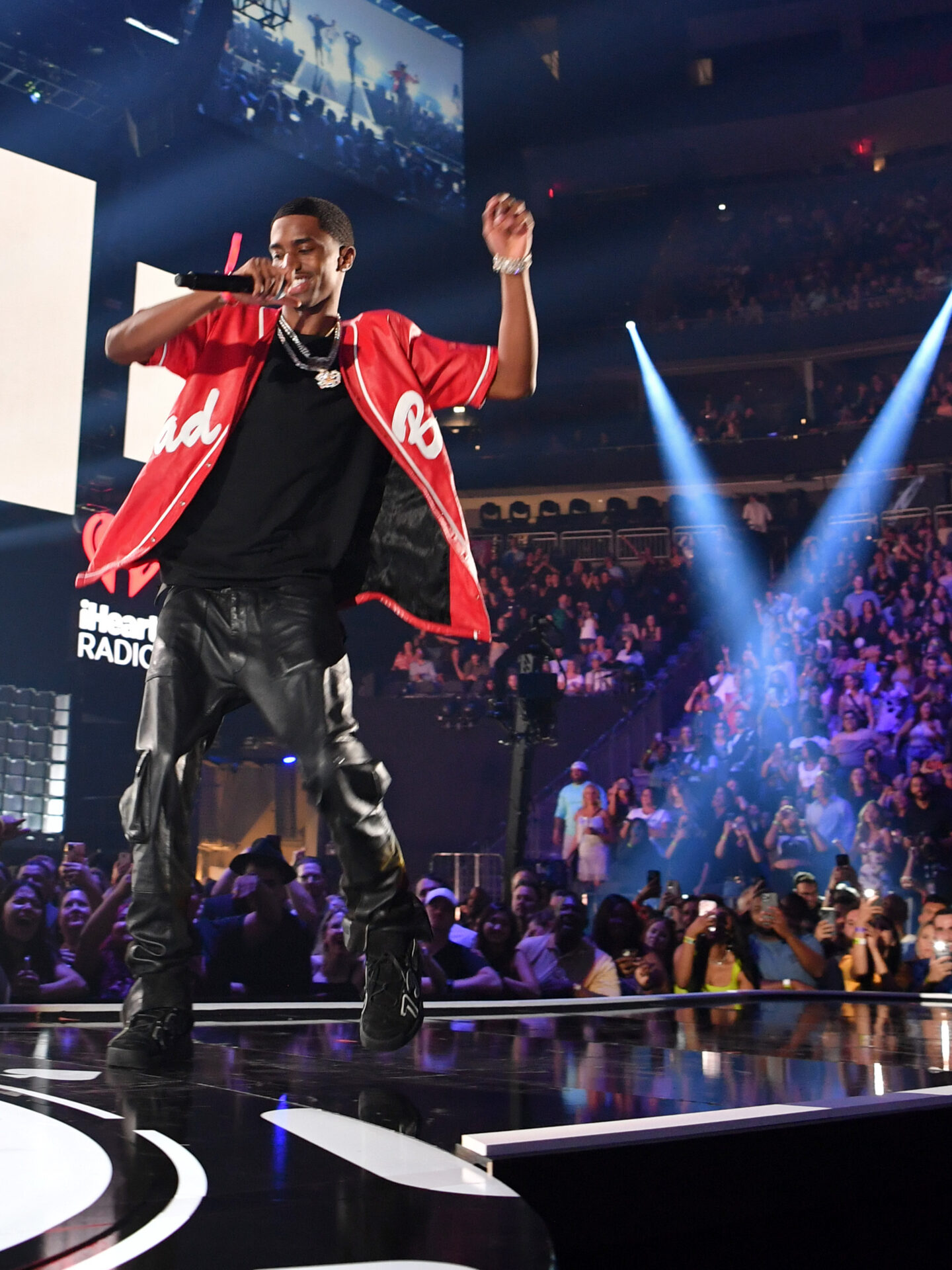 LAS VEGAS, NEVADA – SEPTEMBER 24: (FOR EDITORIAL USE ONLY) King Combs performs onstage during the 2022 iHeartRadio Music Festival at T-Mobile Arena on September 24, 2022 in Las Vegas, Nevada. (Photo by Denise Truscello/Getty Images for iHeartRadio)
The success of his "Can't Stop, Won't Stop" hit in collaboration with fellow rapper Kodak Black was nothing short of a surprise. The Rippa On The Beat-produced track samples former Bad Boy Records signee and music icon Lil' Kim's hit song "Crush On You," which was originally sampled from The Jeff Lorber Fusion's 70s hit "Rain Dance." If that nostalgia wasn't enough, King Combs was stunting just like his daddy in a custom baseball jersey in a similar setup as Lil' Kim and Lil Cease's music video with checkerboard floors and drapes on the walls while sipping on some DeLeón Tequila and doing the classic Diddy bop. Since its pop-off moment, the single has received co-signs from famous friends and family including Misa Hylton, Reginae Carter, and Busta Rhymes.
"I knew when I was putting it out that it was super hard, and it was one of my favorites ever, but I didn't know it was going to go up-up like that because almost all the songs I put out I really love them and believe in," King Combs told Girls United humbly as he reflected on the success of "Can't Stop, Won't Stop." For the first time, King Combs and his father are charting together, as Diddy recently collaborated with Bryson Tiller for their "Gotta Move On" release.
"I'm so proud of you baby boy. Keep going. Keep working This's record until@it's a classic. YOU GOT ONE KID!!!! Love love Love!!!!👏🏿👏🏿👏🏿💪🏿🙏🏿✊🏿🖤💫✨⚡️," his father took to Instagram to comment about his son's release. Diddy continued, "I'm truly blessed to be performing with my son tonight in Vegas at the #iHeartFestival. Other times I let him come on stage because he's my son. Now he's coming on stage because he's hot enough to share the stage with me. Ladies and gentlemen, I introduce you to @KingCombs. Meet us in Vegas! We can show you way better than we can tell you!! #CombsDynasty"
King Combs added, "For this to go as crazy as it did, I'm just happy that the fans felt what I felt when I started recording it." The 2022 single follows the success of his 2019 body of work Cyncerely, C3, which encompassed nine songs with features from artists including Jeremih and City Girls. Other drops have included "Legacy," "Cartis," "Holdin Me Down" with Future, and "Gas You Up" with DreamDoll, who will also be taking the Rolling Loud: New York stage the same day as her collaborator.
"I would say New York is definitely back. We're going crazy right now. I just feel like we've all just got to stick together, and I'm proud of what New York is doing right now," King Combs told Girls United about the praise for New York rappers. Fitting for a true New York City prince, King Combs is returning home for an iconic performance and sharing a stage and festival space with other NYC-bred artists including Nicki Minaj, A Boogie Wit Da Hoodie, Young Devyn, Lola Brooke, Ice Spice, and more.
Proud of his upbringing with the beauty of bodegas and classic hip-hop bops embedded into his being, King Combs acknowledges that New York and its undeniable soundtrack will "always [be] a big part in my heart." He does his best to pay homage to his city when he can whether it be through fashion, beats, lyrics, or all of the above. "That's what the Bad Boy [Records] sound is birthed on, so that's just always part of me," King Combs said.
He puts on his city so much that while he's not too sure what attire he'll be gracing the stage with for his fans, King Combs is 100 percent positive that it'll pay homage to the Big Apple. "Actually I haven't even got my 'fit together yet. I'm an in-the-moment type of guy. I kind of just go in my closet and just throw on whatever I feel will make me feel right, but for Rolling Loud, I'm definitely going to represent heavy for New York," he said confidently. With brick season around the corner, can we expect some Timbs?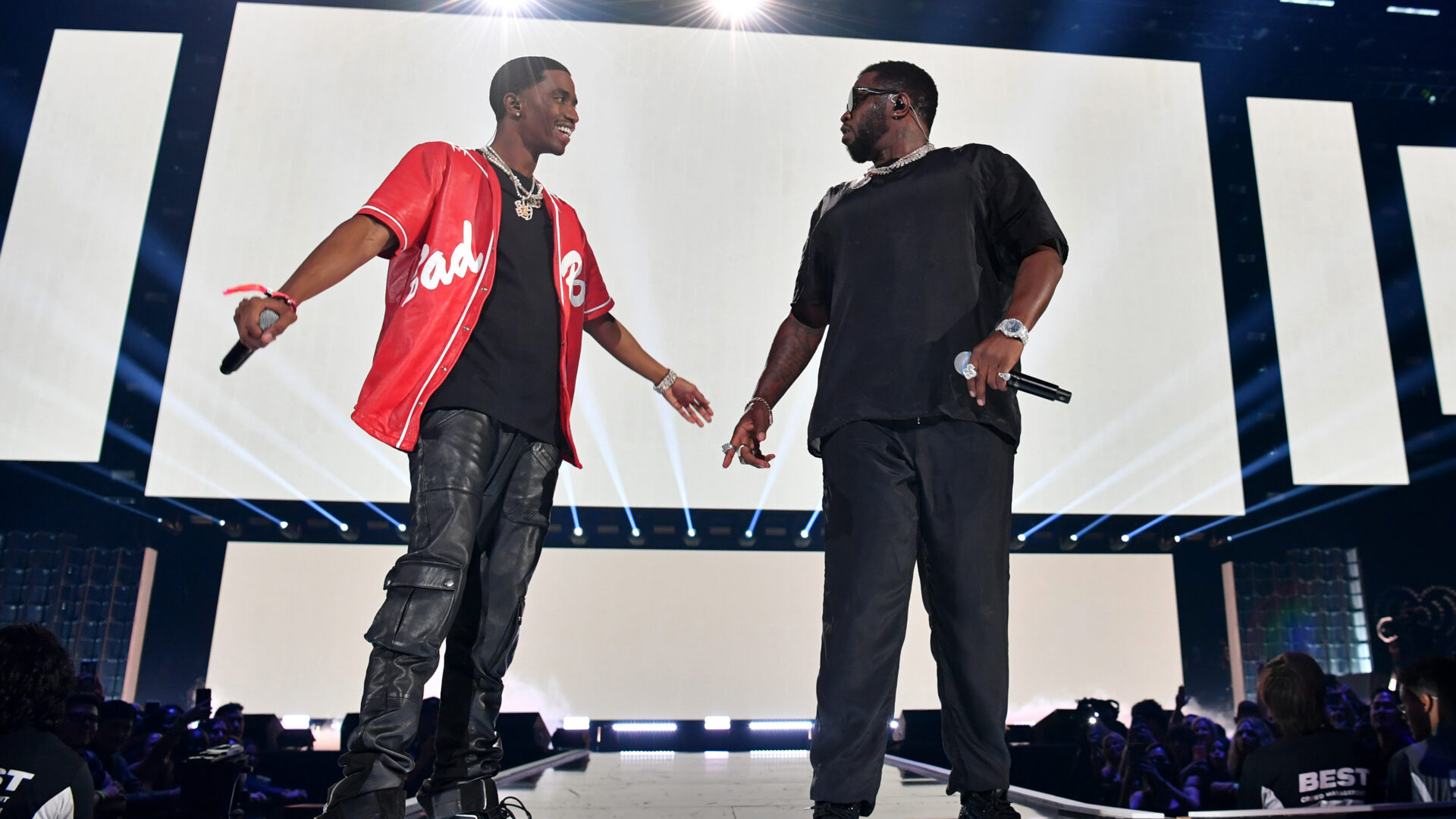 LAS VEGAS, NEVADA – SEPTEMBER 24: (FOR EDITORIAL USE ONLY) (L-R) King Combs and Sean "Diddy" Combs perform onstage during the 2022 iHeartRadio Music Festival at T-Mobile Arena on September 24, 2022 in Las Vegas, Nevada. (Photo by Denise Truscello/Getty Images for iHeartRadio)
As a pre-performance mental process, King Combs taps into his spiritual side. "I usually just pray to God a few times, and just think about everything that I'm about to do. I just thank God and talk to my mom -forever, KP," he said sweetly as he alluded to his late mother Kim Porter, who passed away in 2018. Porter's legacy lives on through King as well as his older brother Quincy and two younger twin sisters Jessie James and D'Lila Star, with whom she shared with Diddy.
Whether it's taking on a festival in Vegas or bringing it back to home base, King Combs has a piece of advice that all performers should take with them. "This is the moment you've been waiting for. It's fun. Don't let the pressure overwhelm you. It's the best part about it all," he said smoothly.
Photo Credit: LAS VEGAS, NEVADA – SEPTEMBER 24: (FOR EDITORIAL USE ONLY) KING COMBS attends the 2022 iHeartRadio Music Festival at T-Mobile Arena on September 24, 2022 in Las Vegas, Nevada. (Photo by Gabe Ginsberg/Getty Images for iHeartRadio)
About D'Shonda: Born and raised in Brooklyn, NY, D'Shonda Brown is the Associate Editor at Girls United. When she's not interviewing or writing, she enjoys running, dancing, buying sneakers, and binge-watching Lifetime movies.