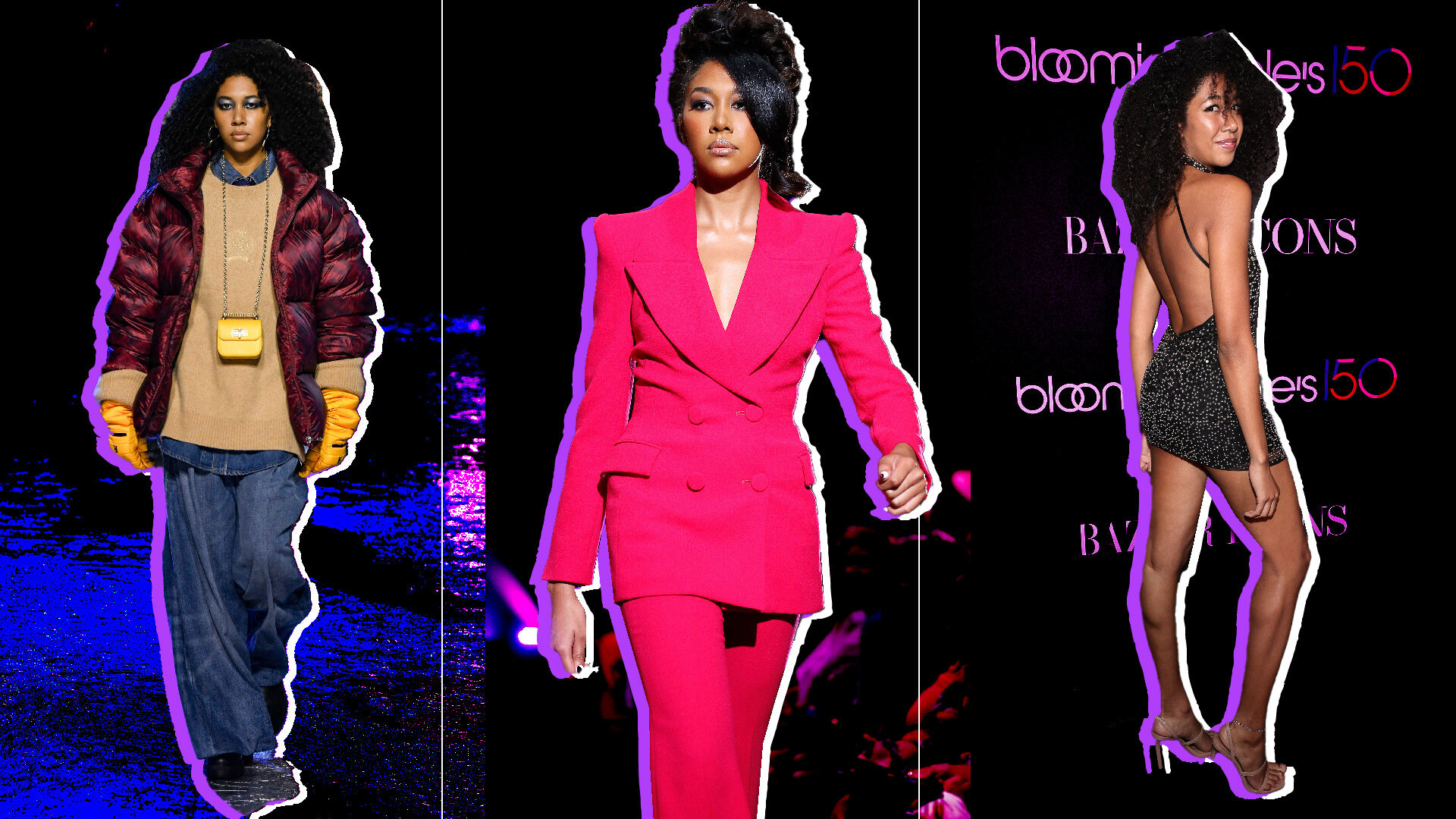 Exclusive: Aoki Lee Simmons Is In Her 'Adult Fashion Season,' And We're Here For It
Spoiler alert: she shares what she has planned for her post-collegiate future!
As the daughter of serial entrepreneur Russell Simmons and supermodel and fashion icon Kimora Lee Simmons, and the niece of Run DMC's own Rev Run, you would think that Aoki Lee Simmons has some big shoes to fill. Luckily, the rising Gen-Z fashion force is walking – or should we say, strutting – down a lane of her own in some designer shoes as she takes the industry by storm.
Aoki Lee Simmons is more than just a nearly six-feet-tall set of legs and big curls with famed parents in the entertainment industry; she's a full-time student at Harvard University with unmatched wit, intelligence, and awkward charm that consistently reminds anyone that she's a human being just like the rest of us. The only difference – she got to casually walk alongside supermodel Winnie Harlow in this year's Sergio Hudson fall ready-to-wear collection debut fashion show during New York Fashion Week.
"It was really fun. I was definitely a little anxious for sure," Aoki told Girls United exclusively as she reminisced about walking in the Sergio Hudson show. While she was admittedly "stressed out," in addition to being one of the youngest models in the show, she flawlessly rose to the "nerve-wracking" occasion and gave the hot pink power suit a run for its money. "I'm happy I didn't stick out like a sore thumb, but I did slip in rehearsal. I didn't go down, but I slipped a couple times, and what was really great is Sergio didn't seem concerned at all. That made me feel like, 'Okay, he thinks you can do it. He's not concerned about you. He's not like, 'Oh where's the teenager to make sure she's not going to screw up my show?' He didn't seem worried at all and that meant a lot to me."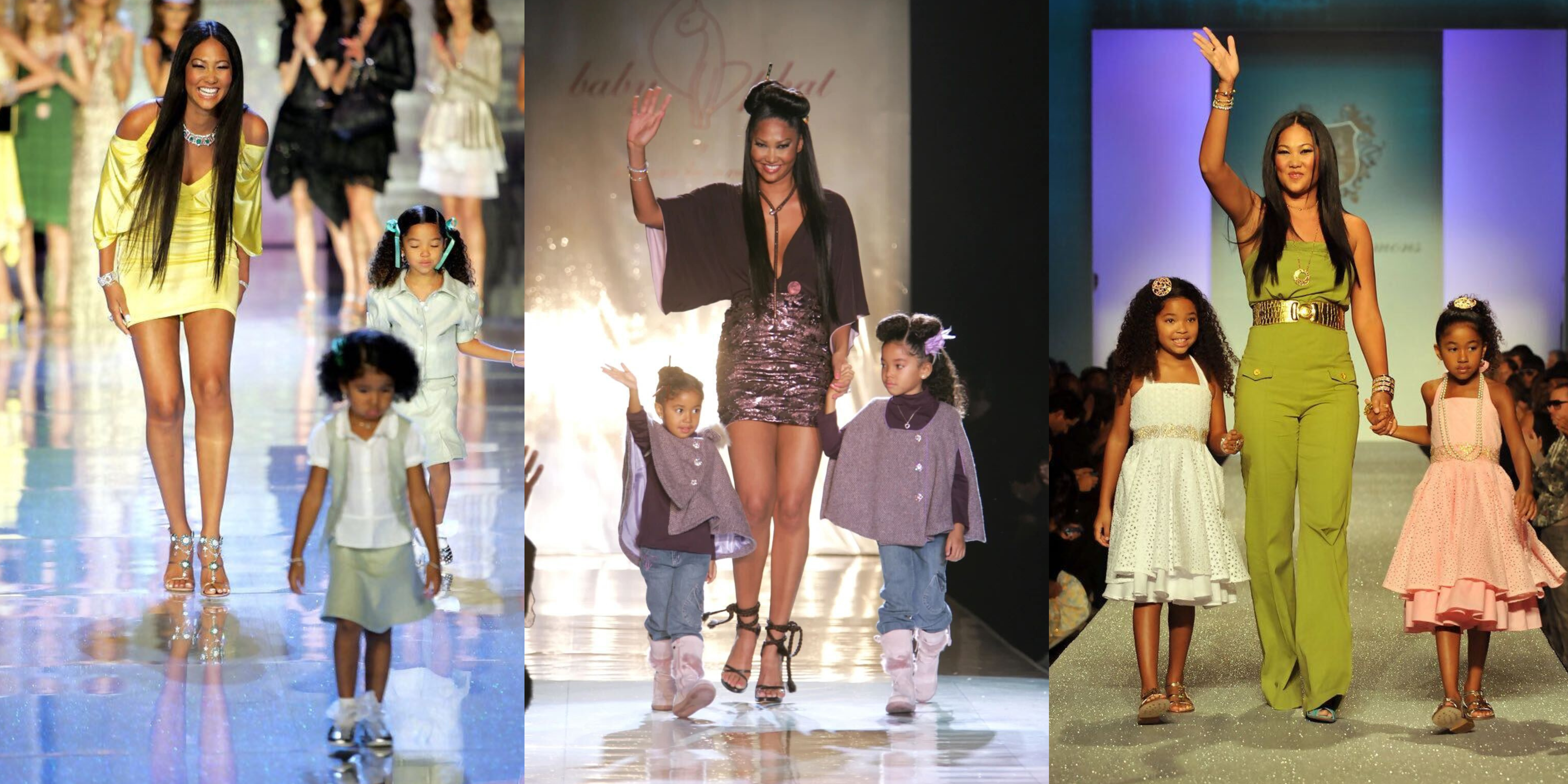 No stranger to the catwalk, Aoki has been in the spotlight since she was born and walking alongside the comfort of her mother and big sister Ming Lee Simmons. Now, she's doing things her way while showing young girls who look and feel just like her that you can be beauty, brains, and everything in between despite the noise of haters and naysayers.
On her way back to Boston, Massachusetts to finish up her final year at Harvard University, Aoki hopped on the phone with us to talk about her journey as a budding model, dispelling nepotism in the fashion industry, and her plans once she crosses the stage and into adulthood.
On her Spring/Summer 2023 New York Fashion Week experience:
"It was really, really amazing. I am still in school. I graduate this year, so it was a little rough and I couldn't just do something I wanted to do, so I had to pick what was really important to me. It was a little stressful thinking about assignments. I was doing some of my homework backstage, but I'm looking forward to next season because I won't be in school. The Tommy [Hilfiger] show on Sunday [and] it started raining. I got really scared, but it ended up being fine. It's been very, very, very busy. I didn't really realize when I was doing more one-off shows, how busy it is when you're actually working full time. You don't want to go to every party per se. You kind of want to do a lot more show, and then sleep, pack and then go to bed. The glamorous side of Fashion Week is a little bit reduced when you're working."
On maintaining balance as a student and a model:
"I try to do a lot of things in advance when I have time. I study and I definitely like to set aside chunks of time. I'm taking the train home today, so that's a great three hours to just do homework. Sometimes, if I have a bunch of castings and shows and my day starts at 11, I'll try to get to a Starbucks at nine. From nine to 11 I will be watching Zooms that I haven't seen yet and doing homework, so it's kind of really prioritizing time. There's so much I want to do during Fashion Week, so many great events I want to go to, but I prioritize school and shows that I'm in. Then after that, if I have time, shows that I could attend, or parties I could go to, but I prioritize jobs and school. It's actually not that bad when you do it that way."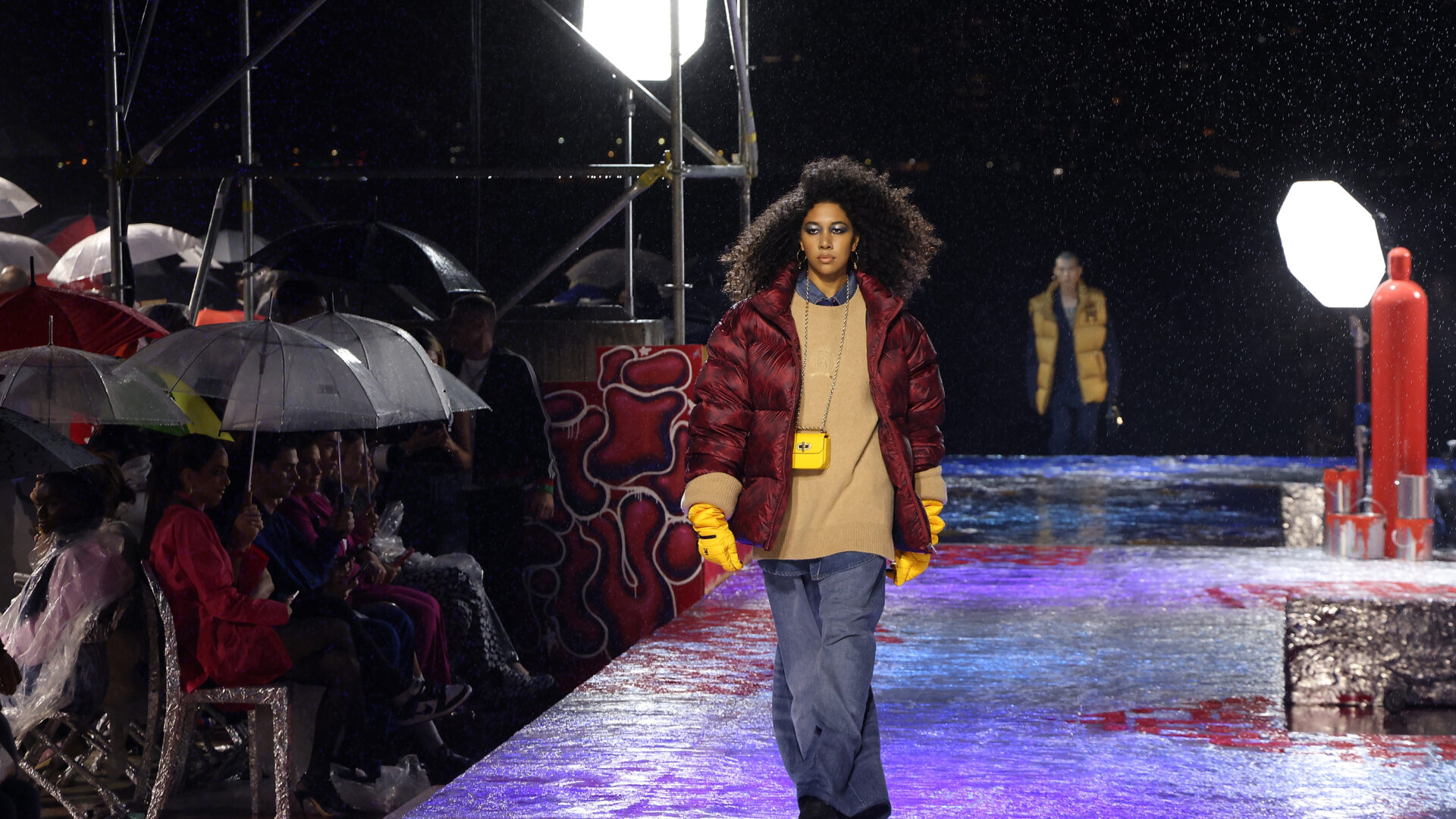 NEW YORK, NEW YORK – SEPTEMBER 11: Aoki Lee Simmons walks the runway at the Tommy Factory New York Fall 2022 fashion show at Skyline Drive-In during New York Fashion Week on September 11, 2022 in New York City. (Photo by Taylor Hill/Getty Images)
On the support of her mother Kimora Lee Simmons and big sister Ming Lee Simmons:
"Oh my gosh. If you see my Instagram, my mom is the best. She always knows the right thing to say to me before I go out. She's very about tough love, which I'm great with. I don't really respond well to the whole, 'You're amazing, no matter what.' That doesn't really work for me. My mom is very much like, 'You have to go out there. I get that you're nervous, but let's go.' For Sergio, she was like, 'Aren't you wearing a really beautiful suit? It's pants and a jacket. If you can't walk in pants and a jacket, you can't walk in anything, so I would just go home. Get out there and do your job.' I was like, 'Good point.' My sister is also great. I text her, my mom, and Miss J. [Alexander] all the time giving them updates on like how fast the runway and the music is. My sister watched my shows and she was like, 'You move one arm more than the other one,' so I'm going to work on that. They're very helpful and supportive and funny. They'll kind of get me laughing right before I go out if I'm stressed."
On experiencing imposter syndrome as a public figure:
"I mean modeling is very arbitrary. It's definitely really tough. There's a lot people to compare yourself to. I was at Tommy [Hilfiger], I texted my sister and I was like, 'Sometimes I wonder why I put myself in these situations 'cause it can be very unpleasant.' She was like, 'What do you mean?,' and I was like, 'It's unpleasant; I'm scared right now,' but I got over that feeling. When you walk into a casting or a show, it's very like, 'Everyone's so beautiful and doing better than me.' I have this thing where I think everyone's taller than me, but I'm on the taller end of female models. I'm almost six feet tall, but when I look at people, they all seem taller than me. It's kind of this feeling of feeling like you stick out, it's so obvious that you're the youngest or you're this, you're that. I've sometimes been given outfits where I have images in my head like, 'I'm not tall enough for that,' and they're like, 'No, we've measured you. That's why we're giving this outfit.'
"I really enjoy when I'm doing a show and then I run into someone who I know through my family or friends, or who knows me and they're like, 'I didn't know it was you,' or, 'I didn't recognize you.' I thought I would kind of focus on the show and how all the models were just doing great, and I really like to just fit in with the group. I was scouted, but people don't believe me when I say that. I do know that people may or may not have scouted me because of my mom. It's nice to know these people who were scouted without anything to help them, without that bringing their parent's name to a show, if I fit in with them, then I'm doing good, because they were chosen for just themselves alone. I know I can't ever say it was just me by myself. I always try to remove my family from what I'm doing, but it's kind of impossible to do that fully. I know if I'm sitting in with people who were just scouted like my mom was – literally off the street in the Midwest [when] her mom was a social worker with the government – I'm probably doing okay."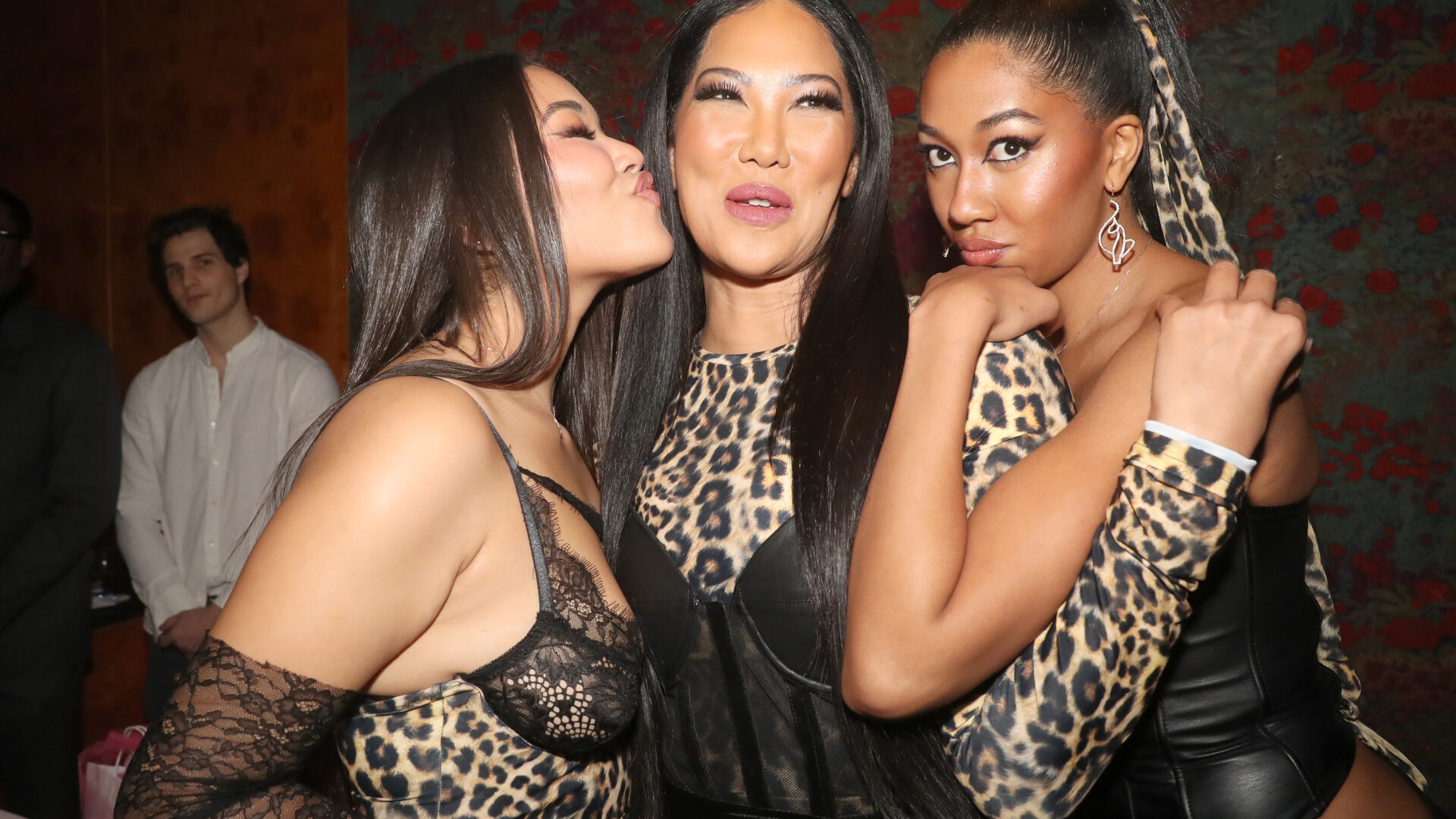 NEW YORK, NEW YORK – DECEMBER 09: Ming Lee Simmons, Kimora Lee Simmons and Aoki Lee Simmons attend Baby Phat By Kimora Lee Simmons NYC Fashion Presentation And Cocktail Reception at Cucina 8 1/2 on December 09, 2021 in New York City. (Photo by Johnny Nunez/WireImage)
On her experience with perceived nepotism in the industry:
"At a couple shows with Fashion Week, especially Sergio, because the runway was closer to the audience, a couple of people said something like, 'Is that Kimora's daughter?' It wasn't always negative or positive, it was just like making a note. I was like, 'Could you not say that mid-walk, because I'm going to trip.' I know, that was so dreadful. I think people are always going to have their opinions. I've been asked a couple of times why I haven't done certain shows that my mom has done because they assume my mom would just pick up the phone and I'd be in the show. I will be in those big shows when I go to the casting and they find me ready. That's not my mom's personality. I think people do think she's a little bit more hands-on with my career than she is. She's just very supportive and loving. She's like, 'If anyone does something wrong to you, or tries to not pay you, or tries something wrong, call me and I would always help.' But when it comes to normal model stuff, my mom is not calling to put me in front of the line. She's not making my fitting shorter. She's very much like, 'You have to deal with all that. Call me if you have a real problem, like someone assaults you. Other than that, let me know and figure it out.'
"I do think I'm being compared a little more. People will always say, 'Oh, you got this because of your mom. Don't be nervous,' and I'm like, 'My mom has a great walk, but that will not stop me from tripping.' I also get scrutinized a lot more – my walk is being compared to my mom's walk. I do think people kind of expand my experience because obviously walking Baby Phat as a kid was so fun, and it's very different from adult runways. I always say I would call this kind of my first adult fashion season. What I was doing when I was younger was very different. It was equally as enjoyable, but it was much more of a family thing. I mean also you're younger; you weren't thinking about the stakes for the job [and] just having a good time. It's just very different from adult fashion because you're an adult model."
On the biggest challenges of adult modeling:
"It's just scheduling, pretty much. It's easy to just get tired. The rough thing about modeling is a lot of it's about looking your best. You don't look your best, the more tired you get, you don't get enough sleep. and you don't look great. It's just trying to maintain my physical health, and not let it look like I'm tired or something. This is not that traumatic, but I've been staying in with my friends in Brooklyn, really far from the city, and for some reason, every casting and fitting I go to is 50 minutes from where I'm staying. The great thing was that Tommy's show was actually next to his place in Williamsburg.
"I would definitely also say rejection. Obviously, it's happened to every model, not getting certain stuff I went to the casting for. Going to a casting fund, was it negative or positive, and not really hearing after the casting? Then there's really, really great moments when you went to a casting and you assumed you weren't going to hear about it because in your opinion, didn't go well, and you get the job. When I was a kid, I was doing my mom's shows. There's no aspect of rejection in that. The ups and downs of the season have been interesting, but I wouldn't necessarily say hard. It's not like I'm asking for sympathy.
"If I get a show there's no sympathy. People just assume that I get every show that I want, and if I'm not in it, I must have chosen to not be in it. If I do get a show, people don't know that I've gone to certain show casts two, three, four times and been told 'no,' and come back. When I say I did the castings and I've been rejected and I came back, there still is an aspect of joy in that but I overcame maybe being moved back a few times. People just don't buy that. They don't think I've ever not gotten a casting, but I don't get them all the time. Most models don't get most of the castings they go to, and I'm no different. I don't get most of the castings I go to.
On her post-Harvard University plans:
"This year's my last year at Harvard, and I'm going to be modeling full-time after that. That's what I've decided to do. The great thing about this Fashion Week is it's been kind of a limited season for me because of school, just with the things that I've been able to do and had time to do. Even though there's a ton of nerves when I'm walking, or when I finish walking, I'm further reminded this was a good call. If I wasn't doing that, I would be probably applying to maybe a law school, a med school, or studying for the LSAT. Even though I'm not living in the city full-time yet, it's like, 'You made a good call, you did the right thing.' I'm really excited to move to New York and hop on that.
"My next few years, I'll be modeling and I would like to maybe have a podcast or something for young women who are in college talking about chasing your dreams while in college, managing that, and getting their head start on a creative career. Let's say you wanted to be a doctor, there's a lot of pre-med programs, pre-med clubs, and information on how to get started while you're still an undergrad. If you want to be in fashion or in the arts, it's very confusing and chaotic about how to do your thing while staying in school. A lot of modeling agencies and people will just say, 'leave school,' and I want people to know that you don't have to do that. If you want to complete your degree, you can.
"I always hope people can tell that I'm genuinely interested in modeling and you can't fight your way for people to be able see your perspective all the time. I do hope people know that it's just something that I really, really want to do and I'm not doing because I can't think of anything else. I could do a lot of other things and this is what I choose to do. I really applied a lot of the same principles I would use for school or for my internship with the mayor this summer. I used all those same tools toward proving [myself] as a model and seeing what I can do to churn things that didn't go my way. I want them to go my way next year, and the year after that. I do try to progress and grow."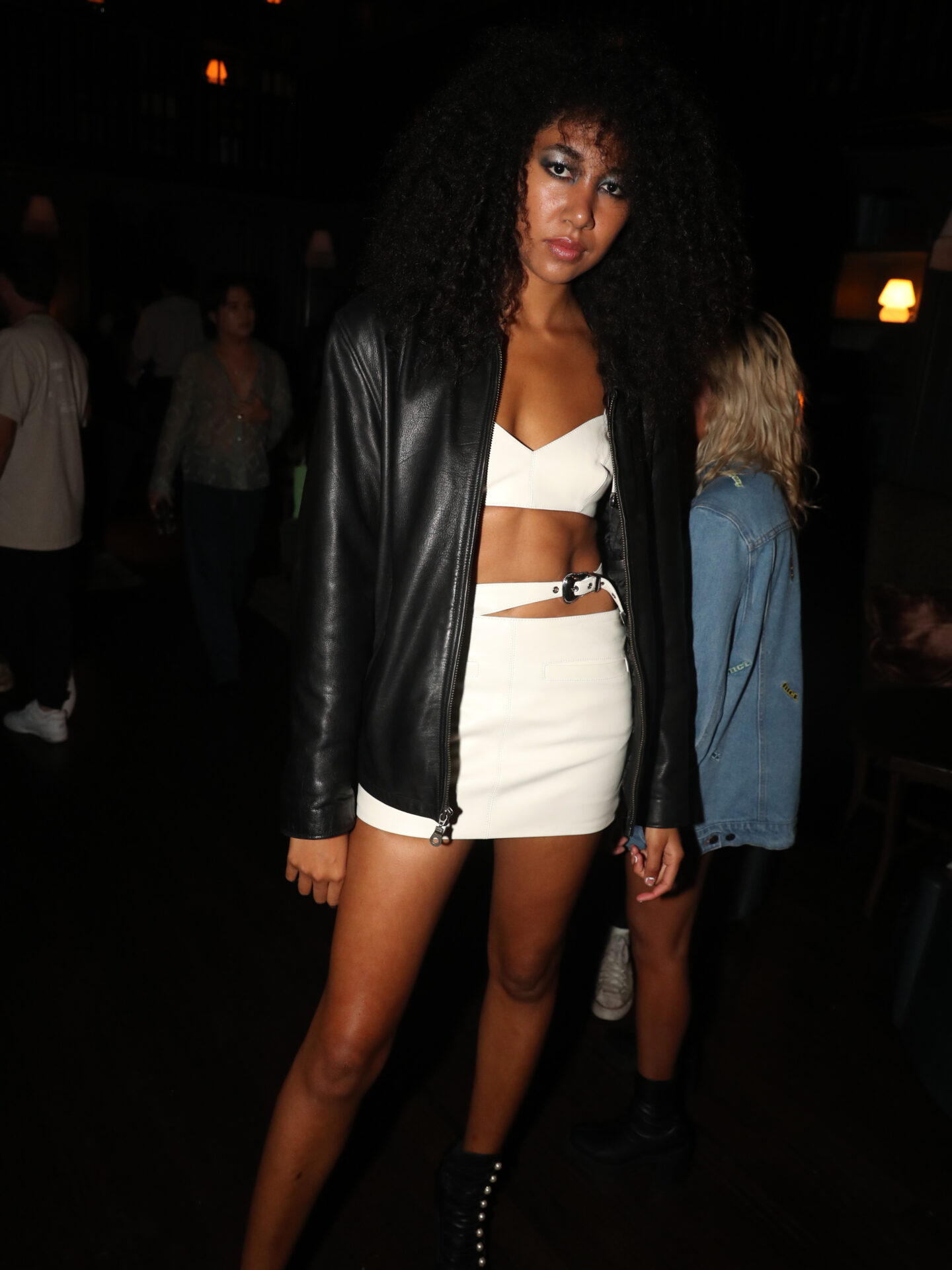 NEW YORK, NEW YORK – SEPTEMBER 11: Aoki Lee Simmons attends Flaunt Magazine Event at The Ned on September 11, 2022 in New York City. (Photo by Johnny Nunez/WireImage)
Aoki's Final Words:
"If you are procrastinating, stop now. Stop now. If you're going to do [fashion], you totally can. It is within you, but every minute counts. All the time in the day does count. You really [have to] prioritize your time, and get ready for it now because things can happen really quickly. If you don't have the right tools in place, it can be really hard to take advantage of all the opportunities you have. Do as much as you can with your time, and it'll also make you less stressed. You have more time in the day than you think you have."
Want to live in the shoes of Aoki for a day? Check out her official New York Fashion Week style Instagram Live takeover on ESSENCE Girls United's platform below.
About D'Shonda: Born and raised in Brooklyn, NY, D'Shonda Brown is the Associate Editor at Girls United. When she's not interviewing or writing, she enjoys running, dancing, buying sneakers, and binge-watching Lifetime movies.