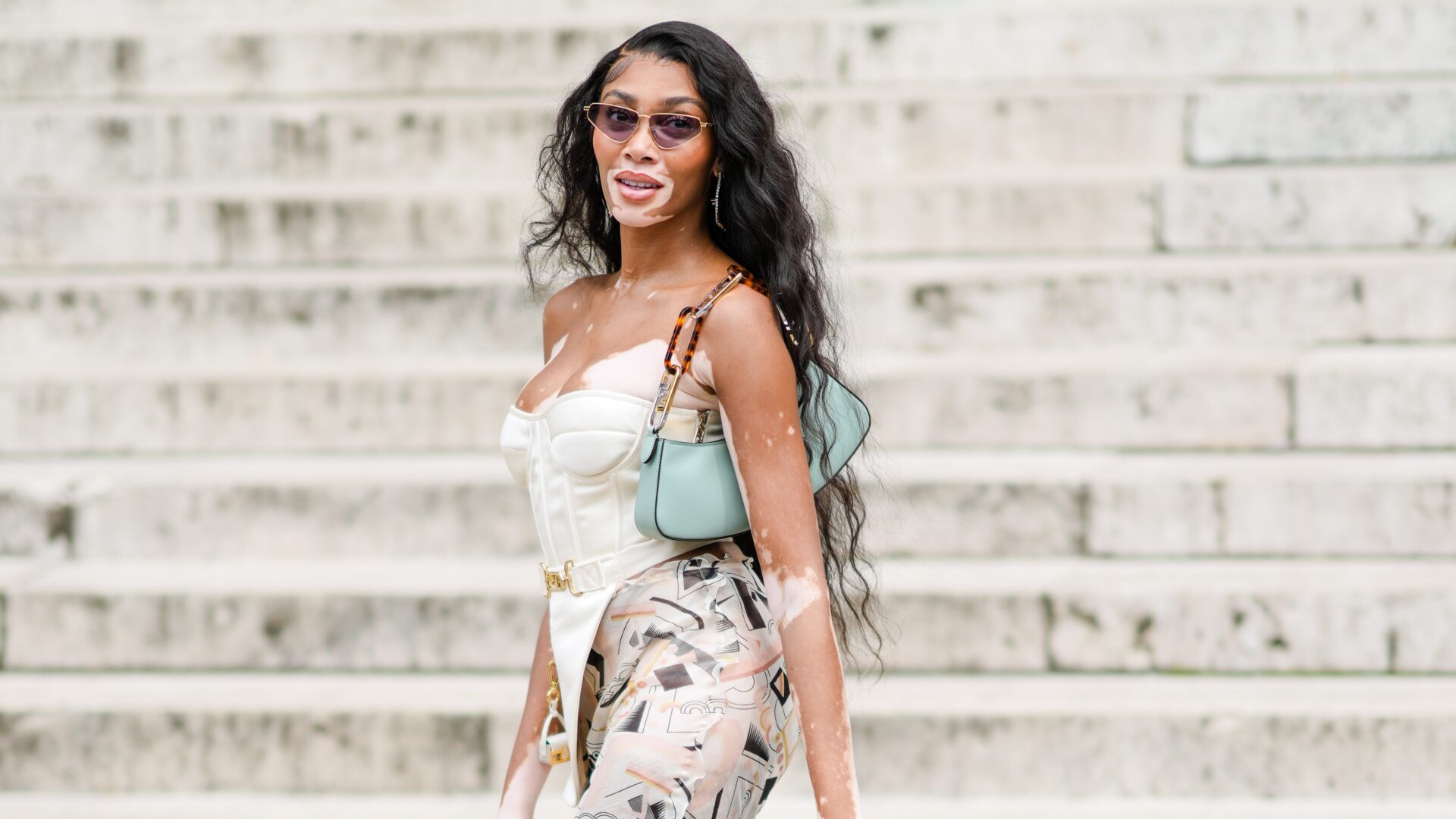 Winnie Harlow Is 'Annoyed' With The Algorithm, And Honestly, We Get Why
"Instagram doesn't want to be itself, but wants to tell us that we need to be creating unique content…"
"Annoyed" is how Winnie Harlow first described her mental health when we hopped on our Zoom call, but I wanted to hear her out. Fresh-faced from the gym, the world-renowned model candidly expressed her irritation with the Instagram algorithm, especially as an entrepreneur and avid user of social media.
In the midst of drafting her Instagram post (as seen below), Harlow said, "Just thinking about the Instagram algorithms and all the changes and how Instagram doesn't want to be itself but wants to tell us that we need to be creating unique content, but it doesn't want to be uniquely itself." Honestly, this is when I knew the conversation was going to be informative, inspirational, and eye-opening.
Apparently, Harlow has been "doing a study on it" for the past few months and became deeply invested in exploring the affects of the social media algorithm and how it impacts content creators. In comparison to the content that she produced last year, her engagement numbers have significantly decreased. For example, Harlow noted that her event recap of the CAY Skin x Tao Beach pool party average numbers for a post, but the trending "Kitana wins" audio from the Mortal Kombat games received the highest amount of views, likes, and comments she's ever gotten. The problem? This wasn't original content made by Harlow herself and is not a direct reflection of neither her personal nor professional brand.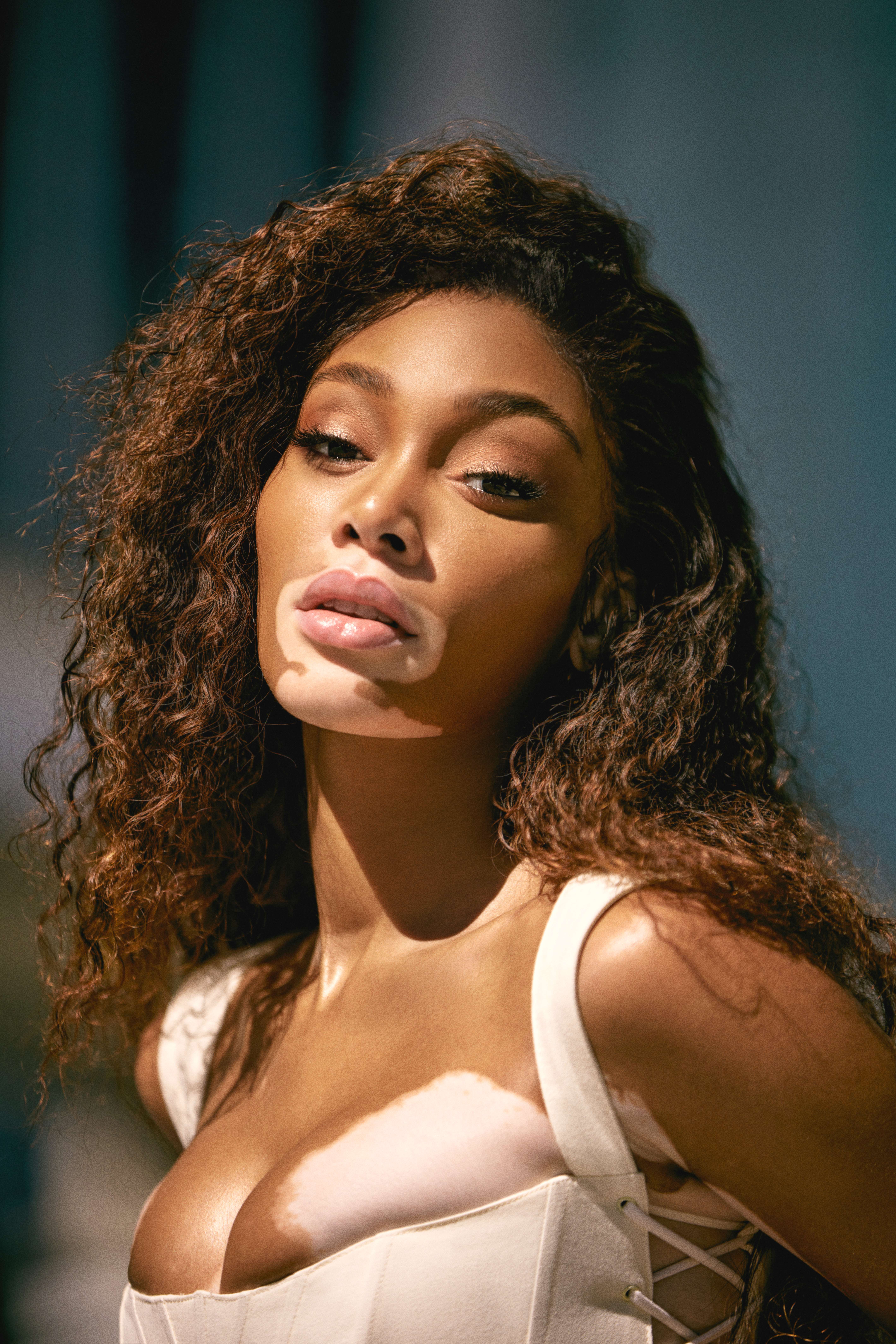 "Of course, everyone loves this trend, but this has nothing to do with my social media at all. This has 17 million views on Instagram and was nothing," Harlow said. "I'm not even excited that it has 17 million because it's not relevant to anything that is about me or what I am, or what I stand for. It's the most random un-unique content actually because everyone's been doing it. I showed you and you already knew what it was. Someone did it before, a million people did it before with the same sound, the same filter, all that and that's why it went viral. That is so crappy."
The former Making The Cut judge doesn't want to fall down the rabbit hole of creating trendy content just for it to be seen, and she shouldn't have to. Harlow, like many Black creatives, work hard to establish their follower count and online community based on their authenticity, personality, and personal brands. Now, thanks to the beloved algorithm, Harlow can't even see the posts of her actual friends unless they're creating content that follows a specific trend. Wouldn't that defeat the purpose of building a unique online community if you have to do the same things as everyone else to leverage your page?
As the fearless founder of CAY Skin, Harlow's daily suncare skin line, the conversation about authenticity on social media and lack thereof frustrates her even more. Because she prides herself in being one-of-a-kind, Harlow finds it to be "really difficult" when brainstorming marketing and social media ideas for her brand. Though she understands that she has to do what she needs to do to leverage visibility for Cay Skin, she doesn't want to compromise the integrity of why she founded the brand in the first place.
"I understand it. It conflicts with who I am, because I don't want to conform to doing what Instagram is saying I have to do, in order to be seen. I want to do things that are authentic to me. So it's like a rock and a hard place," she said. "I do get it and I know what I can do, but it's the same content that everyone is making. There's nothing new. There's nothing fresh."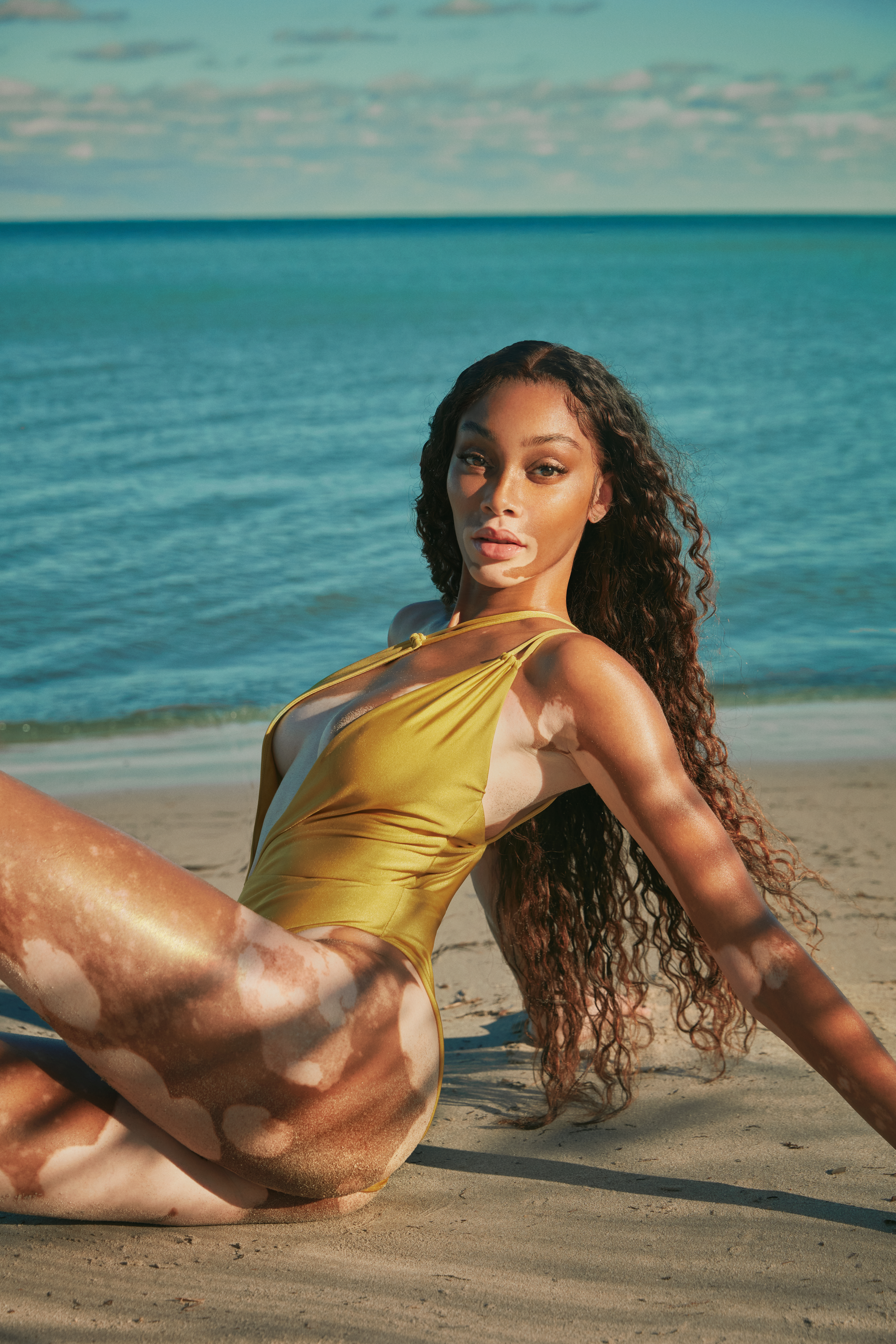 More recently, Harlow created a video for Cay Skin using the trending sound from Love Island, which introduced the newly launched Deepwater Lip Mask($22) and Deepwater Body Créme ($28). While the numbers were great, Harlow knows that the video doesn't demonstrate the product application, the active ingredients, the science and chemistry behind the product, or anything that really allows customers to get to know the brand a bit better. "That is what is pushing the content, which is so whack, especially because they're pushing unique content. It has to be something that you are creating either on the app or whatever the case is, but really when you think about it's not that unique," she added.
Harlow doesn't fault content creators, but strives to hold the social media platforms such as Instagram accountable for their need to push for creativity, but not amplifying it. "I think TikTok is great. It's not [about] the actual TikTokkers and stuff like that. I think they're amazing," she noted, as she continued to compare Instagram "becoming selfish" to fast fashion brands stealing and imitating ideas and products from smaller brands. "These brands are just getting too greedy, these apps are getting too greedy, these fast fashions are getting too greedy. It's like, you're already doing well; leave some space for the smaller people to also excel."
Beyond uplifting Black content creators and influencers, Harlow knows the importance of diversity, representation, and inclusion in Cay Skin – beyond it being a buzzword for press releases and media alerts. "My team has always been diverse even before Cay Skin," she said. Growing up in Canada, Harlow was always surrounded by diversity and wanted her experience to be reflected in the team she built and the people she serves. From her teachers of Indian heritage bringing bindis and cultural dress to class, to seeing her white classmates learning to play steelpan, Harlow said it was "natural" for her to want to be inclusive of all shapes, skin, and sizes for her beauty brand.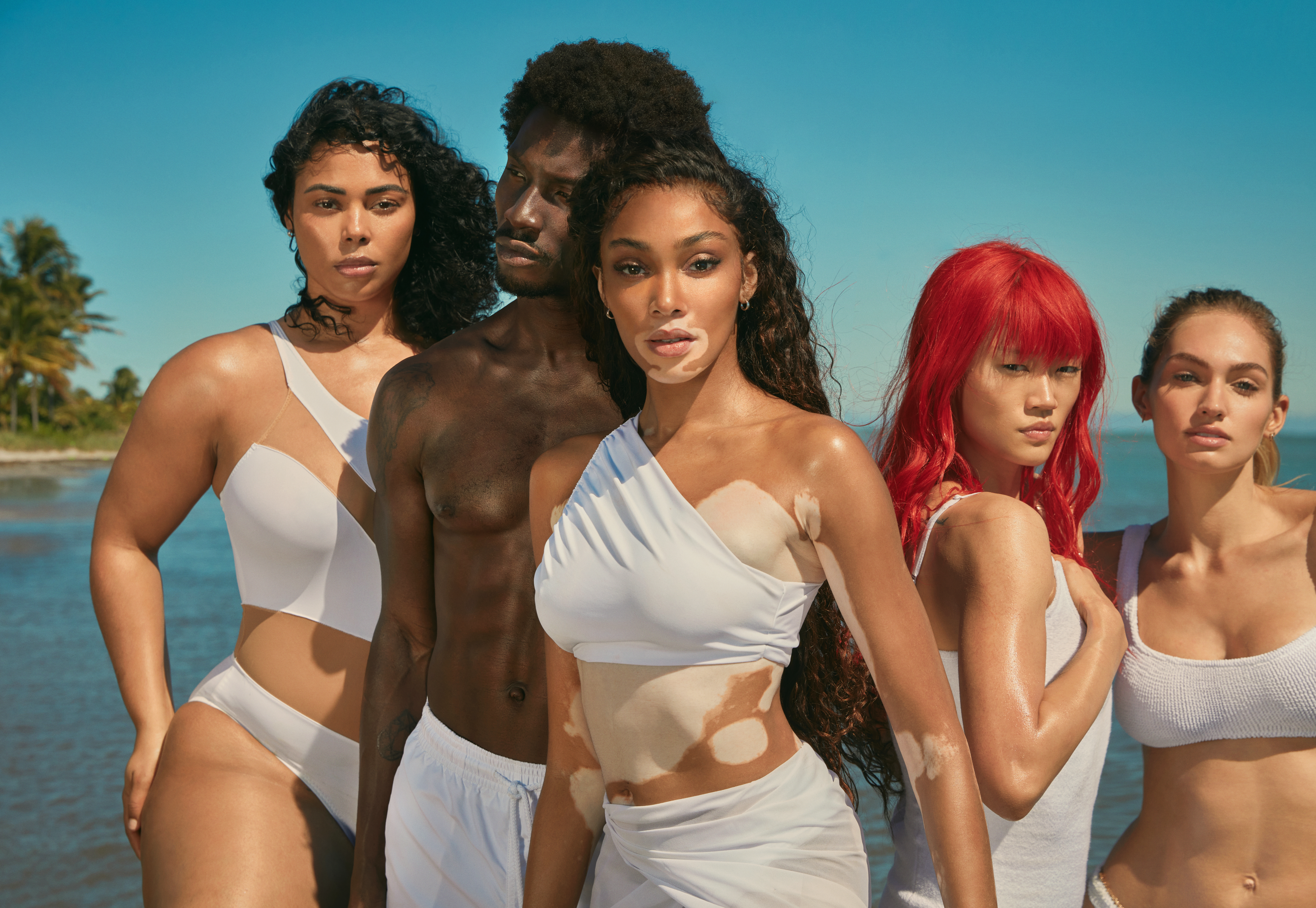 "I realized when I was making decisions based off of race, trying to hire someone based solely off of race, I would end up being fucked over. So it's not just about the race aspect of it or representation in an aspect of just making sure you fit this quota of being Black, biracial, Latina, or whatever the case is. You also have to be able to fit the mark of the job. You got to put the work in as well," she explained.
While advocating for diversity through her personal platform, Harlow is consistently learning how to stay authentic to her own brand in an ever-evolving beauty, fashion, and style industry. "I think we're all learning how to do it even better every single day. I think over my career, I was a little bit scared of representing, especially people who quote-unquote are different. My whole thing has been breaking down that idea of different because we're all different. If we're all different, then we're technically all normal," Harlow said with a smile.
"Why can't someone in a wheelchair be in a campaign with Bella Hadid instead of me? I'm not going to allow you to fit any of us into a box that I'm working to break down barriers for. I want all of those people to have the same opportunities that I'm working for and I'm not going to create that by allowing you to smoosh us all together in one box."
Photo Credit: Street Style – Paris Fashion Week – Haute Couture Fall Winter 2022 2023 : Day Four. (Photo by Edward Berthelot/Getty Images)
About D'Shonda: Born and raised in Brooklyn, NY, D'Shonda Brown is the Associate Editor at Girls United. When she's not interviewing or writing, she enjoys running, dancing, buying sneakers, and binge-watching Lifetime movies.