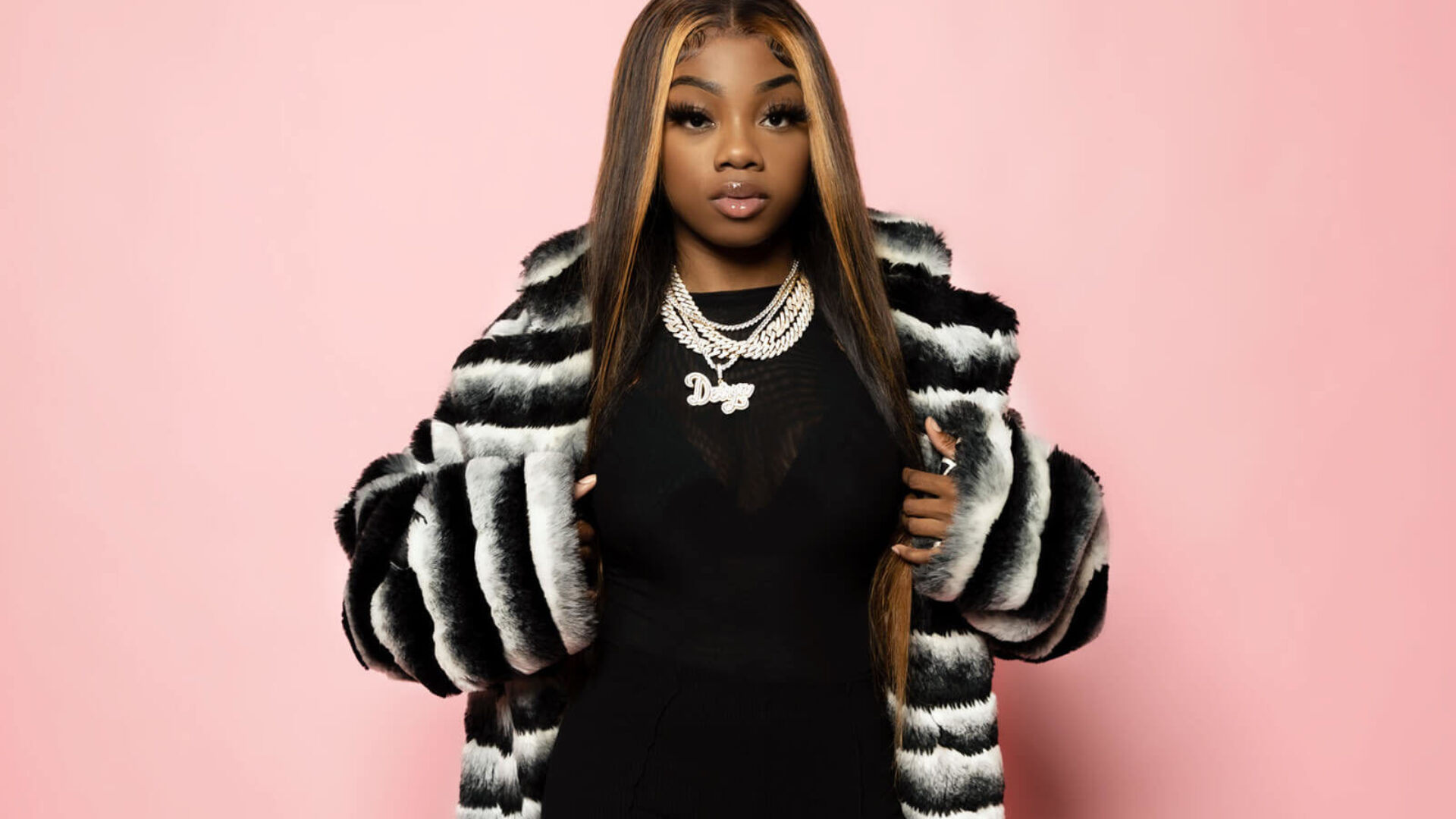 Young Devyn Is Up Next, And She's Taking Her Talents To Rolling Loud To Prove Why
The rapper is performing on the FashionNova stage at 2:50 PM.
Young Devyn has been one to watch, and if you're not keeping your eyes on her, then maybe it's time that you turn your attention. As she takes the Rolling Loud stage for a second time, this time on the FashionNova stage, she is delivering a new project, bigger features, and a look at what it means to be a true New York City bred drill rapping femcee.
"I just pray a lot. I'm very, very, very big on just divine order," Young Devyn revealed to Girls United about maintaining balance through laying tracks and preparing for Rolling Loud: New York. "Everything happens for a reason. Nothing happens by mistake, so I always just pray. I always pray, and it kind of just keeps me going through everything." Since receiving a fire emoji-framed co-sign from Bronx native Cardi B for her "Rap Sheet" track, Young Devyn's acclaim has continue to climb higher and higher thanks to the support of her fans.
Hot off the heels of Baby Goat 2, Young Devyn is gearing up to give the fans a show they won't forget in New York City's Citi Field. Featuring Fivio Foreign, Capella Grey, and Kenzo B, the rapper's sophomore project demonstrates her versatility while remaining true to her Brooklyn-based Trinidadian roots. With a nod to the rising New York drill rap scene and the exploration of integration through a Hip-Hop, R&B, and a Soca-infused lens, Young Devyn is continuing to show the music industry just why she shouldn't be the underdog.
"I don't even know how to describe what they could expect. I keep telling everybody, 'This is the project of the year, this is the EP of the year,' and I definitely think so," Young Devyn boasted confidently and excitedly. "I definitely think it's going to change how people view me as an artist, number one. Number two, I think this is going to put a different level of respect on female rap and open up a new lane."
Ahead of her Rolling Loud: New York performance, we caught up with Young Devyn about the moment when she started taking rap seriously, her Baby Goat 2 EP, and what fans can expect from her this time around on the stage.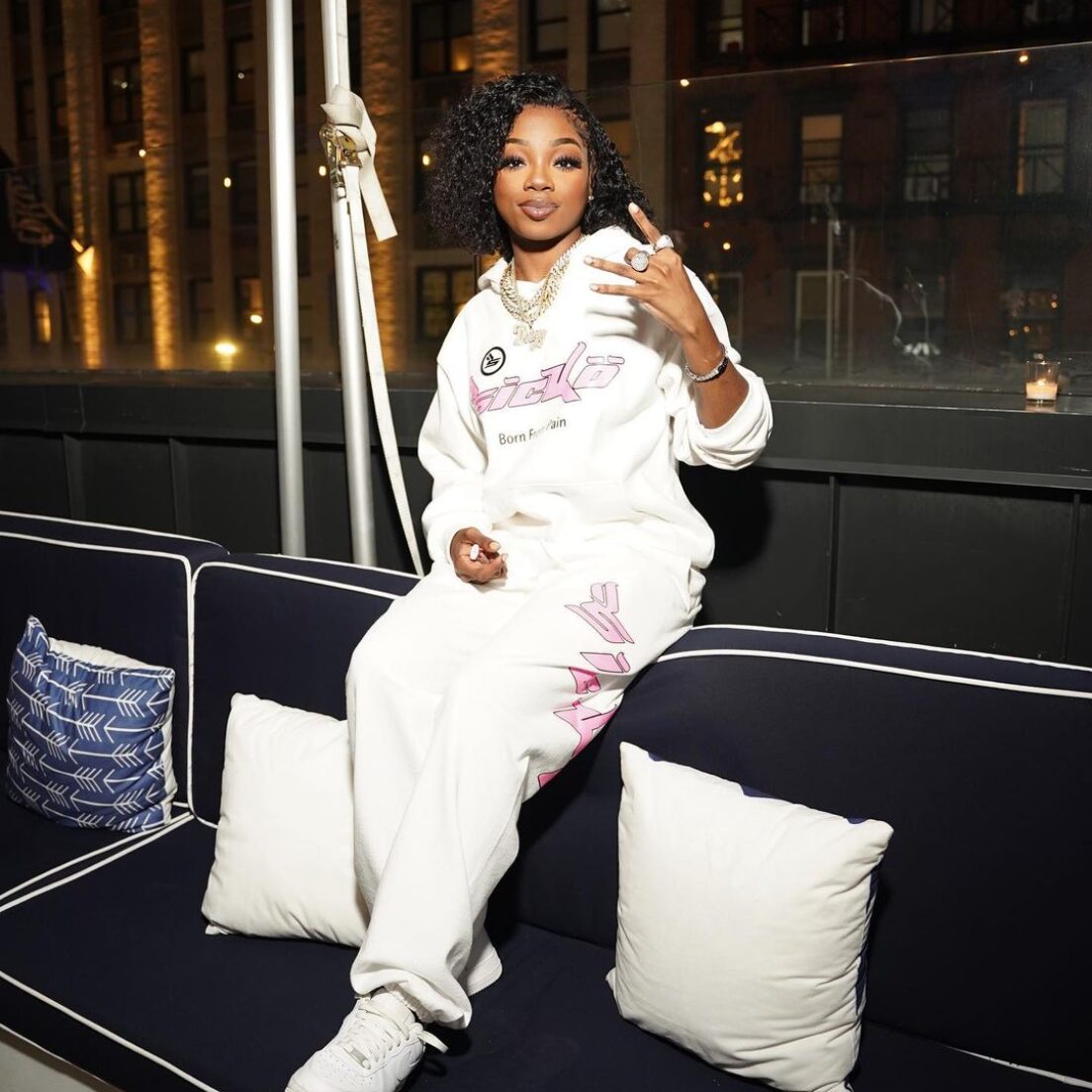 On when she started pursuing rap music as a career:
"It was when I was really young, like seven. I started performing at my school talent shows, and my teachers always used to say that I was super talented and I had a voice. I started getting booked for shows outside of my school because people thought that I was an actual child performer. They used to call my school asking to book me, and my principal used to be like, 'That's not a performer. She's a student.' I sang on a radio station one time, and people literally just started calling in live and booking me for shows. Performing and seeing the reactions of people kind of started making me like it. At first, I didn't even know what I was doing. I'm thinking I'm the kid just showing up to kids' parties, and I just so happened to keep performing.
"Once I started seeing, 'Wow, I'm making a little $100 here and there,' and I'm seven [years old], so it feels like I'm at the top of the world. I'm just like, This is dope. This is something that I enjoy,' but it wasn't even, at that point, where I was like, 'I want to take it seriously.' I went to Trinidad and my birthday was in December, so I had turned eight. At the top of the next year, which was in February, was Trinidad Carnival. I was out for like six months at the time, but I had no song. I had just released this song, I took it to Trinidad, and I sang it in front of a crowd of 30,000 people. This is my first time performing overseas, this is my first time performing in Trinidad, and they lost their mind. That's when I was like, 'Dang, this might be something that I want to see myself doing.'"
On the anticipation of Baby Goat 2:
"It doesn't even sound like an EP to me anymore. It really sounds like an album because just everything that I took my time with. The first part to the whole Baby Goat saga, with the first EP, was music that I was working on for a minute, finding my sound, finding beats on YouTube, and really honing in on my craft. This time around, building a little bit more notoriety, I was able to build more relationships where I was able to get features this time around or I was able to go into the studio every night. For some of these songs that are coming out, I probably have about 50 different versions with 50 different beats, 50 different choruses. I really went and combed through every single thing to make sure this project was perfect and it's the exact representation of where I want to take the state of female rap and rap in general. Like the topic base of drill and just everything about it. It's like exactly where I want it to be."
On the challenging part of this chapter of her artistry:
"I would say probably the most challenging part is just to stay focused within it all. Just being young, life being so fast, you have so much on your plate, and so [many] expectations to fulfill. Even if people try not to put pressure on you, you still have unspoken pressure that people don't know about that comes with just being an artist or just with being a center of attention. You might lose sight of what you started this for, because of the aspects and elements of fame and this music industry that nobody can really prepare you for, but it's really your job to stay really ground-based. I think I do a really good job at that by keeping the same people around me. The engineer that I've used for this project and my first project, that's been my engineer since I'm eight years old. We've developed the in-house base where we have built my sound. Even though I might use other engineers or go to other studios, I have the person that I have that 12-year relationship with."
On collaborating with Fivio Foreign on their "Outside" single:
"He actually hit me up and asked me to be on my song. It was crazy. I posted a snippet of it on my Instagram, and it went crazy. Somebody snatched it from my TikTok, and that's when I knew I had a moment. I think the next day after I posted the snippet, Instagram went down and everybody was scrambling on Twitter talking about it, and then it came back up. While Instagram was down, my song was going viral on TikTok, my song was going crazy on Twitter. Fivio DM's me, and he's like, 'Yo, send me this record.' I texted him the song and he was like, 'I'm going to go crazy for you. This is a hit.'"
"He was super fresh off of Kanye's album. I'm talking about a week out so he's probably feeling like the top of the world, and as he should. I know even if I did send him the song, I knew I wasn't going to get that verse right away because I know he's moving around. He really kept his word. Two days later, we ended up linking in Atlanta. He pulled into the studio and I watched them rap from where you guys hear his verse all the way to the end of the beat. The chorus that's out now, that wasn't even there. He rapped to the end of the beat, and I had to go back in and create a chorus. It was a really dope process because he genuinely loved the song. It wasn't a label hookup or anything. This was him showing genuine love, which is why everything that's happened afterward, since the single has been out, has been genuine. He's just as excited as me, and that's what I love about it. It wasn't a business move. This is really home team, real love, and people are seeing that and respecting that more."
On how she plans on stepping up her performance game at Rolling Loud:
"I definitely think just the comfortability because the first year I was definitely nervous. I always dreamt of performing at Rolling Loud. I tell people this all the time – I used to leave school early, go home, go in my room, put my headphones on, and act like I would be performing out Rolling Loud. To manifest that and performing in my room to physically performing on the stage, was such a mind-boggling experience for me last year. I was more so caught up in that. Regardless, the performance was amazing, but I feel like I got it now. I'm comfortable. People know my face. It's just going to be a good time."
On advice she'd give to first-time Rolling Loud music festival performers:
"Just be yourself [and] try to be very interactive with the crow, because that's what the audience is for. There [are] different shows that bring out different types of demographics and different audiences, and I definitely think that Rolling Loud is the show where if you make them fall in love with you. They'll do anything you say, they'll jump, they'll show love. From the minute I walked on stage, even people who didn't know my music still were going crazy and screaming because they saw my energy and respected my confidence. I will always tell people to go out on stage, be yourself, and be confident because people read you. If you're not confident, the crowd will read that, and you'll give that energy off. Even if it's about two people raising their hand out of the 100 that you told to raise their hand, you know you're doing something so just keep that energy up."
About D'Shonda: Born and raised in Brooklyn, NY, D'Shonda Brown is the Associate Editor at Girls United. When she's not interviewing or writing, she enjoys running, dancing, buying sneakers, and binge-watching Lifetime movies.