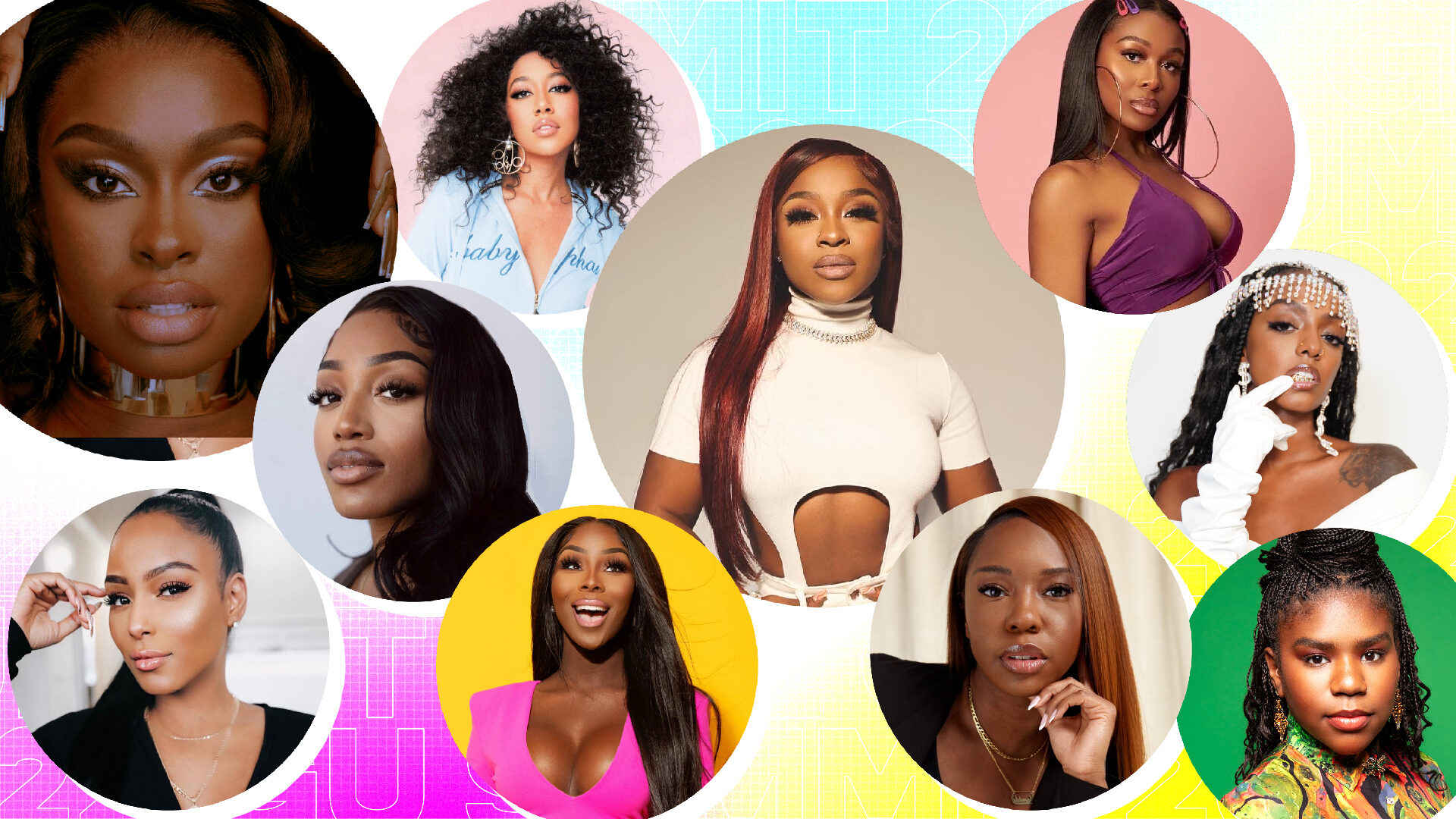 Girls United Summit Lineup: Jayda Wayda, Reginae Carter, Aoki Lee Simmons, And More!
These women and girls are certainly #ForeverTheBlueprint
The Girls United Summit is back and better than ever! Mark your calendars for November 5, 2022, because the GU Summit will turn up the #ForeverTheBlueprint energy several notches in Atlanta. Prepare to mix and mingle, learn something and make your voice heard in a judgment-free zone. This year's summit is brought to you by major sponsors: The Coca-Cola Company®, along with supporting sponsors, SheaMoisture, Ford, and American Airlines.
This will be an experience of a lifetime. The GU Summit will have everything from career advice and networking events to beauty activations and gaming, showcasing the different layers that Black women, girls, and gender-expansive people bring to the culture unapologetically. Our talent is a diverse group of women who embody the #ForeverTheBlueprint mantra.
Of course, Girls United had to bring the heat with our special guests and bring the conversations you may have on your timeline and bring it to the forefront during the summit. We're here to get the youth together and bridge the gap between different generations to create ongoing discussions that fuel the change for the future.
The Summit will also stream live on ESSENCE Studios. For more information and to RSVP through our free registration, visit https://girlsunited.essence.com/gusummit2022/. Check out our full lineup for GU Summit 2022:
Jamesa Bailey (Director of Black Campaigns at Planned Parenthood)
Bailey represents #ForeverTheBlueprint by advocating for reproductive rights and will join the GU Summit to discuss the importance of spreading awareness to the next generation through Black campaigns at Planned Parenthood. According to Forbes, Bailey expanded the program from 5 to 14 states within a year and a half and increased the program budget by 200%.
Tiff The Barber (Celebrity Barber)
This celebrity groomer has all the tips and tricks ready for the numerous beauty activations at the summit to create an interactive experience. You know you're #ForeverTheBlueprint when you're a woman killing it and able to stand out as a barber.
Reginae Carter (Reality Star & Entrepreneur)
She's been #ForeverTheBlueprint since the first time we met her. Reginae Carter has grown up before our eyes, and she's never been one-dimensional. From singing and rapping to hosting and business, Carter shows the girls how to get to the bag and never become stagnant.
Amber Dee (Founder and CEO of Black Female + Male Therapist)
Being #ForeverTheBlueprint means standing up and having meaningful conversations, and mental health is at the top of the list. Amber Dee is breaking barriers with her ongoing fight to better mental health worldwide for Black women and men.
Latoya Forever (Entrepreneur and Content Creator)
LaToya will always be on the wave of #ForeverTheBlueprint when it comes to being an OG content creator. She's shown, Black women all over that they can create an empire and platform through Youtube.
Kenya Hunter (Health Reporter at Capital B Atlanta)
The importance of health awareness for Black women and girls will always be the priority. Through her work and storytelling, Kenya Hunter is #ForeverTheBlueprint spotlights health concerns in the Black community.
Paige Hurd (Actress)
It's always amazing to see stars you've grown up watching become OGs in their field to usher in a new class of creatives. Paige is #ForeverTheBlueprint because of her authenticity in Hollywood, allowing people to fall in love with her anytime she graces the screen.
Coco Jones (Actress & Host of GU Dinner Program)
Coco Jones embodies being #ForeverTheBlueprint through her resilience to fight for what she believes in when it comes to advocating for dark skin women in the entertainment business. The Bel-Air actress will also serve as the GU Summit dinner host honoring several changemakers.
Brandy Merriweather (Founder of BStarPR)
She's been creating a lane for herself and living the #ForeverTheBlueprint lifestyle by using her platform to represent people and support creatives representing Gen-Z. BStarPR provides public relations and digital creator support for the next generation and is a resource for upcoming talent.
Chelsea Miller (Co-founder of Freedom March NYC)
Leading by example is extremely important for the next generation to follow, and that's exactly what Chelsea Miller is doing to be #ForeverTheBlueprint by creating a civil rights organization for young people and being an example that nothing is impossible. Freedom March NYC launched some of the largest Black Lives Matter protests through social media and continues to be a voice for Gen-Z. 
Olamide Olowe (Founder and CEO of Topicals)
She's more than a businesswoman, she's building a brand made for us by us. Olowe showcased #ForeverTheBlueprint behavior through her decision to create a skincare line that caters to Black women and the nourishment our skin needs.
DJ Ohso (DJ)
Being a female DJ in such a male-dominated industry is #ForeverTheBlueprint energy. DJ Ohso will keep the vibes right during the summit to welcome everyone for a mind-blowing experience.
Alycia Pascual-Pena (Actress & Podcast Host)
Recognize this face from somewhere? You may have seen her in Peacock's revival of Saved By The Bell. The Afro-Latina Gen-Z'er always uses her platform to advocate and speak up for marginalized communities, especially those injustices and issues impacting Black and brown girls. Catch the Dare We Say podcast host and Moxie star at this year's Girls United Summit!
Aoki Lee Simmons (Model & Advocate)
Talk about creating your own path. Aoki is #ForeverTheBlueprint through her advocacy for fashion and education. The 20-year-old is multidimensional as she can pursue her passion for fashion and study at Harvard to achieve her Bachelor of Science degree in computer science.
Kaleah Slay (CEO of Slayology)
Slayology will always be #ForeverTheBlueprint for Black women of all ages, and Kaleah will share her skills with us during our "Slay Your Life" workshop. She'll break down all of her tips and tricks for maintaining hair and let guests pick her brain about her entrepreneurial journey, such as hardships, success, and how to elevate your business.
Nikko Smith (Celebrity Wardrobe Stylist)
From tips on how to look expensive on a budget to mixing prints and patterns, Nikko Smith is #ForeverTheBlueprint through the merging of social media and fashion that helps many people learn style tips right from their phones.
Trinitee Stokes (Actress, Author and Speaker)
Not only is Trinitee a multi-hyphenate with her singing, acting, and fashion, but she also carved her path after becoming the youngest person admitted into Emerson College, crowning her as being #ForeverTheBlueprint for young girls.
Ayana Taylor (Actress)
For Ayana, being on the grind in Hollywood helped her journey of becoming an award-winning actress. She's #ForeverTheBlueprint by showing young people that anything can happen with hard work and dedication.
Jayda Wayda (Actress, Influencer, and Business Mogul)
Jayda is a businesswoman, but for many Gen Z'ers, she's also been on our social media timelines for several years, being #ForeverTheBlueprint and showing young girls that they can hustle and capitalize off of their likeness and create an empire online.
Jessie Woo (Actress and Media Personality)
Being a triple threat is an understatement for Jessie Woo. Whether acting, comedy or singing, she's showing what it means to carve a path through social media and being #ForeverTheBlueprint.
Mariah Young (VP of Planned Parenthood Generation Action at Clark Atlanta University)
It doesn't matter where you are in life, change can happen at any given moment, and it can start right on your college campus. Young symbolizes #ForeverTheBlueprint by creating a space for the youth to discuss reproductive rights openly.

About Kenyatta: Kenyatta Victoria is an entertainment and culture reporter passionate about music, pop culture, and marginalized stories. She has bylines in publications such as Chicago Reader, INSIDER, Girls United, TransLash Media, and the Chicago Tribune.