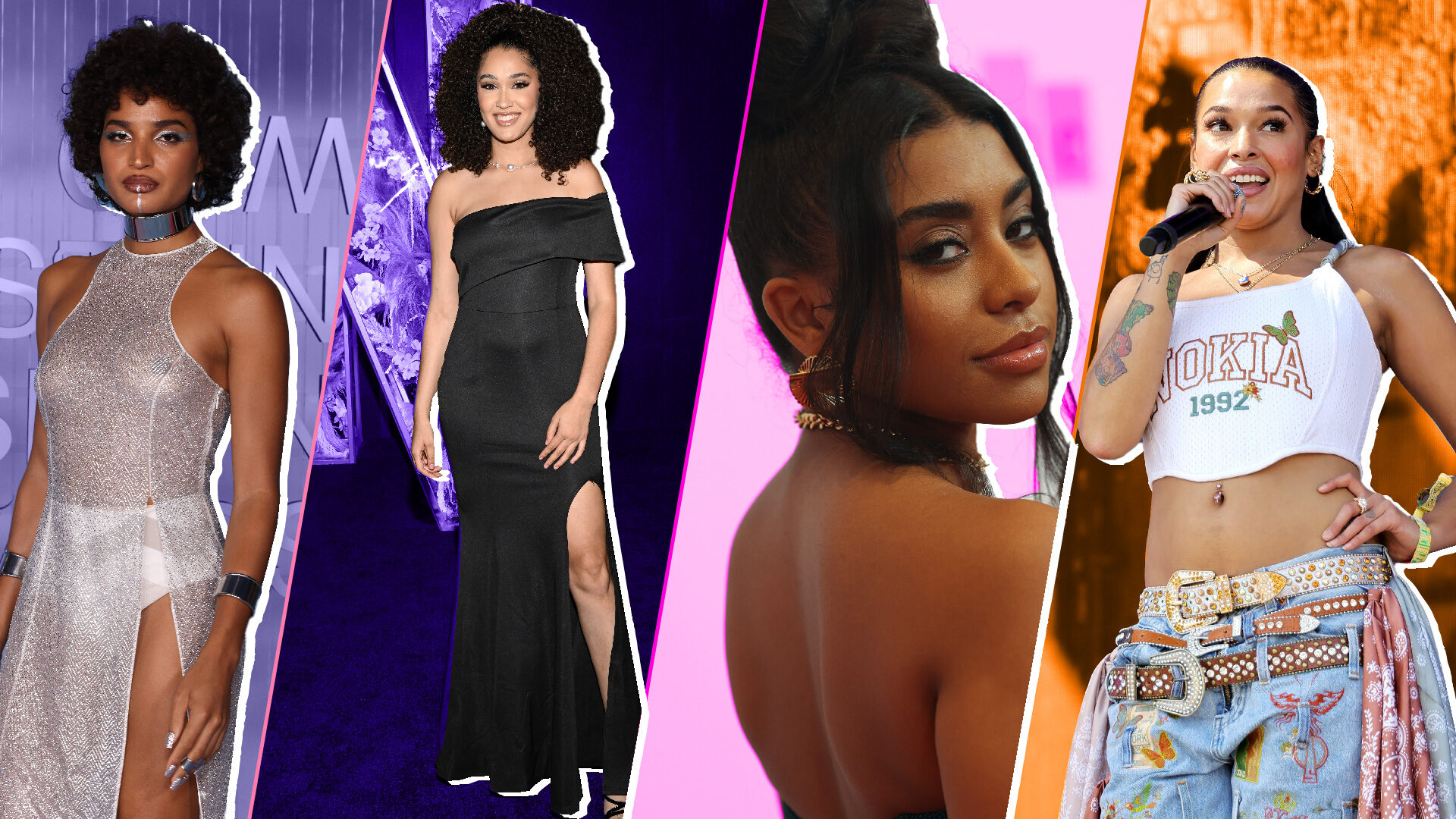 Zillennial Latinx And Afro-Latina Stars To Keep On Your Radar Beyond Hispanic Heritage Month
From Indya Moore to Lee Rodriguez, we're celebrating these stars all year round!
Hispanic Heritage Month, though dating back to 1968 when it was originally founded as Hispanic Heritage Week, was established to celebrate Latinx backgrounds and culture from September 15th to October 15th.
Celebrations across the country have acknowledged the efforts of Latinx people striving to make an impact in their communities and beyond in television, film, music, philanthropy, and more. Here at Girls United, we're celebrating our favorite Afro-Latinx Zillennials for the next month, this year, and beyond just Hispanic Heritage Month. 
Alycia Pascual-Peña
Best known for her role as Aisha in the Saved by the Bell reboot, Alycia Pascual-Peña was speaking Spanish on set and producers decided to make the character Latinx, paying homage to Pascual-Peña's roots. In her breakout role on the Peacock streaming service, she tackled topics from sexism to abuse.  She currently is one of three podcast hosts on Crooked Media's Dare We Say alongside Moxie co-star Josie Totah and Yasmine Hamady.
Lee Rodriguez
Seen on Netflix's Never Have I Ever as a proud robotics teen fanatic Fabiola Torres, Rodriguez translates the same honesty and charm off-screen as well. Heavily advocating for the representation of dark-skinned actresses in Hollywood, colorism, and genuine queer storytelling, the 22-year-old is quickly making strides in her career. 
Sierra Capri
Playing the outspoken and honest Latinx character Monse Finnie on On My Block, Capri is often defined as bossy in the show, and we define her as a boss overall. Making sure she secures multiple bags for herself and others, the American Skin starlet was the face of St. Ives recent campaign to grant one college student a $50K scholarship and a year-long supply of St. Ives products. 
BIA
Being on a consistent grind to fulfill her goal of being a rapper, BIA left college to become a bartender to pay for studio time. Since then, the former Sisterhood of Hip-Hop star has toured and laid tracks with some of our industry favorites from J. Cole's "London" to "Whole Lotta Money" featuring Nicki Minaj on the remix. With the launch of her Beauty For Certain makeup line earlier this year with Dolls Kill, BIA is letting us know that she knows how to "Skate" her way to the bag. 
Ibeyi
A nod to their Nigerian roots, Ibeyi translates to "twins" in Yoruba. Made up 27-year-old twin sisters Lisa-Kaindé and Naomi Diaz, the pair combines French, Afro-Cuban, and Spanish inspiration as they sing in four different languages. As they stay true to their cultural background, this duo's music allows listeners to vibe out while getting some culture.
Rico Nasty
This "Poppin" singer-rapper came out the gate with hits, and that's why we'll always root for Rico Nasty. Known for her eclectic style and cutthroat flows, Rico began self-releasing her mixtapes while in high school and nearly 10 years later has risen to the top of the industry, collaborating with Megan Thee Stallion, Flo Milli, and Doja Cat, Rico is big on bringing up other rappers with her, and we have no choice but to stan.
Tori Kelly
From voicing Meena in the family-friendly movie Sing to making it to Hollywood on American Idol in 2010, it's obvious that Tori Kelly's voice will forever give what it needs to. With her Puerto Rican, Jamaican, German and Irish roots, the "Should've Been Us" songstress grew up exposed to a variety of musical genres which inspired her sound today that has taken her to and through The Masked Singer, Sesame Street, The Voice, and more. In 2018, Kelly released her first gospel album Hiding Place, which was co-produced by Kirk Franklin.
Princess Nokia
After being eligible for government assistance and the once-distributed Obamaphone, Princess Nokia created her stage name as a nod to her upbringing in East Harlem and NYC's Lower East Side. Identifying as a bisexual and gender nonconforming person (she/they), Princess Nokia often nods to her fellow New York City-based LGBT+ community as many of her early performances were in gay clubs. The rapper-songwriter born Destiny Nicole Frasqueri prides herself in her afro-indigenous and Latino culture.
Indya Moore
Named one of Time's ​​100 most influential people in the world in 2019, Indya Moore has become an icon for the LGBTQ+ community through advocacy work and while playing Angel Evangelista in FX's Pose. Taking the liberty to leave home at an early age, the Escape Room 2: Tournament of Champions star always makes sure she keeps a bag from starting her own production company to being the first transgender person to appear on the cover of Elle Magazine. Did you also spot them in Lena Waithe's Queen and Slim?
Madison Reyes
At age 14, Reyes was cast in her breakout role as Julie in Netflix musical Julie and the Phantoms. In the last year, the now 18-year-old has released her first single, EP, and has been nominated for a Daytime Emmy Award. 
Herizen Guardiola
Born to a Cuban reggae musician, Guardiola likely knew at an early age that artistry was in her blood. Best known for her role as Mylene in The Get Down alongside Jaden Smith and Justice Smith, Guardiola has made her name as an actress and singer as she sang on many of the show's songs on the soundtrack. 
Jaylen Barron
Beginning her acting career with recurring roles on Good Luck Charlie and Shameless, Barron attributes her ability to quickly adapt to roles to her fast-paced environment on the Shameless set. Since then, the 25-year-old has served as the main character in Netflix's Free Reign series and films as Zoe Phillips and is currently starring in the Starz series Blindspotting alongside Jasmine Cephas Jones. 
Ariana DeBose
As one of Time's 100 Most Influential People in 2022, DeBose is stepping on necks and isn't letting up any time soon. With her role as Anita in West Side Story, DeBose became the first queer woman of color to win an Oscar for acting, and her compelling acceptance speech went viral and remains in our hearts as we continue rooting for her! 
Leslie Grace
Recording and releasing her first album as a middle schooler, it was evident that Grace would be an entertainer with much success. Since then, she's received multiple Latin Grammy Nominations, starred in the Tony Award-winning musical In the Heights, and become the face of Colgate Toothpaste. Grace also starred in the now-cancelled Batgirl series adaptation from DC Comics.
Melii
Though she's stepped away from music, we will continue to show love to Melii's bilingual rap that brought a special style and flare to the industry just a few years ago. As we all go through life's hurdles, we'll always do what's best for ourselves and that's all we can hope our good sis Melii is doing, too!  The Afro-Latina artist also received the ultimate cosign when her song "Icey" was featured in Beyoncé's Icy Park Collection advertisement back in 2021.
About Kyla L. Wright: Kyla L. Wright is a contributing writer at Girls United and was born and raised in Detroit, Michigan. She is a proud graduate of Hampton University and Syracuse University and her beats include opinion, entertainment, sports, and lifestyle.