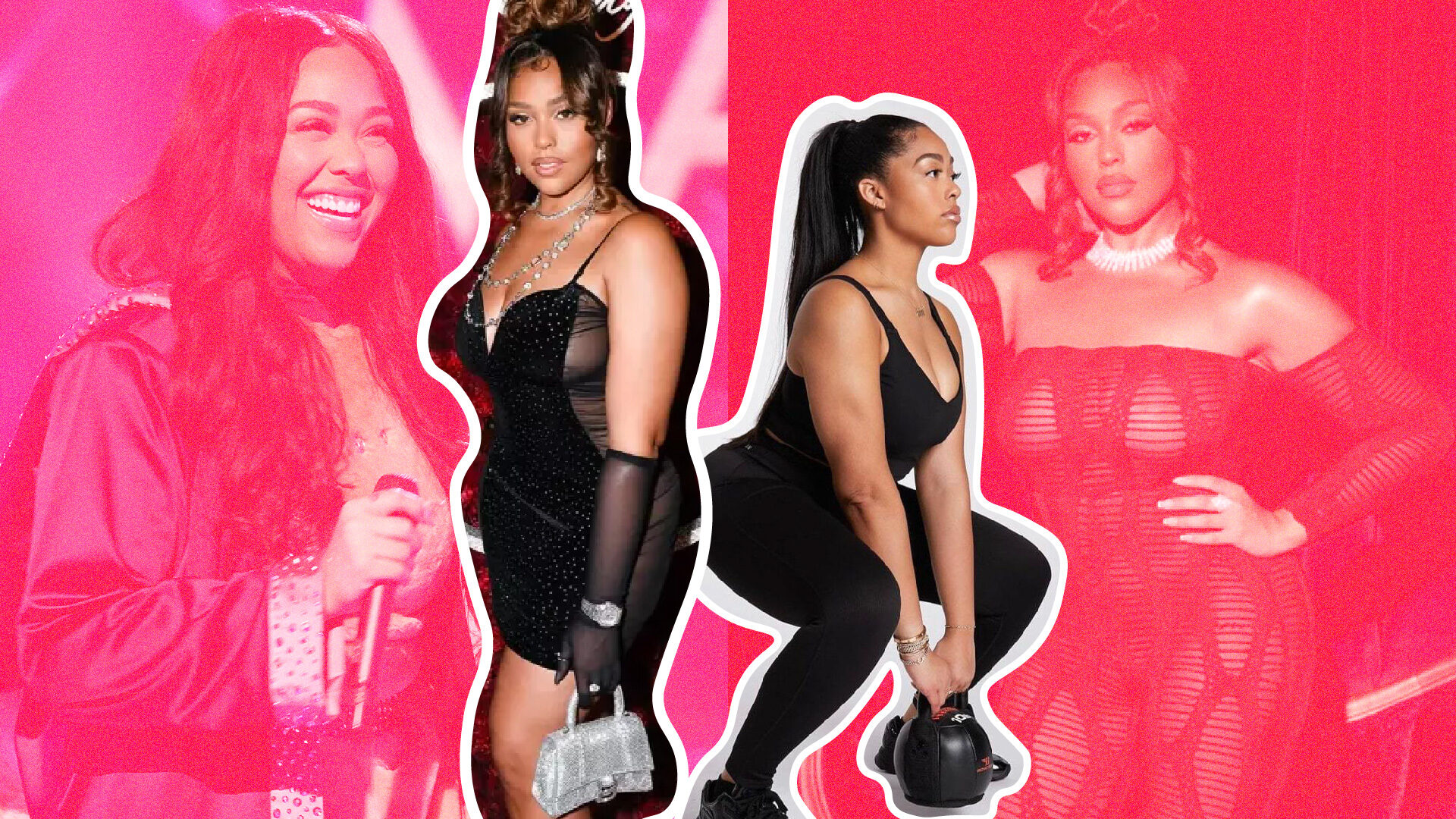 Six Moments When We Were Totally Team Jordyn Woods – And Why We Always Will Be!
The influencer and model turns 25 years old today.
Model and socialite Jordyn Woods is celebrating her 25th birthday today. At such a young age, "Heir Jordyn," as she's known on social media, has made a name for herself by constantly giving people something to talk about in the best way possible.
Whether it's loving on her boyfriend Karl Anthony Towns in her relationship, rejecting pregnancy rumors churning out of the social media mill, or her latest business ventures and collaboration, it's safe to say that Woods is guaranteed to keep you on your heels. As she should! Growing up in the spotlight can't be easy yet Woods isn't afraid to be vulnerable. Ultimately, Jordyn is a give-it-to-you-straight type of gal and there seems to be no intention of letting up anytime soon.
To celebrate her solar return, Girls United has rounded up a few of the lovable and fun-loving Libra's best moments in style, fashion, music, and love.
The time she debuted on "The Masked Singer"
Jordyn surprised us all just two years ago when she was revealed as the Kangaroo on FOX's The Masked Singer. Although she was eventually eliminated from the show, she made it to the top 8 and discovered a voice she never knew she had. "I felt like this was an opportunity for people to see a different side of me that not even I knew existed. It's been so much fun," said Jordyn humbly, unmasked to the judges and crowd.
Furthermore, Jordyn discussed being the underdog as a child, showcasing her resilience by continuously moving forward and not allowing bullying to stop her. She added, "The things that happened to you don't define you, you define you. So just make the best of life."
The time she debuted her clothing collaboration
Just in time for her birthday, Jordyn has partnered with fast fashion brand SHEIN with a collaboration titled SHEIN X Jordyn. The affordable collection has a Moulin-Rouge theme with a price range of $7 to $47 USD. Jordyn told E! News, "It's really about taking something simple and adding your own touch and your own accessories. The beauty of this collection is its simplicity." Jordyn sure knows how to celebrate her birthday in style! Shop the fab collection here, with plus sizes included on the SHEIN site.
The time she owned her sexuality through her Playboy collaboration
We love an empowered woman, and Jordyn's collaboration as a new creator with Playboy's CENTERFOLD platform shows just that. Whether she is feeling totally confident or having an off-day, Jordyn confessed to ESSENCE that as a young Black woman, owning her body and who she is is the option. "Growing up, I never felt like I was the sexy girl. Now that I'm finding my confidence as a young woman and blossoming, I'm like, 'This is me standing in my power'," she said. Without a doubt, she came to slay and tastefully so, might we add!
The time she took charge of her wellness journey
Jordyn has been openly candid about her struggles with body image, but she took her power back with her very own app and online community FRSTPLACE. Jordyn said in a previous interview with HelloBeautiful, "I've had people comment on my body since I was ten years old."
She continued, "It took me understanding what I said before about my individuality to really gain my confidence. And it's still something I work on every single day. But if you're happy with you, it doesn't really matter what anyone else says. For me, fitness became a therapy for me after losing my dad." As we know, health is wealth and the app not only helps you reach your fitness goals but offers a journal, cooking recipes, a water tracker, and shopping for fitness gear and equipment for the baddie that wants to keep themselves accountable on their wellness journey.
The time she officially claimed Megan Thee Stallion as her bestie
Birds of a feather flock together and it's safe to say that this duo is the definition of "bag securing baddies." In addition to her bestie Kennedy Rue, cousins Willow and Jaden Smith, and her mini-me Jodie, the now 25-year-old keeps her circle tight with loved ones who will always continue to champion her as she does for them. Jordyn and Megan the Stallion becoming besties is not as unlikely as one would think. Jordyn was even featured in Meg's "Body" video and made it Instagram official when they took over our timelines with their "Hot Girl Summer" shenanigans. We'll gladly join the friendship group if they're accepting applications!
The time she was a supportive girlfriend to Karl Anthony Towns
Last October, the basketball player admitted that he leaned on Jordyn after the loss of his mother. The couple connected over the mutual grief of losing their parents, as Jordyn lost her father to cancer when she was 19 years old. This past May, when the two celebrated their two-year anniversary, Jordyn supported her man as they visited the White House on behalf of his social justice work. They certainly have come a long way from the "brother vibes" Jordyn alluded to on her Instagram series, Regular-ish, which made its debut on her platform last year.
About Candis: Candis is a self-proclaimed dreamcatcher, as she manifested her dream career as an author/freelance writer. When she's not writing she loves to paint, watch documentaries, attend concerts, and sing her heart out in the car.