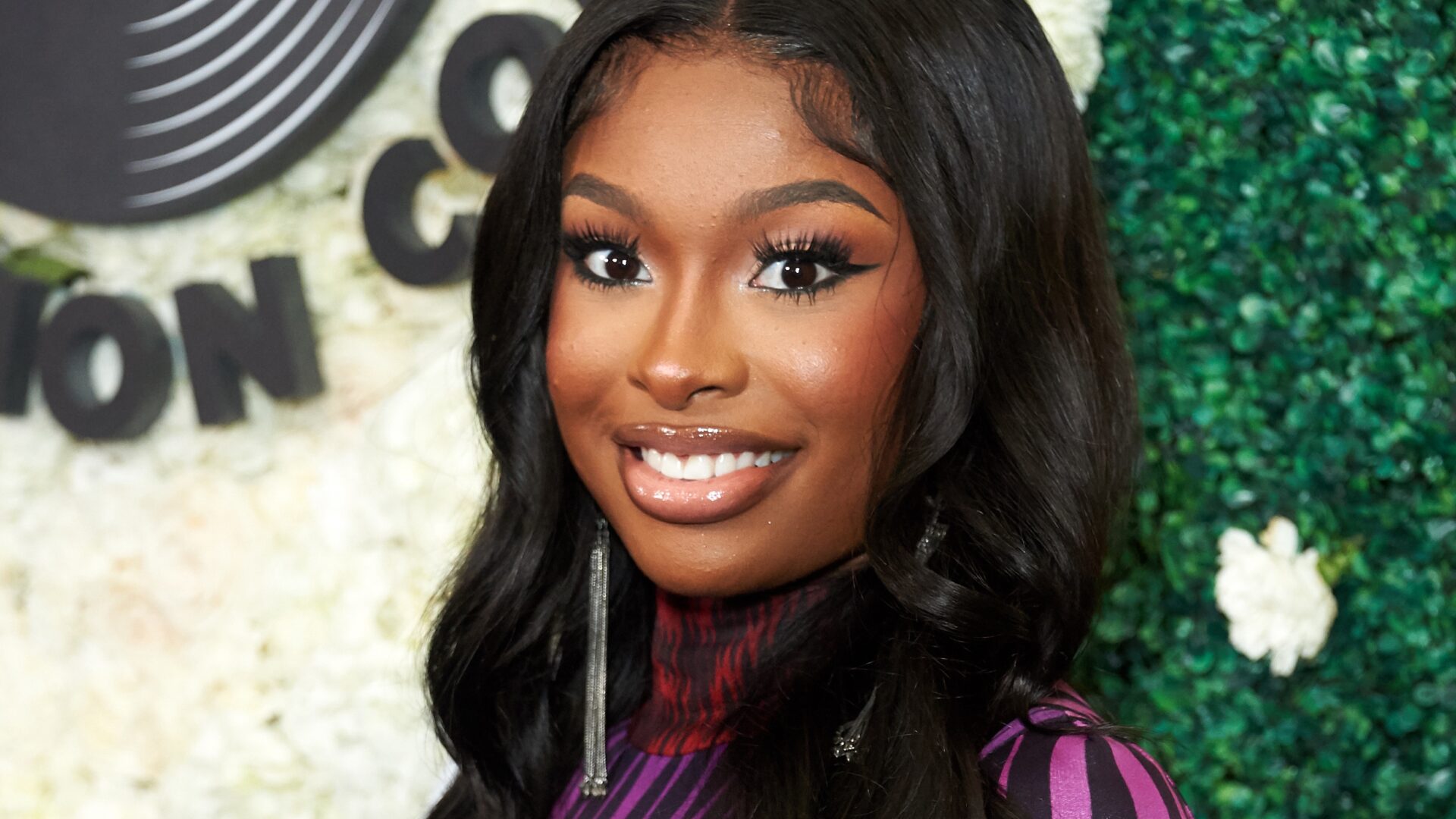 GU Fact Sheet: 5 Things To Know Singer-Actress Coco Jones
The 'Bel-Air' star will be hosting the invite-only Future Makes Awards Dinner for Girls United Summit 2022!
When you think of someone in their "me season" bag, Coco Jones comes to mind. Courtney "Coco" Jones always knew she wanted to be a star through different avenues, such as singing, acting, and being a changemaker and role model for Black women and girls in Hollywood.
The 24-year-old started singing at six years old and knew performing was a part of her journey. Many of us grew up with her from her early days at Disney Channel, seeing her personality from So Random! to being on Radio Disney's The Next Big Thing. At an early age, Jones became a role model to many young Black girls who wanted to be in her position. She's carried the mentality to protect and advocate for young Black women in Hollywood because she did not always receive that same treatment during her come-up.
"As a woman with a public platform, I believe it's important to leverage my reach and online presence and especially help young women further advocate for themselves while learning how to set healthy boundaries. I know from personal experience that women of all ages often face societal pressures," she told Girls United in a previous interview.
Ever since her infamous Youtube video on the colorism she endured during her time at Disney, millions of young people have banded together to support Jones. Now, just two years later, we can see her receive her flowers and shine. Jones will host the Essence Girls United Summit 2022 invitation-only Future Makes Awards honoree dinner to give fellow creatives, entrepreneurs, and changemakers their flowers in activism, education, entertainment, and more as we honor who is up next for our Generation Z. 
"I feel like if I didn't go through these hard things, then it wouldn't be of benefit because what's there to say?," she exclusively told Girls United about her excitement for this year's Girls United Summit. "I'm here to inspire and I'm here to motivate the next generation. Honestly, I'm super excited because I know my journey and I know the highs and the lows and I've learned that being transparent about those highs and lows can open you up to a whole new audience, but it makes them worth it."
Jones continued, "If all you talking to is youself, then dang, who are you helping? If I can help one person continue striving for their dreams and feel that way about their journey, then it was worth the highs and the lows. Like, 'Maybe it really does take longer than I thought sometimes, but that doesn't mean that I'm counted out.' That's okay."
The multi-hyphenate has gone full throttle from music, television, and content creation. With her newest single, "ICU," Jones is on a consistent path toward stardom. Check out these five facts about what makes Jones the multifaceted creative that she is today:
She starred in the Disney Channel Original movie Let it Shine.
If you are an OG Disney kid, then you know the impact of Let it Shine on young Black children. It was pleasant to see the stars we see thriving now, such as Tyler James Williams, Chloe x Halle, and of course, Coco Jones. She became a breath of fresh air when viewers saw a dark-skinned girl at the forefront of Disney Channel, where she could sing, dance, act and show off her personality. Jones inspired many young Black girls through her role as Roxie.
She's always advocating for brown girls and speaking up against colorism
In response to a tweet, Coco Jones took her power back and told her story on Youtube about what she endured during her time at Disney Channel. She touched on colorism and unfairness in the entertainment business and told fans the truth about the state of her career after Let it Shine. "The colorism out here is crazy," she said in the video. "Look at your favorite shows…do you see dark skin women? No." Jones used her voice and created a platform to tell her story and show vulnerability to help the next generation of dark skin girls coming into the industry.
She's our new Hilary Banks in the hit show Bel-Air on Peacock.
The reimagined version of the hit 1990s sitcom The Fresh Prince of Bel-Air stars Jones as she creates her version of Hilary Banks, a chef, entrepreneur, and social media maven. In an interview on the radio show Sway's Universe, Jones admitted that she initially did not want to audition for the role. "I was like, 'I know they don't want me for Hilary," she said. Jones then received confirmation from the show director Morgan Cooper that he wanted her to be herself, which is she landed the role.
She's signed to Def Jam Records
One thing to note about Coco Jones is that music will always be her first love. This year she announced the release of her debut single, "Caliber," under the legacy label Def Jam Records to kick off this new era in her music career.
"I've had these experiences before, and I know how to operate in this business, but now I'm myself. I know what I want to sing about. I know what I want to say and how I want it to sound. To have Def Jam behind me means so much because they get the vision too. They're not trying to change me. They're just trying to see me win," she said in an interview with The Source.
Now that she has the proper support from her label, she's been able to share her voice with the world, including her latest single, "ICU," which will appear on her debut EP under Def Jam Records.
She's the cohost of the Youtube show "T and Coco."
If you're heavily on Youtube, then you know Terrell Grice as the go-to person who highlights Black musicians and entertainers on his platform. The Terrell Show is originally how he and Jones officially met, thus opening the door for their new show, "T and Coco," where the duo tries new things from cooking, skydiving, and horseback riding, creating a fun escape for viewers to see and live through.
About Kenyatta: Kenyatta Victoria is an entertainment and culture reporter passionate about music, pop culture, and marginalized stories. She has bylines in publications such as Chicago Reader, INSIDER, Girls United, TransLash Media, and the Chicago Tribune.
**Additional reporting by Associate Editor D'Shonda Brown**
BEVERLY HILLS, CALIFORNIA – SEPTEMBER 22: CoCo Jones attends the 2022 Black Music Action Coalition's Music In Action Awards Gala – Arrivals at The Beverly Hilton on September 22, 2022 in Beverly Hills, California. (Photo by Unique Nicole/Getty Images)