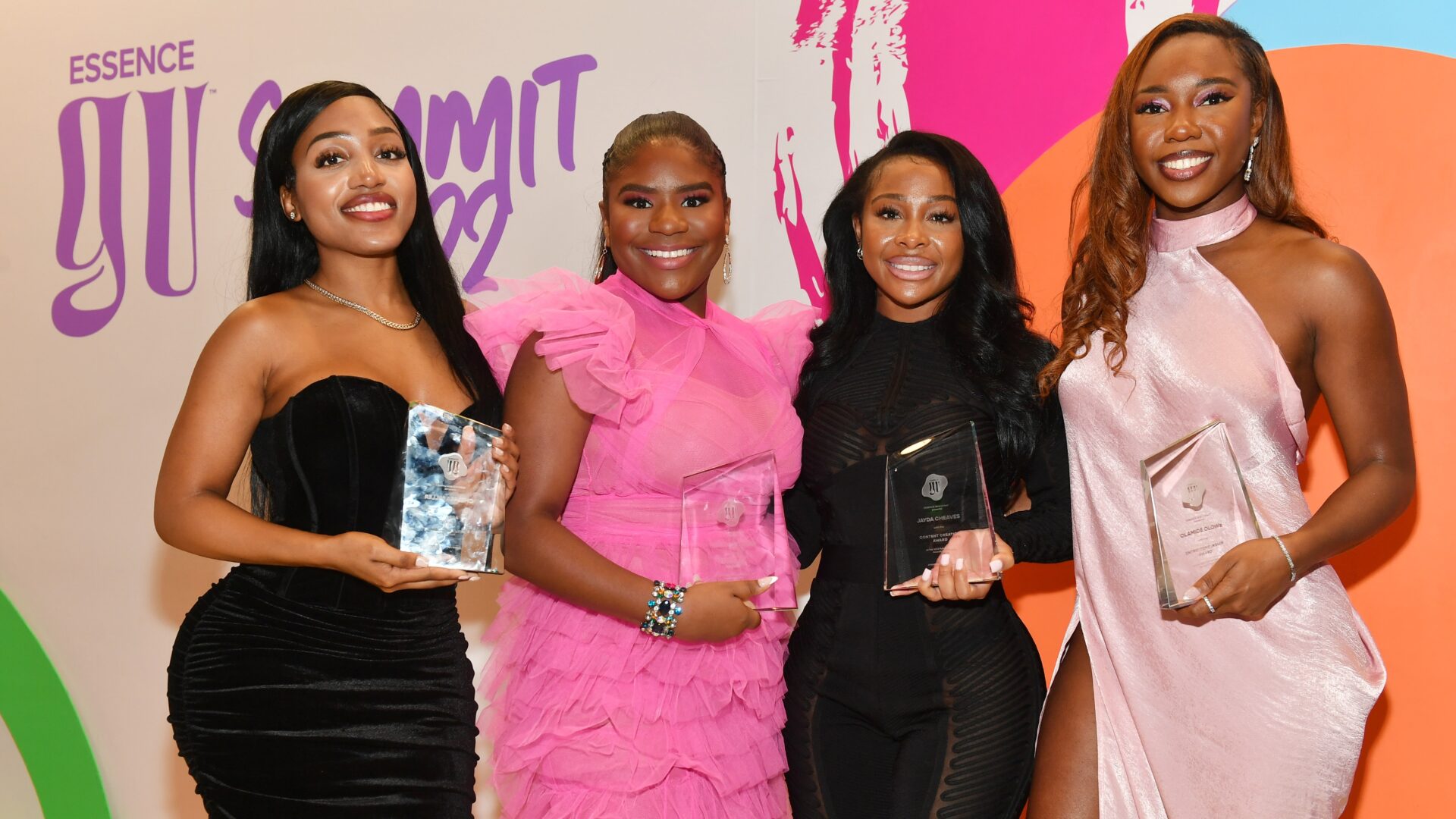 Girls United Gave Gen-Z Table Shakers Their Flowers At First-Ever Future Makers Awards Dinner
Hosted by Coco Jones, Girls United honored the change makers of Gen Z.
The third annual Girls United Summit came back harder than ever in Atlanta, Georgia between our panels, activations, and our first-ever Future Makers Awards honoree dinner. Hosted by rising R&B singer and Bel-Air star Coco Jones, who brought her superstar personality, greeted attendees, and coordinated a fun ice-breaking bingo game to get to know one another at the invite-only event. 
The Coca-Cola and Ford-sponsored dinner honored young women who have continued to be the blueprint of the culture during unusual times and have excelled in their fields of education, activism, entertainment, content creation, and entrepreneurship. Many familiar faces weres in attendance, such as Power actress Paige Hurd, influencer Aliyah's Interlude, BStarPR founder Brandy Merriweather, celebrity publicist Derrian "Phreshy" Perry, and more.
With opening greetings from Girls United co-founder Rechelle Dennis herself, guests were prepared for a night of celebration at the Atlanta Contemporary Arts Center. From the gala vibes of libations, a three-course meal, and epic contortionist performances to the vibes of Muni Long and Zendaya's hits, the night was truly unforgettable.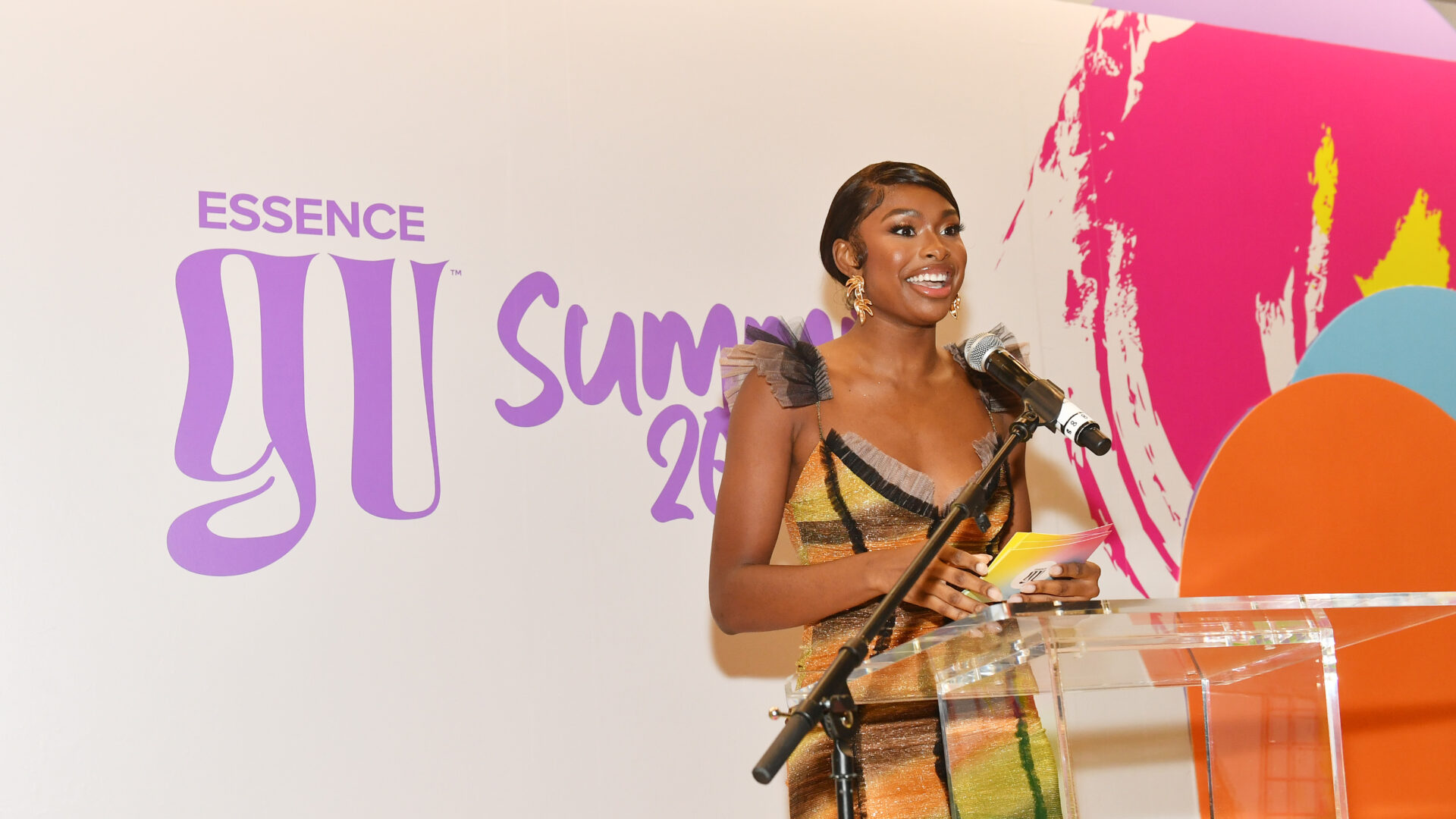 During the dinner, guests could indulge in conversations surrounded by what it means to be impactful in the culture and meet the women who are change makers for their community. Presented by Rechelle Dennis, our first honoree was Chelsea Miller, the co-founder of Freedom March NYC, a platform for calling out the rise of social injustice in our society, showing that Gen-Z'ers are capable of being youth organization leaders and active in their community.
"Black girls are the blueprint because we have been the foundation of every society, so it is on us that we give them the credit that is due, but even when that credit is not given, we still show up and do that work because we got us," Miller told Girls United exclusively, following the receipt of her award. 
Knowing the importance of Black women and protecting each other is something crucial that GU wants to provide, and it does start with us, no matter what age you are. From one education trailblazer to another presented by Harvard University student and advocate Aoki Lee Simmons, our next honoree, Trinitee Stokes uses her platform to amplify the importance of education by becoming the youngest person admitted into Emerson College, making her a certified Gen-Z change maker.  Her hard work was not done alone as she thanked her parents for nourishing her mind, but specifically her mother for putting her dreams on hold so Trinitee could chase and find her dreams.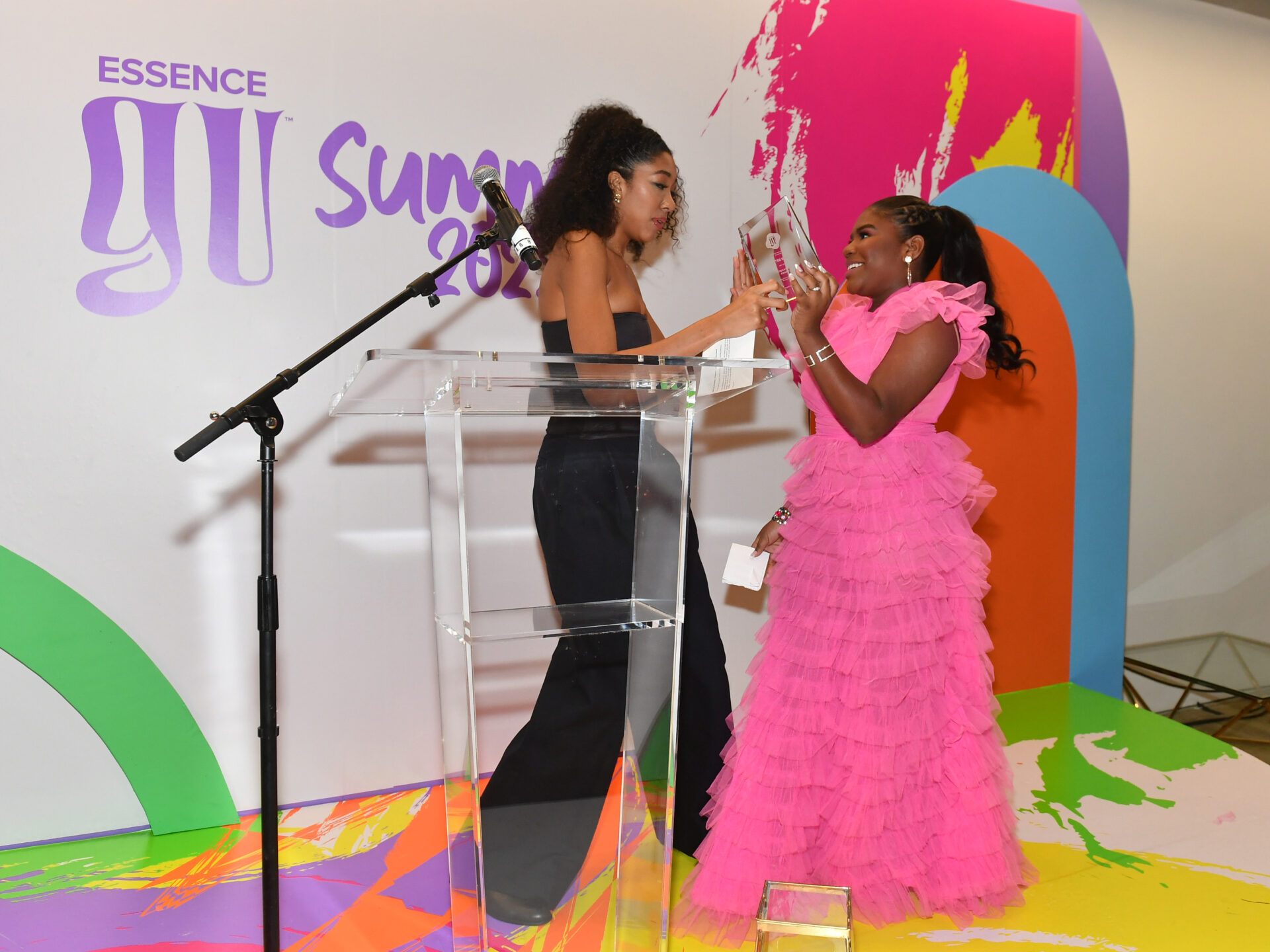 Seen Above: ATLANTA, GEORGIA – NOVEMBER 05: Aoki Lee Simmons and Trinitee Stokes attends GU Summit: Forever The Blueprint at Atlanta Contemporary Arts Center on November 05, 2022 in Atlanta, Georgia. (Photo by Paras Griffin/Getty Images for ESSENCE Girls United)
"A lot of times in big spaces like this, younger voices are sometimes silenced and are not seen as equally as important or as valid," Stokes said. "So being recognized for empowering myself and empowering others through education is important, and hopefully, other Gen Z'ers are able to look at this moment and look at all of us honorees tonight and be able to see a version of themselves and be able to feel inspired to create their own version of change." 
Speaking of creating your version of change, ESSENCE's first-ever Chief Marketing Officer Erika Bennett presented the Entrepreneurship Award to Olamide Olowe, her journey ironically began after meeting Rechelle Dennis at UCLA when they were student-athletes and roommates together. "It's funny how God puts certain people in your life at the right time when you don't even know it," Olamide said during her acceptance speech. "[Rechelle] was the person who introduced me to the world of beauty, she asked me to intern with her at Shea Moisture, and we started our journeys together. It feels really full circle to receive this award from Essence tonight."
Olowe realized the drought of skin care products for Black women with sensitive skin and decided to make her own with Topicals. According to Forbes, since its founding in August 2020, Topicals has raised $2.6 million in funding from Lerer Hippeau and Mucker Labs. In March 2021, it launched in Sephora and sold out in 48 hours. "When you're an entrepreneur, life moves really fast. Times like this help you slow down, smell the roses, and think about everything it took to get here," Olowe told Girls United. "I'll say this and say it really loud: fund Black women because when you do, you get this."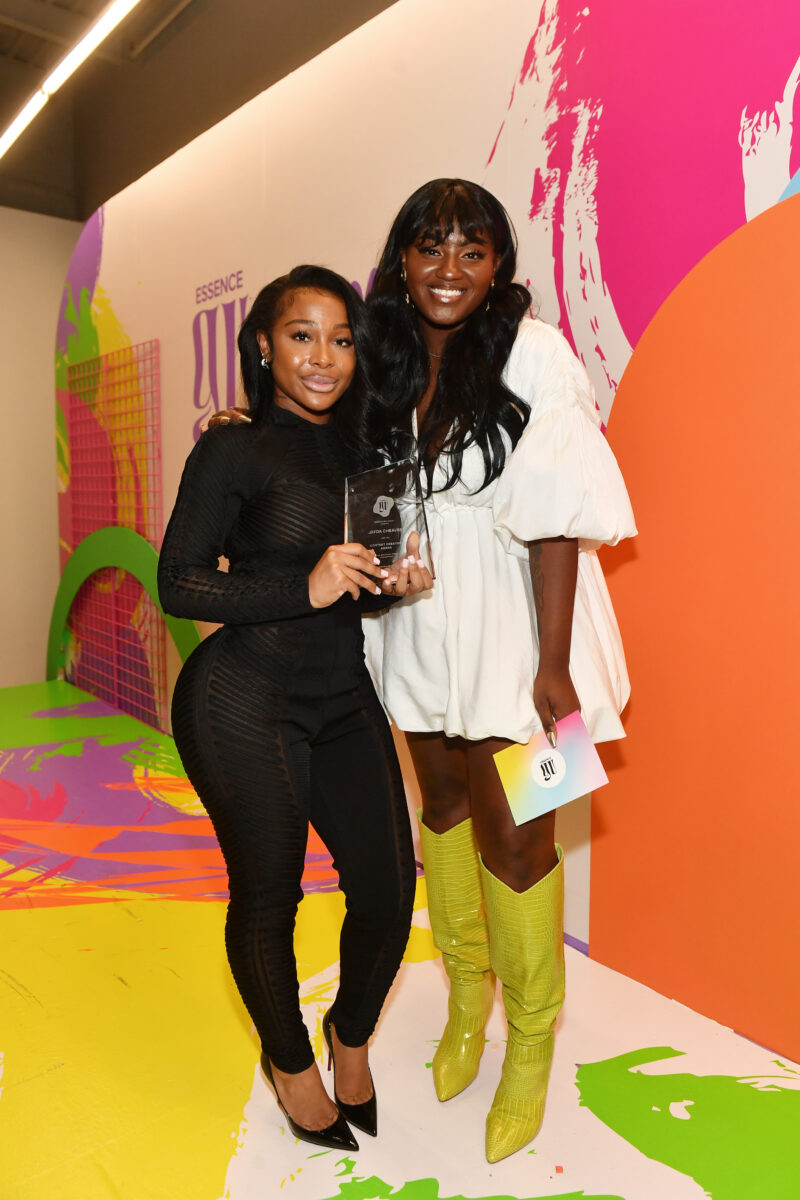 Seen above: ATLANTA, GEORGIA – NOVEMBER 05: Jayda Cheaves and Rhyann Sampson attends GU Summit: Forever The Blueprint at Atlanta Contemporary Arts Center on November 05, 2022 in Atlanta, Georgia. (Photo by Paras Griffin/Getty Images for ESSENCE Girls United)
Finally, our last in-person honoree is the definition of investing in yourself and elevating at any chance she gets. Girls United Social Media Manager Rhyann Howard presented Jayda Cheaves,  our content queen, with the Content Creation Award. Cheaves, also known on socials as Jayda Wayda, became the blueprint from the start of social media showcasing her business and being our virtual homegirl. She's always been that girl to look at as someone who isn't afraid to share the spotlight and watch her tribe win including her bestie Dess Dior who joined Girls United during our A Black Girl's Guide To Protecting Your Peace Through Strong Friendships panel. 
"Receiving this award means everything to me, to be honored by such an amazing [and] iconic company," Cheaves told GU. "I'm so honored, I was not expecting this, and it just lets me know that I'm putting in the work, and it's starting to pay off." With over 7 million followers and counting on Instagram alone, the WAYDAMIN entrepreneur and BET+ The Impact reality star, Cheaves is showing the social media girlies how to get their content creation bag through personality and authenticity.
For our Girls United's Entertainer of the Year, the award went to our favorite H-Town hottie, Megan Thee Stallion. "Honoring Megan was such an honor. Being a girl from Houston and seeing an entertainer reach great heights is amazing to witness. She is a star and the perfect representative for this award," said Nandi Howard, Content Director at ESSENCE and Girls United, and fellow proud Houstonian. 
Through the claps and cheers for each honoree, the room filled with gratitude and hope for the future, seeing how young Black women are carving their path and telling their stories on being #ForeverTheBlueprint. For a full recap of this year's Girls United Summit, follow us on Instagram @EssenceGU_ and head to our website, girlsunited.essence.com.
Pictured Below: ATLANTA, GEORGIA – NOVEMBER 05: Chelsea Miller, Trinitee Stokes, Jayda Cheaves, Olamide Olowe, and Rechelle Dennis attend GU Summit: Forever The Blueprint at Atlanta Contemporary Arts Center on November 05, 2022 in Atlanta, Georgia. (Photo by Paras Griffin/Getty Images for ESSENCE Girls United)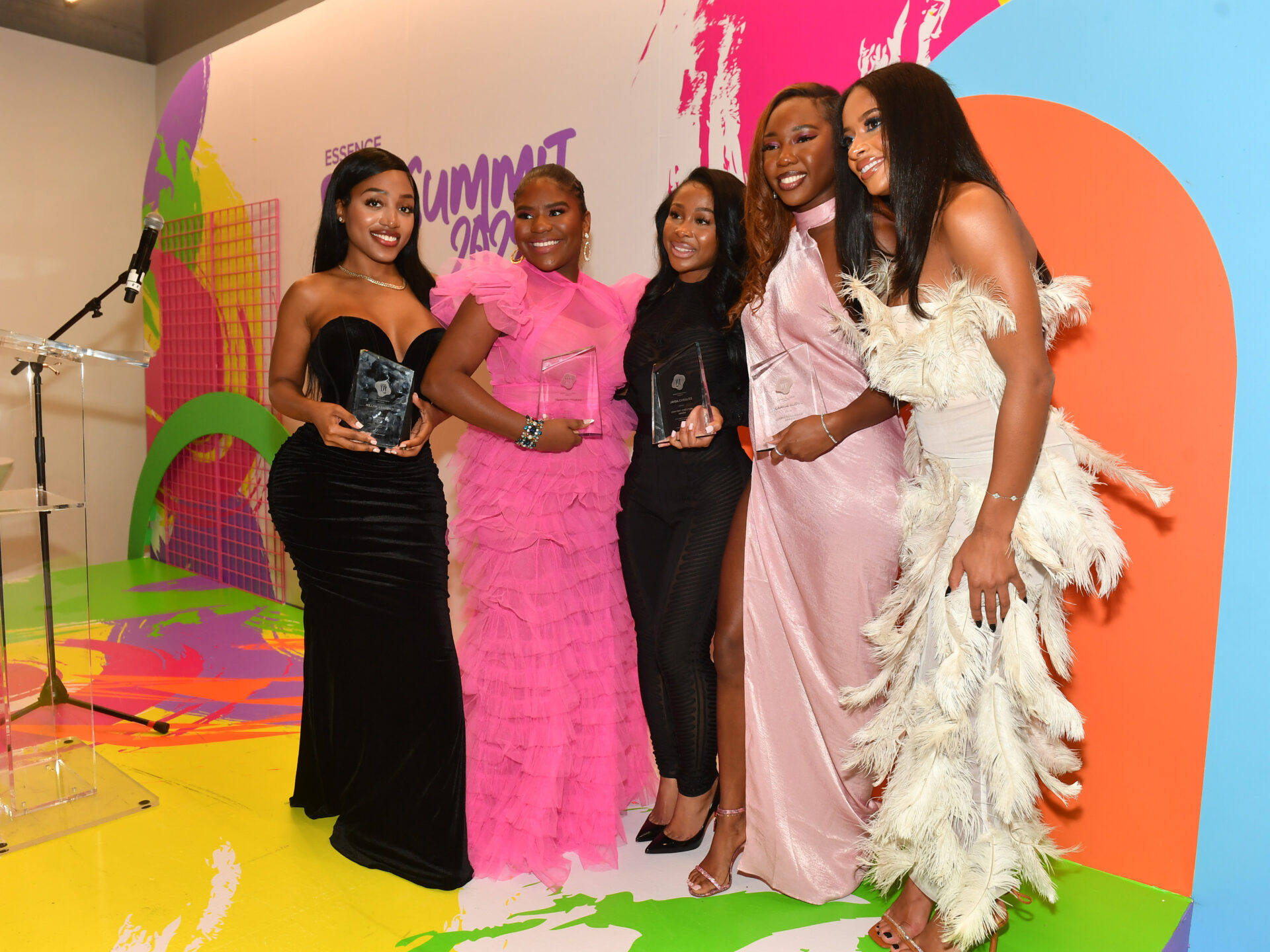 About Kenyatta: Kenyatta Victoria is an entertainment and culture reporter passionate about music, pop culture, and marginalized stories. She has bylines in publications such as Chicago Reader, INSIDER, Girls United, TransLash Media, and the Chicago Tribune.
ATLANTA, GEORGIA – NOVEMBER 05: Chelsea Miller, Trinitee Stokes, Jayda Cheaves, and Olamide Olowe attend GU Summit: Forever The Blueprint at Atlanta Contemporary Arts Center on November 05, 2022 in Atlanta, Georgia. (Photo by Paras Griffin/Getty Images for ESSENCE Girls United)