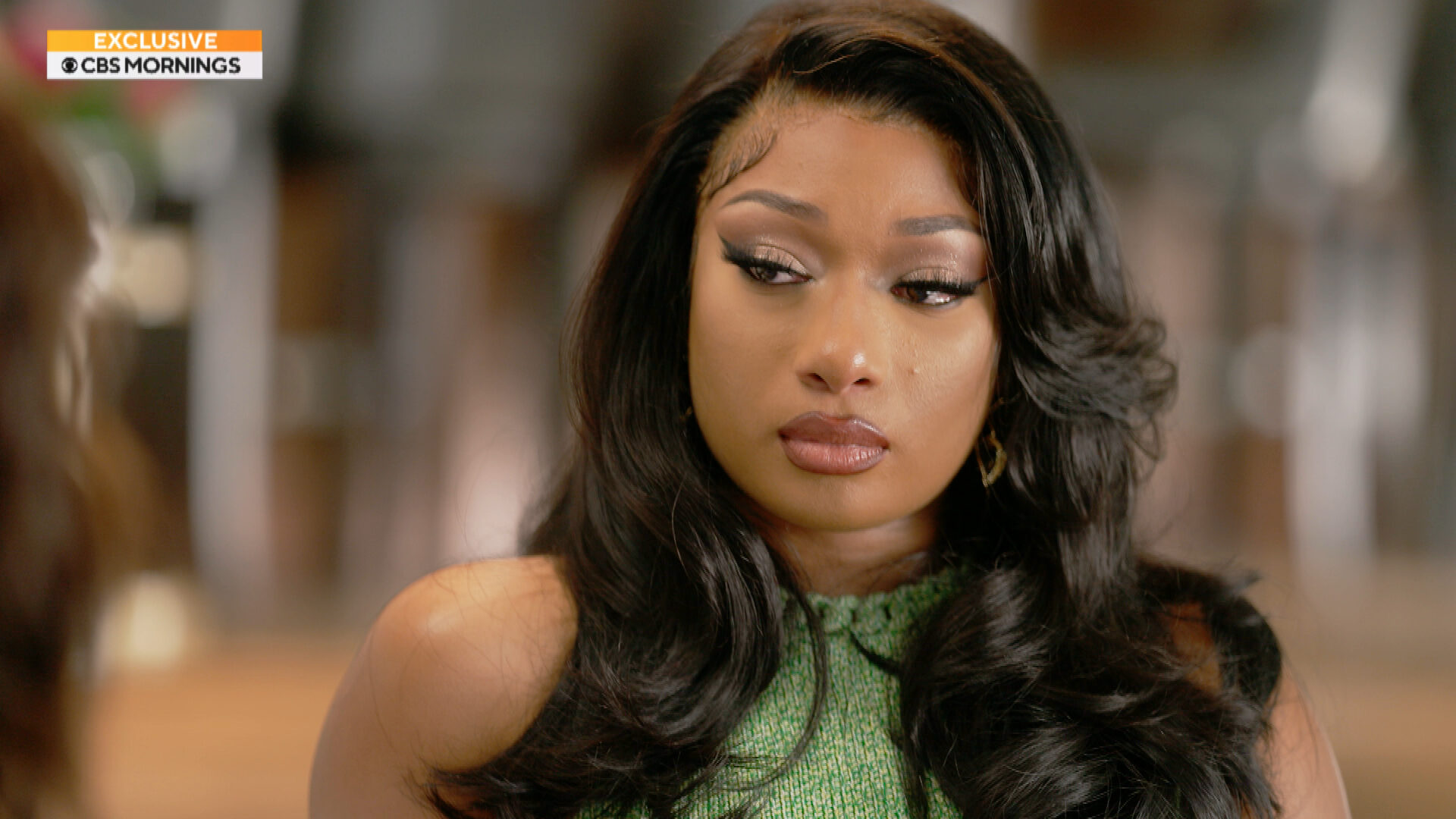 The Treatment Of Megan Thee Stallion Further Exposes Society's Hatred Of Black Women
Since alleging Tory Lanez shot her in 2020, Megan Thee Stallion has constantly been made fun of and disrespected.
Nearly two years after the 2020 shooting incident that left Megan Thee Stallion wounded, the "Savage" rapper still faces backlash and ridicule from those hesitant to take her abuse seriously.
On Monday April 25, the rapper's interview with Gayle King for CBS This Morning aired. It was her first television interview addressing the 2020 shooting she alleges Tory Lanez was behind. She has maintained he shot her during a dispute in the early hours of July 12 in Los Angeles.
Lanez has denied assaulting Megan.
In the tearful interview, the 27-year-old said, "I never put my hands on anybody." She added, "I never raised my voice too loud. This was one of those times where it shouldn't have gotten this crazy."
Yesterday, CBS shared two text messages from Megan's former friend, Kelsey Harris, that read, "Help" and "Tory shot Meg."
Within hours of the incident going public in mid-2020, social media users were quick to blame Megan Thee Stallion for her own assault. Some focused on her sexuality and music, while others even speculated she must've done to deserve the alleged attack. A series of memes were also made joking about the situation and sympathizing with Lanez, one of which was shared by rapper 50 Cent. 50 Cent has since issued an apology to Megan.
This week though, 50 Cent made a claim about not believing Megan had never been intimate with Lanez.
In the digital age, Black women have bore the brunt of harassment and ridicule for speaking to their experiences, particularly if they say they've been victimized by someone in the entertainment industry. This can be attributed to misogynoir, which has led to pain being brushed aside for a viral tweet.
Black women's anguish has become a fixture in popular culture. The abuse of singer Tina Turner has become fodder for disrespectful song lyrics and an allusion to it (from the popular 1993 biopic What's Love Got to Do with It?) is a meme as well. Similarly, in 2018, Snapchat shared a "this or that"-style ad reading, "Would You Rather "slap Rihanna" or "punch Chris Brown." Nearly 10 years prior, Brown was convicted for hitting, choking and biting the singer in what was a very public, violent incident. These moments have made it appear acceptable, and theoretically lucrative to make light of painful moments in Back women's lives.
The judgement and jokes that soon followed when Megan talked about the allegations are also examples of just how quickly Black women are dismissed when they speak up.
Hip-hop is one of the more particular, dominant lanes of culture that has been known to lack empathy for Black women. There is a long list of rappers (and others with ties to the industry) with histories of enacting or excusing alleged violence against women. Oftentimes, they are caped for. Tory Lanez has received support from users online and his fellow rap peers, including Jack Harlow, who premiered the "What's Poppin'?" video featuring Lanez days after Megan accused the rapper of shooting her. During a December 2020 appearance on Power 106, he defended the decision, saying, "I don't have no room to judge anybody. I wasn't there when this and that happened, I don't know anything. Who am I to judge?"
Read "Latto Being Sexually Harassed Shows Hip-Hop Is Ready For A Reckoning."
In June 2021, DaBaby retweeted a joke about Megan Thee Stallion being shot, which made light of the fact that Lanez and DaBaby (allegedly, in Lanez's case) shot people without serving time. DaBaby did not apologize, instead blaming it on a Twitter malfunction and tweeting at Megan (whom he had collaborated with multiple times) to "Stand on what you stand on without feeling like I'm against ya." DaBaby then brought Lanez onstage for a surprise performance during his Rolling Loud set, which took place right after Megan Thee Stallion's performance. Lanez was required to pay an additional $60,000 on top of his $190,000 bail for violating the protective order put in place against him.
These are just a few of the many examples of hip-hop's constant protection of alleged abusers, as well as the dismissal of Black women. Additionally, they represent the lack of solidarity that Megan Thee Stallion is receiving from the hip-hop community, despite being one of the biggest breakout stars of the 2020s.
The fact of the matter is, Megan Thee Stallion should not be treated harshly because she dared to talk about her experiences. Megan, and Black women across the globe, should not have wake up to jokes and inquisitions about trauma. Alleged abuse is nothing to downplay, dismiss, or defend.