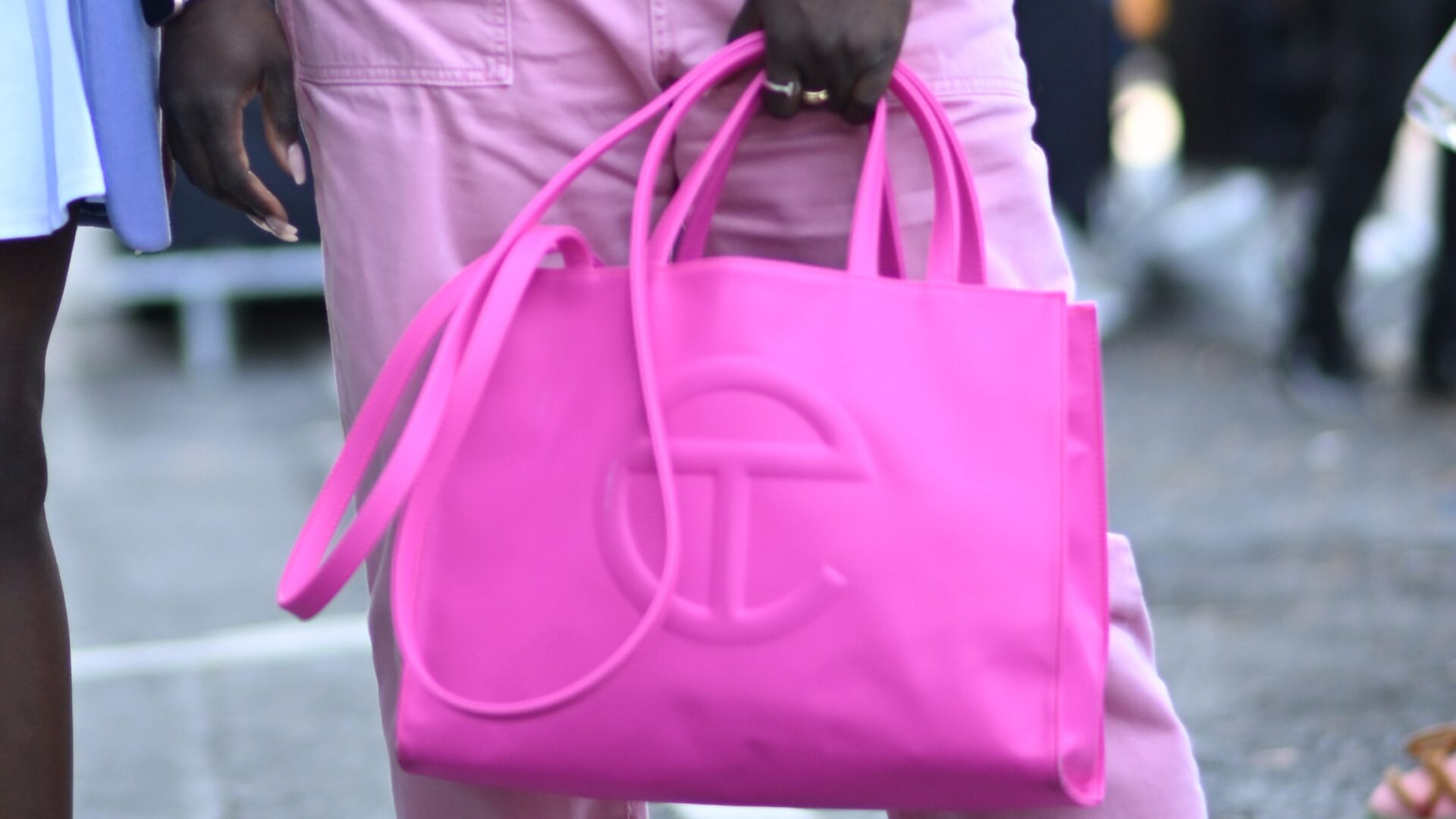 How Telfar Shut Down Downtown Brooklyn During New York Fashion Week
The Black-owned brand partnered with Rainbow Shops for a one-day-only IRL shopping experience.
Telfar has been taking the girls by storm online for years, but this past weekend during New York Fashion Week, they decided to take it up a notch. The fashion brand took over the Rainbow store in Downtown Brooklyn and hosted an in-person shopping experience during New York Fashion Week.
The pop-up allowed supporters to purchase a maximum of 5 Telfar vegan leather shopping bags in any color and any size, with the exception of the circle bags, duffle bags, and any collaborations. The line was set to start at 3 pm, but people began lining up at 8 am. The event was organized in a first come, first served fashion, and people were able to purchase in line in exchange for a wristband indicating what size bag they paid for.
Aishaya Caul, the second person in line, said she took an Uber from Queens to ensure her spot was secured. "It's so important for me to get a bag; I love supporting black businesses and what they do. So, I wanted to come out to support, and this is my first bag I will be buying," she said.
The line quickly wrapped around the block, full of people excited to get their hands on a Telfar bag, along with a block full of people enjoying the Telfar TV experience, which was streamed live for viewers at home. "I just think it's amazing that a black-owned business and luxury brand is coming back to our community and having something that's very accessible for us," said Brooklyn native Sephora Zeze.
Telfar's fashion influence has skyrocketed through the years, worn by Solange, Tinashe, Lil Nas X, and Beyoncé just to name a few. Beyoncé even referenced the brand in her most recent album Renaissance. "This Telfar bag imported," the 41-year-old said in "SUMMER RENAISSANCE."
"I love the influence on fashion. I love the fact that they keep it black. I love the fact that we're out at Rainbow doing this pop-up event. That's very Black and a part of our culture, very unique to our buying power, and it matches our dollars," says Imani Dickens.
Telfar also brought out some friends like Baby Tate, Cleotrapa, and Trapselyna. "It's always good to give back and show people you can come back and see the people," said model Selyna Brillare. "When New York rocks with you, they really rock with you."
Destiny Walker, one of the first few people to come out said, "I was kind of scared because I didn't think I was gonna get the bag I wanted, but I'm surprised they didn't let that many people in. So I just ran straight to the colors I wanted first, and I grabbed them. So it was really nice."
Since its founding in 2005 by designer Telfar Clemens, Telfar is committed to being an accessible luxury brand, they even created a Bag Security Program that allows shoppers to purchase any bag and receive it after a specific wait time, set by the company. This solution helped shoppers due to the bags selling out in moments.
"We don't want y'all to miss it, so we're going to do it again September 23rd, online. Any bag, any size, any color, and it's not bag security, it's going to come to you immediately," said Telfar Clemmings.
Make sure to follow Telfar on Twitter and Instagram @Telfarglobal to make sure you don't miss a drop or the timeframe for September 23rd.
About Ariyana: Ariyana Griffin is a journalist that specializes in culture and entertainment reporting. Her words can be found in Forbes, YR Media, and The Los Angeles Wave.
Photo Credit: NEW YORK, NEW YORK – SEPTEMBER 10: Kamrin Brown, wearing NaturallyKam purple jacket, white top and lilac shoes with a Fendi bag and Lisa Addae wearing Skin Rich top and pink pants with pink shoes and a pink Telfar bag is seen outside Spring Studios during 2022 Fashion Week on September 10, 2022 in New York City. (Photo by Alexi Rosenfeld/Getty Images)