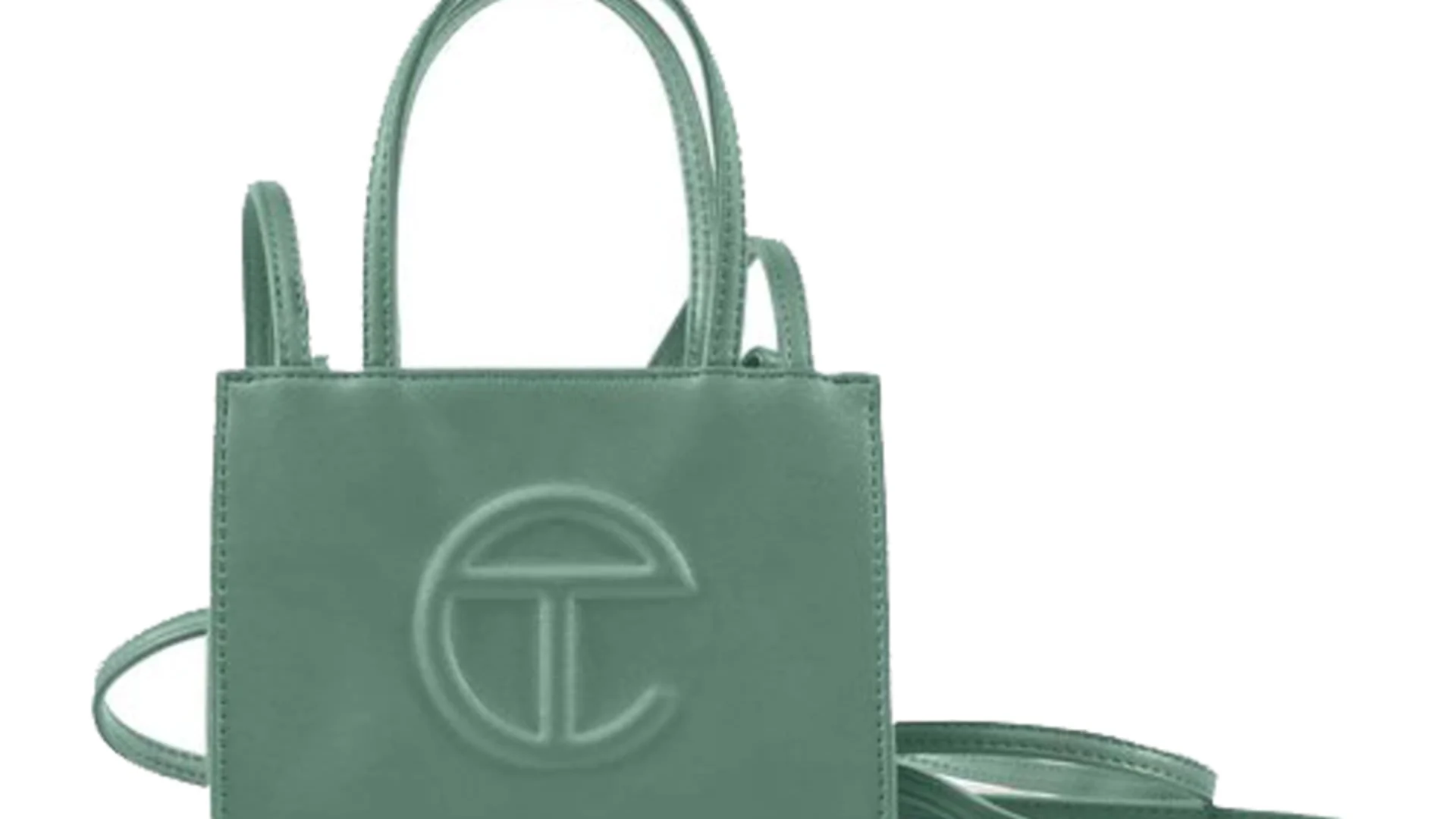 Telfar Debuted A New Shopping Bag. Within Days, One Site Resold Over 50 Of Them.
Online resellers, whether they be stores or individuals, sell for prices above retail value.
Telfar's Sage Shopping Bag made a first-time appearance during the final season premiere of HBO's 'Insecure' on the arm of the show's creator and lead actress, Issa Rae. On November 9th, Telfar expanded its popular line of bags by making the new colorway available to the public. Soon after the digital doors opened, all of the bags were sold out but several were available for purchase on online resale stores.
Online resellers, whether they be stores or individuals, sell for prices above retail value. The largest model of the bag, which is priced at $257 on Telfar's online store, was sold for $396 on StockX. As of now, 29 medium-sized ones were sold on the site. StockX also hosted 21 sales of small Sage Shopping Bags. That's 51 bags total.
This goes against the brand's values but resellers don't seem to care.
Telfar prides itself on making luxury items available to everyone through accessible prices and the brand's slogan — "Not for you, for everyone".
"We've always been very much about the real world," designer Telfar Clemens told Another in October. "You're going to see it around you in your day-to-day life before it gets in the magazines. We're turned on by entertainment, TV and what's actually going on in the culture sphere globally, on a mass level where every single person sees it, not just a select few who are part of an exclusive group."
The demand for Telfar bags skyrocketed by 590% in the first half of 2021, according to The Real Real's (TRR) 2021 resale report. The Telfar bag was the top item among TRR members. In turn, its resale value tripled. 
Luxury items are often sold in limited quantities to favor waste reduction and to drive a higher demand. StockX, one of the most popular resale platforms, reached one million sellers in July 2021. At TRR, 45% of sellers were new to the platform in the first quarter of 2021. But resale culture is not just a way to get your hands on sold-out popular or luxury items, it also became a very lucrative business.
"We're living in a time where people don't necessarily know where their next check is going to come from. So if you can hit on the sneakers app and buy a pair of Dunks, then maybe you can take them to a platform like StockX and flip them for, you know, maybe two or three times the retail price," Michael Sykes, a USA TODAY staff writer, told NPR.
This methodology has been heavily critiqued by supporters of Telfar. "Telfar Clemens didn't make the price range of 'The Shopping Bag' as affordable as it is for any 'ol reason, writer Court Kim said on Twitter. "He wanted to make luxury affordable for ALL of us. It's literally the slogan of Telfar Global. Black men reselling them to Black women at a higher cost? It's disgusting[.]" This response was prompted by one reseller claiming a group he's a part of bought up 60% of one Telfar drop.
To counter resale culture, Telfar launched the Bag Security Program, allowing shoppers to secure any bag at retail price via pre order. The offer ran until October 9. Two months before the end of the deal, in August, they also debuted a Captcha exit test, making it more difficult for bots and resellers to purchase in bulk. Some potential buyers said that the new process was a bit too difficult and they were still unable to buy a "Bushwick Birkin." The Captchas also didn't block off a loophole resellers slipped through — a large network of people buying up stock.
"Securing the bag" now has new meaning.
Photo credit: Telfar