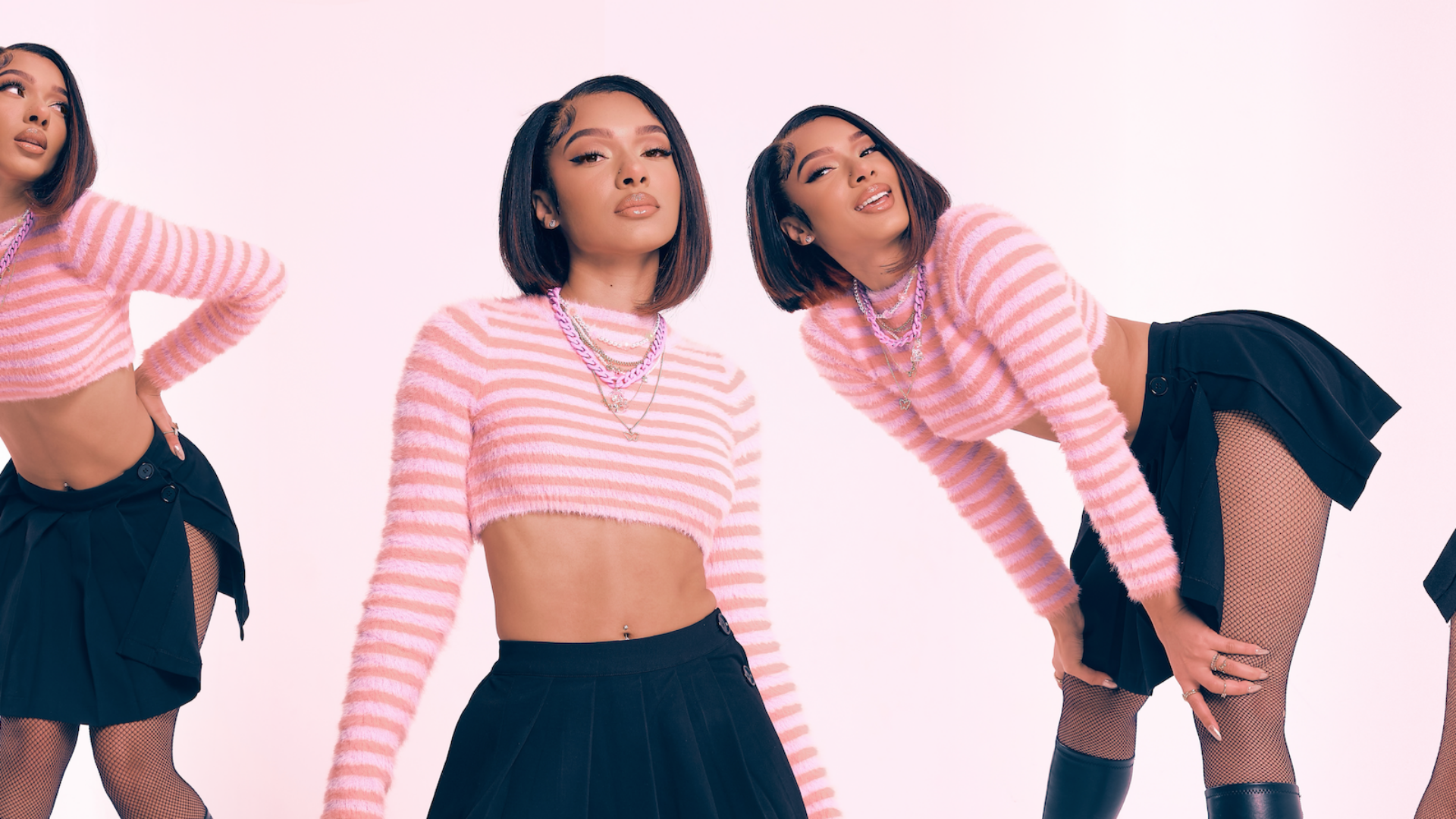 Emaza Dilan Rides For Herself – And That's Okay, Too.
The R&B-pop songstress is joining one of Warner Music Group's most prominent and successful labels, Atlantic Records as a solo female talent.
When I first met Emaza Dilan, she and her sister Saiyr had just been signed to Island Records back in 2019. I was a publicity assistant at the record label and their ink was freshly signed and drying on the dotted lines of their contracts. I was already a fan of their group Ceraadi prior to signing and I felt that they were one of the most underrated artists to hit the internet, but there was no doubt in my mind that they'd be big. A few short years later, I have the opportunity to sit with Emaza on Zoom as an editor and her as a solo artist to celebrate the news of her being signed to Atlantic Records.
"I wanted to do something special, you know?," she said as she brought her face closer to the camera to show off her glitzy Euphoria-inspired eye makeup. Before even getting a chance to congratulate her on her biggest career win yet, she praised ESSENCE and Girls United for celebrating and illustrating what it means to be a Black woman who is proud of her beauty. "This is the Girls United vibe. I tried to go with the whole theme today."
Most children from older generations grow up wanting to be a lawyer, doctor, or teacher, but Emaza grew up knowing that she wanted to spread the same love and joy that music gave her in times of strife and difficulty. "Growing up in Iowa, that was like our outlet. My father was abusive, so when we were going through that transition and getting ready to leave to California, it was just a place to be ourselves," Emaza confided in Girls United.
Her household was a musical one where her mother Sandra played everything in her collection from country to hip-hop and R&B, which would later expose Emaza to the eclecticism that would mold her artistry today. Young Emaza would be awe-inspired by watching the Grammys and Entertainment Tonight and studying the performance styles of Michael Jackson and Beyoncé, which made her realize that dancing and singing, two things that were both close to her heart, could be a world-changing career for herself and fans.
Emaza's mother saw the vision for a girl group consisting of herself, Saiyr, and their sister Znuie and made the decision to move full-throttle into entertainment. The group formerly known as Ceraadi started in YouTube stardom in 2006 and had a feeling that once they moved to "the land to make your dreams come true," also known as California, things would change forever. "We got robbed when we moved out there, our first earthquake – it was very chaotic, but this is what we signed up for," she said laughing, but serious.
She added: "I live to this day and super blessed that my mom has been a strong person and a cheerleader and a coach at the same time." Emaza also gave flowers to her stepdad for his unwavering support through it all and for introducing her to production and beat-making. "It's a tough journey, especially being a female in the industry, you got to work twice as hard. Everything that's happened so far, I'm just so grateful and blessed even though the struggles has made me learn things and able to make it easier for me to maneuver in and out of things now."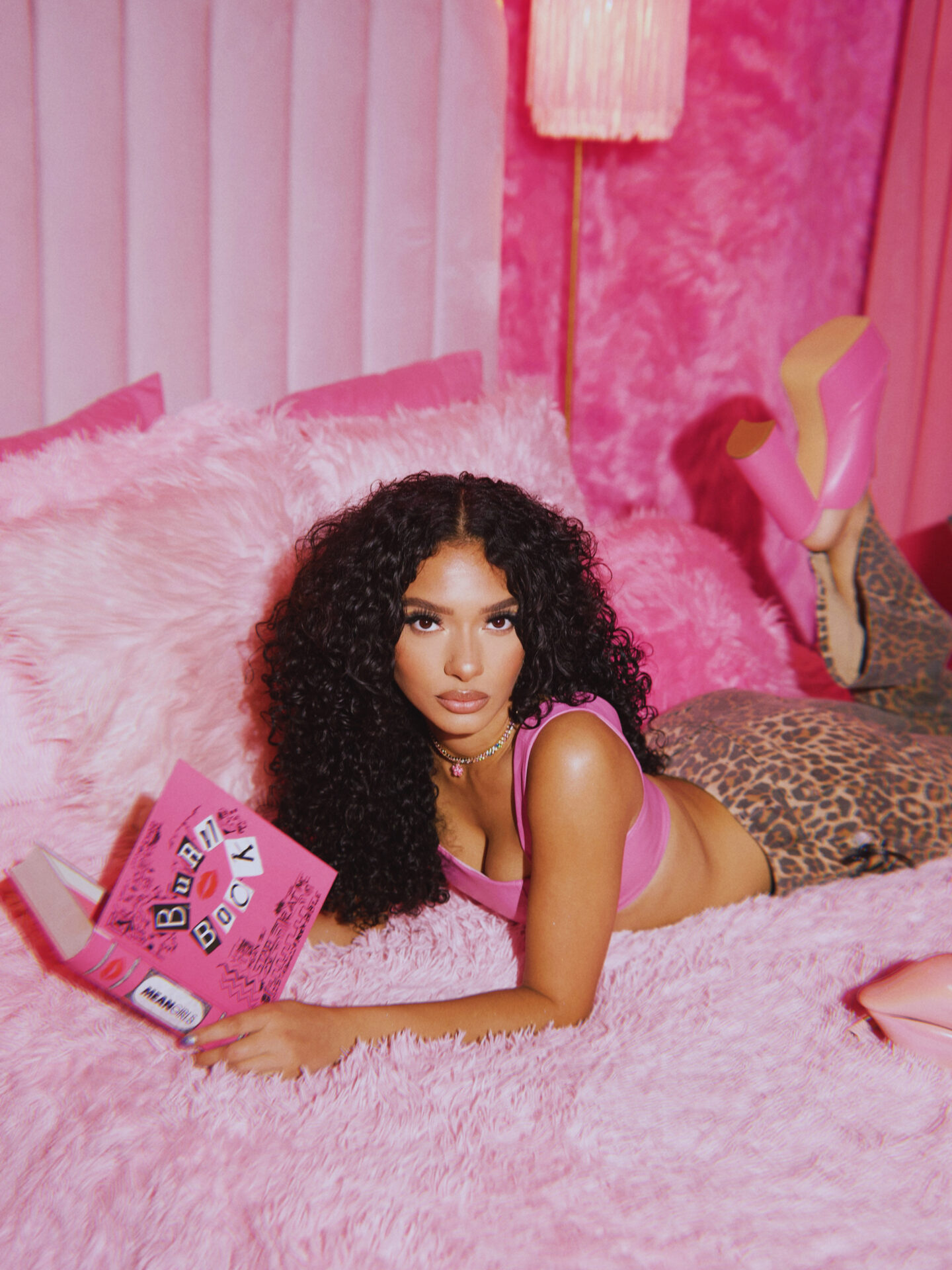 "For me, I'm responsible for myself. I know I can count on myself to get things done and it is just everything that I've always wanted."
As a result of her hard work and dedication, she's signing to Atlantic Records and announcing her new solo career. With artists on the roster including Lizzo, Kehlani, Bruno Mars, and Jack Harlow, Emaza is excited to embark on this new chapter in her career while being overseen by Aton Ben-Horin, the Executive Vice President of Global A&R for the Warner Music Group who has been responsible for chart-topping hits from Cardi B, Jason Derulo, and Nicki Minaj.
Following her first major label experience with Roc Nation and Def Jam Records, which ended shortly after Saiyr left Ceraadi, Emaza was devastated by the public fallout of the group but later accepted that there would be more ahead in the near future. "I didn't realize that was a blessing in disguise because I actually got three label offers after that," she said humbly. Through all of the labels that were reaching out and wanting to sign her, she knew that Atlantic was where she belonged.
"I already knew that Atlantic is the home of the greats. Even just going back to have Ray Charles and Aretha Franklin, Miss Queen of Soul putting it down," Emaza said excitedly. "I was like, 'Okay, I'm going to continue this legacy. Atlantic, they got it down in packs.'" With the mentorship of Aton and the championing of pop singer Jason Derulo, who originally reached out to her to sign under his Atlantic Records imprint, there's no stopping Emaza's solo career stardom.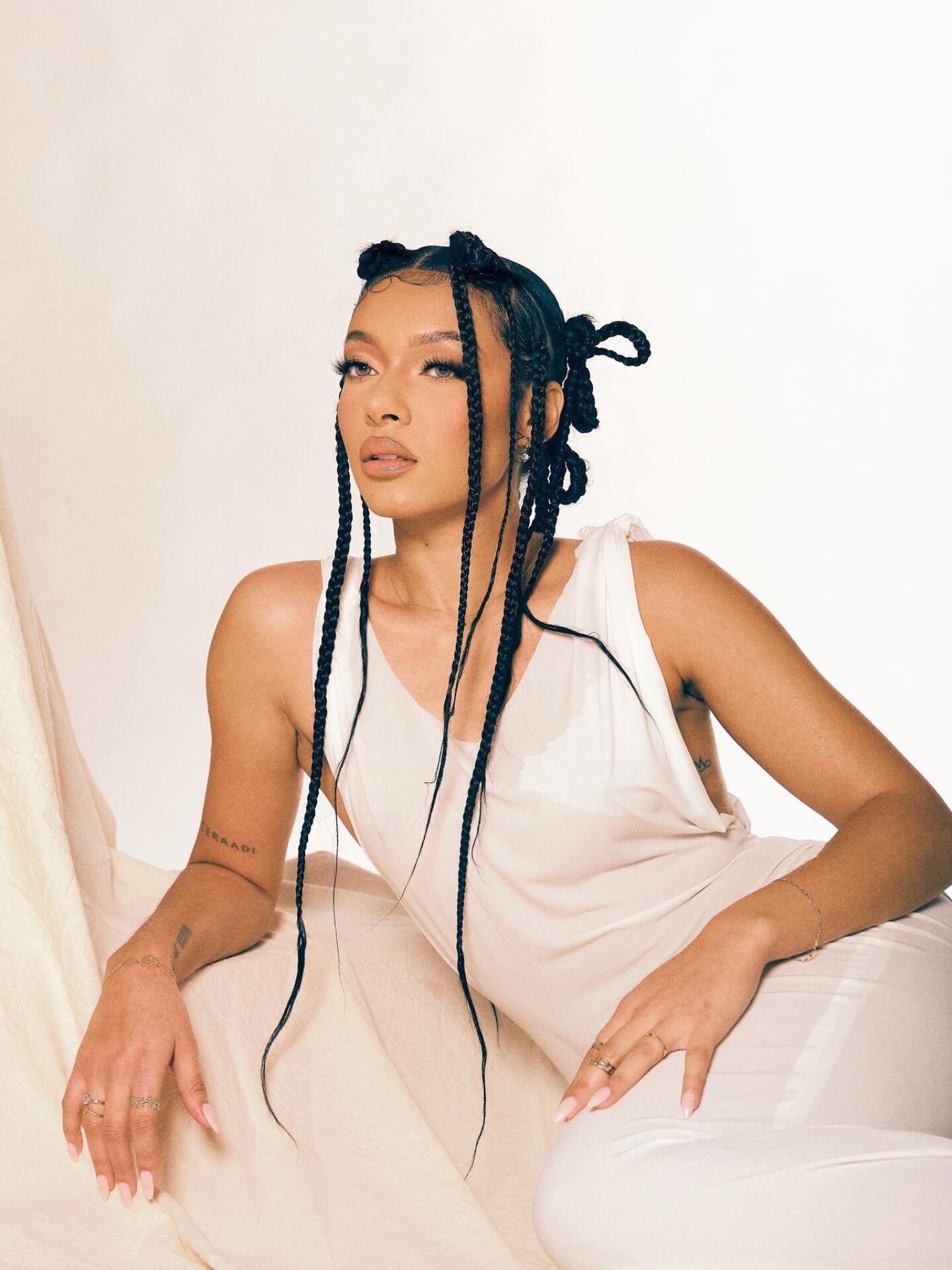 Oftentimes going at it alone can be nerve-racking but we've seen success when it comes to women pursuing longevity as a solo artist post-girl group era. Former Destiny's Child members Beyoncé, Kelly Rowland, Michelle Williams, and LeToya Luckett are all living their best lives, and don't get us started on Normani's skyrocketing career post-Fifth Harmony. With a timeless 2000s-inspired flare and sultry vocals, there's no doubt that Emaza will be just fine.
"It's new to me because it's not like it was random girls that I used in a group with; this is my sisters," Emaza said emotionally. While Ceraadi's breakup was anything but private, the singer doesn't regret having her story on the forefront of social media, especially when she's in control of her own narrative. Healing in the public eye has been a journey in itself for Emaza while balancing visits from Los Angeles to New York for business and trying to maintain what mental wellness looks like for her.
Emaza has been keeping her head down and keeping fans in the dark about her next move at Atlantic, but that didn't stop her from sharing her excitement and patting herself on the back during our interview. This moment – a long sought-after dream for Young Emaza from Iowa – is now a moment realized and no longer a dream deferred. "I've been training myself for this day. I couldn't see myself doing anything else. This is going to be an amazing journey [and] I'm just ready to get started."
"I don't see anything wrong with my life being publicized because I just letting you know, 'Hey, this is real life. She's trying to achieve a dream, this is the obstacle she's going through, but she's still pushing forward. If she can do that on that type of scale, then anyone can persevere and really get where they want to go.' With this, it's been tough because I've been having to heal and confront feelings I had to put to the side even just to get signed."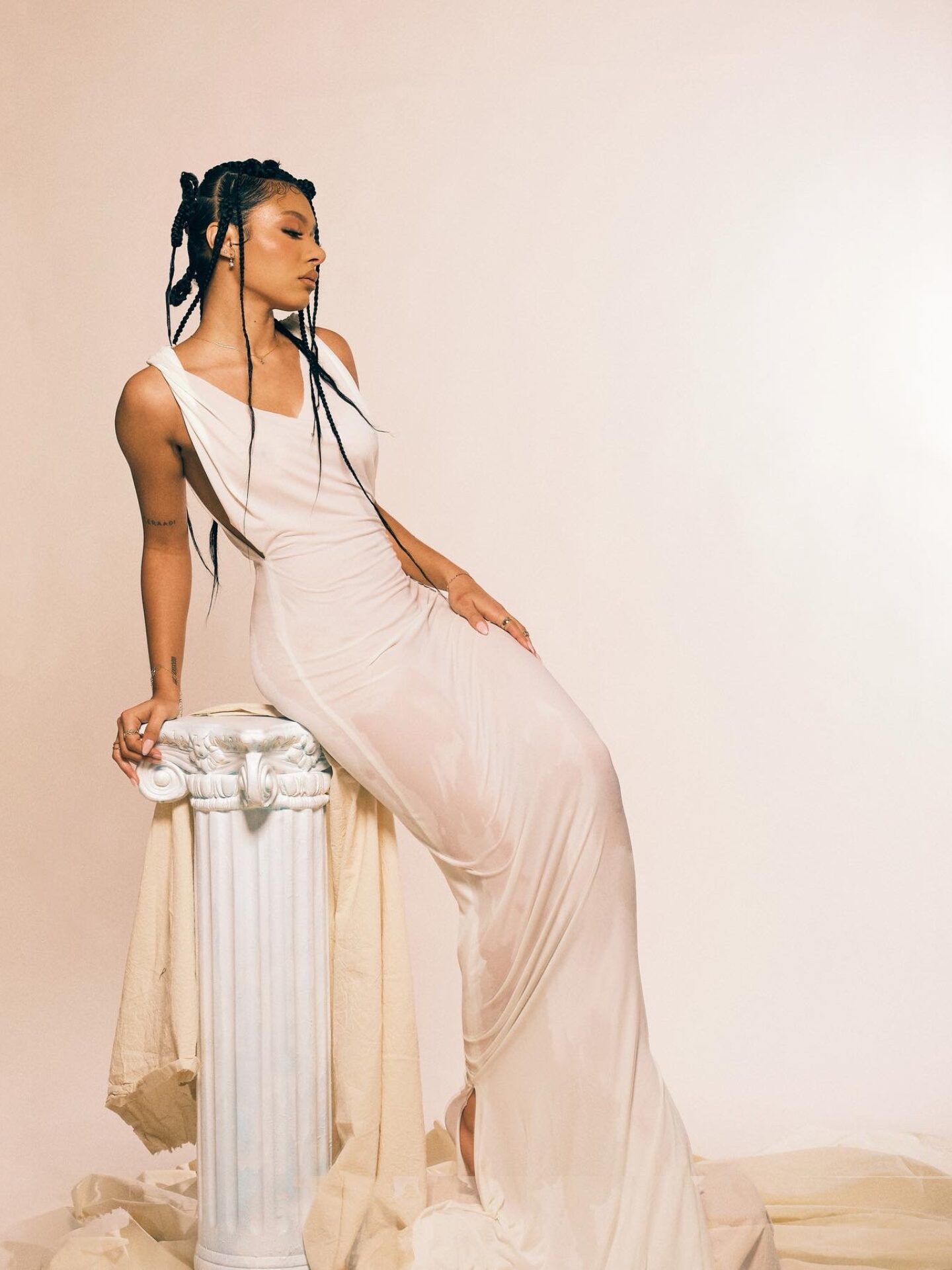 In times of celebration, it's important to look back to where you've come from and how far you've gotten from those dark days. Emaza listens to what she calls "old music" to appreciate and empathize with the art of storytelling and lyricism, which she channels into her songwriting and artistry today. While she definitely wants listeners to "get up and dance" to her music, she wants to promote confidence and self-love to young women who are watching her every move.
"That's the type of stuff I want to give. In order for me to continue that, I have to be in the right place in my mind," she admits. While Emaza knows the power of her own music as a source of happiness and comfort to her fans, she needed to reach back within to be a source of happiness and power for her own being. After all, you can't pour from an empty cup, right? "Mental health, I had to really sit down. I used to think work, work, work, and being busy would take the pain away. No, you're going to overwork yourself, and then you're going to still sleep at night having those thoughts."
She continued: "I'm still working through it, but I think I'm definitely in a way better place than I was a year ago. Just to even see like, 'Man, you really endured all that and still had to get your game face on and get signed and put out these covers, put out these videos and content…" Just all this stuff and different perceptions about me, just still pushing forward. Yeah, I've taken it one day at a time."
Her personal evolution has been reflected in her work. From Ceraadi's first big label release "Loyal" and SoundCloud sensation remix of Drake and Chris Brown's "No Guidance" to her own E-Mixtape inspired by H.E.R., Giveon, Summer Walker, and other rising names in the neo-soul space, Emaza continues to leave it on the track and gives fans more and more each time. With Ceraadi's Playlist, which featured YouTube hit "Sway," Emaza didn't know if her music could be any more game-changing than that. Cue, signing to Atlantic Records and working on new music.
"This is a greater evolution. You can definitely hear the growth. It's giving superstar, that's all I'm saying. It's giving superstar."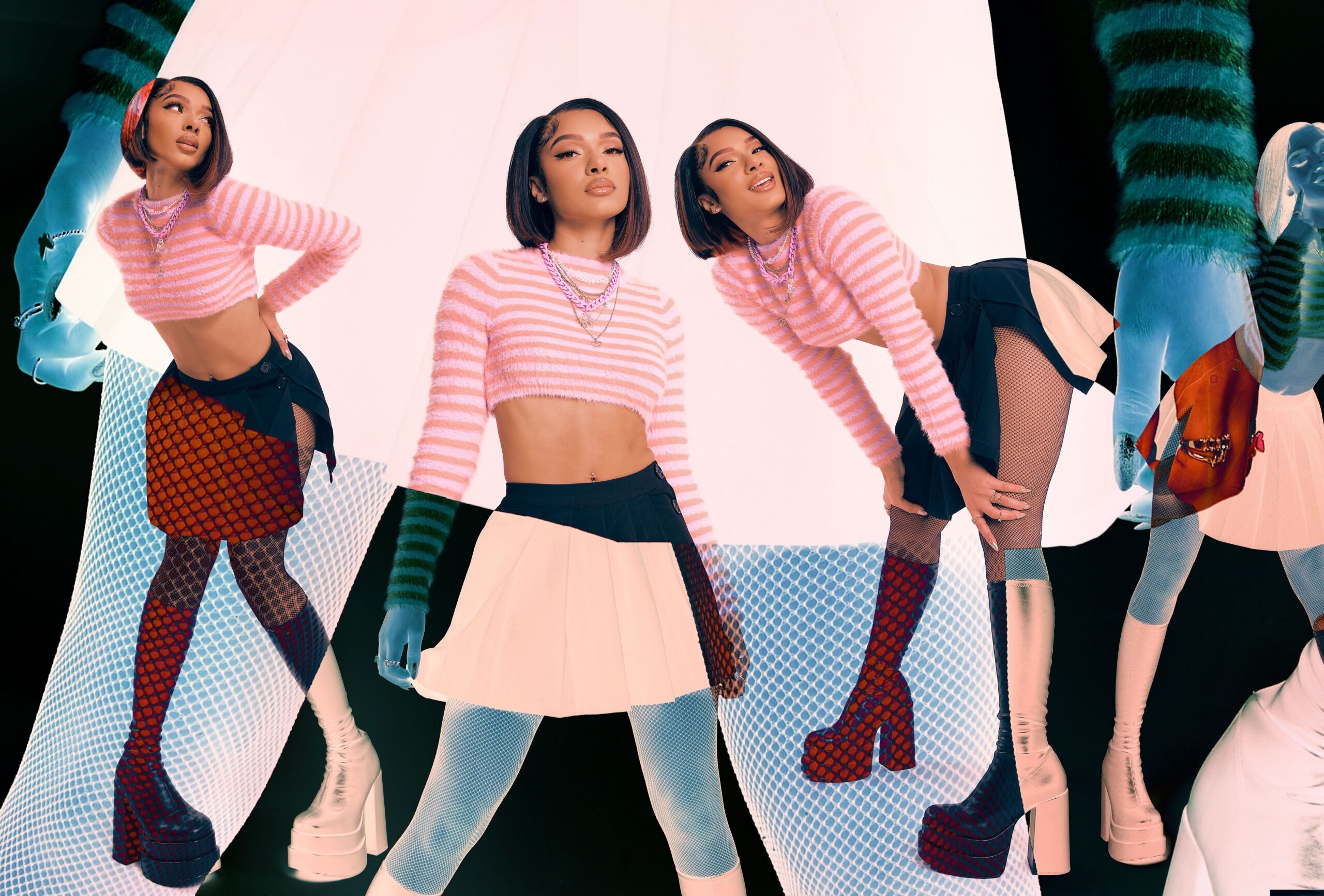 As our interview wrapped, a tearful Emaza shared some advice she would give not to younger fans and former Ceriders who have supported her along the journey to her solo stardom, but to her younger self. "You're going to work your butt off so never doubt yourself. A lot of doubt goes in there especially being a female in the industry as well, you don't get taken seriously," she advised. "Don't doubt yourself and don't stress over things you cannot control – that's my issue. That's going to hurt your health, it's going to hurt your mental health."
She added: "Find moments to be happy, too, and really take joy, even if it's in the small things. I'm learning that as I go. I feel if I would've learned that a little bit earlier – really the trust part – I think I would've been way better, but it's a learning experience and I take every single aspect in life and I soak it in. It's for reasons, it's making me stronger, it's for my character."
Emaza's mother encourages her every day to be her own hype man because if not herself, then who will? "I go hard for myself. It is crazy because I kind of confuse myself like, 'Are you being cocky? Are you being conceited?' I have a battle with that, but it's just that I've really worked my butt off. I have the talent and the resume to back it up with what I've done so far. Don't doubt yourself and love who you are."
Photo Credit: Courtesy of Emaza Dilan/The Brand Agency