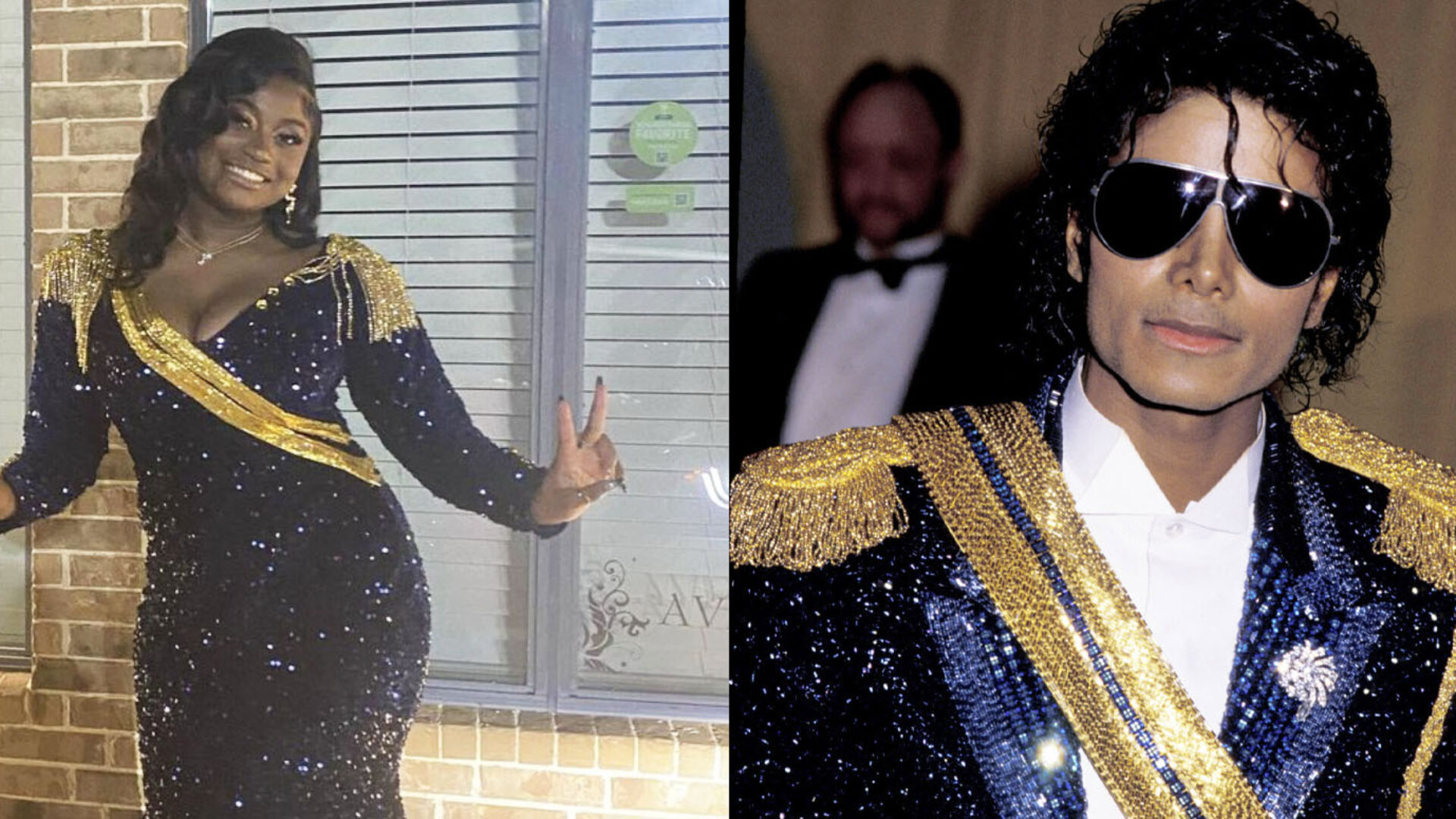 A Texas Teen Recreated Michael Jackson's 1984 Grammys Look For Prom
The dress was custom designed by a brand known for creating glamorous gowns in the Dallas area.
A local Texas teen absolutely slayed her prom look this year!
Dallas fashionista Gabby Matsuoka honored one of her favorite artists, Michael Jackson, for the big high school dance. In photos, she's seen posing in a sparkling navy blue gown with gold accents and fringe shoulder pads, which looked almost identical to Jackson's iconic blue and gold blazer he wore to the 1984 Grammy Awards.
The dress was custom designed by The Kiwe Prom, a fashion brand known for creating lavish gowns in the Dallas area. The designer posted a photo of Matsuoka in the dress with a caption that read, "The Iconic Blazer Michael Jackson wore to the Grammys…My Prom Doll [Matsuoka] is a huge fan. How did we do???"
Across both Matsouka and the designer's Instagram accounts, supporters have been showing tons of love and support.
"This hits every single right note!!! Inspiration instead of imitation! WINNER," said one commentor.
"Ma'am you pulled this off wonderfully! MJ-inspired outfits normally don't go so well but this is a win! Kudos for getting this right while looking so classy! 💖💖💖👏🏼👏🏼👏🏼," wrote another user.
"Love this ! … for so many reasons… one she looks beautiful, two the respect given to an ICON, and the fact that she's young & of this generation and can appreciate it.. SHE LOOKS BEAUTIFUL 💛✨," one added.
To cap it all off, Matsouka graduated from high school, with honors, just a few days later.
Congrats to you, sis! #BlackGirlMagic