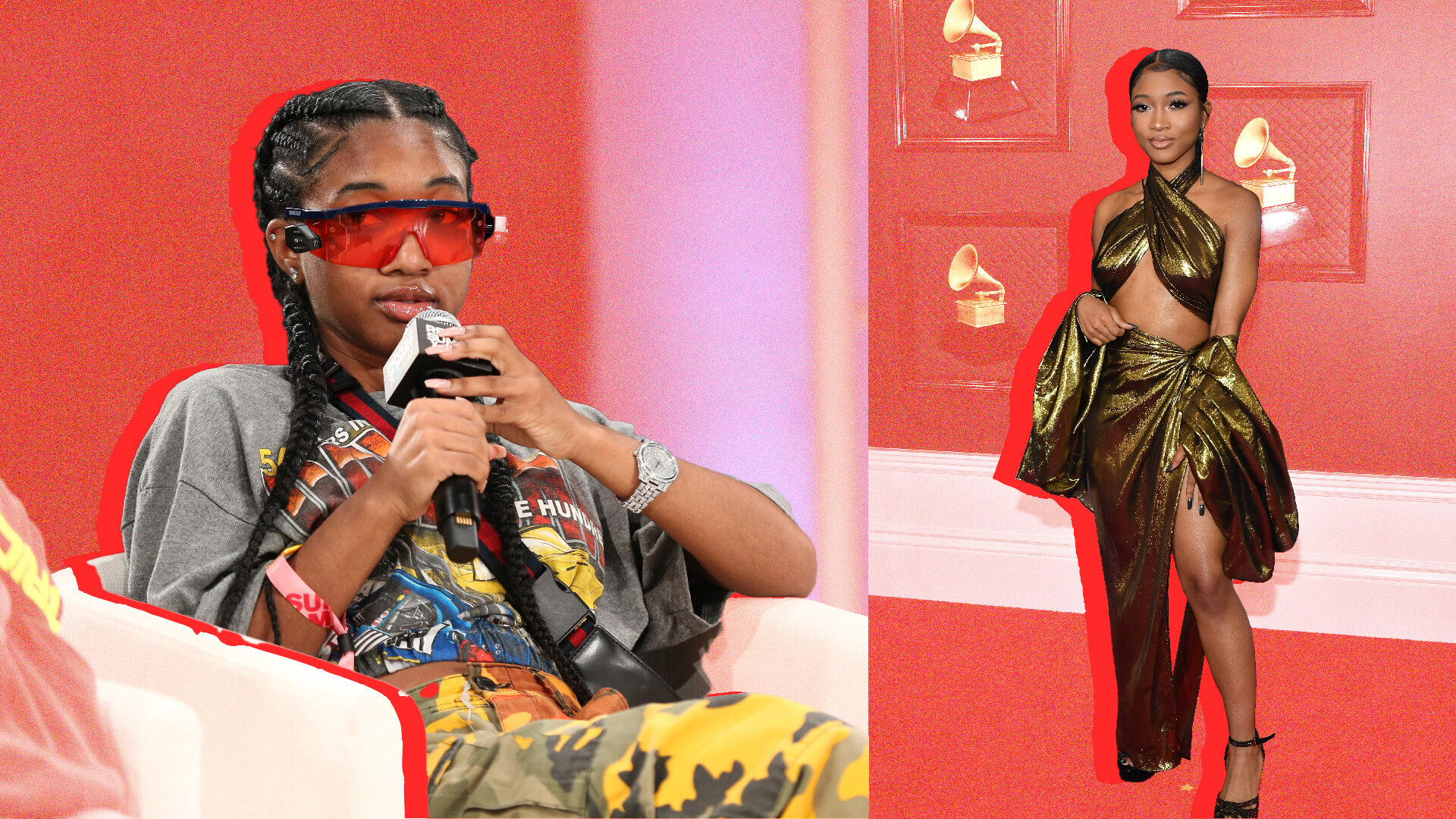 GU Fact Sheet: 9 Songs That Prove The Strength Of Singer-Songwriter Nija's Pen Game
The famed songwriter is celebrating her 25th birthday today.
While we adulate our favorite artists for their chart-climbing hits, songwriters like Nija Charles are the unparalleled pens that scribe the lyrics we croon on repeat. Professionally known as Nija, her craftmanship touts platinum-status tunes like Cardi B's "I Do" featuring SZA and The Carters' "Heard About Us" at a meek 24-year-old. The formula for her to flaunt credits with everyone from Maroon 5 to Megan Thee Stallion? Her chameleonic ability to understand people's stories and then transform into the storyteller.
"I kind of have to act as a vessel because I'm writing other people's stories and being a storyteller. And in order to get inspiration, I know a lot of people write from what they've been through," she previously told 21Ninety. "But again, with me being young, I had to put myself in their shoes, talk to them, talk to my friends or draw inspiration from something I watched on TV — or just having that conversation with the artist and hearing them explain their experiences for themselves. And then, from there, I have to be able to act as if I'm them and play out what's going on in their mind."
With an accolade-filled career at such a young age, it's impossible to ponder on what could even be next for Nija. But, she continues to not disappoint. She most recently announced she's joined Jessie Reyez on universal "The Yessie Tour." While we're excited for her future, here at Girls United we also want to champion her past. Continue reading for all the hits we are giving Nija her flowers for!
"Heard About Us" by The Carters (2018)
From the album Everything Is Love (Beyoncé and Jay Z's formal collaboration as an artistic duo), this song is funky-R&B track that pivots into the couple's endearing arrogance as icons. "Don't need to ask you heard about us," Yoncé repeatedly sings.
In 2019, as she rushed to the Grammys, Nija heard the news that the album won a Grammy won Best Urban Contemporary Album. "At that time I could have never imagined that anything I wrote would win a Grammy," she told NY Post. "I was just over the moon about it."
"Ring" by Cardi B (ft. Kehlani) (2018)
This heartbreak anthem from Cardi B's Invasion of Privacy is one of two songs Nija penned for the project (she also graced the SZA collab for "I Do" with her flaunted lyricism). Invasion of Privacy also won a Grammy in 2019 for Best Rap Album. "I was like, 'Two in one night? I can't believe it,' " Nija said. "I seriously partied ­afterwards."
"positions" by Ariana Grande (2020)
This titular track from Grande's sixth studio album and is a reflection of the singer's trap-R&B-pop fusion era. The track was a massive success as the album's lead single and it landed atop the Billboard Hot 100 chart as the singer's fifth number-one single. "One of my favorite memories is meeting Ariana for the first time. She's so hilarious," Nija told NY Post. "We were writing 'Positions' at a birthday party. And we kept running outside to write a lyric, then running back ­inside to turn up. It was so much fun."
"Rain On Me" by Lady Gaga, Ariana Grande (2020)
This electropop, disco record debuted at the top of Billboard's Hot 100 and was Nija's proclamation to the world that she could achieve commercial success outside of the urban category. "This record means so much to me because this is a POP record," Nija previously wrote in a tweet. "Me being a Black woman, people sometimes try to pigeonhole me thinking I'm just an 'urban writer.' So I want to thank you @ladygaga, @arianagrande & for showing people I'm more than what they expect."
"Sex Lies" by Latto ft. Lil Baby
With a verse that Lil Baby wrote in ten minutes and Latto's dominant appeal, this track was a surefire success. The lyricism across the record has the raw, uncut edge that is now synonymous with Latto's musicality.
"Have Mercy" by Chloë (2021)
As a debut single for Chlöe (one-half of Chlöe x Halle), this track is a booty-bopping, uptempo love letter to her sexuality. Nija admits the secret to a good song starts with centering herself. "Number one is good vibes," she said in conversation with Music Business Worldwide. "It's never fun when you go into a writing session with a chip on your shoulder or carrying weight from other situations that may have affected your mood because it'll affect the song. Some of the other ingredients are great melodies and catchy hooks."
"Good Love" by City Girls ft. Usher (2022)
"Good Love" transports the City Girls from the fiery trenches of Miami to the groove-centric, skating rinks that just produce a magical sound. As the duo joined forces with Usher's sultry vocals and Nija's pen, this track was a top contender for song of the summer.
"COZY" by Beyoncé (2022)
Beyonce's contemporary house disco album Renaissance is home to "COZY," an energetic track that oozes superstar self-love. "Comfortable in my skin / Cozy with who I am," and, "I love myself, goddamn / Cozy, cozy," she sings in the chorus.
"I commend all the Black females and female collaborators who've just been taking over the industry and writing all the top songs," Nija previously told Teen Vogue. "And I think it's funny because there's so little of us, but we're the ones at the top of the game. The proof is in front of their eyes … and they're still trying to just only put us into urban rooms. That is a little conflicting to me."
"Sweetest Pie" by Megan Thee Stallion, Dua Lipa (2022)
This collab, birthed from Megan hinting at the idea via Instagram, has been engulfed in TikTok virality since its release.
About Mia: Mia Uzzell is a culture documentarian covering Black womanhood with bylines in Glamour, Teen Vogue, Grazia USA, and more. You can keep up with her discourse surrounding the intersection of race and gender on Instagram @originalmiadiamond