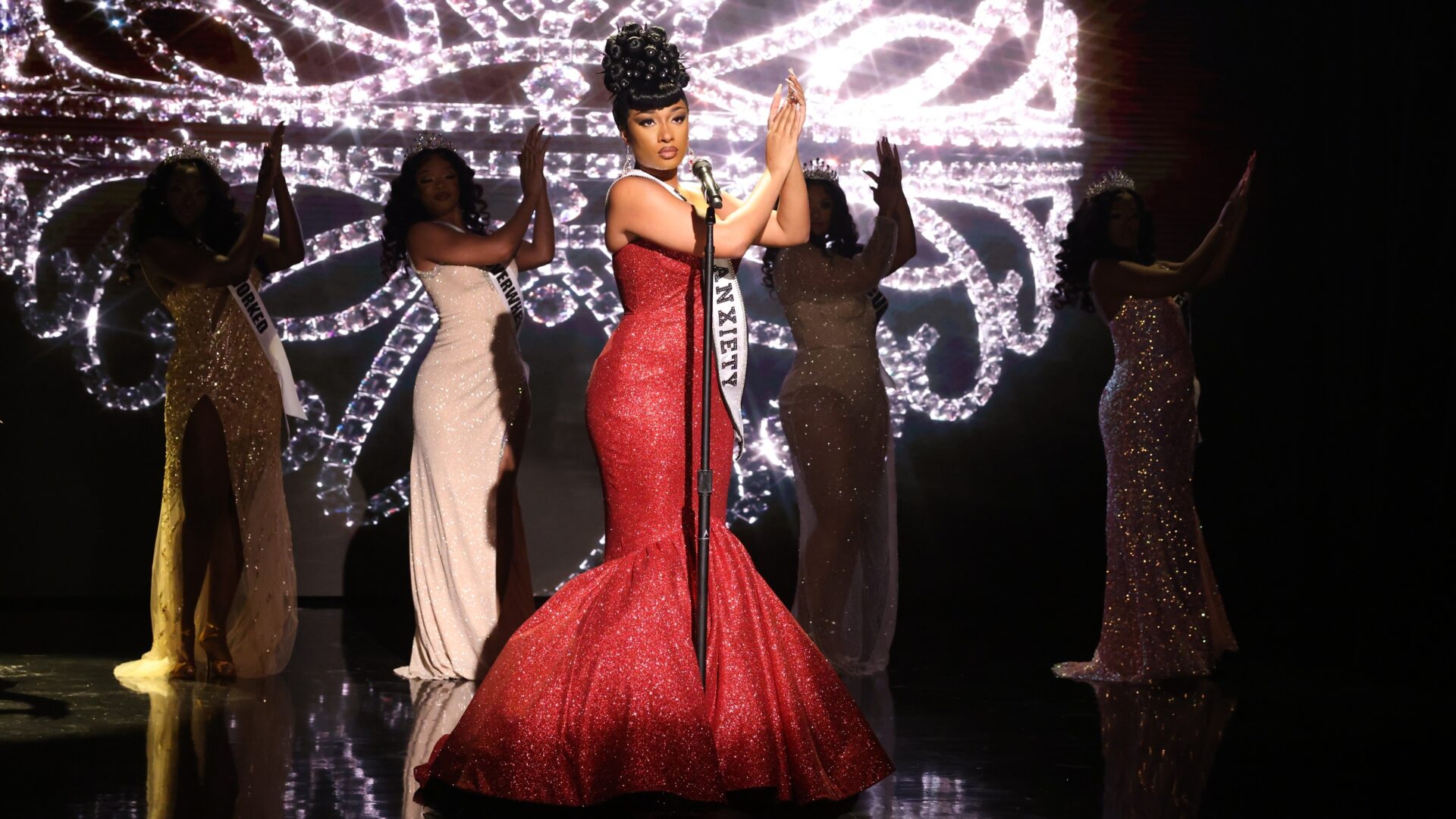 Watch Megan Thee Stallion's Emotional Performance During 'Saturday Night Live'
She performed her single "Anxiety" and delivered a powerful message during her set.
The Hot Girl Coach continues to rack up the wins and her hosting-performance debut on Saturday Night Live is just another one to add to the list. Last Saturday, October 15, 27-year-old rapper Megan Thee Stallion became the second female rapper to be both a musical guest and a host since Queen Latifah in 2004.
After delivering the show's opening monologue, Megan performed three songs off of her latest album Traumazine – "Anxiety", "NDA" and "Plan B". SNL cast member Bowen Yang introduced the rapper on stage before she performed her first song. The performance was inspired by a beauty pageant, with Megan wearing a sparkling red gown and a white sash that read, "Miss Anxiety." On stage, dancers wore sashes with messages such as "Overworked," "Underpaid," "Insecure," "Overwhelmed" and "Overlooked."
"If I could write a letter to Heaven / I would tell my mama that I shoulda been listenin' / And I would tell her sorry that I really been wildin' / And ask her to forgive me, 'cause I really been tryin'," Megan rapped on stage as she appeared to be moved. "And I would ask please, show me who been real / And get 'em from around me if they all been fake."
The second verse of "Anxiety" includes a reference to her mother, who died of brain cancer in 2019, according to Bustle. The rapper shared the meaning behind the lyrics to the song in an interview with Apple Music last August. Megan said she wrote the song for herself and for her mother.
The rapper has shed light on the importance of mental health as of late. She recently launched "Bad B*tches Have Bad Days Too," a website that offers mental health resources with a focus on both the Black and LGBTQ+ communities.
Prior to her stint on SNL, Megan announced she would be taking a break from work after appearing on the show. Watch Megan Thee Stallion's performance of "Anxiety" below.
Photo Credit: SATURDAY NIGHT LIVE — Megan Thee Stallion Episode 1829 — Pictured: Musical guest Meg Thee Stallion performs Anxiety on Saturday, October 15, 2022 — (Photo by: Will Heath/NBC via Getty Images)
About Kyra: Kyra Alessandrini is a news writer at Girls United and a freelance journalist. Her work has appeared in publications such as Time, The Hollywood Reporter, InStyle, and Elle. Born in New York and raised in Paris, France, she is passionate about culture, street photography, and travel.