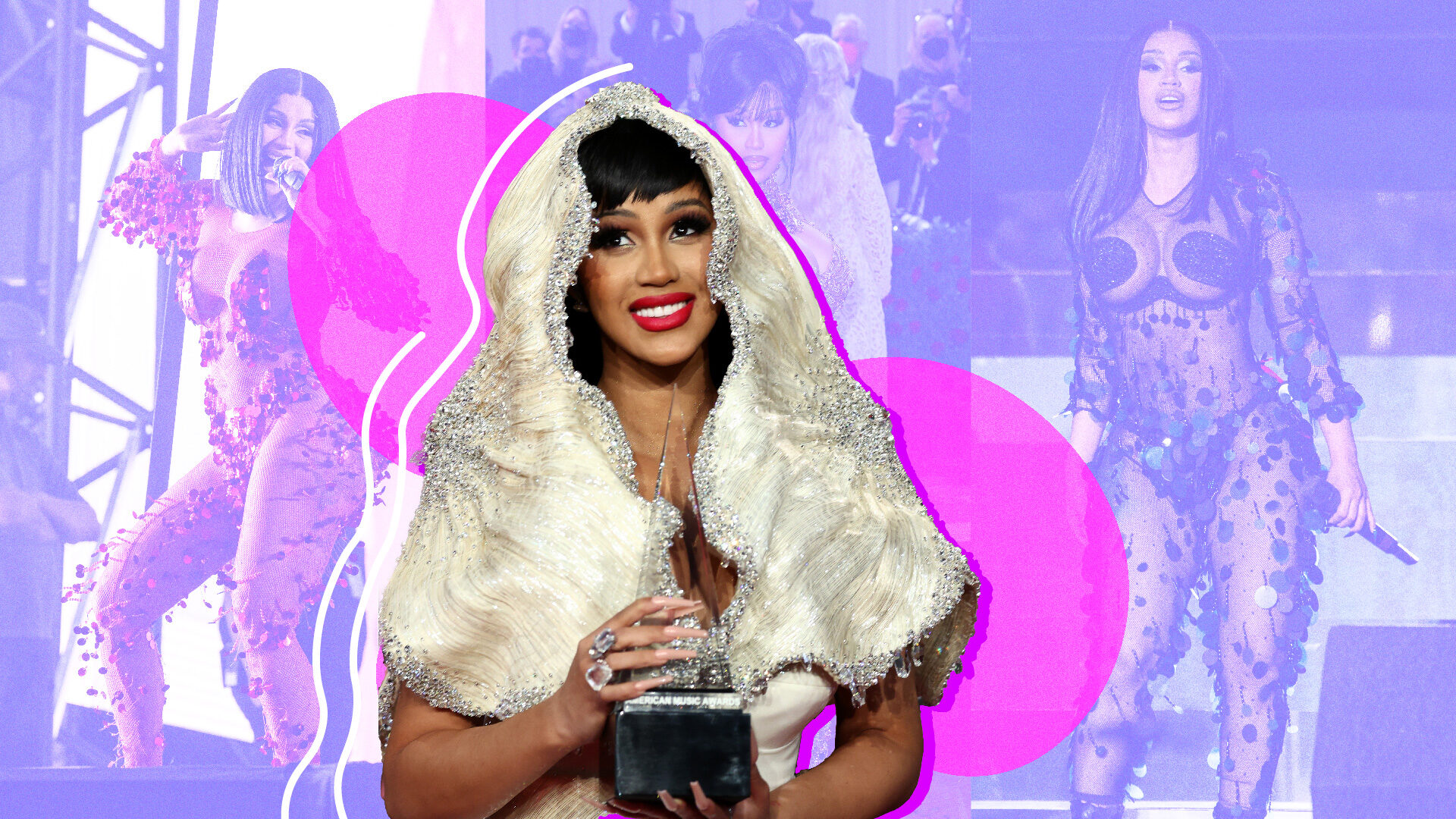 13 Milestones That Cardi B Reached Before She Turned 30
The rapper turned 30 today, October 11.
Happy Cake Day to chart-topping artist Cardi B! Whether you know her from her Instagram videos, Love & Hip-Hop: New York, becoming one of the hottest rappers in the game, or if you simply recall her Bronx accent, there is no doubt that Cardi B knows how to make an impression. She has paved her way to success and her story has inspired many as they've watched her determination take her exactly where she wanted to be.
The Bronx superhero has accomplished so much before 30, so there's no telling what the "Hot Sh*t" rapper has up her sleeve next. Cardi B has come a long way from humble beginnings but she will never let you forget where she's come from. Happy 30th birthday Cardi B, and we wish you much success in continuing forward! Here are a few milestones that Cardi B reached before turning 30 – and we're sure she's just getting started with plenty more in the chamber.
Reality Television Stardom
Many will say Cardi B was made for reality television – and creator and Monami Entertainment production head Mona Scott-Young was in agreeance when she was cast on this cult-favorite VH1 show. When she appeared on Love & Hip Hop: NY it was as if her life story was perfectly written for a show. Her personality mixed with her accent instantly made her a fan favorite and made the ratings go crazy. 
Marriage
Nobody knew that Cardi and Offset were married until Offset proposed onstage at Power 99's Powerhouse concert in Philadelphia with a 20-carat diamond ring that he said cost "half a million." Later, Cardi confessed in a tweet that they found someone to marry them in their home in Atlanta, GA months prior. She also tweeted: "This why i name my album "Invasion of privacy" cause people will do the most to be nosey about your life. Welp f*ck it ."
Motherhood
It doesn't seem that long ago but in 2018, 25-years-old Cardi B broke the internet when she announced via her Saturday Night Live performance that she was pregnant with whom we later grew to know as Kulture. The "Be careful" rapper displayed her baby bump in an all-white fitted dress to the floor. The highlight after the performance was Cardi backstage as people cheered her on, saying "I'm finally free." The second time around, baby Wave was showcased to the world at the 2021 BET Awards as she performed their hit "Type Sh*t" next to hubby Offset and the rest of the Migos in a sexy black mesh bejeweled one-piece. The family recently graced the May/June 2022 cover of ESSENCE.
Awards
Cardi B has acquired quite a few awards over time including a GRAMMY that won Best Rap Album for Invasion of Privacy making her the first female rapper to do so. She also has six American Music Awards, eight Billboard Music Awards, six BET Awards, fourteen BET Hip Hop Awards, four iHeartRadio Music Awards, two MTV Europe Music Awards, four MTV Video Music Awards, six Soul Train Music Awards, and an NRJ Music Award. She has also earned six Guinness World Records during her career.
Cardi B received the award for ASCAP Songwriter of the Year in 2019, which is the first time the accolade was presented to a female rapper. She received the honor for the second time in 2020, making her the first female songwriter to win the award twice. In 2020, Cardi became the first female rapper to be named Woman of the Year at the Billboard Women in Music Awards which was presented by Tamika Palmer, the mother of Breonna Taylor.
Endorsement Deals
Cardi B's most notable endorsement deal came from the fast fashion clothing brand Fashion Nova in 2018. She was very vocal about her love for the way the clothes fit her body. "Fashion Nova fits my body to the T. It's like they know my body," said Cardi B to Elle. Her collaboration with Fashion Nova sold out immediately after it went live. She has also had endorsement deals with Romantic Depot, MAC Cosmetics, Gypsy Sport, Reebok, and Pepsi.
Mentoring
As a judge on the hit Netflix series Rhythm + Flow' which is a hip-hop competition, Cardi is joined by rapper T.I. Harris and Chance the Rapper. Each rapper is to find talent in their home city, as they ultimately are looking for the next big star. Cardi B serves as a mentor as well to contestants. She offers advice to each participant on how to perfect their craft, go to the next level, and keep the momentum going in her own Cardi B way of course. Outside of the show, she is an inspiration to up-and-coming rappers and new rappers on the scene. They all see and admire her, yet she never hesitates to remind them that she is just like them. Cardi shows love by hopping on tracks with the likes of new rappers Kay Flock, GloRilla, and Ice Spice.
Platinum Status
Cardi B's debut album Invasion of Privacy made history after every song on the album went platinum or higher. According to Black Enterprise, In November of 2021, Cardi B became the first female rapper to score two diamond (10 million units sold) certified records. Then, less than three weeks later, Cardi B broke her own record with another diamond record! She is also the first female rapper with three diamond records with "Bodak Yellow," Maroon 5's collaboration "Girls Like You," and "I Like It."
Billboard Beating Beyoncé
Cardi B's reign hasn't let up since the release of her first album, so much so that she surpassed one of her musical idols, Beyoncé. Cardi made music history by breaking Beyoncé's record for Most simultaneous Billboard US Hot 100 entries by a female; with a total of 13 tracks, Cardi B beat Queen Bey's claim of 12, which was achieved when she released her album Lemonade.
Bardi and Bernie
Cardi B and Bernie Sanders are without a doubt an unlikely duo, however, Cardi is always one to throw a twist in the mix. In July 2019, Cardi tweeted her disappointment about how she felt everyone let Bernie down in the 2016 election. She went on to discuss how Sanders has been fighting for equal rights and human rights for a long time. After the meeting there seemed to be a mutual understanding. "She Understands Communications Better Than Any of Us," said Sanders.
Cardi B x Reebok
The long-awaited collection Cardi has with Reebok is only a few days away. Cardi became a brand ambassador for Reebok back in 2018 and has grown further with the company. Keeping things fresh and new, the brand will feature sneakers, slides, leggings, crop tops, sports jackets, and more. The trailer Cardi tweeted in September shows that merchandise will be available on October 14.
First & Fast
Cardi B is, in fact, a record-breaker. According to Cardi B Updates, she is the first and fastest female rapper in history to receive a diamond RIAA Certification for her "Bodak Yellow" breakout track. Her "WAP" collaboration with fellow raptress Megan Thee Stallion is also eligible for 9x Platinum in the United States, marking Cardi's fourth song to reach such a major milestone. Cardi is leaving her mark and making it hard for those under her to follow in her footstep!
Bardi & Baby Shark
Essence covered when Cardi B aka 'Sharki B', Offset or 'Offshark', and Kulture aka 'Kulture Shark' all made their debut on the hit Nickelodeon series Baby Shark's Hit Show in April of this year. She even brought a new song titled "The Seaweed Sway," which premiered on the episode. Now with Wave in the picture, she has to come back on the show and give him a shark name. What should Wave's shark name be?
Whip Shots on Cardi
Her Vodka infused whip shots are the perfect topper to any drink– or body. You can party like Cardi in three signature flavors: vanilla, caramel, and mocha. The whip shots are the perfect topper for desserts for adults and have been getting rave reviews. "Whipshots is over the top, sexy and unique – kind of like me. It's going to be a party in every can," said Cardi B in a statement to the media. According to Food Network, prices range from $5.99 for 50mL, $13.99 for 200mL and $19.99 for 375mL bottles.
About Candis: Candis is a self-proclaimed dreamcatcher, as she manifested her dream career as an author/freelance writer. When she's not writing she loves to paint, watch documentaries, attend concerts, and sing her heart out in the car.