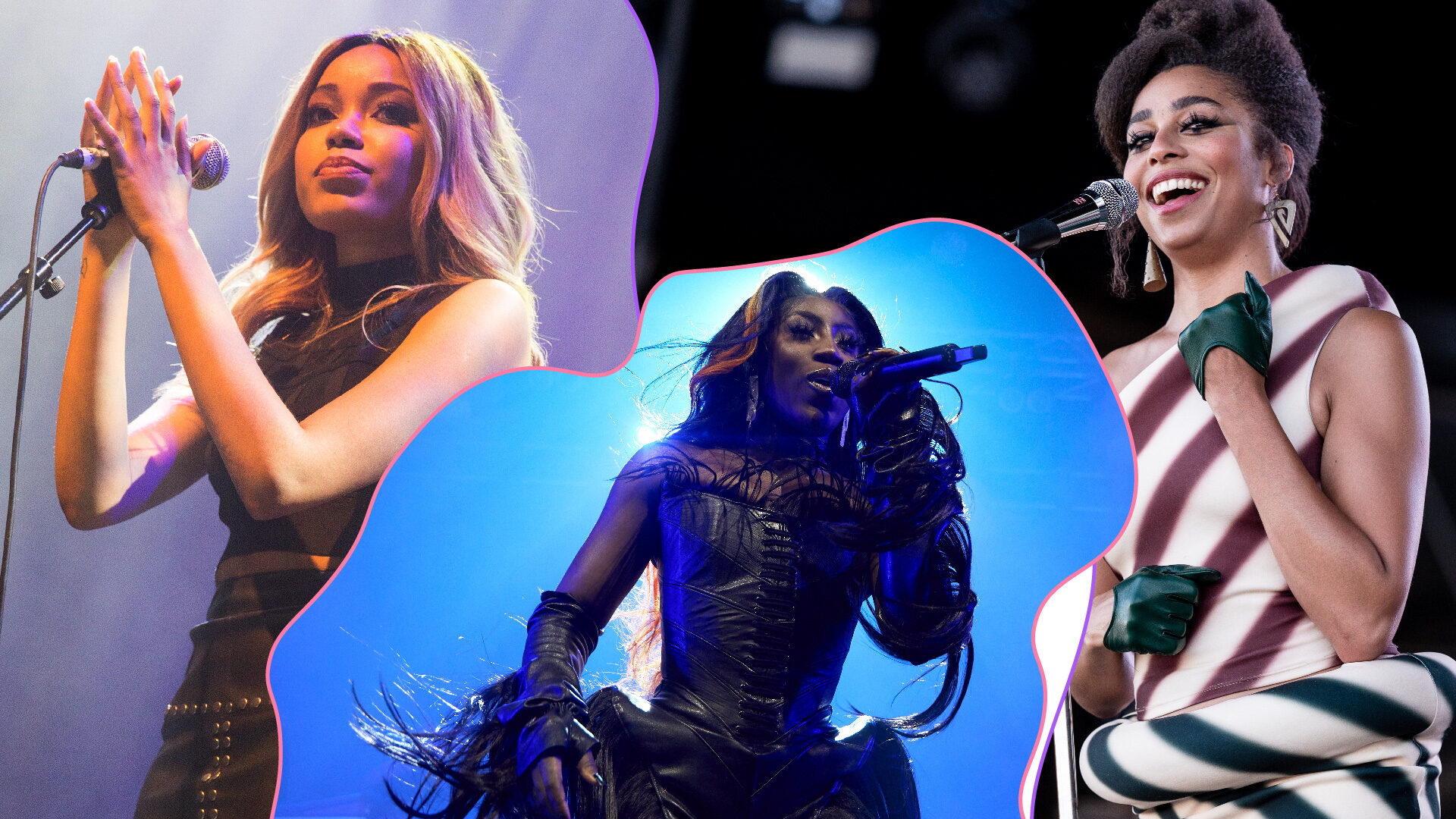 10 Black British Artists That Are Must-Adds To Your Playlists
These female musicians are cultivating the UK music scene, one lyric at a time.
This UK Black History month has even more newcomers and veterans to celebrate for their musical ingenuity. Like the stateside arena, female musicians across the waters are creating sonic ripples across the globe and riding their own waves. For your musical pleasure, we've curated a list of all the British babes that have our playlists in a stronghold.
FLO
FLO, comprised of Jorja Douglas, Stella Quaresma, and Renée Downer, tempts the girl group mania of the 90s with break-up and contemporary Stella Got Her Groove Back-esque anthems. As the London-based trio's debut single "Cardboard Box" reached social media virality, garnered 4.4 million views on YouTube, and received industry approval from Missy Elliot and SZA, it was certain that the world missed the refreshing harmony-driven tunes of Black girl groups. 
"I think what we've felt coming out is that there are a lot of bubbling girl groups," Quaresma told Harper's BAZAAR. "People have been missing it, but we don't see [them] as our competition, because we know we're in our own lane. Before, we wanted to bring our music, but we actually probably weren't ready, so the time has been really perfect."
MAHALIA
Mahalia has cemented herself in the UK music scene with her soothing lilts on transitory love, stinging tinges of loneliness, and transparency. While the British-Jamaican singer-songwriter has a Grammy nom for Best R&B performance and a sublime collab with Ella Mai, many recognize her 61 million viewed performance of "Sober" on the COLORS YouTube channel. 
"COLORS was my turning point. It was a really emotional one, because literally weeks before COLORS, I think I was certain that I didn't want to do music anymore. I just was like, "What am I doing?," she told Harper's Bazaar. "By that point, I'd been doing music for, like, five years, so I was kind of ready to stop." Luckily, this moment erupted into global exposure for the R&B princess.
ELLA MAI
In 2018, Ella Mai's breakout single "Boo'd Up" felt inescapable. To put it plainly, the single gripped the radiowaves with no remorse. Then, its sequel "Trip" convinced any remaining unbelievers of Ella Mai's wondrous ability to transpose the mushy entries of our journals into unforgettable songs. While her platinum-selling eponymous debut album has held us hostage for 6 years, her recently-released Heart On My Sleeve is our latest captor.
"This era is a mature version of myself. I'm still the same me, but it's just more of an elevated version," the singer said in conversation with Complex. Heart On My Sleeve lands like the mature slow-tempo reflection of her twenty-something love letters of the past. "People seem to forget I was 23/24 when I released my debut album, Ella Mai. I'm 27 now and I've changed so much as a person—I'm a woman now! I experienced a lot that my younger self couldn't relate to."
BREE RUNWAY
With Doja Cat and Doechii, there's a burgeoning movement of Black women catapulting us all into a new eon of pop with no parameters. We'd be remiss to not recognize Bree Runway, too, in that pantheon. In both her vigorously energetic music and her irreplicable style, Runway reminds us that Black women (particularly dark-skinned women) can challenge every notion. She's sure to exclaim that she is not a rapper but a pop phenom with no confinement on her artistry.
"A pop star is someone who can touch on any genre, a pop star is anyone who can bend, morph and twist into anything they want at any time, that's a pop star," she told Paper. "It's beyond the music, it's a lifestyle."
MS. BANKS
Born and raised in Southeast London, Ms. Banks (née Thyra Banks) produces the sort of music that is self-assured and honest. From her "Fire In The Booth" freestyle, she's exploded on the scene as a refreshingly uncut, receiving applause from female rap icons like Nicki Minaj and Cardi B. 
"I think these artists respect me because they recognize that my message doesn't change," she told Notion. "I want women to be empowered and feel like a boss. Growing up listening to Lauryn Hill, Nicki Minaj, and Ms. Dynamite, I would put them on if I couldn't get out of bed in the morning. Playing their music inspired me to get up, and that's what I am going to do to people too!"
KAMILLE
It's impossible to escape Kamille's influence with penmanship on records like Little Mix's famed "More Than Words" and gracing tracks for Jessie J and Leona Lewis. And now, she's creating her own sound and stepping into the limelight even more with her distinct lightweight tone.
"I started feeling more confident about my music and I just felt ready to do my own thing," she said about entering the industry as an artist. "I remember when I heard my song 'Emotional' with Kranium on the radio. Hearing your own song on the radio is an addictive feeling and I want that to continue."
DIONNE BROMFIELD
Dionne Bromfield's path to artistry is unheard of — she's the goddaughter of Amy Winehouse and the first artist that was signed under the late singer's Lioness label. "You always told me to do what I thought was right – musically but also personally. You told me: "If it doesn't feel right, don't do it," Bromfield wrote in a first-person letter to her beloved mentor. Bromfield has proved the advice sage as ever with her soulful music that feels as if they were done in just the right moment. 
CELESTE
The list of what soulful singers are on the rise is incomplete without Celeste. Her debut project Not Your Muse, which achieved her first number one on the UK Albums Chart, is an honest approach to insecurities in love with a jazzy tone to comfort the blow. It's both unconventional and intriguing.
"Sometimes I feel a pressure to give more and conform to what people are electing in the mainstream but then I remind myself that's not the thing to do because whenever I do it, it never feels right," she said to ESSENCE of resisting the mainstream sound. "In the mainstream, I feel like the creativity and the quality of the art diminishes but if you can reach the point where you're understood by a lot of people, you can give them that new thing to understand." 
CAT BURNS
When you have 1.3 million followers on TikTok, it's nearly impossible to not capitalize off the massive audience. Cat Burns has done just that by propping up her camera, strumming her guitar and singing potent lullabies. It seems simple but her musical magic manifested into a recent collaboration with Sam Smith on "go."
"The platform has helped so much. It's like my own personal research group. I can tease a song and see what people think and whether they like it or not," she said to Notion. 
About Mia: Mia Uzzell is a culture documentarian covering Black womanhood with bylines in Glamour, Teen Vogue, Grazia USA, and more. You can keep up with her discourse surrounding the intersection of race and gender on Instagram @originalmiadiamond