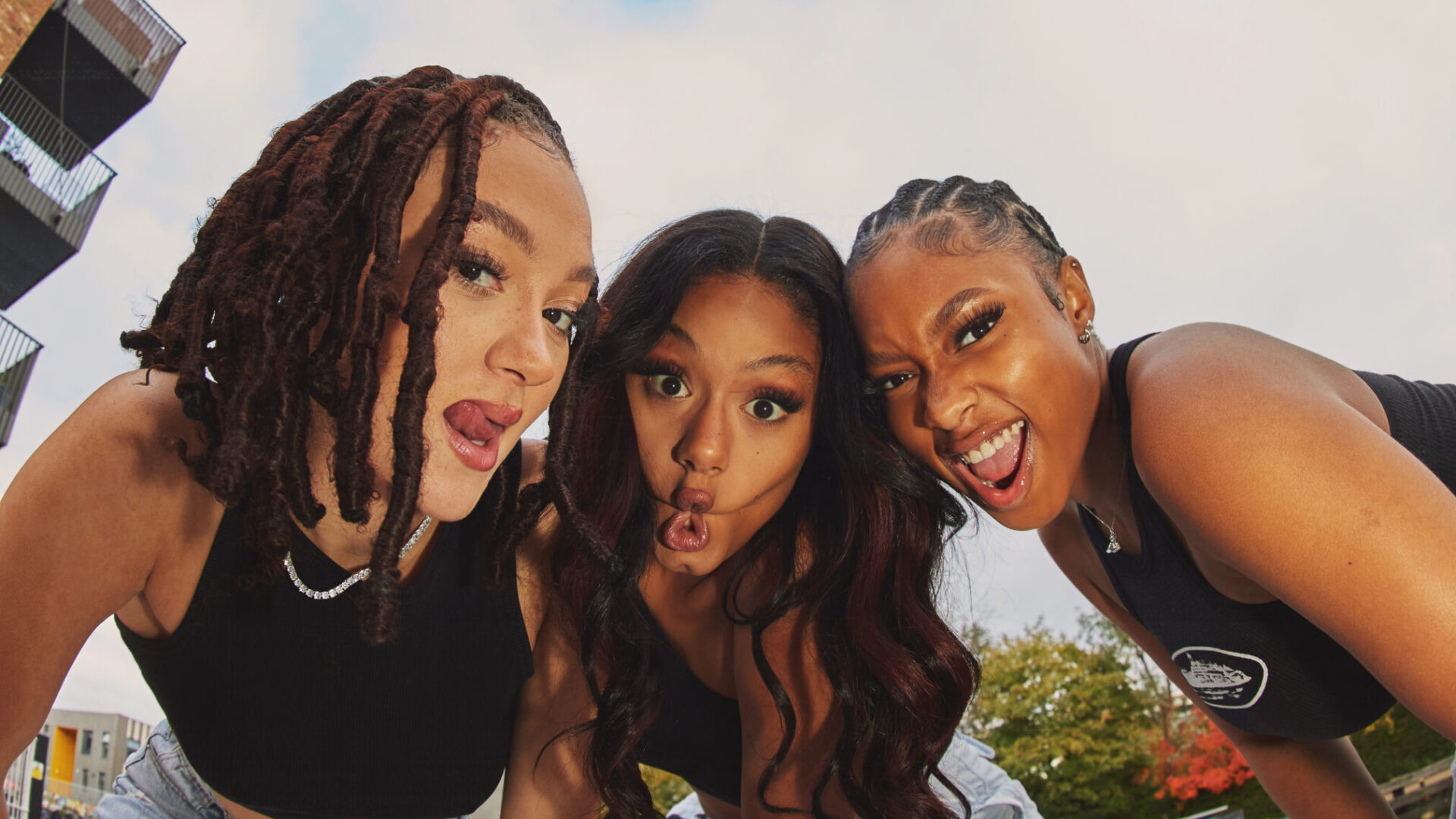 FLO Is Your New Favorite Girl Group
The British trio is up next.
An artist's debut effort can be equal parts daunting and exciting. How do you synthesize your sound, generate an inescapable buzz and let the public know you're here to stay? With the rapid increase of releases and piling expectations of modern performers, it may have become more complicated than ever. FLO, the British trio with a bubbling single, "Cardboard Box," is rising to the occasion.
FLO broke the internet with their debut, a fluttery "we're over"-style song that lets an ex know where to kiss it. The group consists of Jorja, Renee and Stella, who all co-wrote the song during a writer's camp. It will appear on their debut EP, due out this summer. The success of the song feels "surreal," Renee tells ESSENCE GU. She mentions their big name supporters, including SZA, JoJo and Missy Elliott.
"When I sit and really reflect on all the attention it's gained, it just feels so amazing," Renee says. "We wanted to release music for a long time, but it's been delayed or things have been changing. For it to come out when it's come out and for it to take off…this is perfect timing."
"Cardboard Box" also complements their EP well, as it lets people know the group's collective personality and overall message.
"It's very integral to everything we stand for, everything we listen to," groupmate Stella says of the project. "Basically everything that we are is reflected in each song and the EP. It's very fitting that it's our first project, because I think it's the best way for people to get to know what we're about."
They're inspired by girl groups like Destiny's Child, Spice Girls and TLC, pop culture darlings who were churning out hits about love and feminism when the members of FLO were children.
All three ladies were raised in London and were shaped in part by the music their parents played around them. Renee says her mother played Aaliyah and Ciara, while Jorja's mother enjoyed "old school R&B." Stella grew up listening to music by African artists. "The artists my mom used to play when I was younger were Amy Winehouse and Etta James," she says. "Then as I grew up my cousins and everyone played the R&B, which is where I found it. When I was younger, it was actually traditional African music that I first heard from my dad and stuff. I've got inspirations from a lot of places."
The group was put together by their manager, Rob Harrison. Stella and Renee were school mates who knew Jorja online. Variations of the group's lineup were attempted, but the three girls together proved to be the winning formula. "When we were all together, it just felt really right," Stella says.
"R&B is our roots."
For years, debates about the state of R&B have flooded social media. Supporters are concerned about how enmeshed hip-hop and R&B have become, particularly because the two styles have moments where they are indistinguishable. Rap stars nix singers for hooks, crooning through them by themselves. Meanwhile, the vocal acrobatics of the 1980s aren't necessary for a Billboard-charting single. For R&B, fans are requesting more of an emphasis on vocal ability, an increase in danceable tracks and more evidence of megastars in the making.
Though FLO has a pop feel, Jorja asserts, "R&B is our roots."
The group has a sincere love for the style and when I ask about why it speaks to them, Stella isn't shy about what she thinks the genre has been missing. Referring to previous eras, she says, "Everyone had such a passion for music. It wasn't to be famous or to have celebrity or whatever. You had to be good to make it as well. I think that's something that we miss nowadays a little bit. It's just proper raw talent and passion, you can hear it when you listen to the music."
When it comes to their forthcoming material, more than anything, there's an emphasis on making listeners happy. With millions of clicks on their first single, it seems their audience is intrigued—and satisfied.

Stella says the ideal reaction to FLO is, "Oh, we've been waiting for this to come back." With their adoration for the past, fresh outlook and clear sense of direction, their wish is sure to come to pass.